Choose the things that are most important in life and focus on those, one at a time.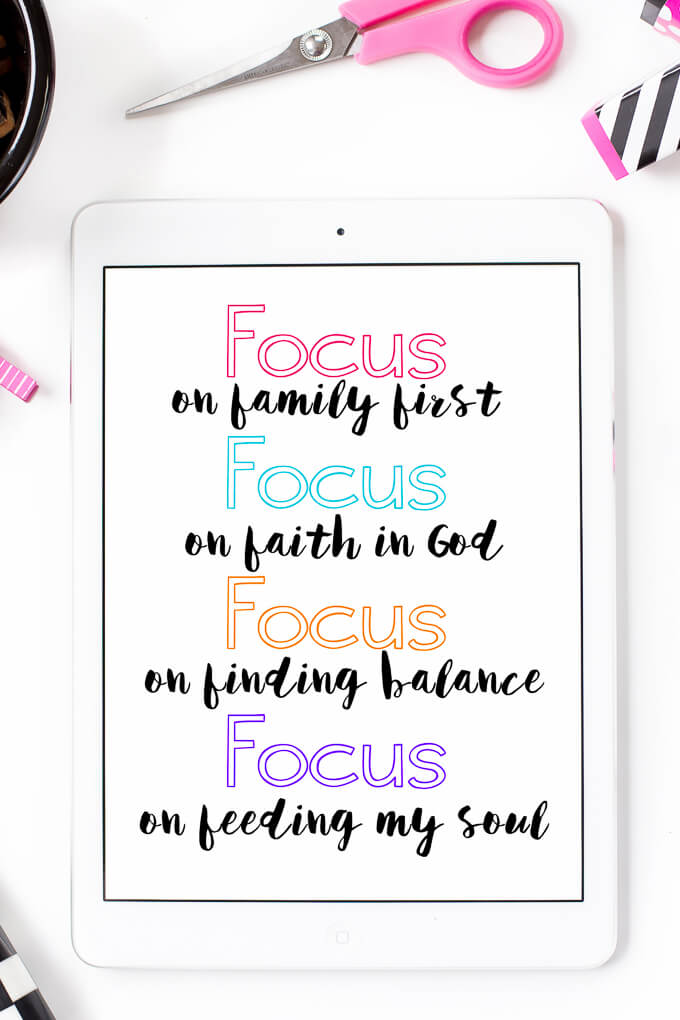 This post contains affiliate links to products that I've used and love.
This week I read an amazing talk called "Of Things that Matter Most" that talked all about setting priorities, prioritizing the things that matter most, etc. But that's not the part that struck me – the part that struck me was the very beginning of the talk where the speaker, Dieter F. Uchtdorf, talks about how when things get tough we need to slow down to survive and get through them. Or in his words when describing that trees do this,
During seasons when growing conditions are not ideal, trees slow down their growth and devote their energy to the basic elements necessary for survival.
That statement right there is exactly how I would describe 2015 for me between working through depression, friends moving away, eating issues, and trying to grow my business. It was a year of survival and getting through, not one for massive amounts of growth and change.
And guess what? I survived.
I'm ready for 2016 to be a year of growth, not just survival, and with that in mind I thought long and hard about what I want to really work on this year and the word that kept coming back to me again and again was focus. This quote from Gabby Douglas describes me perfectly,
It's very tough for me to focus. I'm like: 'Look, something shiny! No, focus. Oh, there goes a butterfly!
At at given point while I'm working I probably have an average of 10 tabs open in my browser and every time I go to close one of them I realize that I never finished what I was working on and still need to finish it, so the tab stays open. Just the other day I was actually in the middle of a purchase when I saw the little (1) pop up in my gmail inbox (aka my butterfly) and clicked over. Six hours later I realized I'd never completed my purchase and ended up missing out on a great deal.
That's not the only thing I've missed out on the past year while trying to juggle everything literally at once.
I've missed my toddler's smiles when he fits the last piece into a puzzle because I'm too busy talking to friends on Facebook messenger. And missed out on my husband's "hey you look cute tonight," and other compliments because I'm too focused on creating the perfect Pinterest image that requires all my attention while we're watching TV together. And I've missed out on an entire year of working toward getting healthy again because it was just wasn't a priority, or a focus in my life. I've spent the past year pretending that I'm multi-tasking myself to success when in reality my multi-tasking has resulted in my getting nothing important done. Like Randall Ridd said,
Be where you are when you are there. When you are driving, drive. When you are in class, focus on the lesson. When you are with your friends, give them the gift of your attention. Your brain cannot concentrate on two things at once. Multitasking amounts to quickly shifting your focus from one thing to another. An old proverb says, "If you chase two rabbits, you won't catch either one.
This year I'm going to catch rabbits, or as my son calls them, hop hops. Four big important hop hops.
That's it, that's my mission statement for the year and you'll probably hear it come up more than once or twice in the next week, in the next month, and in the next year because that's what I'm focusing on in 2016 – focus.
When I looked in the dictionary for the definition of focus (because that's what people do right?), I came across three main definitions of focus that really struck me and are helping me to fine-tune my goals this year.
Focus — > the center of interest or activity (noun)
This one is the hardest for me – making whatever I'm doing the center of my activity. If I'm playing Hungry Hungry Hippos
with my toddler, I should be focusing on my toddler and playing the game with him. And if I'm buying the best cleaning tool ever on Amazon, I should buy it and be done with it. I don't know who ever spread the lie that multi-tasking helps you get more done; it's a lie even for the best multi-taskers out there, and if there's one thing I really want to eliminate this year, it's multi-tasking.
Focus –> pay particular attention to (verb)
I'm sure this could be read in the same way as the definition above but for me this one is more of a long-term goal of what are the things that I want to pay particular attention to and focus on this year. And my four are in my mission statement above – family, faith, taking care of myself, and finding balance between work and life. I'll be talking more about what I'm doing for each of these things in the next week or so and how the book Four Disciplines of Execution
helped me to structure some really worthwhile goals for the year! If you like these goals, you can click below to print out a free printable PDF version. And if you want your focus to be on something else, send me an email with what you'd like your printable to say and I'll design it for you.
<<Download the Focus printable>>
Focus –> to direct toward a particular point or purpose (verb)
This is the most ambiguous one to me but it really makes me think of when Noelle Pikus-Pace spoke to us at SNAP a couple of years ago and talked about how wherever you focus you go (talking about her Olympic luge journey
). And it's so true. If you're focused on reaching a mountain in the background of a photo, you're going to see that mountain but if you focus on the patch of grass in the front of the photo, you're going to see the grass. It's like in photography where you choose your focus and everything else around it is blurry; you see and achieve what you focus on. And if you don't focus on anything at all, everything is blurry even if you know what you're looking at.