Looking for the best Captain Marvel costume ideas? This post is full of Captain Marvel costumes for kids, adults, and even babies! And if you don't want a full Captain Marvel costume, it also has a great list of Captain Marvel accessories and even just Captain Marvel shirts!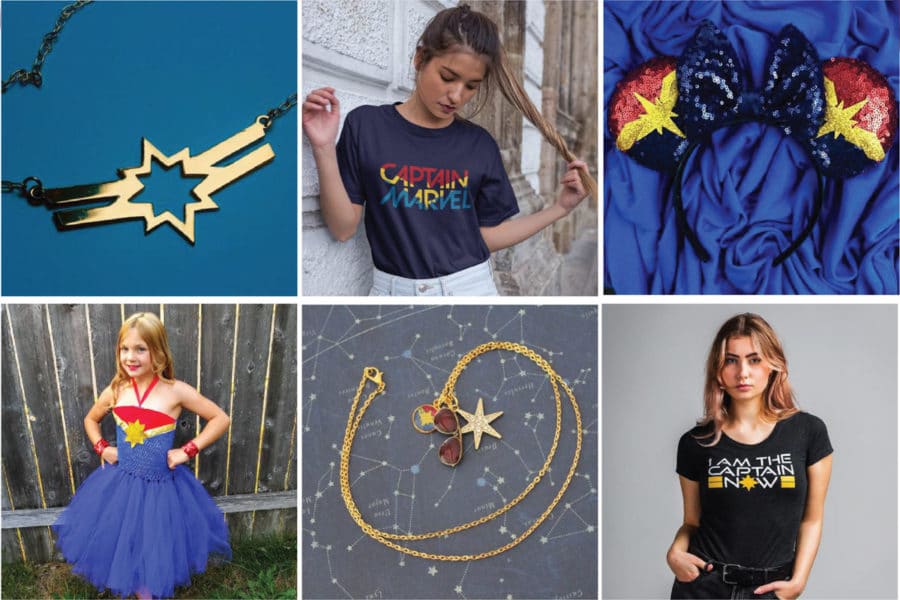 This post contains affiliate links to products I think are cute and totally worth checking out! If you purchase via these links, I may receive a small commission at no additional cost to you.
The countdown is on. Less than two months left until Captain Marvel hits theaters and people are already going wild, especially after Marvel Studios just released a bunch of new Captain Marvel movie posters this week! If you don't have your Captain Marvel tickets yet, get them now!
You guys – I might have to order a new shirt to go with my Avengers "Team Chris" shirt – I might need one that is a Team Chris + Jude shirt. Or maybe just Team Jude because holy cow, he's on fire in this poster.
The other posters are amazing too of course but pretty sure my favorite is hands down Goose' poster. Mostly just because they made a poster of her cat.
And that's just straight out awesome. You can see all of the posters are the bottom of this post along with more information about Captain Marvel – hitting theaters March 8th!
Captain Marvel Costume Ideas
Captain Marvel is shaping up to be the movie event of the year, especially for all of those young girls out there who love superheroes but are tired of dressing up as Wonder Woman or Black Widow. It's about time a new female superhero took center stage. I'm guessing we're going to see a lot of little girls (and grown women) dressing up as Captain Marvel this year!
Since you know I love my costumes and superhero inspired shirts (like this DIY Thor shirt), I put together a collection of my absolute favorite Captain Marvel costumes from around the internet.
And they're all amazing.
Let's start with the cutest one – this Captain Marvel baby bodysuit. No explanation needed.
Or if it's cold where you live and you would prefer something with legs for your baby – this Captain Marvel costume for babies is perfect.
Speaking of cute? This Captain Marvel tutu dress is perfect for little girls who love the newest female superhero. Umm and can I get one in my size?
If your little girl is more of a full on costume person than a tutu person, here's a Captain Marvel kids costume that actually looks comfy (and not tight!).
Pretty sure this PJ set could pass as a Captain Marvel costume too, and it looks much more comfy than some of the others!
Only a woman with a certain body type can likely wear this full Captain Marvel cosplay costume but hey if that's you, this is the real deal.
Don't want to go full on spandex for the costume? This Captain Marvel leather jacket is a great way to still look the part without having to feel the squeeze.
And as a bonus, had to add in this Kree costume because the Captain Marvel movie has other characters too. Jude Law and Goose remember?
Don't forget to pin these Captain Marvel costume ideas for later!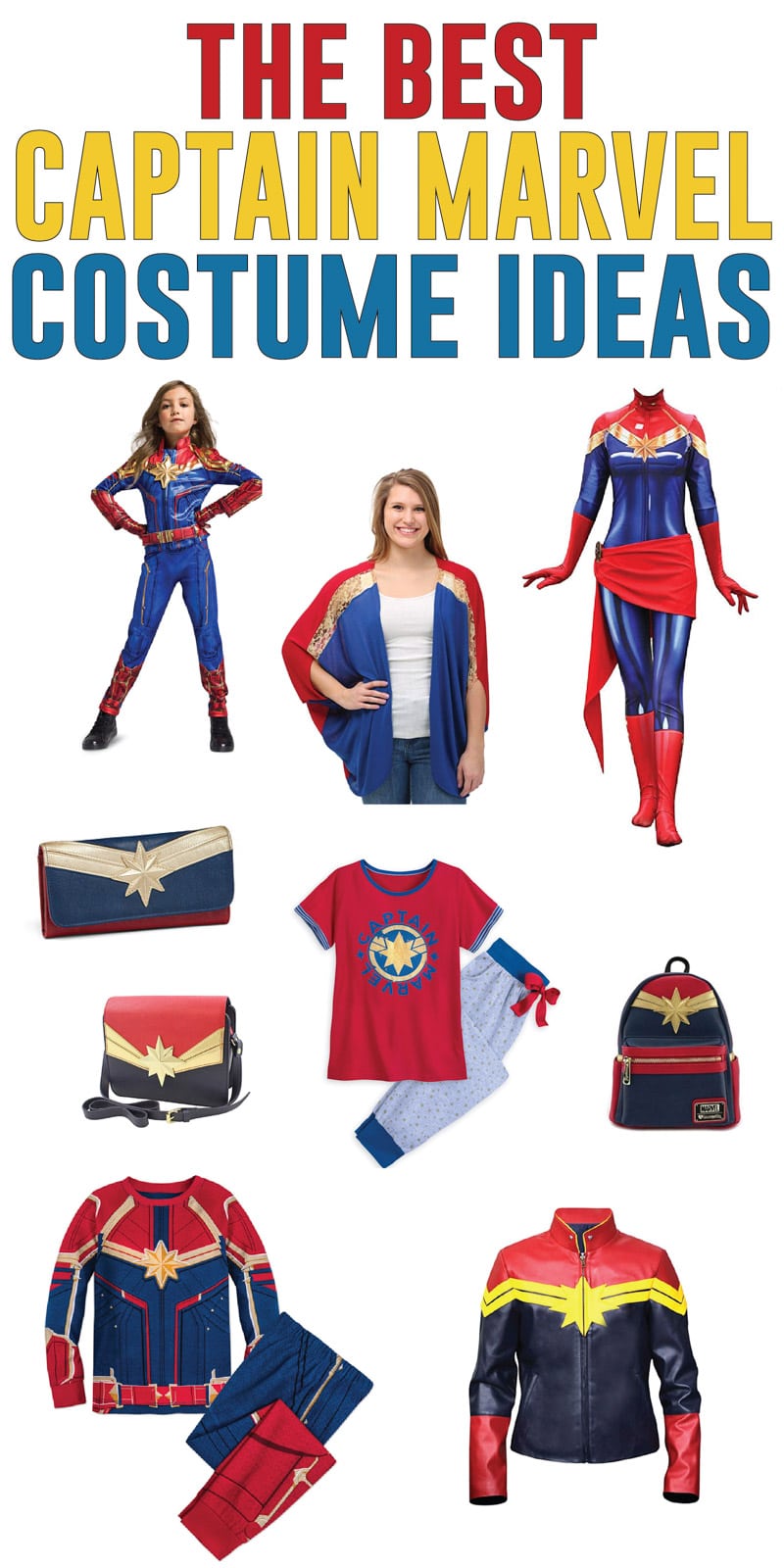 Captain Marvel Costume Accessories
Add any of these Captain Marvel accessories to the costumes above or wear them with the Captain Marvel shirts below for the full superhero effect. Or just to be a little extra.
This Captain Marvel necklace would be the perfect addition to any of these costumes. Or just to wear around all the time. Comes in silver, gold, and pink.
Wear dark jeans with a Captain Marvel tee (great list below!) and this Captain Marvel shrug, aka cape, over top of it for comfort and style.
Or forget the symbol and go with this Captain Marvel charm necklace instead. You guys, those sunglasses are amazing.
Headed to the parks or on a Disney Cruise to meet Captain Marvel? These Captain Marvel inspired ears would be the perfect accessory!
And these Captain Marvel pajamas would be perfect for dreaming about that character meet and greet with Captain Marvel!
Can't forget the purse to hold all those things Captain Marvel needs on a night out. This Captain Marvel inspired purse is the perfect size!
Or maybe you're a backpack person. This Loungefly Captain Marvel backpack is my new favorite.
Or maybe not a purse person at all and would prefer to just carry this Captain Marvel clutch instead. I kind of love this.
Go the casual route with the Agents of Shield look topped off with this Agents of Shield hat.
And last but not least – need something for the man in your life? This Captain Marvel tie makes a great matching accessory piece to your costume!
Don't forget to pin these Captain Marvel costume accessories for later!
Captain Marvel Shirts
Okay there were so many costume ideas, I decided to make a separate section for my favorite Captain Marvel shirts out there. These aren't technically Captain Marvel costume ideas, but they'd be perfect for going to see the movie on release night!
Pair this I am the captain now shirt with comfy pants for a perfect Carol Danvers inspired look.
Forget movie night, pretty sure I'd wear this comfy looking navy blue shirt all the time.
If you're a fan of the words, here's another great option – on black this time. And if you couldn't tell from my DIY Disney shirts, I'm a big black fan.
Forget the black and go with white and gray raglan shirt with all sorts of colors!
Another comfy shirt you could just wear all the time, this soft v-neck features the Captain Marvel symbol in a shiny gold.
This comic book inspired shirt has a lot more going on than the others but if that's your thing – this is the shirt for you!
If you're a big Goose fan, this Goose shirt may be your best bet! I think I might buy one of these just because.
This simple black Captain Marvel movie shirt is a good option for someone who likes simple and comfortable!
And if it's cold where you're at – forego the shirt and go with this Captain Marvel hoodie instead!
Another cold weather favorite that's not quite as obvious – this Captain Marvel sweater looks nice and roomy for snuggling up in a movie theater seat!
Or if you live in the warm weather, here's a great Captain Marvel tank. Honestly, the design is one of my favorite out of all of these shirts!
Don't forget to pin these Captain Marvel shirt ideas for later!