Looking for Cricut gift ideas? If you know someone getting a Cricut Maker for Christmas or someone who already has one and wants to start using it more – these machines, materials, and tools make great Cricut gifts for Christmas!
While this post is sponsored by Cricut, all Cricut gifts included in this post are there because I absolutely love them and use them regularly! This post also contains affiliate links to products I recommend. If you purchase via these links, I may receive a small commission at no additional cost to you.
Cricut Christmas Gift Ideas
I've had a number of friends, readers, and even family members who have bought a Cricut Maker after seeing my Disney family shirts, DIY cake toppers, and felt banners I made with the Cricut.
They buy the Cricut and then eventually I always get a text that says something like umm okay I bought a Cricut, now what? What should I do first?
What are your favorite products to go with it?
Today I'm answering one of those questions – what are the essential things for a beginner Cricut user to have – specifically for people who want to make things for parties and activities or games for their kids – since that's my favorite thing to do with my Cricut. Or even one of these cute monthly kids date night box!
My number one item I'm recommending is the Cricut Maker. While I love the Explore machines and all the projects you can make with a Cricut Explore Air 2, the Maker is just so versatile – and Cricut is always coming out with new things for the Maker.
If you have the budget for it, it's definitely the way to go.
Most of the items on this list can be used with both the Cricut Explore Air 2 and the Cricut Maker but some of them (like the knife blade) are Cricut Maker specific. I'll make a note if they're only to be used with the Maker and give an alternative for the Explore line of machines.
Cricut Gift Ideas
Okay, let's get to it!
I've broken these Cricut gifts into three different sections – machines, materials, and tools.
Machines are going to be on the more pricey end and would make a great gift for say a wife or daughter who loves to craft.
Tools can be anywhere from super affordable (hello Cricut Weeder) to a little more pricey. These really only work if someone already has a machine OR they're getting one for Christmas. Tools tend to be a little on the smaller side and also make GREAT stocking stuffers for women!
The materials list are all pretty affordable items and things that you could use whether or not someone has a machine. Some of them need a machine (Everyday Iron on) and some of them you could use without one. I still recommend Cricut materials even if someone doesn't have a machine because the quality is typically better than other items out there.
Cricut Gifts: Machines
There are a number of different machines out there that would make great Cricut Christmas gift ideas but I'm recommending just my two favorites!
Cricut Maker
I mentioned it above but the Cricut Maker is by far my favorite Cricut machine. It can cut SO many materials including heavier materials like chipboard, leather, and light balsa wood. It's the one-stop machine for doing everything for parties from print and cut designs to custom wood cake toppers to fabric bags you can sew in seconds. It's a game changer when it comes to crafting, especially party crafting, and something that I recommend to anyone who will listen!
Check it out!
Cricut EasyPress 2
You could totally get the original Cricut EasyPress as well, I just personally like the raspberry color of the EasyPress 2. If you're not familiar with the EasyPress - it's a game changer in terms of applying iron on vinyl to projects. It's basically the heat of a heat press in the size of an iron (or smaller if you get the EasyPress mini!) It's perfect for adding iron on vinyl to party favors, custom t-shirts, tablecloths, and more!
Check it out!
While most of the larger Cricut EasyPress options come with an EasyPress mat, the smaller ones like the Cricut EasyPress Mini don't. If you're getting something smaller, I also recommend getting a Cricut EasyPress Mat – way easier to use and more precise than a towel.
Cricut Fine Point Pen Set
There's something magical about hand lettered invitations or party favor tags. Guess what? With Cricut pens you can get the same look and feel of hand drawn items without actually drawing them by hand. And if you're like me, that's a good thing. This pack of pens can be used with both the Explore Air 2 and the Maker to draw on small details, hand letter projects, or even make coloring pages!
Check it out!
Cricut Gifts: Tools
There are also tons and tons of Cricut tools options that would make great Cricut gifts. Pens in every color, different types of wheels, styluses, cutters, and more. And if you want to cut fabric and sew with your Cricut Maker, there are even more options!
I've put together a list of my personal favorite Cricut tools – ones that I use on a regular basis for games, parties, and activities with my kids.
I also included a Cricut Access membership because honestly that's one of the best tools you can have for your Cricut Machine. An annual subscription is the perfect gift for a Cricut beginner and cheaper than a month to month plan!
Cricut Access
The other thing I recommend for everyone is a Cricut Access membership! With over 100,000 images, tons of fonts, and designs that are already created for you - it's a goldmine for making easy crafts and projects. Want to make cupcake toppers for your next party? Cricut Access has a design ready for you. How about paper party favors? Those are in there too! Not to mention all of the images and fonts you can use to create your own designs. It's one of my favorite things about Cricut and totally worth the cost!
Check it out!
Cricut Weeder
There's not much to say about this weeding tool other than it's absolutely essential if you're going to be cutting really anything. That little tip on the top is used for getting out the tiny pieces of projects - things like the circle inside the letter O and other little details. It's the perfect stocking stuffer size and cost and like I said, an essential. I actually recommend having more than one so if one goes missing, you have a backup. I use mine that much.
Check it out!
Cricut Knife Blade
If you want to cut things like chipboard, balsa wood, and leather on the Cricut Maker, you'll need the Cricut Knife blade. It's designed to cut heavier materials and one of the reasons the Cricut Maker is so unique!
Check it out!
Cricut Scoring Wheel
While the Cricut scoring wheel only works with the Cricut Maker, it's fantastic for any projects you make that need to be folded. Think gift boxes, party favors, paper flowers, and more. Great for party decorations, kids crafts, and all things paper.
Check it out!
Don't have a Cricut Maker? The Cricut Scoring Stylus is a good option for the Explore Air 2. Or a cheaper alternative for the Cricut Maker – I just prefer the scoring wheel.
Cricut Portable Trimmer
You're probably thinking why would anyone need this, I'm sure they have scissors. Well you're both right and wrong. Scissors work for cutting but what about if you want to cut straight and cut straight quickly? This portable trimmer is one of my favorite tools for making sure I'm cutting straight lines - which is especially important when you're cutting out party printables, cutting vinyl to size, and even cutting transfer tape!
Check it out!
Cricut Gifts: Materials
I've mentioned it before but the Cricut Maker can cut all the things. That means that Cricut has created all sorts of materials for easy cutting. There's patterned vinyl, party foil, leather, and even wood.
These are some of my personal favorites because I've found the Cricut versions work better than other similar materials out there. So while you could just go out and buy regular glitter card stock, I've mentioned why I recommend these Cricut materials instead.
Want to make someone with a Cricut Maker happy? Buy them a pack of various materials from this list and wrap it up with a pretty bow.
Cricut Everyday Iron On
Honestly any of the Cricut iron on vinyl would be a good buy. It's high quality, works great with all of the Cricut machines, and stays on well compared to some other iron on vinyl products out there. If you're buying iron on as a gift, I recommend buying universal or neutral colors like black, white, primary colors, that you know will get used. If you're buying it for yourself or know what they like, Cricut has iron on vinyl options in droves. So many amazing options including patterns, glitter, foil, and more!
Check it out!
Cricut Basic Vinyl
Another pretty safe bet for Cricut gift ideas is Cricut basic vinyl. It comes in all colors, shapes, and sizes and can be used for pretty much anything. Add black vinyl to white cups to make ghost cups, add it to utensils to make them match the theme. The uses for vinyl are absolutely endless making it one of the best Cricut gift ideas.
Check it out!
If you're getting Cricut Basic vinyl for someone, I recommend adding a pack of Cricut Transfer tape as well. While transfer tape is not absolutely necessary, it makes applying vinyl so much easier. Especially if you're a perfectionist!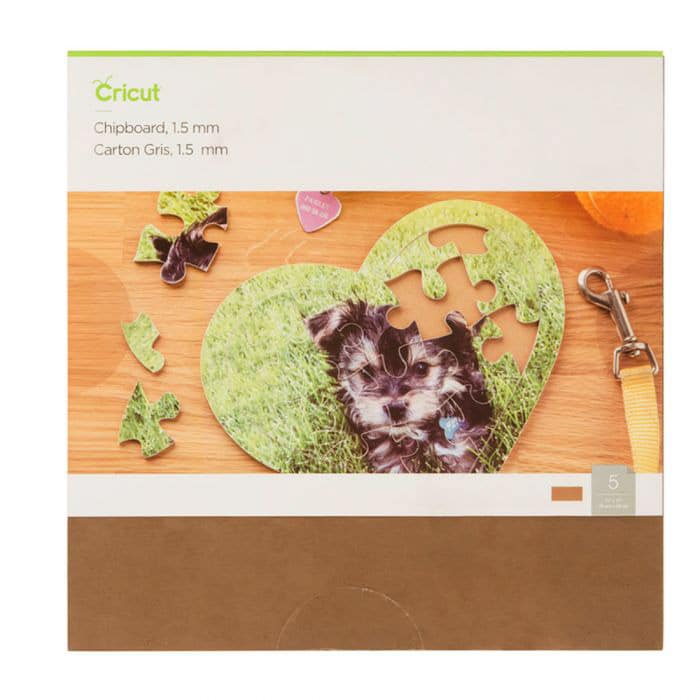 Cricut Chipboard
One of my favorite things to do for parties is to make custom cake toppers. This Cricut chipboard is perfect for that as well as for other things like making your own custom puzzles, centerpieces, and more! Either leave the chipboard as is, add vinyl to it for a custom design, or paint it to match your color scheme!
Check it out!
Cricut Sparkle Shimmer Paper
Sparkle Shimmer paper is another one that I personally always have on hand. It's heavy duty enough to work for things like cupcake toppers, party favors, and of course kids crafts! And unlike many of the other glitter papers out there, the glitter stays put rather than transfers to everything it touches. And when you're hosting a party with food and children, you want the glitter to stay put!
Check it out!
Cricut Poster Board
This poster board isn't like the regular white poster board you might buy at the store. I found it to be a lot sturdier than typical poster board. The bright color pack is perfect for creating custom cake toppers, backdrops, party favors, and more! It's a product I've never really found elsewhere, and I personally love it. I use it regularly in my parties and think it'd be a great addition to any Cricut user's collection!
Check it out!
Cricut Printable Sticker Paper
One of my favorite things to use for parties and other projects with my kids is the print and cut feature. You design your images, print them out, and then cut them with the Cricut. It gives you the ability to make beautifully designed images with intricate cuts without having to layer papers or vinyl. These printable sticker papers let you take it a step further and do the same thing on sticker paper. So you can print out your designs, cut them out with the Cricut, and stick those babies onto cups, party favors, plates, water bottles - you name it!
Check it out!
Cricut Felt
There's felt and then there's Cricut felt. I've done a number of felt projects over the past few years and nothing cuts like Cricut felt - especially when you cut it on the Cricut Maker. You can make felt banners, felt embellishments, felt pillows, and more! Cricut felt is one of my absolute favorite Cricut materials to use, which is saying a lot because two years ago I would never have used felt in my projects because it never cut right! The Cricut Maker totally changed that!
Check it out!
Cricut Project Ideas
Want to see why the items in this gift guide would make great Cricut Christmas gift ideas? Check out these fun projects I've made with my Cricut to get some ideas of how someone could use these gifts!
More Gift Ideas
Don't forget to pin these Cricut gift ideas for later!
This is a sponsored conversation written by me on behalf of Cricut. The opinions and text are all mine.