If you thought that 2017 was an amazing year for Disney movies, you were right. 2018 is shaping up to give 2017 a race for it's money with three Marvel movies slated for the year, two animated films, one Lucasfilm stand-alone film, and a couple of incredible looking live-action adaptation on childhood favorites. Keep reading for more details on everything we know about these 10 must-see Disney movies coming out in 2018 – release dates, cast, the latest trailers, and more!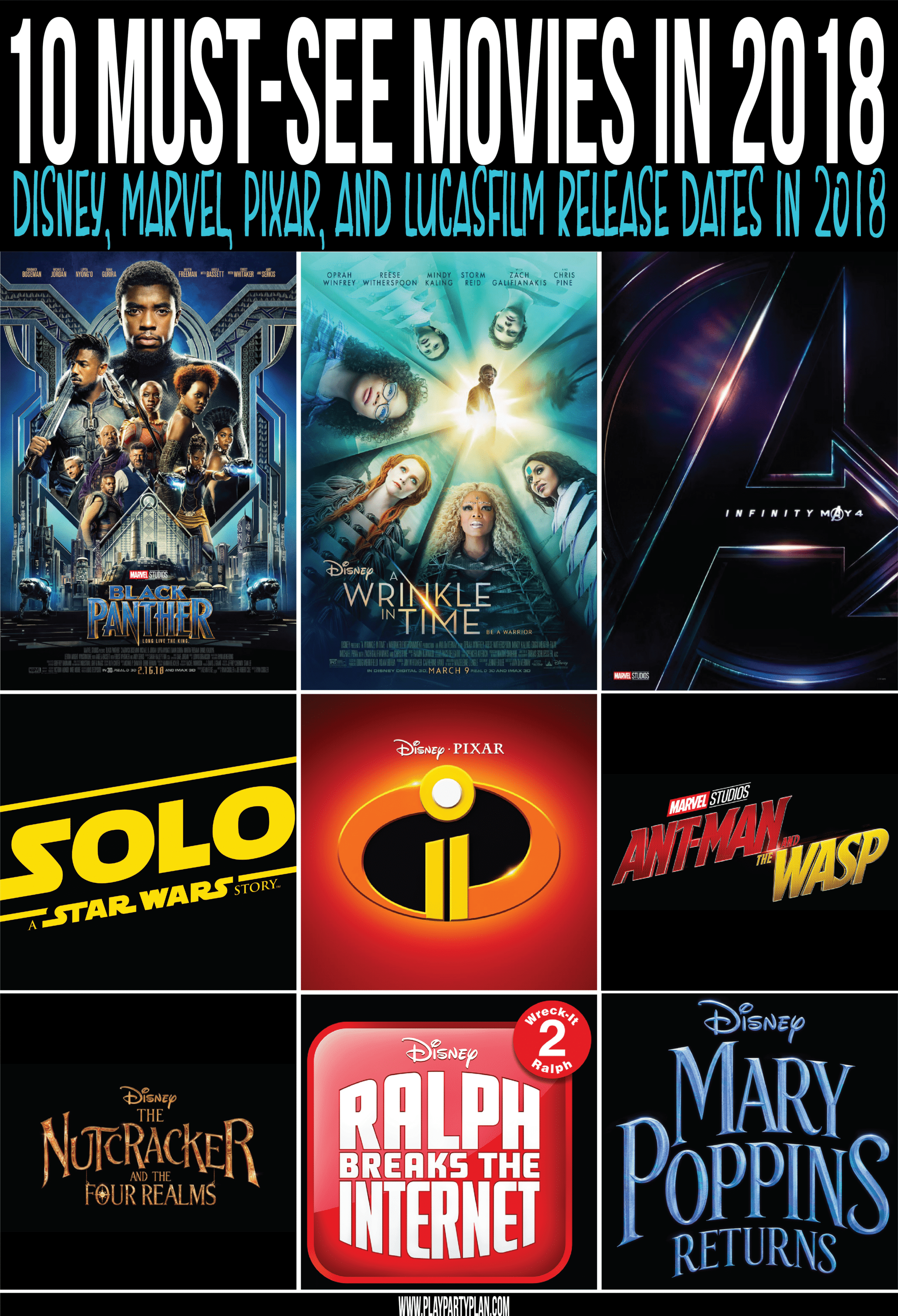 This post contains affiliate links to products for your convenience. If you purchase via my links, I may receive a small commission at no additional cost to you.
2018 Walt Disney Movies List
Here's a quick schedule for the year. Keep reading for more details on each of these movies in this Disney movies list! And if the movie is out already, I've linked each of the Disney movies coming out in 2018 below to my review post or more information about the movie!
Black Panther (Marvel Studios) – February 16th
Wrinkle in Time (Walt Disney Studios) – March 9th
Avengers: Infinity War (Marvel Studios) – April 27th
Solo: A Star Wars Story (Lucasfilm) – May 25th
Incredibles 2  with the Bao Pixar Short Film (Disney Pixar) – June 15th
Ant-Man and the Wasp (Marvel Studios) – July 6th
Disney's Christopher Robin (Walt Disney Studios) – August 3rd
The Nutcracker and the Four Realms (Walt Disney Studios) – November 2nd
Ralph Breaks the Internet: Wreck-It Ralph 2 (Walt Disney Animation Studios) – November 21st
Mary Poppins Returns (Walt Disney Studios) – December 25th
1st Quarter Disney Movies Coming Out
Disney starts out the first quarter with a statement – two movies on the docket featuring strong and powerful women and African Americans. I can't think of a better way to start the year. And I can't wait for this year to get started with Black Panther on February 16th. I've already got my opening night tickets!
Black Panther (Marvel Studios) – February 16, 2018
The year starts off with a bang with Marvel's newest addition – Black Panther – starring Chadwick Boseman, Michael B. Jordan, Lupita Nyong'o, Danai Gurira, Martin Freeman and others. Black Panther follows T'Challa as he returns to Wakanda after the death of his father (in Captain America: Civil War).
You can read more about why I think everyone should see Black Panther here. It's an incredibly important film and sure to be an amazing one if you've liked any of the previous Marvel films.
Black Panther hits theaters February 16, 2018. If you don't have your tickets already, you can get them now!
Wrinkle in Time (Walt Disney Studios) – March 9, 2018
So I know it's not a Disney movie, but I've now seen The Greatest Showman in theater three times. Typically I don't mind missing previews for movies I've already seen but not for The Greatest Showman? You know why – the Wrinkle in Time trailer! Every time Chris Pine comes on screen and the trailer begins, I get chills.
Wrinkle in Time was one of my favorite books growing up, which is saying a lot because I read so much my parents grounded me from reading. I'm actually re-reading the series again right now, so you're likely to see some Wrinkle in Time inspired posts coming soon! And if you haven't read it yet, it's a quick children's book that you could probably read this weekend. Get it off Amazon here!
Back to the movie – Wrinkle in Time follows the journey of Meg Murry, a typical middle school student trying to fit in. She's the daughter of two world-renowned physicists and uniquely gifted along with her brother Charles Wallace but doesn't know it yet. Making things even worse, Meg's father Mr. Murry mysteriously disappeared leaving the family broken-hearted.
In A Wrinkle in Time, Charles Wallace introduces Meg and her classmate Calvin to three celestial beings who have come to Earth to search for Meg's father. And that's where the storyline gets complicated and amazing and pretty much is a story of Meg facing darkness in herself to defeat darkness on the earth.
Wrinkle in Time is directed by Ava DuVernay and stars Oprah Winfrey, Reese Witherspoon, Mindy Kaling, Gugu Mbatha-Raw, Michael Peňa, newcomer Storm Reid (as Meg), Zach Galifianakis, and Chris Pine. Because you know there weren't enough Chris' already in the Disney lineup this year, we had to add another one to the competition! And you guys, that lineup of powerful women is incredible. I can't imagine even being in the same room as Oprah, Reese, and Mindy all at the same time!
A Wrinkle in Time hits theaters March 9, 2018.
2nd and 3rd Quarter Disney Movies List
After A Wrinkle in Time, we have a bit of a break from Disney movies, which is probably good because the May to August schedule is insane, seriously insane. Two Marvel movies, including what's likely to be the biggest one yet, a long-awaited Disney Pixar sequel, a Christopher Robin no one knows much about, and a Lucasfilm about Han Solo. If you need me this summer, I'll apparently be at the movie theater!
Avengers: Infinity War (Marvel Studios) – April 27, 2018
If we're friends on Facebook, you know that I'm already planning out my Thursday night viewing of this one, hopefully with some of my other Marvel fan friends! I'm not sure I've been more excited for a movie, maybe ever. I mean Thor: Ragnarok was insane (and one of my favorite movies of 2017!) but this film brings together everyone to fight Thanos.
I've already watched the trailer about a million times, and I still get chills every time Chris Evans comes out of the dark and someone says get that man a shield. That's definitely my favorite part of the Avengers Infinity War trailer for now, but it could easily change in the next few months.
And if you're as excited as I am, make sure to follow along with the Infinity War Countdown as some of my favorite people watch (and live tweet using #CountdownToInfinityWar) one movie from the MCUa week leading up to the release of Infinity War in May. You can get the full list of movies to watch before Infinity War and countdown schedule here. I may not be able to participate every week, but you bet I'll be watching each of the movies, maybe even twice, between now and May 4th.
The synopsis for this one is actually pretty short – ten years of MCU films leads to this one – the deadliest showdown ever. The Avengers and their superhero allies must be willing to sacrifice it all to defeat the powerful Thanos before he destroys the universe. It stars everyone, seriously pretty much everyone who has ever been in an MCU movie.
And if anyone dies, I'm going to cry all the tears. I'm hoping that since Chris Hemsworth said that he'd be up for continuing Thor since Thor: Ragnarok was so much fun, that he's safe.
Avengers: Infinity War hits theaters on April 27, 2018. 
Solo: A Star Wars Story (Lucasfilm) – May 25, 2018
After the death of Han Solo in The Force Awakens, I wasn't sure we would ever see him on screen again. Although with the new force ghosts in The Last Jedi, who really knows. Apparently everything is possible in a galaxy far, far away.
In Solo: A Star Wars story we get to see Han Solo before we knew him as he goes on daring adventures in the dark criminal underworld. Along the way he meets fan favorite Chewbacca and somehow becomes one of the Star Wars saga's beloved heroes.
No trailer yet, but I'll make sure to add it to this post as soon as we have it!
Solo: A Star Wars Story hits theaters May 25, 2018. 
Incredibles 2 (Disney Pixar) – June 15, 2018
It's the year of the superheroes, and I couldn't be more excited for the Incredibles to be back! I've watched the first movie with my son more times than I can count, and he still thinks he can run as fast as Dash. I'm not going to be the one to break his heart. The first movie was so good and this one will have even more superhero family action as baby Jack-Jack joins the team!
In Incredibles 2, Helen (voice of Holly Hunter) leaves Bob (voice of Craig T. Nelson) at home with the kids to handle normal life. And somewhere along the way, they realize that Jack-Jack is incredible too! The family must work together, with the help of Frozone (voice of Samuel L. Jackson) to defat another super villain. Watch the trailer below to get an idea of how hilarious this movie is going to be!
If you haven't seen the first Incredibles movie yet, watch it here first!
Incredibles 2 flies into theaters June 15th. 
Ant-Man and the Wasp (Marvel Studios) – July 6, 2018
The third Marvel movie hits theaters just two months after Avengers: Infinity War, which means we're going to have a pretty marvelous summer. Ha! I've been a huge Paul Rudd fan since Clueless and Friends and pretty much everything he's ever done, and I can't wait to see him put his Ant-Man suit back on again! And this time he's joined by Evangeline Lily as The Wasp.
Ant-Man and the Wasp picks up in the aftermath of Captain America: Civil War and Scott (Paul Rudd) has to decide what he's doing as a superhero and father. He's joined by The Wasp as they take on a urgent new mission and must work together to uncover more secrets from the past.
The movie also stars Michael Pena, Walter Goggins, Bobby Cannavale, Judy Greer, Tip "T.I." Harris, David Dastmalchian, Hannah John Kamen, Abby Ryder-Fortson, Randall Park, with Michelle Pfeiffer, with Lawrence Fishburne, and Michael Douglas.
No trailer yet, but I'm guessing we see one during Avengers: Infinity War in May if not sooner. If you haven't seen the first Ant-Man, watch it here first.
Ant-Man and the Wasp marches into theaters July 6, 2018. 
Disney's Christopher Robin (Walt Disney Studios) – August 3, 2018
We don't know much about the new Christoper Robin movie other than it stars Ewan McGregor and Hayley Atwell (from Agent Carter). And all I really want to know is does Christopher Robin sing because I'm pretty sure Ewan McGregor should be required to sing in every movie he's in. He may be one of my favorite singing actors of all time, right up there with Jeremy Jordan.
In the film, Christopher Robin has grown up and lost his way. His childhood friends must venture into the world of humans to help Christopher Robin remember who he is inside. Again, no trailer yet. I'm crossing my fingers for a musical trailer full of Ewan McGregor singing when we do get one!
Christopher Robin wanders into theaters August 3, 2018. 
4th Quarter Disney Movies Coming Out
The fourth quarter is filled with what it should be – sugary, sweet, and colorful films. The season stars with an adaptation of the beloved ballet The Nutcracker and ends with Emily Blunt and Lin-Manuel Miranda remaking one of the most beloved Disney movies of all – Mary Poppins. And in the middle? Wreck-It-Ralph breaks the internet. Sounds perfect to me.
The Nutcracker and the Four Realms – November 2, 2018
I'm already planning out some incredible Nutcracker party ideas to go along with this film. We've only seen images so far, but they're breathtaking and color. I'm not a huge fan of the ballet in general, but I love The Nutcracker ballet. It seems to get better almost every time I see it, so I can't wait for this new one-of-a-kind film adaptation.
All Clara (Mackenzie Foy) wants is a key – a one-of-a-kind key that will unlock a box that holds a priceless gift. A golden thread, presented to her at godfather Drosselmeyer's (Morgan Freeman) annual holiday party, leads her to the coveted key—which promptly disappears into a strange and mysterious parallel world. It's there that Clara encounters a soldier named Phillip (Jayden Fowora-Knight), a gang of mice and the regents who preside over three Realms: Land of Snowflakes, Land of Flowers and Land of Sweets.
Clara and Phillip must brave the ominous Fourth Realm, home to the tyrant Mother Ginger (Helen Mirren), to retrieve Clara's key and hopefully return harmony to the unstable world. Starring Keira Knightley as the Sugar Plum Fairy, Disney's new holiday feature film "The Nutcracker and the Four Realms" is directed by Lasse Hallström and inspired by E.T.A. Hoffmann's classic tale.
The Nutcracker and the Four Realms pirouettes into theaters on November 2, 2018. 
Ralph Breaks the Internet: Wreck-It Ralph 2 (Walt Disney Animation Studios) – November 21, 2018
As if The Nutcracker with its sugar plum fairy wasn't sweet enough, just a few weeks later we get to see whatever happened to Wreck-It-Ralph and his friends. This is the first time in a long time that there hasn't been a brand new/original concept animated movie from either Pixar or Walt Disney Animation Studios. And that means something – that means that Disney is putting a lot of faith into their two animated sequels this year. It's kind of crazy to think about honestly, and I'm looking forward to two amazing sequels this year.
In Wreck-It-Ralph 2, Ralph and his friends leave the arcade behind and venture out into the internet. Vanellope's video game Sugar Rush needs a replacement part, and Vanellope and Ralph must search the internet trying to find said part with the help of citizens of the internet.
And as if it couldn't get any sweeter, Wreck-It-Ralph 2 features the voices of all of the living Disney princesses! They all appeared on stage for the promo last year at D23!
If you want to get your kids excited for this one, these Wreck-It-Ralph gifts make really sweet gifts! And it can't hurt to watch the first Wreck-It Ralph again before the 2nd one comes out. Watch it here!
Ralph Breaks the Internet breaks into theaters on November 21, 2018. 
Mary Poppins Returns (Walt Disney Studios) – December 25, 2018
Merry Christmas to all, Merry Christmas is right! We have a tradition of seeing a movie on Christmas Day every year and I do believe this year it'll be this one.
In Mary Poppins returns, Emily Blunt plays Mary Poppins as she returns to London to help the next generation of the Banks family using material inspired by PL Travers' books about Mary's adventures with the Banks family.
The movie is created in the same spirit of the original with all new music, adventures, and an all-new friend Jack played by none other than the incredible Lin-Manuel Miranda. I was already ridiculously excited for this movie but adding Lin-Manuel Miranda into the mix just makes it that much more amazing. His music is nothing short of incredible, and I can't wait to see what he does with the role of Mary's friend Jack!
In addition to Emily Blunt and Lin-Manuel Miranda, the film also stars Ben Whishaw, Emily Mortimer, Julie Waters, Colin Firth, Meryl Streep, with minor roles by Angela Lansbury and Dick Van Dyke.
Mary Poppins glides into theaters on December 25, 2018. 
.