Looking for a list of Disney movies coming out in 2019? Here's the full list of Disney movies scheduled to be released this year by Walt Disney Studios, DisneyNature, Pixar, Marvel Studios, and Lucasfilm!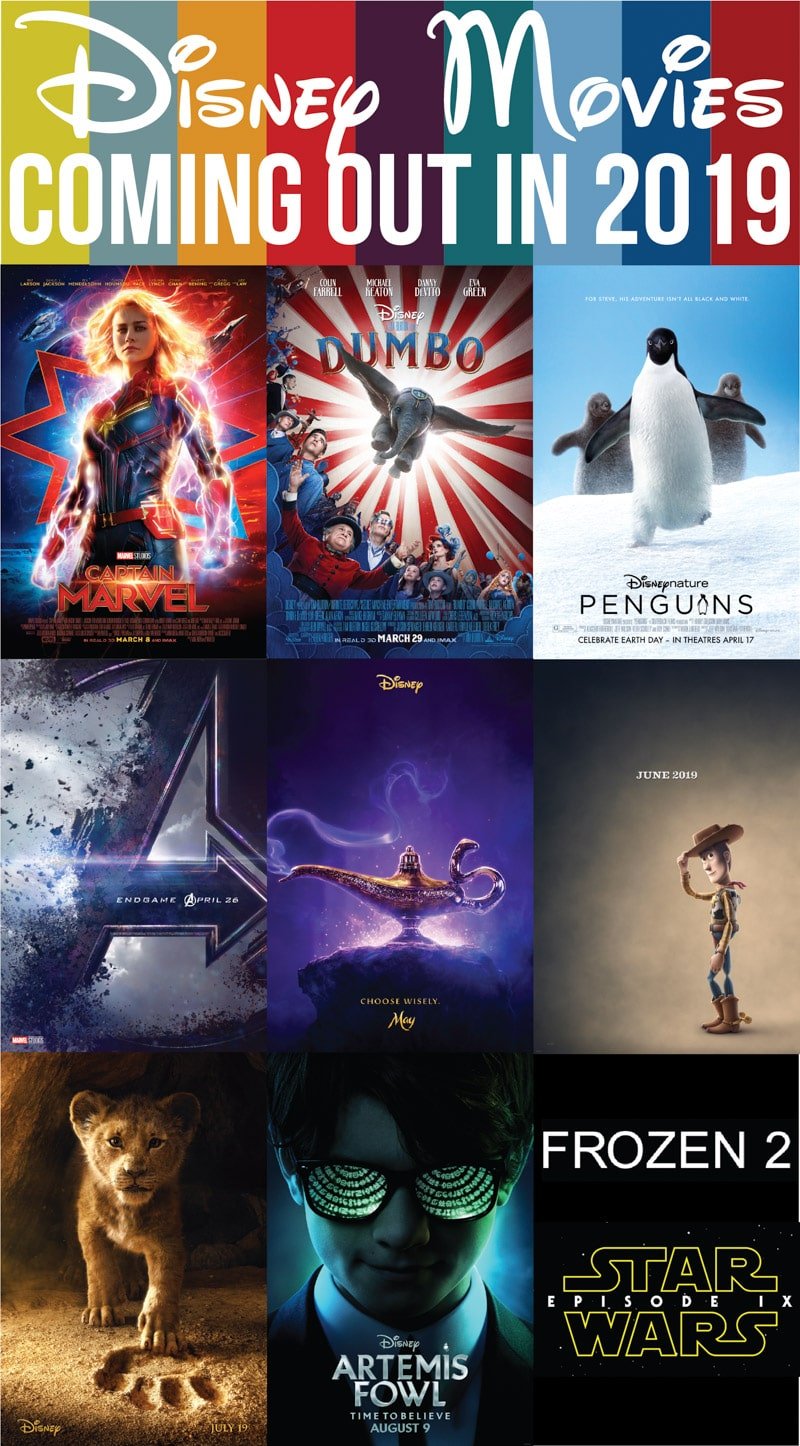 First off, let me start this post with a little caveat. I say Disney movies because it's shorter but really this is the full slate for the Walt Disney Studios which includes Disney, DisneyNature, Pixar, Marvel, and LucasFilm (aka Star Wars).
I'm going to do something a little differently than most 2019 Disney movie lists I've seen out there. I'm going to give you a chronological list (with release dates) because that's what most of you probably want, but then I'm going to put the Disney movies coming out in 2019 in order of which ones I'm most excited about first moving down to the ones that are still exciting but maybe not quite as exciting as say finding out what happens to my beloved Avengers.
Make sure to read the full post to get more details, trailers, and the info we have about all of these movies!
Disney Movies Coming Out in 2019
This year brings a lot of familiar faces to the big screen. Luckily Disney is one of the best at bringing back familiar faces while still doing it in an original way. Or at least I'm banking on their experience with sequels since this year is full of sequels and live-action adaptations of already favorite films.
The Disney movies coming soon include ten new films –> five Disney films, one Disneynature, one Pixar, two Marvel Studios films (see my * at the bottom of the list for a third), and one Lucasfilm film!
2019 Disney Movies List (Chronological)
Unlike the Disney movies in 2018 where it felt like movies were coming out every month, we're going to get a lot all at once this spring/summer and then a couple to finish out the year around the holidays. Nothing to start the year and nothing in between summer and the holidays. Gives everyone a chance to catch up on the movies they missed earlier in the year.
March 8th, 2019 – Captain Marvel (Marvel)
In Marvel Studios' first film of the year we meet Captain Marvel – a film set in the 1990's where we meet Carol Danvers as she becomes Captain Marvel, one of the most powerful heroes in the universe. And side note – also the person Fury paged at the end of Avengers: Infinity War as he was fading into nothingness.
Brie Larson stars as Captain Marvel (and if you don't follow her on Twitter already, you need to start!) alongside Ben Mendelsohn, Djimon Hounsou, Lee Pace, Lashana Lynch, Gemma Chan, Rune Temte, Algenis Perez Soto, Mckenna Grace, Annette Bening, Clark Gregg (Coulson returns!!), and Jude Law.
March 29th, 2019 – Dumbo (Disney)
A new Tim Burton directed live-action version of the classic Disney film Dumbo, this story will take us back to the circus where Dumbo learned to dream and fly. And along the way realized that the circus life isn't as bright and colorful as it's cracked up to be.
Dumbo stars Danny DeVito as the circus owner, Colin Farrell as a Circus star Holt Farrier, Michael Keaton as the entrepreneur V.A. Vandevere, and Eva Green as aerial artist Colette Marchant.
April 17, 2019 – Penguins (Disneynature)
Celebrate Earth Day with this charming new Disneynature film that follows a baby penguin Steve as he comes to age among millions of male Adelie penguins and tries to avoid the dangers of his surroundings such as killer whales and leopard seals.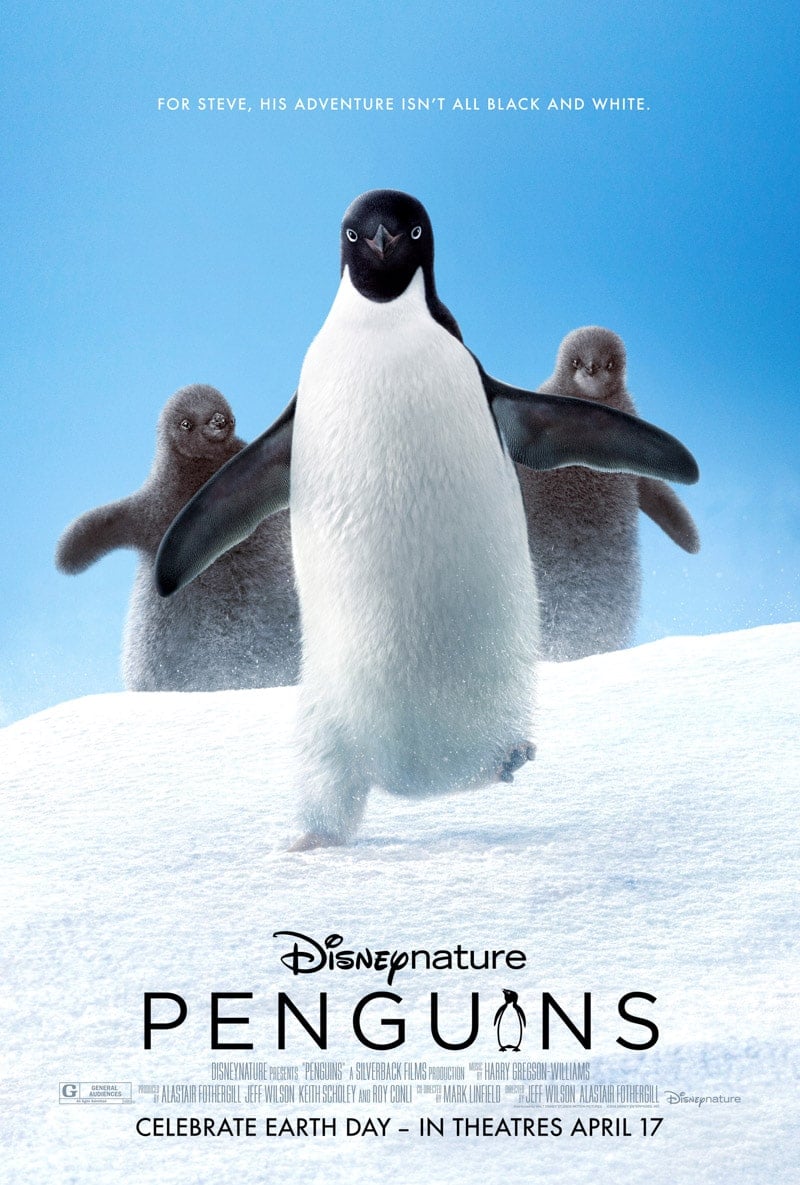 April 26, 2019 – Avengers Endgame (Marvel)
If you've watched Avengers: Infinity War, you know what Avengers Endgame is all about. Or at least you know as much as the rest of the world does. If you haven't watched Infinity War yet (or any of the Marvel movies for that matter), watch that before you watch Endgame.
That being said – Avengers Endgame picks up where Infinity War left off, or at least it seems to from the only trailer we've seen of the film. The remaining Avengers are trying to figure out a plan to save the world from where Thanos has left it. It should be the conclusion to years in the making of Marvel films starting with the very first Iron Man.
Starring? Everybody, well hopefully everybody at least.
May 24, 2019 – Aladdin (Disney)
A live-action version of Disney's animated classic that promises to be bright, colorful, and magical if it's anything like Beauty and the Beast. Aladdin will once again hit the streets of Agrabah, will encounter the all-powerful Genie, and of course fall in love with the beautiful princess Jasmine.
Aladdin stars Will Smith as the genie, Mena Massoud as Aladdin, Naomi Scott as Jasmine, Marwan Kenzari as Jafar, Navid Negahban as the Sultan, Nasim Pedrad as princess Jasmine's confidante Dalia, Billy Magnussen as suitor Prince Anders, and Numan Acar as Jafar's right-hand man Hakim.
June 21, 2019 – Toy Story 4 (Pixar)
Our favorite Toy Story toys are back alongside their new kid Bonnie, but things go awry when Bonnie introduces a new handmade toy "Forky" to her room, which confuses all the other toys (and Forky). The final installment in the Toy Story series promises to be one for the books.
July 19, 2019 – The Lion King (Disney)
Simba, Mufasa, Nala, Scar, and all their friends return in this recreation of the classic Lion King story that's somewhere between animated and live-action and uses pioneer filmmaking techniques to bring the characters to life in a brand new way.
The Lion King stars Donald Glover as Simba, Beyonce as Nala, James Earl Jones as Mufasa, Chiwetel as Scar, Seth Rogan as Pumbaa, and Billy Eichner as Timon.
Aug 9, 2019 – Artemis Fowl (Disney)
Disney's Artemis Fowl is based on the beloved book by Eoin Colfer about the journey of 12-year-old genius Artemis Fowl, a descendent of criminal masterminds, who seeks to find his father who mysteriously disappeared. On his adventure to find his father, Artemis comes across an ancient, underground civilization – a world of fairies.
Artemis Fowl is directed by Kenneth Branagh and stars Ferdia Shaw, Lara McDonnell, Tamara Smart, Nonzo Anozie, with Josh Gad, and Judi Dench.
November 22, 2019 – Frozen 2 (Disney)
We know very little about Frozen 2 other than the all-star cast of Kristen Bell, Idina Menzel, Jonathan Groff, and Josh Gad will be returning to bring Anna, Elsa, Kristoff, and Olaf back to Arendelle on the big screen.
Dec 20, 2019 – Star Wars Episode IX (Lucasfilm)
We know even less about Star Wars Episode IX than we know about Frozen 2, but I'm guessing a trailer and more details will be coming soon – possibly in conjunction with the opening of Star Wars Galaxy Edge at Disneyland and Walt Disney World this year!
*Spider-Man: Far From Home is currently scheduled to come out on July 5th. It's technically Sony, in conjunction with Marvel Studios so doesn't make this list – but good to keep in mind for Marvel fans like me!
Disney Movies Coming Soon (most anticipated order)
So I already went through the movies with their release dates in chronological order. Now let's get to my list – which movies I'm most excited about and which ones I'm not.
1 – Avengers Endgame (Marvel Studios)
It's Marvel. It's the conclusion of one of my favorite superheroes movies of all time, Avengers: Infinity War. And if I'm guessing correctly, it's going to focus mainly on the original Avengers + Ant-Man. And I'm a big sucker for the originals. They're what got me hooked on Marvel movies in the first place, and I'm honestly anxious to see what happens to my personal favorites.
No other explanation needed on this one. I'll be seeing it opening night no matter what and have already started my own personal Marvel marathon leading up to the release.
2 – Captain Marvel (Marvel Studios)
Again, it's Marvel. It's also the first female title Marvel movie out there, and I kind of adore Brie Larson. And Captain Marvel just seems like the superhero the world needs.
Marvel does things well, and I can't wait to see where they take this one. And how it plays into Endgame.
Oh and p.s., Jude Law.
3 – Toy Story 4 (Pixar)
Before last year, this might've been lower on my list but after going to the Toy Story Land opening at Walt Disney World and getting to see Tim Allen hang out with Buzz Lightyear, yeah I can't wait to see what they do with the latest installment. I've always loved the Toy Story franchise but I love it even more now.
4/5 – The Lion King (Disney)/Aladdin (Disney)
I can't choose between these two. In my head they're the same thing – not in the movie but in my nostalgic attachment to them. These two along with Little Mermaid and Beauty and the Beast are the movies I think of when I think of Disney movies.
Getting the chance to see both films brought to life again, it's like getting to step back in time to my childhood. And now it's even better because I get to take my kids with me.
6 – Frozen 2 (Disney)
I've always loved Idina Menzel after seeing her in Wicked on Broadway and Kristen Bell, well she's just forking awesome. And I mean I was Elsa for Halloween last year, so there's always that. Excited to hear more about this one!
7 – Star Wars Episode IX (Lucasfilm)
I'm not a Star Wars fanatic like some people, but I am really excited to see where Lucasfilm takes this. I personally loved The Last Jedi (and have the Porgs all over my house to prove it) and yeah December can't come soon enough.
Well unless I can sneak my way to the Galaxy Edge openings, then December can wait.
8 – Dumbo (Disney)
You'd think with my nostalgia for The Lion King, Toy Story, and Aladdin that Dumbo would be higher on this list. But I think Dumbo was just before my generation so I've obviously seen it and enjoyed it, but it doesn't have prime Disney movie status for me. And honestly, I don't love Tim Burton's take on things.
Now if Hugh Jackman and Zac Effron were starring as the circus performers, I'd be all in.
9 – Penguins (Disneynature)
Disneynature films are always a joy to watch, but I wouldn't necessarily say it's something I'm really excited about, especially since unlike Born In China where my favorite John Krasinski was narrating, I don't even get a narrator I adore. And p.s., did you see him clapping for Emily Blunt for Mary Poppins Returns during the Golden Globes this weekend, what an awesome husband!
But penguins are cute and Disneynature films are breathtaking, so you know I'll still see it.
10 – Artemis Fowl (Disney)
Last but not least, Artemis Fowl. This one has nothing to do with the movie itself. I just haven't ever read the book and not sure I will have a chance before the movie comes out with a new baby, new house, and well all the things happening.
And who knows, maybe that'll be a good thing and I'll love the movie because I haven't read the book. Most of the times books I loved turned into movies are disappointing anyway.
Want more Disney movies? Check out my Disney movies 2018 list too! All the movies that came out in 2018!