This DIY Halloween treat stand is the perfect addition to a Halloween party table and it's simple to make using FloraCraft® Make It: Fun® foam! Thanks to FloraCraft® for sponsoring this post. This post also contains affiliate links where I may receive a slight commission if you buy products via those links, at no additional cost to you.
I love Halloween. Okay, maybe love is stretching it a little. I like Halloween, mostly because I like Halloween candy. And I really do love Halloween parties, but the fun and cute monster kind, not the creepy gruesome kind. This month for my FloraCraft® Make It: Fun® Team project, we were challenged to remake one of the projects in this awesome Make It: Fun Halloween eBook full of 18 great DIY Halloween ideas. I saw the BOO letters and immediately thought, ooh that would make a perfect decoration for one of my Halloween parties!
So here's my take on the BOO letters in the FloraCraft® Make It: Fun Halloween eBook – a spooky DIY Halloween treat stand. It's the perfect centerpiece for any Halloween dessert table, candy table, or treat table.
DIY Halloween Treat Stand
Supplies:
1/2 yard black cotton fabric
Green and orange sparkly ribbon, 1/4 inch thick
Fabric scissors (I love my Ghingers!)
Glittery adhesive letters – I used these letters but in silver
Tall black candle holder (optional)
Tutorial:
Wrap your cake form in black fabric, securing on the bottom with straight pins. Try to wrap it as tightly as possible so that where there are folds (and there will be folds), they're at least flat folds. You'll be covering it all up with spiderwebs so the folds don't really matter.
Once your cake form is wrapped, move onto your treat circles. To create the circles, first slice off 1/4 inch from the bottom of each of the six cones using the StyroCutter Plus. By the way, if you don't have a StyroCutter Plus, please order one right now. They are amazing if you work with foam at all. They heat up quickly and seriously cut right through the foam like butter.
Once your circles are cut, lay them out on the remaining black fabric. Cut circles of fabric around each of the foam circles and hot glue the fabric circles directly onto the foam.
Once the hot glue is dry, hot glue a piece of ribbon all the way around the outside of the circle, sealing the black fabric to the foam and finishing off the edges with a bright pop of color. I alternated the orange and the green ribbon to keep things interesting. Just be careful with the hot glue because it tends to go straight through ribbon and I can tell you from experience, hot glue burns. As if you didn't know that already.
After your circles are covered, peel off the backing of the adhesive letters and stick to the appropriate fabric circles. Then last but not least, hot glue one of your purple and white striped straws to the back of the circles making sure to line it up evenly with the letters.
Now that you have everything done, it's time to put it all together. First, figure out how you want to line up your letters on your cake form. I played around with a little bit to figure out what placement I thought looked best. I did my letters straight across the cake form, but you could easily do them in a half circle across the front or back as well. Once you've figured out your placement, use the bottom of the straw to make an indention in the fabric on top of the cake form then use your scissors to poke a hole directly through the fabric where you've made the indention; stick the straw into the hole and angle in whatever way you want.
Repeat for all six letters. Once you've made all of the holes, remove the straws and wrap the cake form with spiderwebs, making sure to stretch it out enough that it actually looks like a spiderweb, not just a big mass of white cotton. Use the straight pins to pin the spiderweb in place on the bottom of the cake form. If you're using a cake stand or candle holder, I'd web it as well to complete the effect.
Once all of your spiderwebs are perfectly spun, put the letters back into the cake form and you're done. Top the cake form with treats if you'd like or just put it in the center of your treats table as a fun piece of Halloween decor.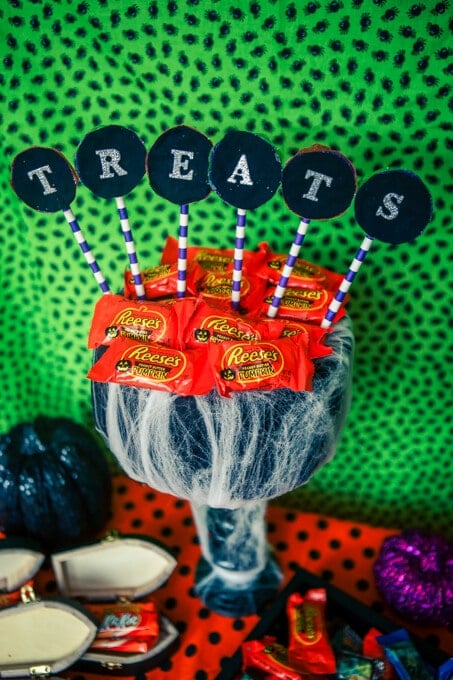 Make sure to check out all of my other Make It: Fun® Monthly projects AND all of this month's amazing Halloween projects from the rest of the team members, all inspired by the FloraCraft® Make It: Fun Halloween eBook! I love how the 18 ideas in the eBook inspired so many different ideas.
Homemade Cookie Monster Costume from Persia Lou | Creepy Halloween Spiders by Crafts by Courtney | Muslin Ghosts by Lia Griffith | Brown Paper Pumpkins by A Place of My Taste | Tabletop Foam Ghosts by Reasons to Skip the Housework | Lighted Haunted House from Blooming Homestead | Giant Hanging Ghost by A Girl and Her Glue Gun | Ghost + Tassel Garland by a A Girl and Her Glue Gun | DIY Halloween Treat Stand by Play. Party. Pin.