These five fall outfits for toddlers are so cute and comfortable, perfect for boys who are constantly playing! Thanks to Old Navy for sponsoring this post. While I received compensation for the post, all opinions and content are 100% honest and my own!
One of the most fun things about the fall is getting ready to go back to school. Picking out school supplies, finding out what class you're in, and best of all, shopping for new school clothes! Unfortunately with a toddler who isn't actually in school, we miss out on all of those fun back to school things.
Fall doesn't mean school for us; fall means a continuation of our regular schedule with a little cooler weather instead of the hot and humid days we've had all summer. Luckily our regular schedule is a pretty awesome one full of playgrounds, picnics, and playdates.
While I was there, I had the chance to check out a Camp Old Navy Play It Safe Event where parents were being given the chance to get IDs for their children and the kids could meet a local policeman and tour a firetruck! In addition to going home with IDs, each of the kids also went home with magnets for their fridge with reminders on how to be safe and of course, stickers! What event is complete without stickers? Next time you're at your local Old Navy, check to see if they're having an upcoming event. I promise it'll be a fun family afternoon and a great way to support a NCMEC, a fundraising cause dedicated to helping kids stay safe.
The Play It Safe Events are only one of the ways that Camp Old Navy is changing lives through their involvement in local communities. In addition to hosting Play It Safe events, they provide after-school and summer programs for kids that promote play through learning. And they help teens get ready for jobs by allowing them to spend a day as an Old Navy employee learning and training. In the 16 years since it started in 1999, Camp Old Navy has helped over 90,000 kids and just last year alone 174,000 Old Navy employees volunteered to help with one of the programs. Just one more reason that we love Old Navy!
It's kind of obvious that I love to play, but I love what Camp Old Navy is promoting and teaching to kids – that you can learn through play. There isn't a day that goes by that my toddler isn't learning something new and the majority of the time that learning is coming through some sort of game, activity, or just free play. Whether it's learning his letters as we play one of these letter games or learning how to interact with others as he plays on the playground, he is constantly learning. And constantly playing. My exhausted body at the end of the day is proof of that. His new Old Navy clothes keep up with his active lifestyle much better than I do.
One of the other things that I love about kids is how they're not afraid to just be themselves. They don't care what others think of them. They wear what they want and what they like. Old Navy is great because they really have something for everyone, no matter how unique their style is. My son loves dinosaurs and superheroes and guess what, they have dinosaur and superhero shirts. And he likes comfortable pants and they have tons of joggers, sweat pants, and even nicer looking pants like khakis that are lined and pull-on (no buttons!). Those are the kind of things that I look for when I'm buying clothes for my family and those are the kind of things that I found at Old Navy. And bonus, I got them all for an amazing price because of the Kids & Baby Sale. Pretty much everything is on sale up to 50% off!
I think he loves his clothes almost as much as I love him. We had so much fun this past weekend trying out his new clothes. He seriously wanted to sleep in that button-up shirt and he normally HATES anything with a collar, so that tells you how comfy it was. These might be my favorite pictures ever, especially the one where I told him to smile big and well, he smiled big. Not sure how I got this lucky, but I sure do have fun playing all day long with this kid even if he is a little, okay a lot, stubborn at times.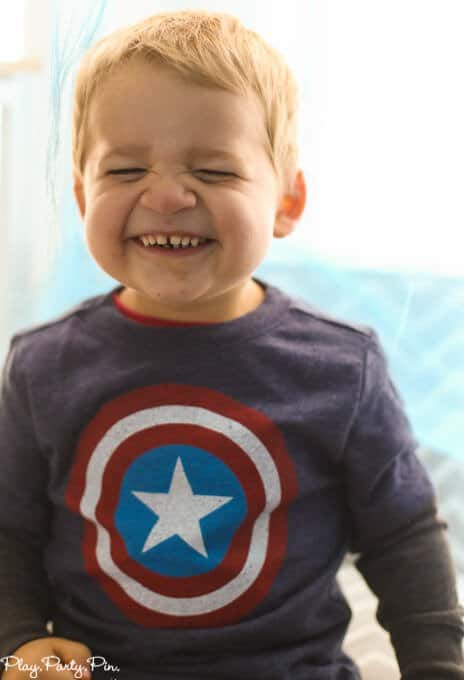 Parenting will be full of battles but forcing my kids to wear something they don't want to wear isn't one I want to fight. Or at least not with my two-year-old. And I'm guessing you don't either, so take them into Old Navy and let them pick out a couple of things that they just love at prices that you love.