Hosting a bachelorette or hen party? These are twenty of the best bachelorette or hen party games I could find, ones that I personally would play and that sound absolutely hilarious. Some of the games require you to get up and go on the town (aka man hunt) and others are best for a party at home! Whatever bachelorette party you're planning, these bachelorette party games will have everyone laughing!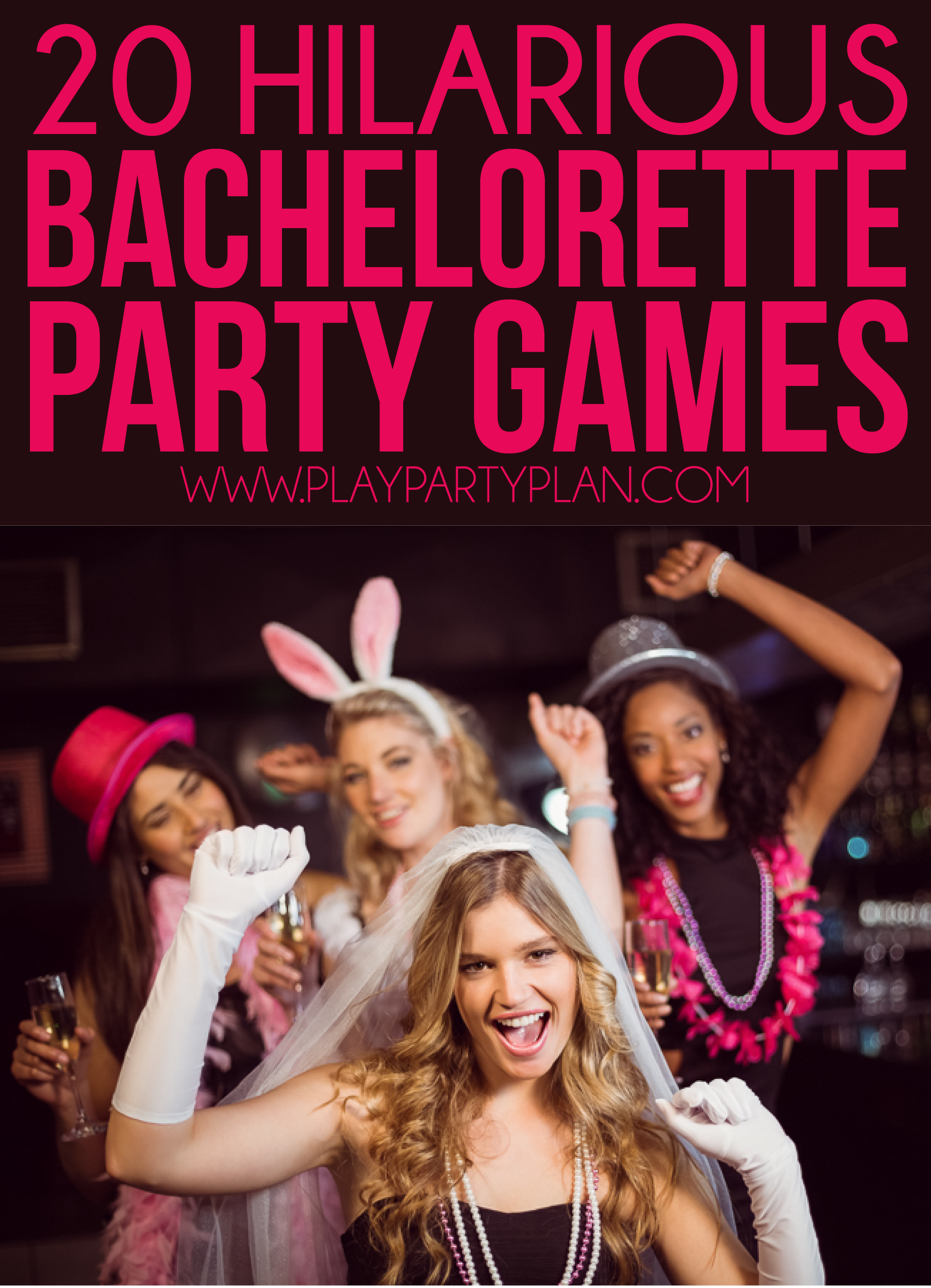 Hilarious Bachelorette Party Games
I put together this list of 20 bachelorette party games based on ones that I think would be fun to play. There is everything from classy games to ones that are bit more suggestive, it is a bachelorette party after all!
There are three different categories of games so you can find the type of games you're looking for. My recommendation is to pick three – one active, one printable, and one that's all about the bachelorette. It is her day after all. Enjoy! When you pin these games, please pin any individual games from the original site!
Printable Bachelorette Party Games
These games are ones you can print out, pass around to everyone, and play. They're a bit more low key but can easily be just as hilarious depending on what the answers are!
Printable What's On Your Phone Game – players score points based on things they have on their phone including everything from a Lady Gaga song in their playlist to having made a picture of them with a guy on their phone.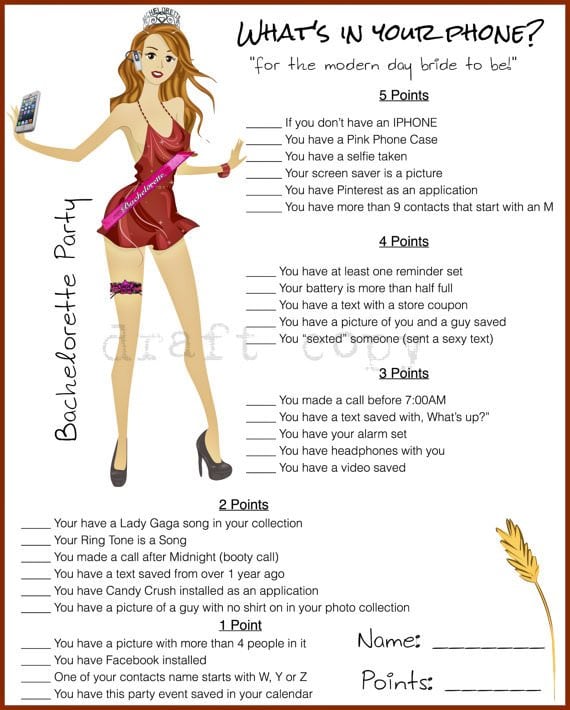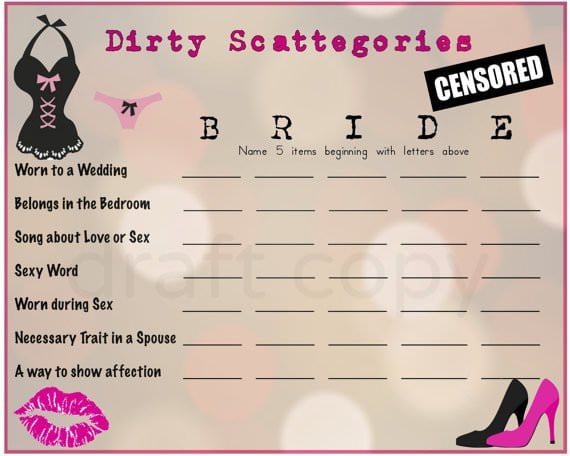 Sexy Scattergories – A sexy version of the fun Scattergories party game but not too sexy. Players have to come up with words in a certain category starting with certain words without coming up with the same word as someone else.
Famous Movie Love Quotes – Players have to try to guess the movie these famous love quotes are from!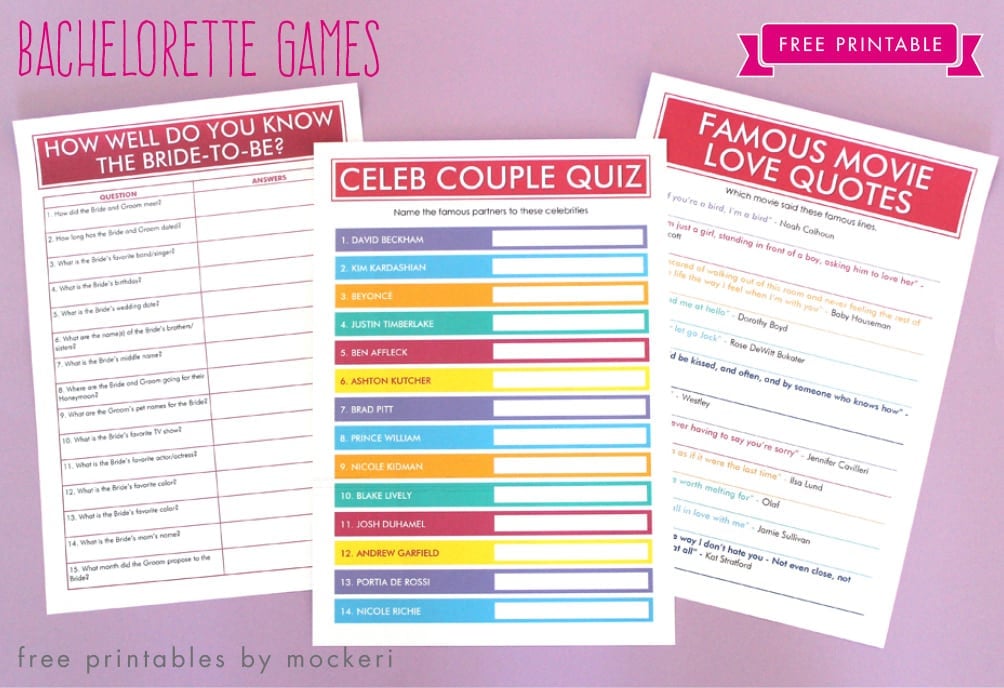 Finish the Bachelorette's Sentence – Players have to finish the sentences on these printable game cards with what they think the bride to be will say. Whoever matches the bride most wins.
A Love Song – This one is designed for a bridal shower but is good for a bachelorette party as well. Players have to come up with the correct title for scrambled up love songs (e.g., Woman in Crimson becomes Lady in Crimson). Or try the movie title version A Love Story.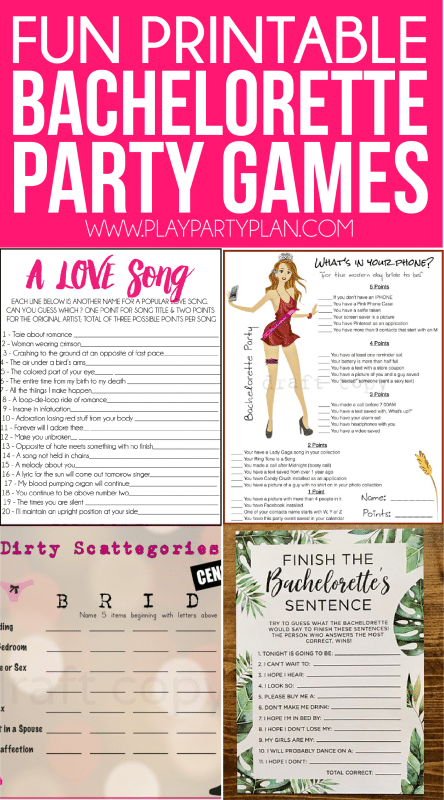 Active Bachelorette Party Games
These are games that will get the bachelorette and her girlfriends up and moving. Some of the games can be played at home and others require a little outside fun!
Bachelorette Minute to Win It Games – These were designed for a bridal shower but they'd be perfect for a bachelorette party as well. 20 different games including everything from lipstick Pictionary to Put a Ring on It.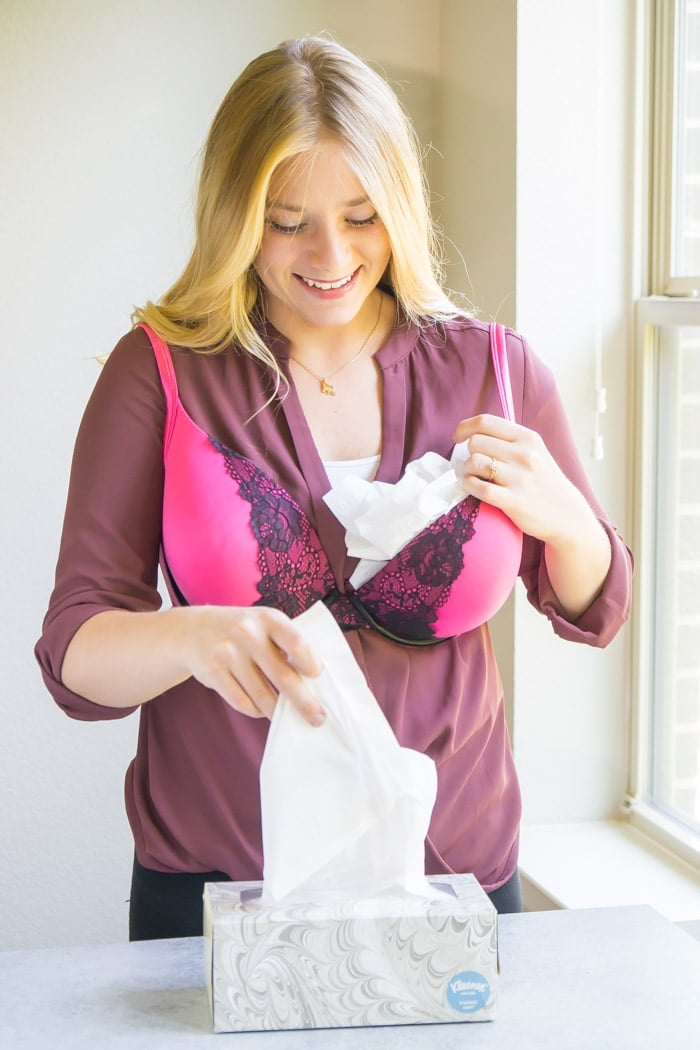 Swing Your Ding-A-Ling – Players tie an orange around their waist and try to use it to knock another orange as far as possible.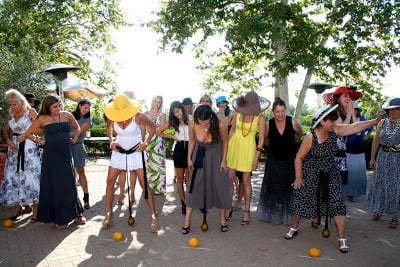 Weenie in a Bottle – Players have to try to be the first to get a hot dog in a bottle! It's more difficult than it seems.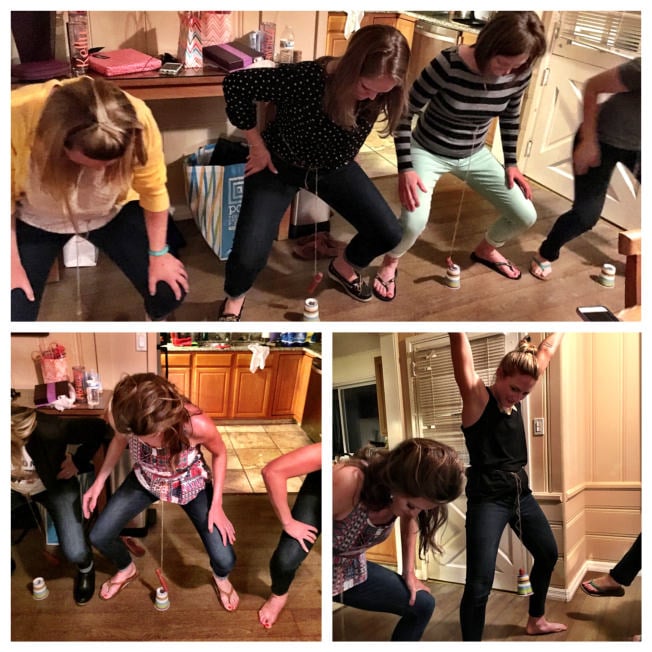 I Dare You – A printable dare to-do list where players can earn points from doing something as simple as cartwheel to something more complicated (and worth more points) such as getting phone numbers from five guys.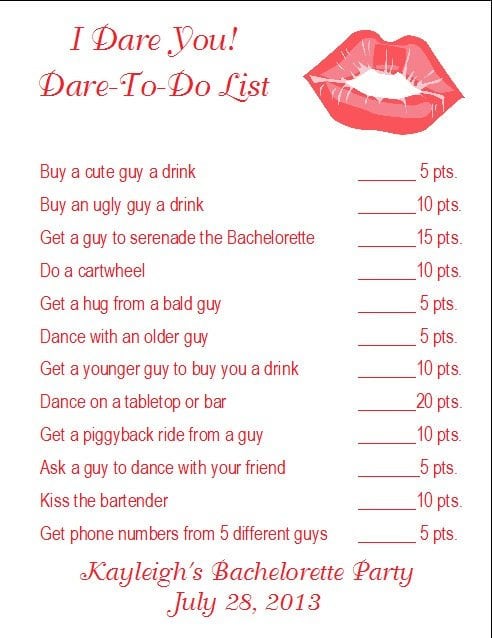 Stick It In the Hole – Similar to many of these hilarious bridal shower games, this one is a quick game where players have to try to be the first person to stick the end of a broom into a toilet paper roll.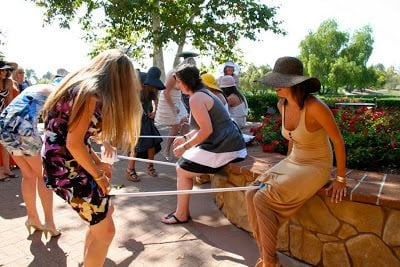 Toilet Paper Lingerie – Players have to use toilet paper to make either a romantic or naughty piece of lingerie. I can only imagine the things people might come up with!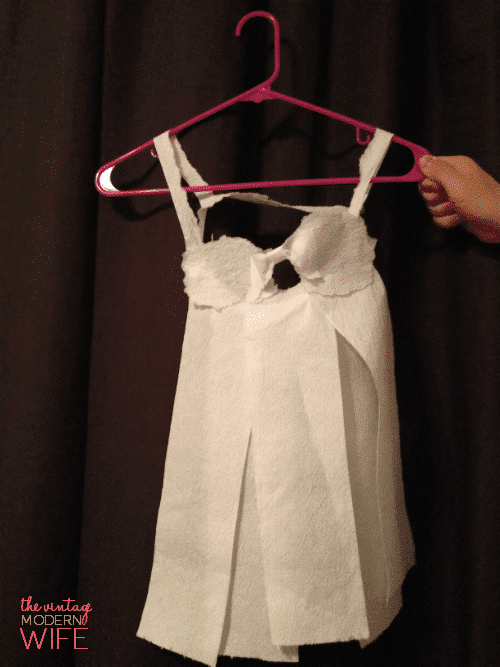 Bra Pong – I couldn't find the actual instructions for this game but the idea is simple – bounce ping pong balls and try and land them inside of bras glued to a poster board. You could do whatever you want with the rules if someone makes or misses it like having a truth or dare jar – if they make it, they choose truth or dare.
If they miss, they have to do a dare. Or play with teams and give each bra a point value – team (or individual) with the most points wins a Victoria Secret gift card.
Kiss the Lips – Blind fold players and instead of having to pin the tail on the donkey, they must try to land a kiss on the lips of a blown up photo.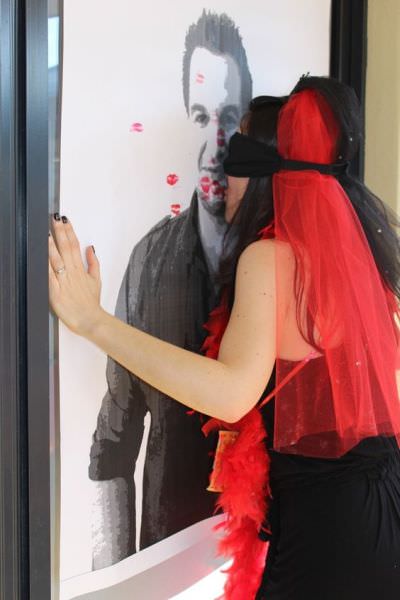 What's In the Sock – Before the party, put things a bride might use on their wedding night (e.g., massager, candle, lingerie, lotion) in socks. Players must use only their feet to guess what is in the socks.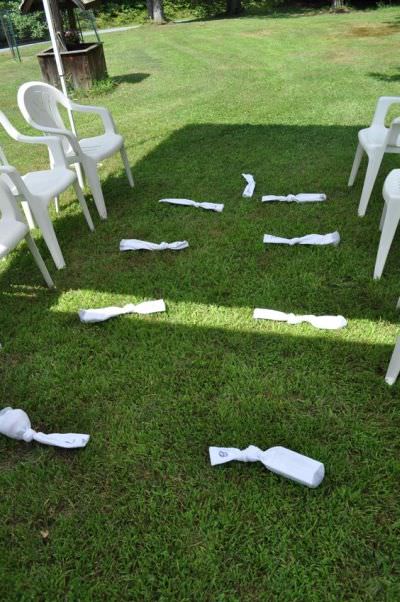 Don't Say It – A Bachelorette party game of taboo. Get people to guess a certain word without saying any of the "don't say" words on the card. Hilarious to see what people come up with!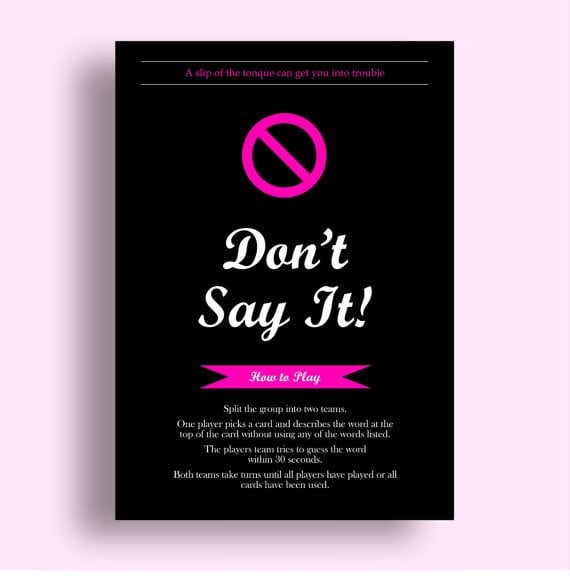 Man Hunt – Players have to go on a scavenger hunt to find all of the types of men listed on these printable scavenger hunt cards. Everything from a man over 50 to a guy wearing plaid.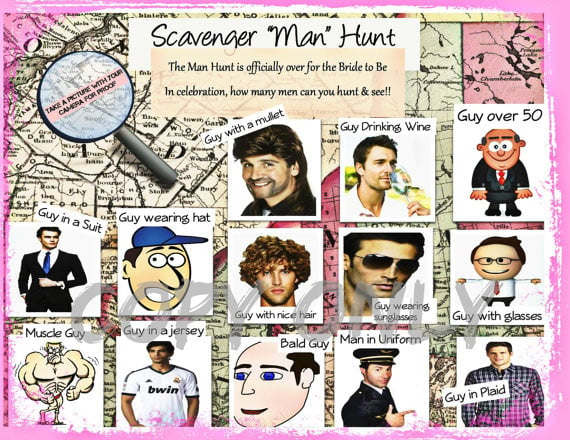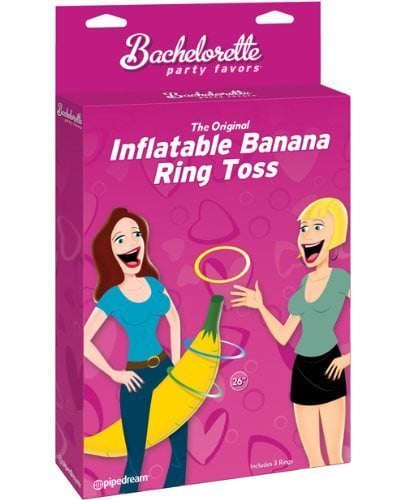 Banana Ring Toss – Players have to try to toss a ring around a large inflatable banana.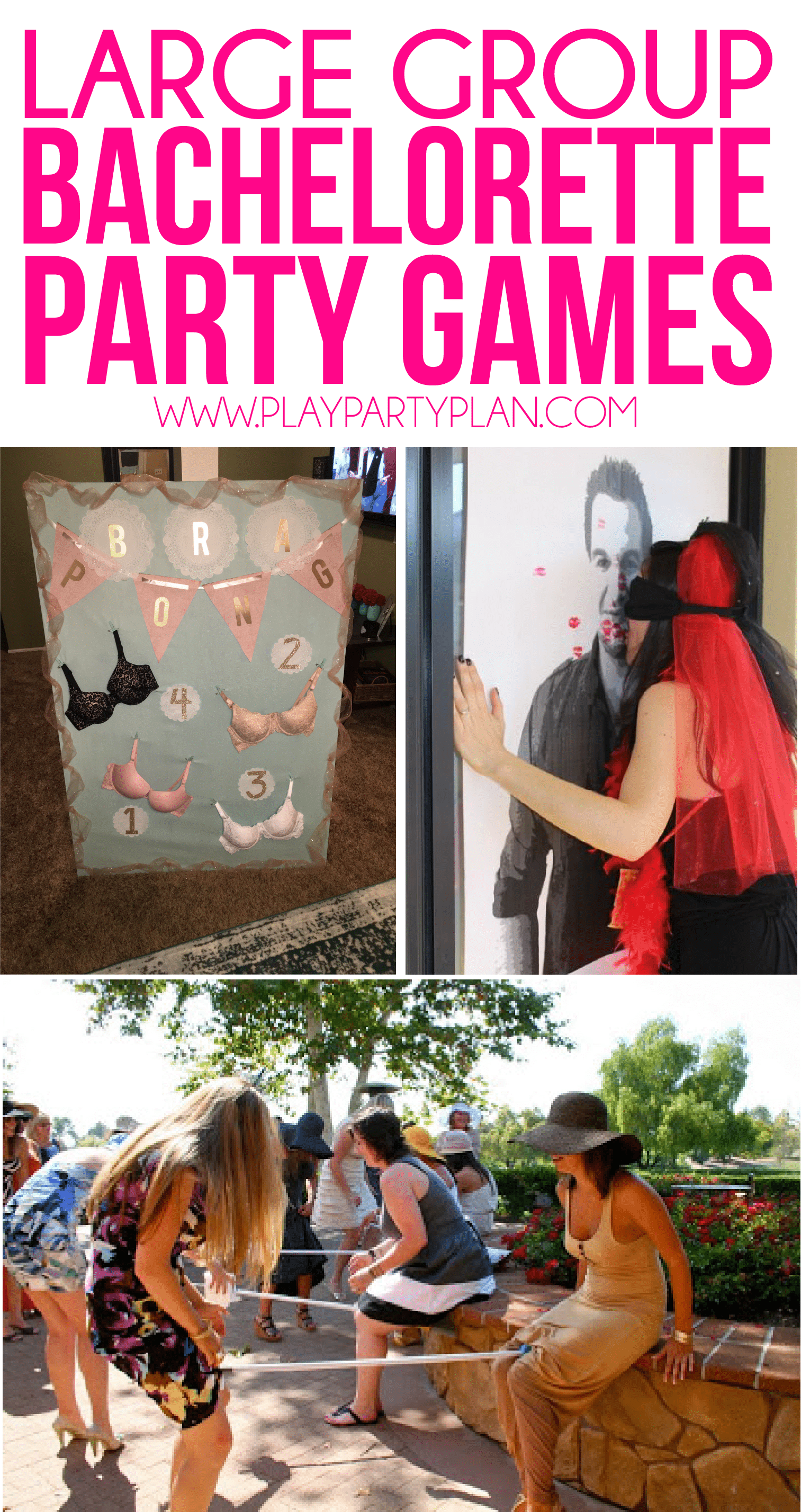 Bachelorette Party Games All About the Bride
These games are ones that are really mostly for the bride to play where everyone else sits and watches and enjoys the fun! Guests participate by providing items for the games but mostly it's about a little fun for the bride!
Stylish Bride – The blindfolded bride to be is given unique pieces of clothing and accessories and must put them on blindfolded.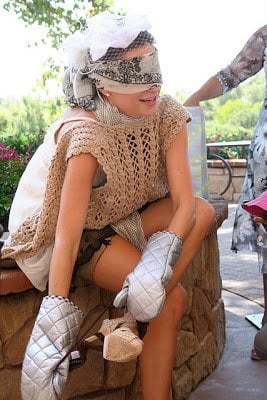 Drop Your Panties – Guests are asked to bring a pair of clean panties to the party. The bride must go through the basket of panties and guess who brought them based on the style, color, etc.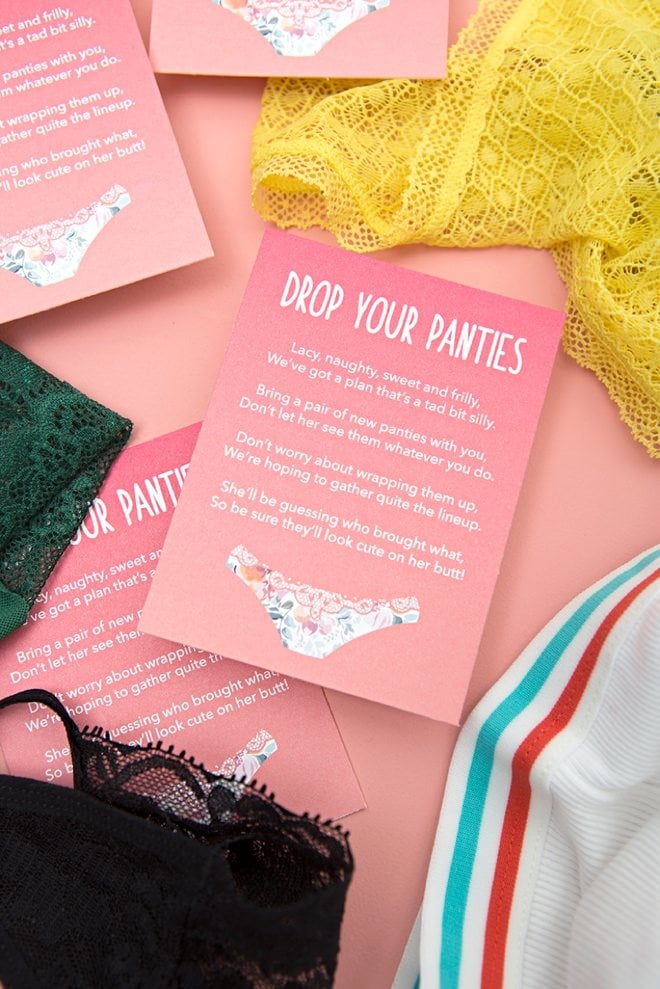 Bachelorette Balderdash – Guests have to guess certain things about the bride to either try and guess what she'll answer OR to come up with a creative answer instead.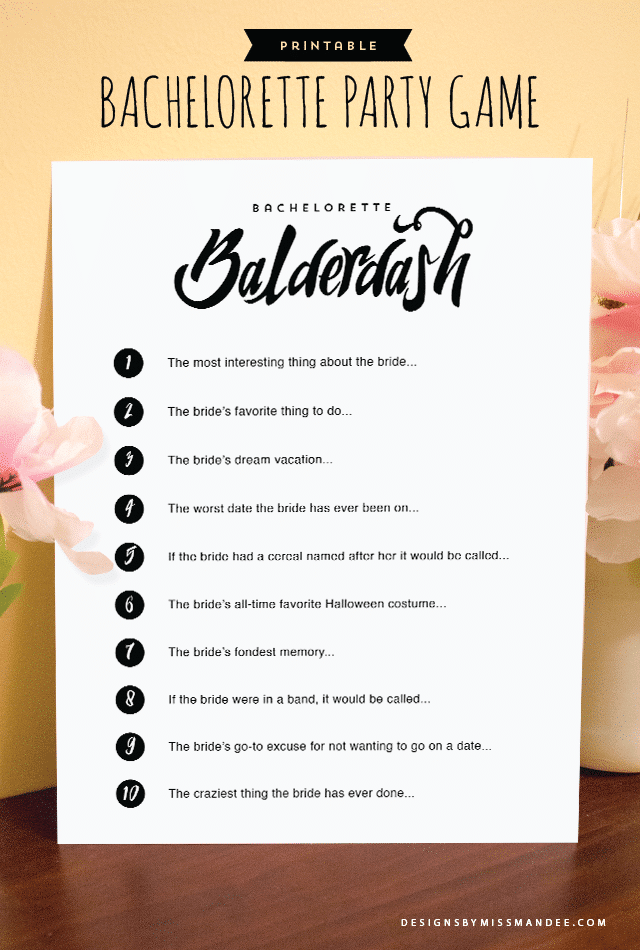 How Well Do You Know the Bachelorette – Pull a card from this card desk and see how well you know the bachelorette. All types of questions – funny and serious!