This is a sponsored post written by me on behalf of Groupon Gift Shop for IZEA. All opinions are 100% mine.
A few days ago, I shared the perfect gluten-free gift I found for my sister-in-law on Groupon and today I'm sharing the I scream, you scream gift I'm getting my little sister this year. Let's just hope they're both too busy with school to actually read my blog.
My sister and I both love ice cream and one of our favorite things to do together is to eat ice cream, or gelato, if there happens to be a gelato place nearby. It's just kind of our thing and something I love sharing with her.
For our sibling gifts this year, my sister asked for homemade gifts. I thought it would be fun to do something that combines our favorite experience with some store-bought goodies and my own handmade touch. This ice cream gift basket is what I came up with.
I started it off with some ice cream essentials – bowls, ice cream scoop, sprinkles, and a cozy blanket to snuggle with when you inevitably get cold from eating all the ice cream. Then I added in my own handmade touch – hand stamped "I scream, you scream, we all scream for ice cream" wooden spoons to meet my sister's homemade requirement. I tried actually engraving metal spoons, but that was a pretty epic #craftfail, so hand-stamped wooden spoons are going to have to be good enough.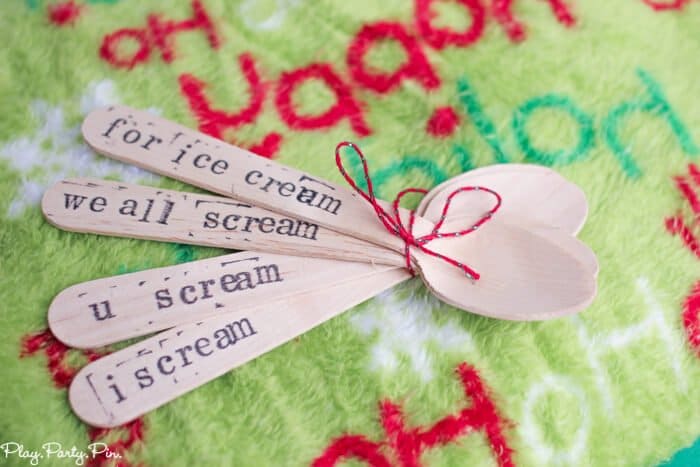 And I finished it all off with a little container of ice cream. I hope it doesn't melt before she opens the package. Just kidding. I actually ate all of the ice cream in that little package (told you I liked ice cream) and instead, put in a Groupon for a yummy gelato place near where we'll be for Christmas. That way her gift checks all of the boxes – something cute and thoughtful that I know she'll like, something homemade, and an experience for just the two of us, because experiences are definitely my favorite gifts.
Want to make an ice cream gift basket of your own? I'd be willing to bet if you go check out the local tab on the Groupon website right now that there is a Groupon available for ice cream, gelato, or some other sweet treat that would make the perfect addition to a gift basket for someone you love this year. And if they're not into sweets, we can't be friends, but I'm sure you can find plenty of restaurants and other savory options as well.
What would you include in your ice cream lover gift basket?