Get started with summer early this year with these awesome summer party ideas including the best DIY cheese coney bar setup!
Last weekend I went to Kings Island, an amusement park in Ohio that my family went to all the time when I was growing up. It's been at least ten years since I've been there and while they've added some rides and taken away my beloved Smurf ice cream, the feeling of being there was still the same.
It just reminded me of fun summers with my family riding roller coasters and eating cheese coneys. My sister and I took silly selfies on The Beast, my dad won me a stuffed spider monkey in the basketball shooting game, and I added a couple more roller coasters to my list. And yes, there's a list. A spreadsheet in fact, one that my dad keeps updated with all of the coasters we've ever been on.
The trip reminded me of some of my favorite summer memories, and I recreated those in an outdoor kickoff to summer party this week for some friends. I'd originally thought about doing a summer favorite things party but decided to nix everyone bringing their favorite things to share and just provide all the food and fun instead.
I started it out with my family's summer staple – cheese coneys setup in a do it yourself bar complete with instructions on how to make the perfect cheese coney. We used my husband's Cincinnati chili recipe for the cheese coney bar but you could easily use whatever chili recipe you prefer. Cincinnati chili is definitely one of those acquired tastes; people either love it or hate it.
So what is the perfect cheese coney you ask? Bun + grilled hot dog + Cincinnati chili + hand shredded cheese + mustard + oyster crackers on top. And if you're wondering why that recipe doesn't include onions like a lot of coney recipes do, well because onions are gross. And they make me sick, so no onions at my parties. Ever.
<<Download the Cheese Coney Bar printable>>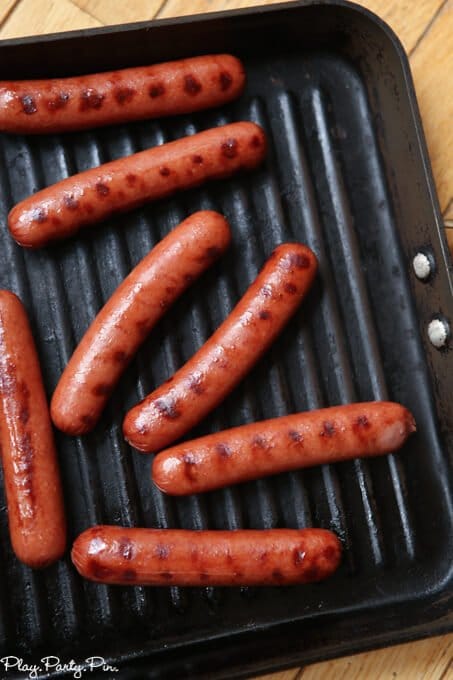 The two things that make the cheese coney above and beyond a regular chili dog are the mustard and oyster crackers on top.
Another one of my favorite summer memories is downing cans of lemonade and fruit punch with my brother as we were walking from the car to the amusement park. You couldn't bring the drinks in, so you had to drink them before.
I decided to play on that idea by making a mix of lemonade and fruit punch for my summer drink table. I just added fresh fruit to a lemonade mix to give it that fruity lemonade flavor. In addition to the lemonade, I rounded out the drinks with some yummy fruit juices that just happened to match my party color scheme.
Last but not least, it's not a summer party without fruity desserts. I picked up some raspberry lemon and blood orange dreamsicle cupcakes from my favorite local bakery, fruit tarts, and shortbread cookies with raspberry jam to create my small summer sweets table.
And to add color, I added a small vase of gorgeous tulips, layered jelly beans in my colors, and hung a couple of colored wind chimes from the trees behind the table. Dessert tables don't have to be big or expensive; keep them small and find ways to tie the desserts into the rest of the party like I did with the metal cake stands, colors, and printable summer sweets sign.
Last but not least, I created a fun little summer scavenger hunt for the kids (or adults) that's perfect for an outdoor kickoff to summer party. You can print out the cheese coney bar and summer party printables here.