Know someone who loves Marvel and the new Thor: Ragnarok movie? These Thor: Ragnarok products make perfect gifts for any Marvel fan! With everything from the new helmet Thor wears in the movie to a Lego gladiator battle scene, there's a great Thor gift idea for any age and interest!
Thor: Ragnarok Gift Ideas
When we were at the Thor: Ragnarok press junket last month, we had the chance to preview some of the brand new Thor: Ragnarok products, and they're awesome! I'm so excited to finally share some of these fun ideas for you that make perfect gifts for Marvel fans! I've broken it out based on the main characters in the movie but honestly, I really think any Marvel fan would appreciate any of these gifts! They'd also appreciate this Revengers shirt!
I feel like Thor often gets the shaft when it comes to Avengers products, so I'm really excited to see all of the fun Thor centered products coming out now with the release of Thor: Ragnarok! And it's not just because I'm a big fan of Chris Hemsworth, I really think this new Thor deserves all the things! Seriously the best Thor ever!
1 – FunKo Pop! Marvel: Thor Ragnarok Characters
As fierce as the Revengers are, these little Pop! Marvel: Thor Ragnarok characters are anything but, they're just plain cute. I actually have Thor sitting on the shelf in my office and am putting Hela and Hulk on my Christmas list. Not only are there the full-size characters, they also have these super cute Funko Mini Mystery Thor: Ragnarok collectible characters! Here's the full list of Pop! Thor Ragnarok characters available, including a couple that were Fall Convention exclusives but are available to buy online!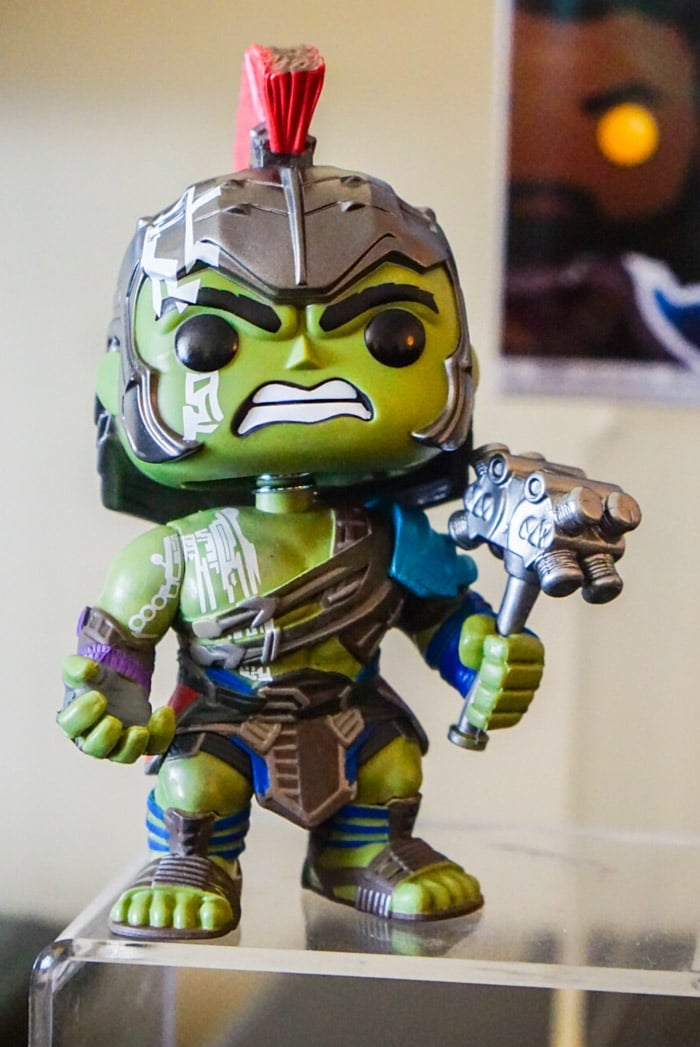 2 – Thor: Ragnarok LEGO Super Heroes Thor vs Hulk
Okay, so I'm not the biggest fan of LEGOs normally because they always end up all over my house, BUT this Thor vs Hulk arena is so awesome, I may even break my own rules and buy it for my 4-year-old. It includes a sliding gate, 4 minifigures, and even Thor and Hulk's weapons from the battle scene. Might just be my favorite Lego set ever. You can buy it via the link below, and I've also included some other Thor: Ragnarok LEGO sets that might be a great addition for any LEGO lovers!
3 – Thor's Rumble Strike Hammer
Even though Thor's hammer isn't as big of a part of Thor: Ragnarok as previous movies, it's still Thor, and he still needs his hammer. And the newest version of the hammer is awesome. Not only does it have some weight behind it, it actually talks and makes sound effects that go along with whatever you're doing with the hammer. They're great!
Buy the Thor: Ragnarok Rumble Strike Hammer Here
4 – Thor: Ragnarok Apparel
Know someone older who may not appreciate a toy to play with? They'll love any of these Thor: Ragnarok inspired apparel ideas – hats, shirts, you name it! There is a ton out there, these are just some of my favorites! Or just make your own like this DIY Revengers shirt!
5 – Hulk Smash FX Fists
You can't be a true Hulk fan without your own set of Hulk smash gloves, and these ones have the gloves that Hulk wears during the gladiator battle in Thor: Ragnarok. Just beware, they might be a bit scary for younger kids because they talk!
6 – Hulk Out Mask
Can't have the Hulk gloves without a mask! This one lets you move your eyebrows and your mouth to actually pretend you're Hulk! Way better than the typical masks!
7 – Thor: Ragnarok The Junior Novel
This book is perfect for any Thor: Ragnarok or Marvel fan but beware, it is based on the movie so I recommend giving it to someone after they've seen the film so no spoilers! It's also full of awesome pictures from the new film! I've included a couple of other books as well that would make great gifts!
8 – Thor Ragnarok Legends Series
For the older kids or adults who like action figures, the Thor: Ragnarok Legends series is perfect!
9 – Thor Ragnarok Soundtrack
Honestly, the Thor: Ragnarok Soundtrack would make a great gift for anyone, even if they don't care about Thor: Ragnarok, it's awesome. I've started using a bunch of the songs on my workout playlist!
10 – Popcorn Buckets and Other Souvenirs
Go with the movie theme and pick up one of these fun Thor: Ragnarok souvenirs filled with Thor: Ragnarok products above. I mean who wouldn't love to get a Thor helmet popcorn bucket filled with those Pop! Thor: Ragnarok characters!
11 – Thor: Ragnarok Christmas Ornament
If someone is a true Marvel fan, they'd love getting a Christmas ornament to hang on their tree! I just bought myself one to remind me of the Thor: Ragnarok event last month!
THOR: RAGNAROK Synopsis
In Marvel Studios' "Thor: Ragnarok," Thor is imprisoned on the other side of the universe without his mighty hammer and finds himself in a race against time to get back to Asgard to stop Ragnarok—the destruction of his homeworld and the end of Asgardian civilization—at the hands of an all-powerful new threat, the ruthless Hela. But first he must survive a deadly gladiatorial contest that pits him against his former ally and fellow Avenger—the Incredible Hulk! "Thor: Ragnarok" thunders into U.S. theaters on November 3, 2017. Watch the latest trailer below.
Like THOR: RAGNAROK on Facebook: https://www.facebook.com/Thor/
Follow THOR: RAGNAROK on Twitter: https://twitter.com/thorofficial
Follow Marvel on Instagram: https://www.instagram.com/marvelstudios/
THOR: RAGNAROK opens in theaters everywhere November 3rd!
Don't forget to pin these Thor: Ragnarok gift ideas for later!