These Wreck-It-Ralph inspired gift tags are the perfect way to give a Disney loving friend a sweet treat or a gift! Eight different free printable gift tags all inspired by Wreck-It-Ralph characters and lands!
This post contains affiliate links to products for your convenience. If you purchase via my links, I may receive a small commission at no additional cost to you.
When my good friend McKenzie asked me to join in on a blog hop of all sorts of Disney gift ideas of course I said yes, I mean it's Disney, and I'm in for Disney everything.
The hard part was narrowing down what kind of Disney gift I wanted to make. I could make Disney shirts to give a friend, but I've already done that about a million times. Or maybe something Mickey Mouse like the favors from this Mickey Mouse party. Nope, done that too.
Then I started thinking about some of the things coming up for Disney that I'm most excited about. Like all the big changes they announced during D23 this summer and all the amazing movies coming out in 2018.
And it hit me. Wreck-It-Ralph. We just got back from a Disney Cruise on the Disney Dream in a few weeks and one of my favorite things about the Disney Dream is Vanellope's Sweet Shop that's themed after Wreck-It-Ralph. I've always been a huge fan of the movie, but the cruise candy shop really put me over the top.
Wreck-It-Ralph 2: Ralph Breaks the Internet
And if that's not enough, Wreck-It-Ralph 2: Ralph Breaks the Internet is coming out on November 21st and they just released the official trailer! If you loved the first Wreck-It-Ralph, this one looks like it could be even better.
And p.s., the advertising at Disney is my favorite. This might be one of my favorite teaser posts ever!
About Wreck-It-Ralph 2
In Wreck Breaks the Internet, the story leaves Litwak's video arcade behind and goes off into the expansive world wide web – the internet. Ralph (John C. Reilly) and Vanellope (Sarah Silverman) risk it all and travel the internet trying to find a replacement part of Vanellope's video game!
The movie was directed by Rich Moore (Zootopia + Wreck-ItRalph) and Phil Johnson (Wreck-It-Ralph), and produced by Clark Spencer (Zootopia, Wreck-It-Ralph, and Bolt).
Follow Along with Wreck-It-Ralph
Like Wreck-It-Ralph on Facebook: https://www.facebook.com/WreckItRalph/
FollowWreck-It-Ralph on Twitter: https://twitter.com/wreckitralph
Visit the official RALPH BREAKS THE INTERNET: WRECK-IT RALPH 2 website.
Wreck-It-Ralph 2 hits theaters on November 21, 2018!
Wreck-It-Ralph Gift Ideas
It's the perfect time for these Wreck-It-Ralph themed gifts. Okay the gift part is a bit of a stretch, I really just grabbed some of my favorite movie theater candy, because hello Sugar Rush game in the movie, and a Fandango gift card, to make the perfect Wreck-It-Ralph themed movie night gift. And really just an excuse for me to eat some candy and watch Wreck-It-Ralph all over again for research!
The thing that's fun about these gifts are the gift tags. I created seven different Wreck-It-Ralph themed gift tags, inspired by my favorite characters from the first movie. Vanellope the Glitch. Fix-It Felix who makes the mistake of calling the Sergeant a Dynamite Gal (or guy). Ralph and his medal. King Candy. And even Taffyta and her very pink striped self.
You can pair the gifts tags with candies of the same color, other colors, or really do whatever you want. Pair it with a gift card. Pair it with a video game. Pair it with movie tickets. Or just add a tag to a pack of candy as a fun neighbor or teacher's gift. Or any of these fun Wreck-It-Ralph favorites:
Get the Free Printable
Enter your first name and email address below to get the free printables. You'll be immediately taken to the PDF to download and receive a copy to your email shortly after. If you can't see the form below, click here to get to the form to enter your info.
Disney Gift Ideas from My Favorite Bloggers
Remember how I mentioned I was partnering with a bunch of other bloggers for this post? Well here you go, Disney inspired gift ideas from 14 other bloggers, some of the most creative bloggers ever! Pretty sure I'll be making each and every one of these gifts for myself this year, so I guess that no longer makes it a gift huh? Click on the links below the collage image to go directly to details on each of the gift ideas.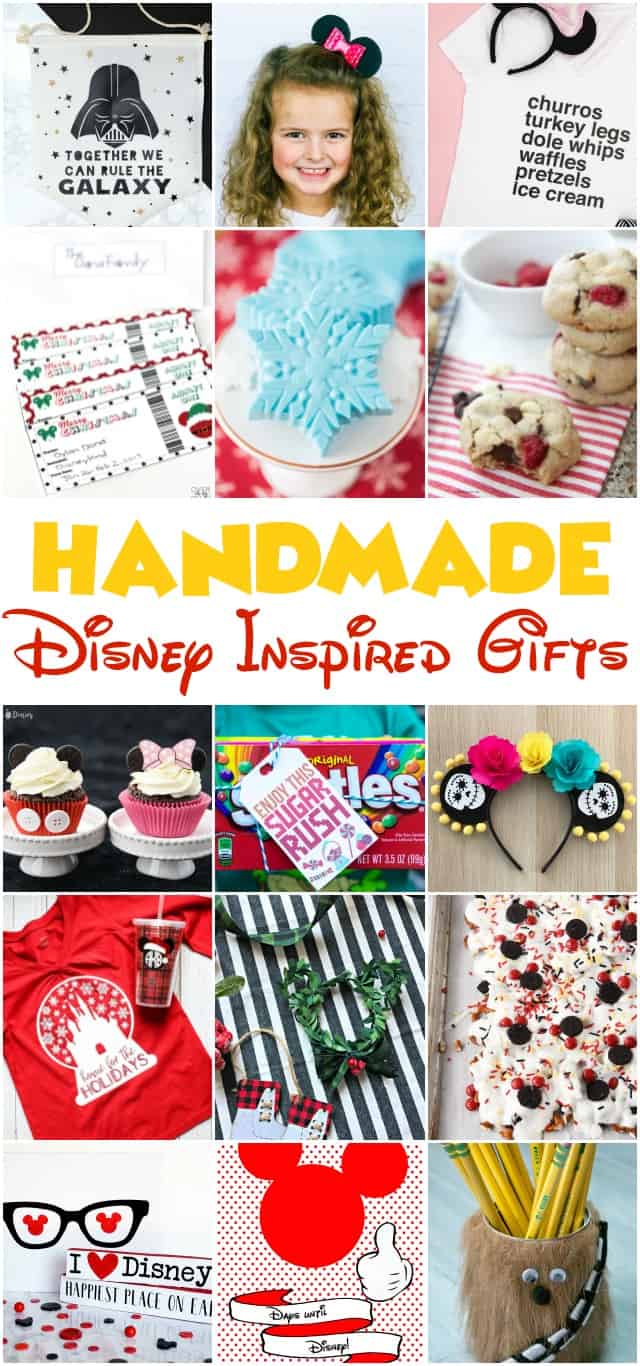 Darth Vader Canvas Wall Banner by: Giggles Galore
Minnie Mouse Hair Clip by: Girl Loves Glam
Disney Snacks T-Shirt by: Pretty Providence
Disneyland Ticket Gift Printable by: Over The Big Moon
Snowflake Oreo Cookies by: A Pumpkin and A Princess
Disneyland Copycat Raspberry White Chocolate Chip Cookies by: The Idea Room
Minnie and Mickey Mouse Cupcakes by: Cupcake Diaries
Wreck-it Ralph Gift Tags by: Play Party Plan
COCO Inspired Mouse Ears by: My Sister's Suitcase
Disney Holiday Shirt and Tumbler by: Sugar Bee Crafts
Mickey Mouse Farmhouse Ornament by: The Cards We Drew
Mickey Mouse Cookie Bark by: Your Homebased Mom
Disney Signs by: The Crafting Chicks
Disneyland Countdown Printable by: All Things Thrifty
Chewbacca Pencil Holder by: My Mommy Style
Don't forget to pin these Wreck-It-Ralph Gift Tags for Later