Looking to setup a dry bar in your basement? These basement dry bar ideas can help not only with designing your dry bar but also with stocking it when it's all done! It's everything you need for the ultimate basement dry bar!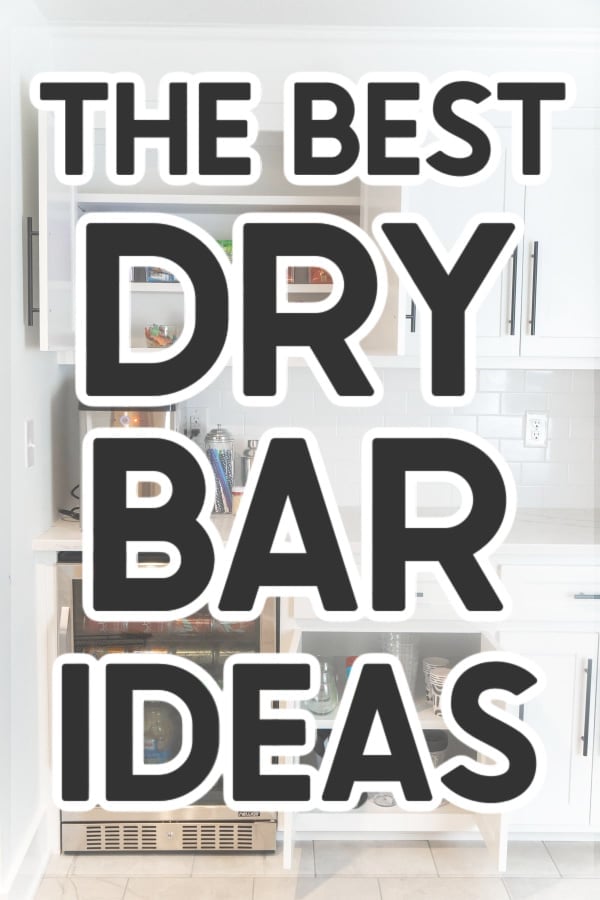 Sponsored by: NewAir. All opinions and ideas are 100% honest and my own.
When we moved into our new house a couple of years ago, we always had the intent to finish the basement as soon as we had the time and money. Then the world shut down and time and money were things of the past.
We finally were able to make it work, and I can excitedly say that our basement is finally finished! Over the next few months I'll be sharing photos and details of what we ended up doing, tips for designing your own, and things we learned during the process.
Today I'm starting with the dry bar we had created including some fun dry bar ideas, tips for setting up your own, and even some great ideas for the best uses for dry bars!
I knew from the beginning that I wanted a dry bar so that when people come over for an adult game night or to watch the big game that people wouldn't have to go upstairs for snacks and drinks.
And luckily our basement footprint was built in a way that the dry bar was an easy enough addition. I'm so happy with how it turned out and can't wait to really get downstairs to use it!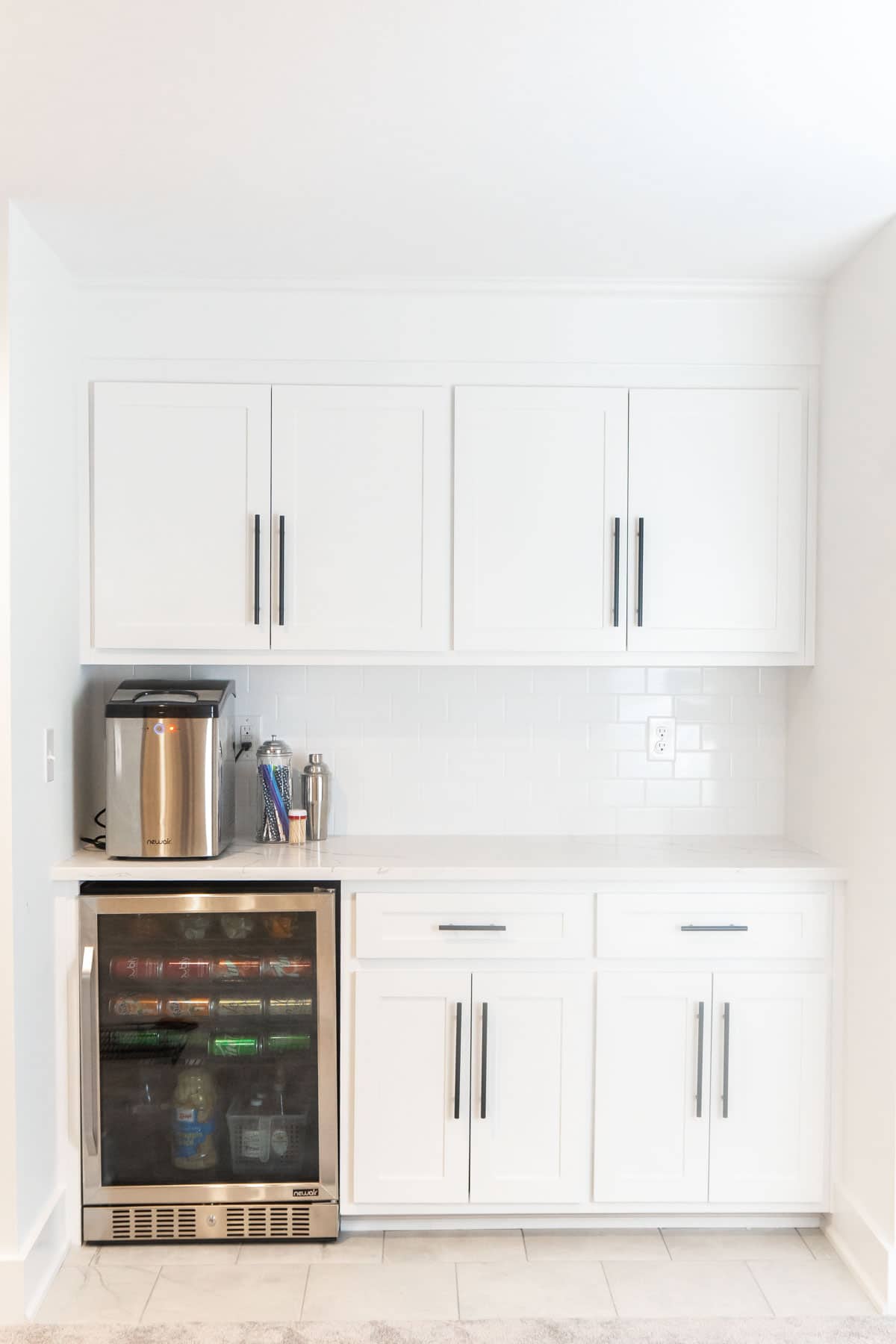 Dry Bar Must-Haves
Based on our experience, I've put together a list of dry bar must-haves. If you have these five things, you're golden! Everything else is just bonus on top of these essentials!
1 – Beverage Fridge
A dry bar wouldn't be a dry bar without drinks! Getting a high-quality beverage fridge to not only hold plenty of drinks but also keep drinks actually cold is a must!
We have a beverage fridge (that the builder picked) upstairs in our kitchen, and it's pretty terrible. The temperature gets down to maybe 50 degrees and who wants to drink a lukewarm soda.
I knew that whatever beverage fridge we put in downstairs needed to keep drinks actually cold. We installed a NewAir outdoor beverage fridge at my parents house (I shared more about it with these summer party ideas) and the drinks are SO cold no matter the temperature outside.
So I knew that the beverage fridge downstairs would be a New Air one.
Exclusive Discount!
Use the code PARTYPLAN10OFF to get 10% off your purchase of a NewAir beverage fridge! Shop here!
We ended up going with this NewAir 24″ Built-In 177-can Beverage Fridge in Stainless Steel for a number of reasons:
Storage capacity – It holds up to 177 cans, which is a lot! That means I only have to stock it every once in a while, not all the time! Plus, it can hold enough for my entire family to come over and enjoy drinks all day long!
Digital temperature control – I love being able to see what the temperature is inside at all times and being able to change the temperature with just a quick touch of a button. Plus, it goes all the way down to 37 degrees (hello cold drinks!). And so far, the fridge actually stays really cold, unlike the junky one we have upstairs. Pretty sure we just need to replace that one with a NewAir fridge!
Quiet compressor – the fridge is so quiet you'd honestly never ever know it was there. I didn't want something you'd hear, especially since we'll be watching movies in the basement a lot!
Adjustable shelves – as you'll see in my next dry bar must-have, I like to stock my fridge with more than just cans of soda. I love that I can fit large juices, small food items, bottles, and more by simply switching out the shelves. Plus, they're super easy to adjust, which is always a bonus if you plan to switch them out a lot.
So yeah, I love it. And I'm excited to have somewhere I can finally store cold drinks all the time!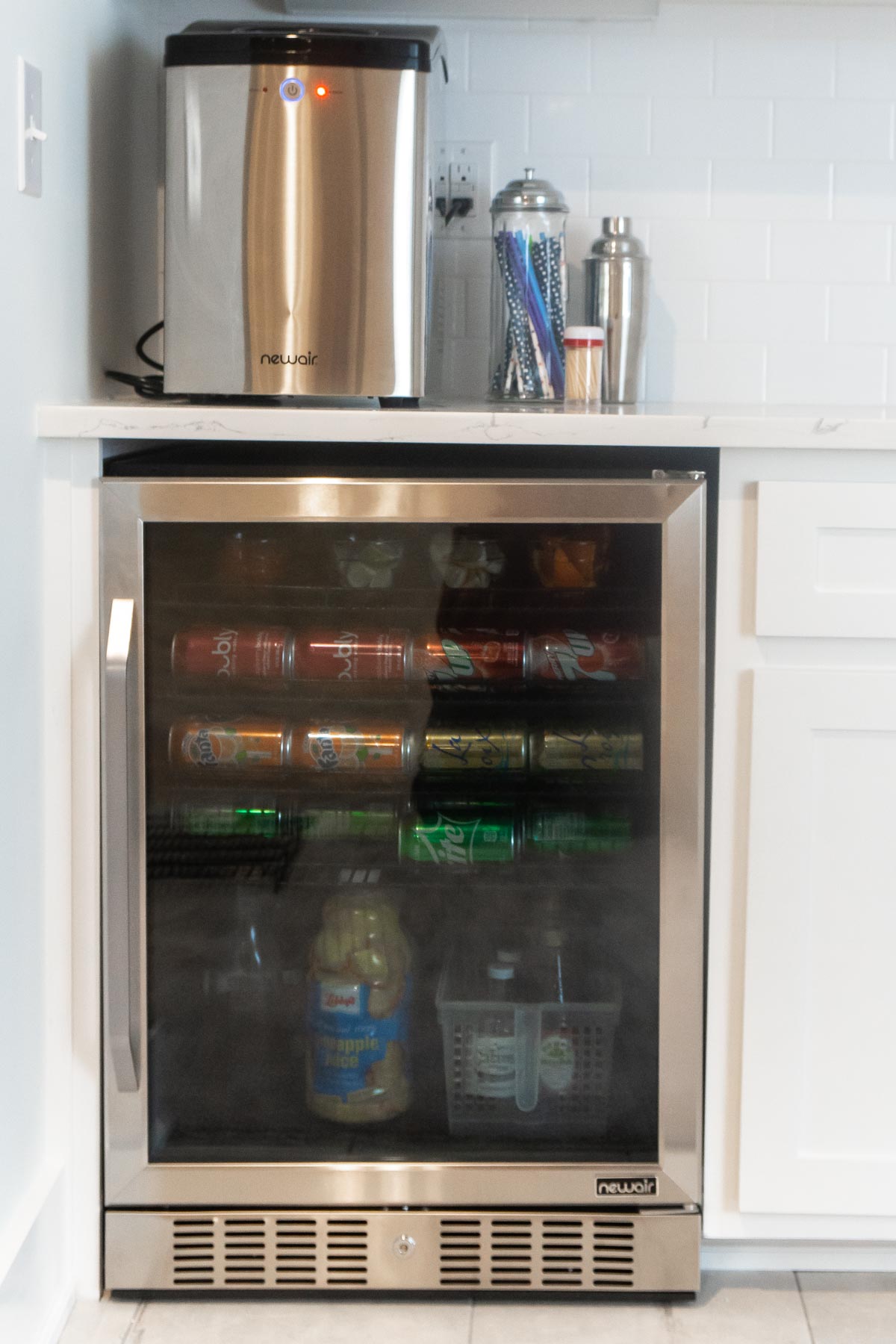 2 – Stocked Fridge
Alright since we're already talking about the beverage fridge, let's talk about what goes in the fridge because those are important too!
I'm a huge fan of mocktails, punches, and other mixed drinks so having a fridge stocked full of supplies to make those is essential in our house!
Here's what I typically include in our beverage fridge!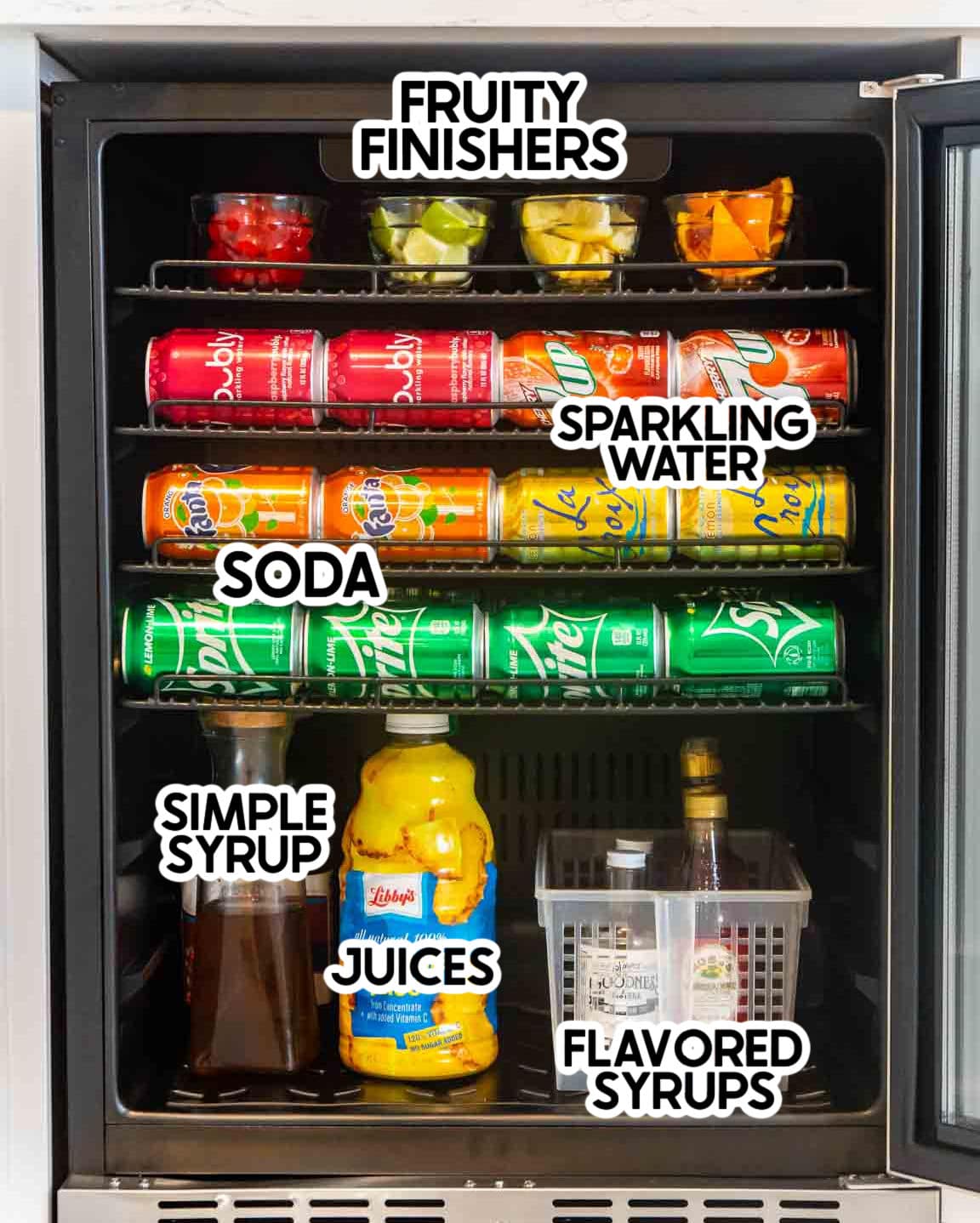 Soda – as I mentioned above, the New Air Beverage Fridge we put in can hold 177 cans. While we won't stock it with 177 cans, I do like to put in a variety of different types of sodas. Go with ones that are either universally popular to drink alone or ones that work well mixed with other flavors!
Sparkling water – I don't love drinking sparkling water or club soda straight, but it makes a great beginning of a mocktail or even sparkling watermelon juice. Add both plain and ones that are lightly flavored with universal flavors (lemon, berry, lime, etc.)
Juice – another great option to drink alone or mixed with other things for yummy mocktails! I also normally stock juice boxes for the kids, but we happened to be out when I took these pictures!
Simple syrup – so many drinks start with a simple syrup. I like to make an entire batch then store it in the fridge for a couple of weeks, using just the right amount when I want a drink!
Flavored syrups – I also love keeping a basket of flavored syrups like grenadine, caramel, and even specific drink syrups like these ones from Simple Goodness Sisters (the rhubarb vanilla bean is amazing!).
Fruity finishers – there's just something about adding a fresh squeeze of lime or lemon to a drink that gives it that special touch. I used the top section (with one of the adjustable shelves) in the beverage fridge for little bowls with cherries, oranges, lemons, and limes – great for garnishes and that splash of citrus!
3 – Nugget Ice Maker
Another piece I knew I had to have in our dry bar is a nugget ice maker. I love drinks with nugget or pebble ice. They get colder faster, they stay colder longer, and the ice just tastes good.
And my boys love it too – they've literally been eating a cup of nugget ice at least daily since we got our NewAir Countertop Nugget Ice Maker.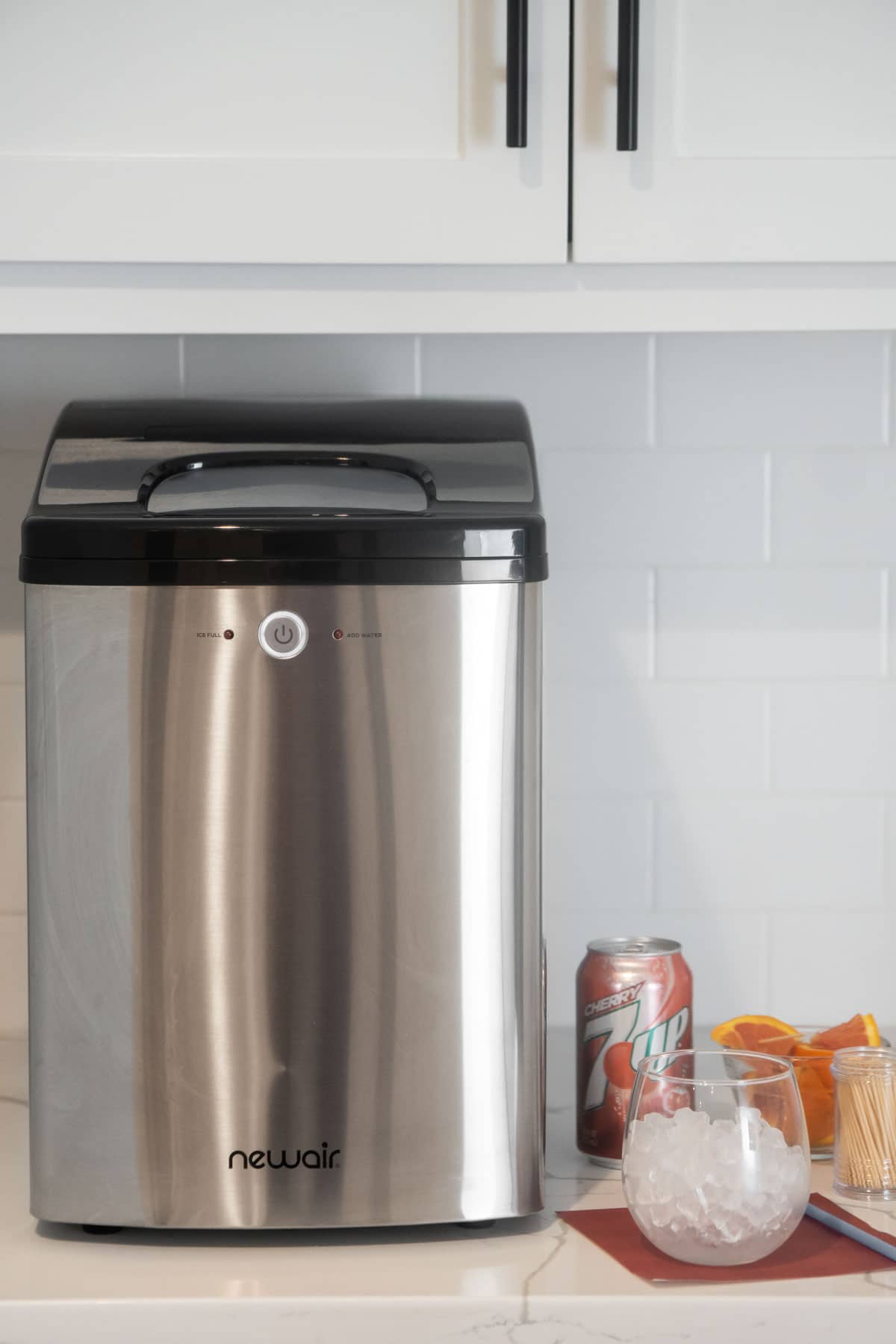 There are so many things I could say about why having a nugget ice maker is amazing but if you know you know. Nugget ice is the best.
And the NewAir nugget ice maker is awesome. It takes like five minutes to make a batch of ice, can make up to 40 pounds of ice a day (we get close some days), and it comes with a self-cleaning function that's super easy to use.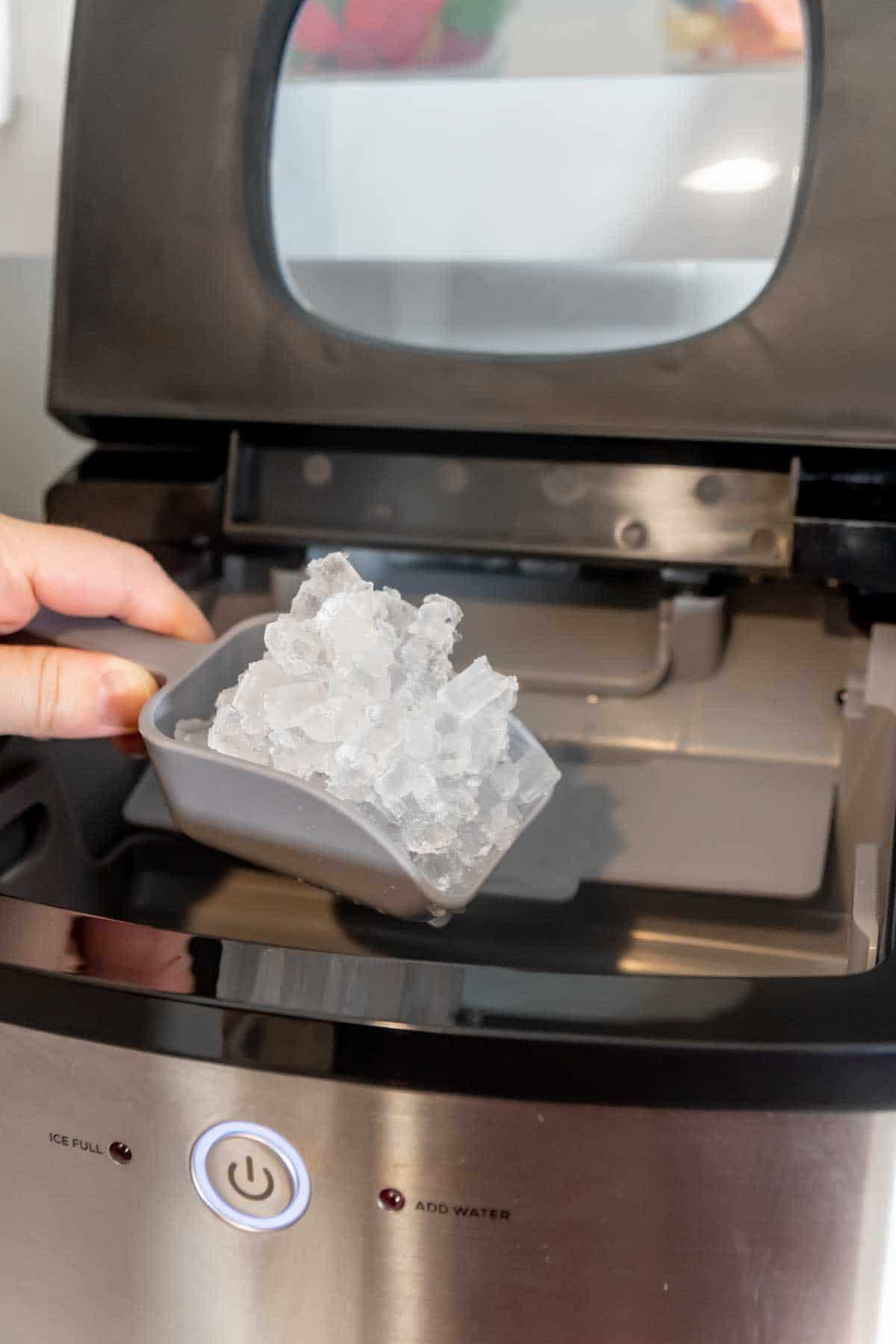 So we get a lot of delicious and clean ice all day long. Want to come over for movie night? Drinks all around!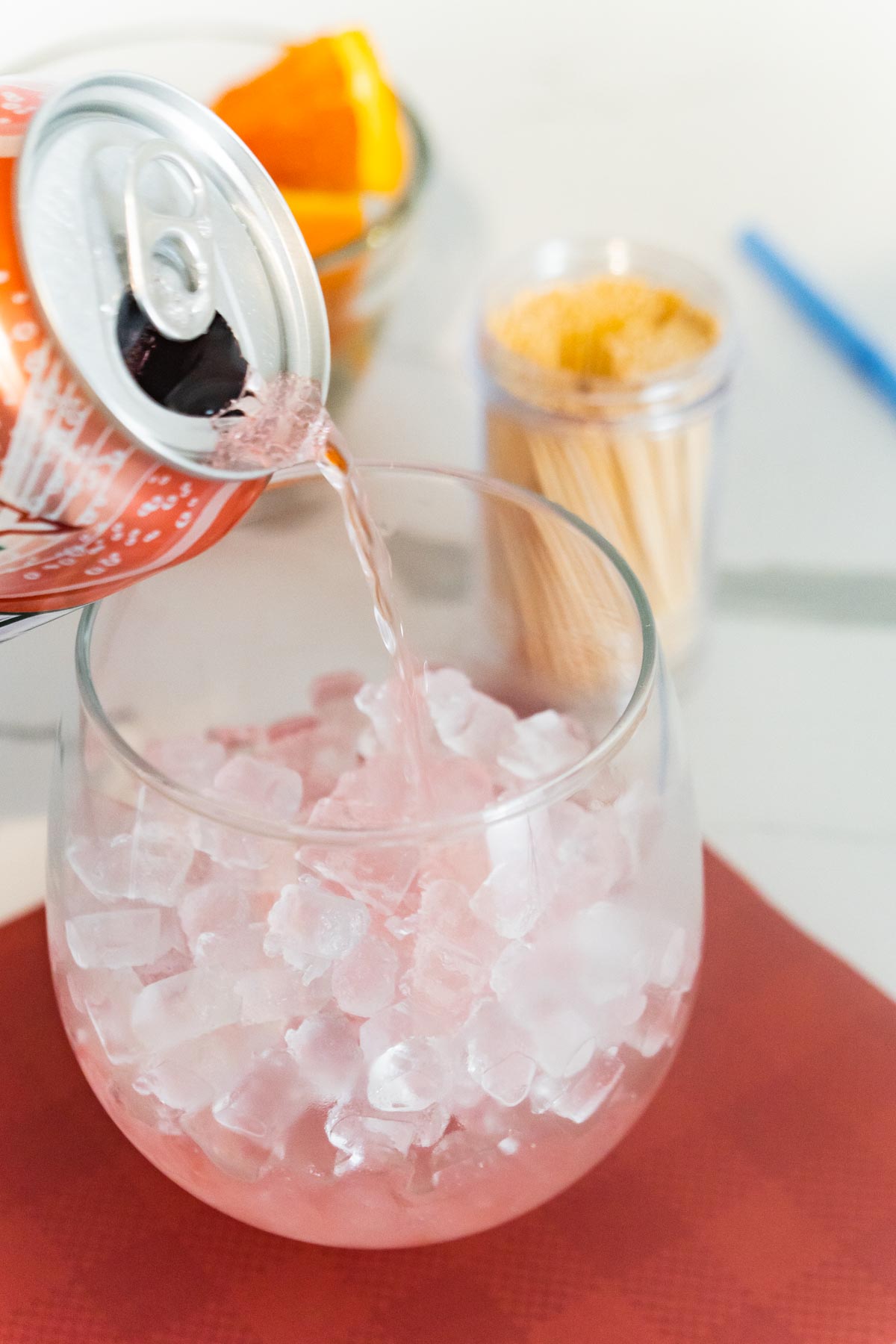 Exclusive Discount!
Want your own nugget ice maker? Get it here with my link and use the code PARTYPLAN10OFF to get 10% off your purchase!
4 – Snacks
Speaking of snacks, I also filled one of our dry bar cabinets with snacks and treats for movie nights, game nights, or just afternoon snacks for the kids.
I personally did matching buckets with single serve snacks (so my son can grab a snack when he goes downstairs to play after school) but you could totally do matching snack bins, bags of snacks, or even a bowl on the counter with healthier snacks like fresh fruit.
Or you could use the adjustable shelves in the beverage fridge and create a snack shelf with things like fruit, cheese, and even meats. Just make sure to put it at the lowest temperature possible!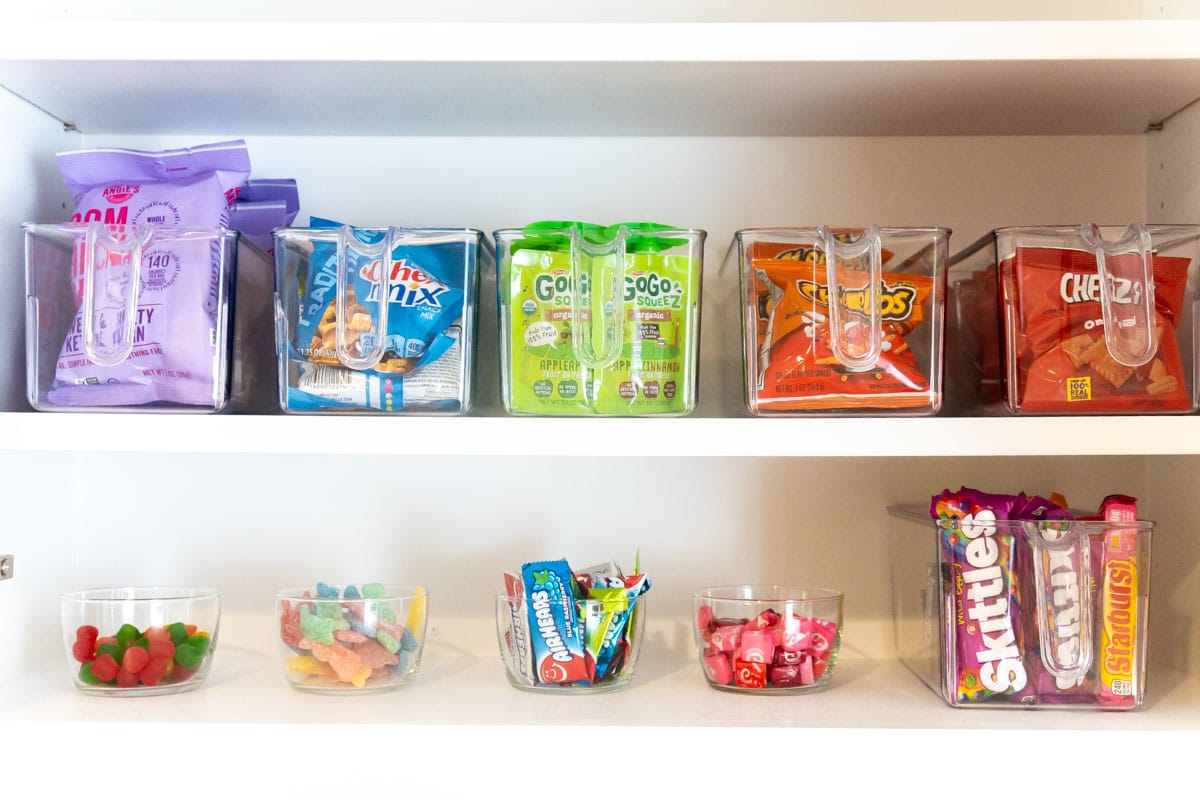 5 – Storage Space
Okay, last but definitely not least – a good dry bar needs storage space. We built our dry bar into a space between two posts in our basement, so it's actually a bit more storage space than we actually needed, but now I love it.
There are so many things you can use storage for but just to give you a few ideas, here's what we are storing in ours:
Snacks and treats (an entire cabinet just for these!)
Cups, napkins, and paper goods
Small appliances like blenders, immersion blenders, and popcorn makers
Shaker cups
Measuring cups and spoons
Straws
Toothpicks and swizzle sticks
Serving trays
Large bowls (for serving snacks)
The list can go on and go. I included it in my tips below, but I always like to have both drawers and cabinets simply because they are better at holding different things.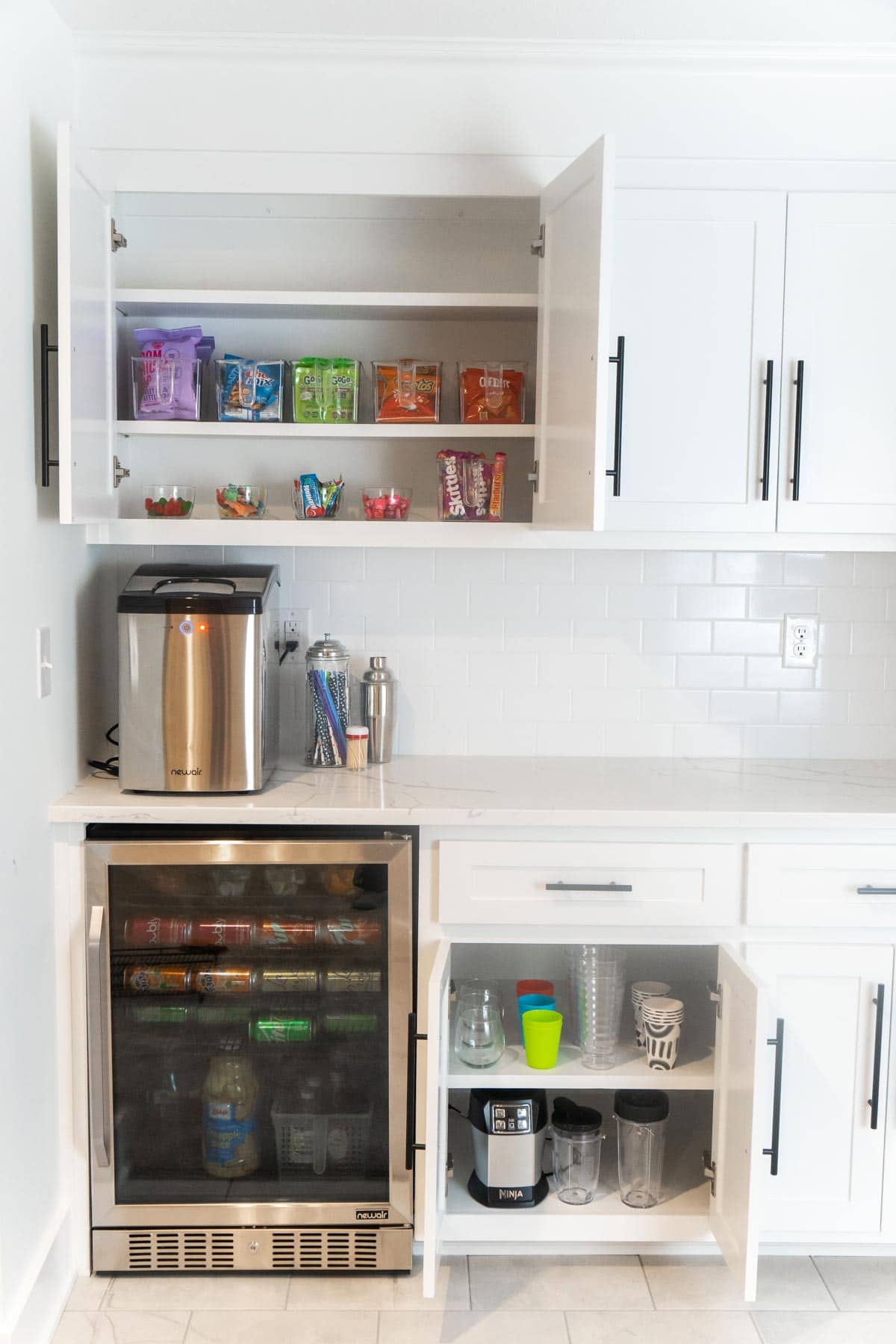 Tips for Designing a Dry Bar
Having a dry bar added into our basement was a learning experience for us for sure, but I'm so glad we did it.
I'm also glad we had the foresight to think of some of these things before the dry bar was done! As you're planning your own dry bar ideas, I highly recommend thinking about some of these tips from our experience.
Add tile in front of the dry bar to decrease the chance of ruining carpet or other flooring with spills.
Include both drawers and cabinets to store everything you need. Drawers are great for smaller things like straws, toothpicks, and mixing rods and cabinets are great for holding larger items like appliances, dishes, and snacks!
Build a dry bar into an otherwise awkward space in the basement. We put it in between two poles that would've just been obstacles for the kids to run around. You can see how the framing is built around one of the poles in the image below.
Make sure drawers in cabinets are adjustable, not fixed so you can store whatever you want in them – small trash can, cups, appliances, etc. Our set of bottom cabinets have fixed drawers (didn't realize that until it was done), and I wish they were fixed so we had room for a small trash can!
Add a countertop similar to one you'd put in a kitchen both for looks and to keep it nice when you're pouring drinks and serving food. Small slabs of countertop are typically reasonably priced.
Have an example drink menu inside one of the drawers or cabinets to give people fun ideas of drinks to try out! I've included a handful of our favorite mocktails below!
Fun Mocktails
If you need some fun ideas of drinks to try out at your new basement dry bar, these are some of our favorites!
Shop Now!
Don't forget that my readers get an exclusive 10% discount on the NewAir Beverage Fridge and Nugget Ice Maker with code PARTYPLAN10OFF! Shop here!