Twenty-five of the best board games for kids whether you want something educational, fun for kids and adults, or just something to entertain the kids for a few hours! Perfect if you want something other than classic board games for kids to add to your game closet!
This post contains affiliate links. If you purchase via the links, I may receive a small commission at no additional cost to you. I also received some of these games for free to review but that has no bearing on my opinion and their being on this list. All ideas and opinions are 100% honest and my own!
I'm a bit of a board game addict, okay maybe even a board game hoarder. I have shelves and shelves of board games for adults at home and ever since I had my son almost seven years ago, I've been collecting the best board games for kids I could find.
He's finally old enough that not only do I not have to let him win but he can play on his own team! It's been a game-changer and so much fun to try out new board games on the regular.
And the perfect option when you're looking for more indoor fun for kids.
I have way more board games for kids than are in this list, but here are my top 25 best board games for kids. It's a good place to start, then you can keep adding to your board game stockpile if you go through these first!
25 Best Board Games for Kids
These are in no particular order so make sure you read the entire list to figure out which games work best for your family! There is everything from cooperative fun board games for kids to classic board games for kids!
We love this one because it takes very little setup, is easy to play, and is fun for both kids and adults! You roll the dice and move the matching snails but watch out, you don't want to roll someone else's color or they might beat you to the finish line!
This is one of the very first cooperative board games for kids we tried, and it's super fun even if your kids don't love dinosaurs like my son. You have to use a little memory and logic to try and get everyone to safety before the volcano blows.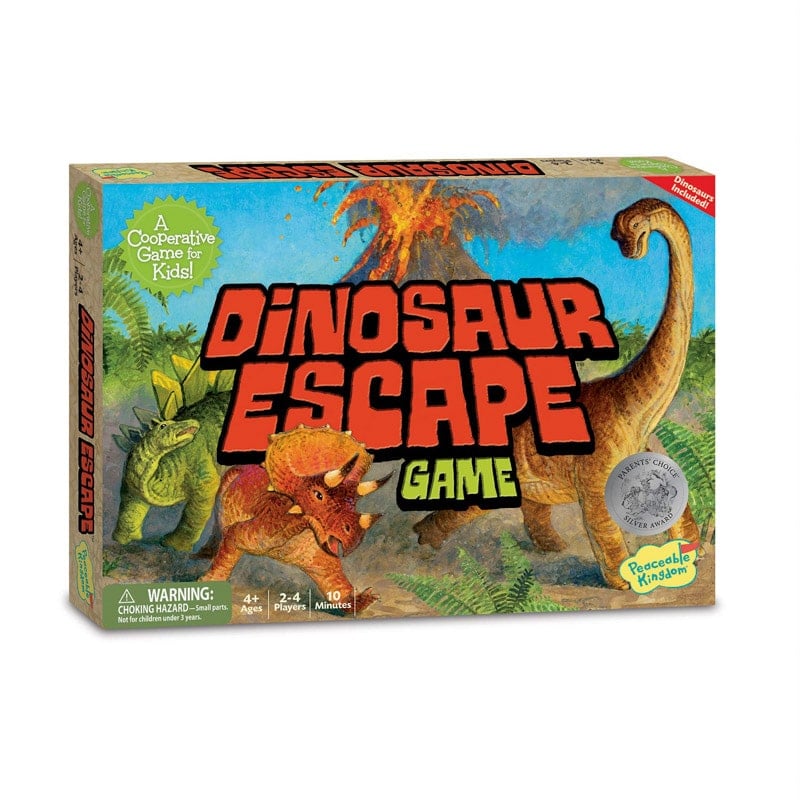 This is another cooperative game where everyone works together to get the owls back to the nest before the sun comes up. It's a good way to work on colors, patterns, and strategy – making it great for older and younger kids to play together.
There are a number of different versions of this i-Spy style board game including a Disney one, a BusyTown one, and more! If you have a kid who loves seek and find books or i-Spy, they'll love this game! It's a huge board full of fun things to find – pick a card, grab your magnifying glass, and see how many things you can find before the timer runs out!
Think chutes and ladders but better. In this new version of the classic game, if you spin a switch – the board switches and changes everything up. It's a super fun alternative to the typical chutes and ladder game and even better if you're a Disney fan!
In this game that's a little like Clue and a little like Suspicion (in my favorite board games for groups), you have to narrow down the suspects to figure out which fox did it. But watch out because if the fox catches you, you lose! It's surprisingly fun even for adults because there's an element of chance as you have to guess which action you're going to roll!
I did an entire review of the Drop Squad game here but the general idea is that you're trying to drop balls from the top (kind of like Plinko) and get them to fall into your scoring goal at the bottom. It takes a little strategy and luck and is super fun for both kids and adults!
There are about a million versions of Uno out there at this point but Uno Flip is my family's favorite. It's Uno with a twist – the cards have two sides and if you get a flip, you have to flip the deck over and play with the other side of the cards.
There are a few new cards as well but mostly it's regular Uno flipped upside down. The game is always a little different, you never know who's going to win, and we could play this one all day long!
I bought my son a handful of new games for Christmas and this was one of them. It's like the classic game of Connect 4 but on steroids. Instead of just placing in your coin, you have to shoot balls into the game instead so it's a lot more luck than strategy. And it's a lot more fun!
There are a handful of other "shots" games out there as well including Battleship Shots but this one is our favorite!
This one is a new favorite that we've been playing on a weekly basis! It's similar to one of our favorite card games called Lucky Unders and the basic idea if that you have cards in your hand and laid down in front of you that you have to get rid of. The only way to do it is to play higher than the person before you or use one of your special llama cards.
The thing I love most about this game is that while some strategy is involved, because you have a second set of cards that you have to play without looking at them, there's a lot of luck as well. Great for playing with kids since you never know who will win!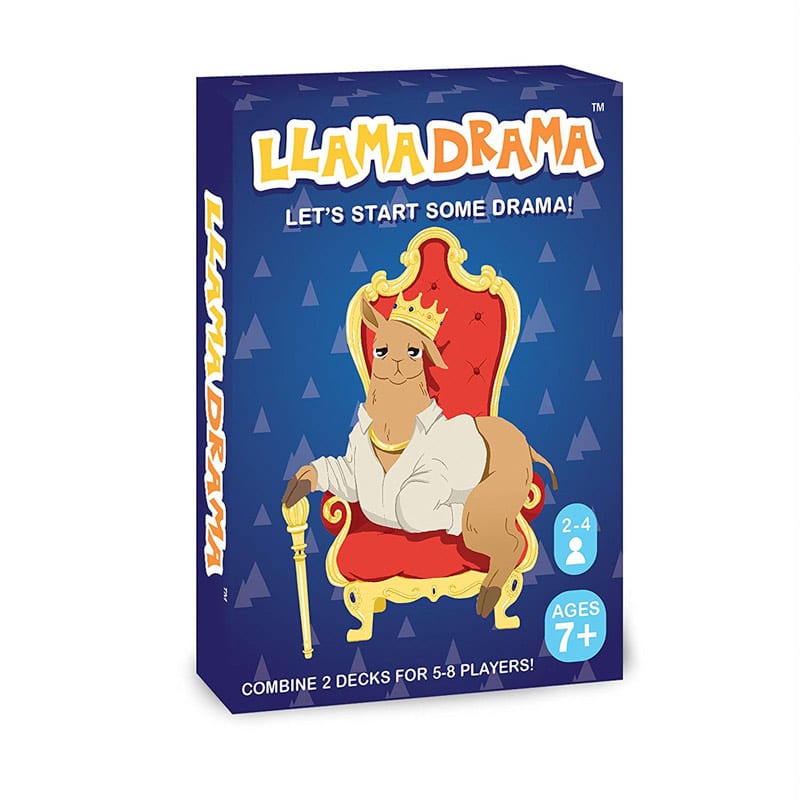 In case you didn't get enough llama card games before, here's another one! This one is completely different from Llama Drama and in my opinion, a bit more fun for adults who end up playing with the kiddos. In this game you have to try to get rid of your cards by playing the same card or one higher than the person before you. If you can't play you pick up the deck!
But what makes it the most fun is that you have to strategically decide when you bail on a round, trying to stick your competitors with lots of points! It's quick, easy to learn, and one of our current family favorites!
In this super easy card game, you have to make sequences to earn gold coins. But watch out because if someone else has a wild shark card, they may steal the very card you need to finish your sequence! Easy enough for kids but fun enough that adults could play and make it a bit more competitive.
You've probably played the classic game of Life before but let me be the first to tell you that Life Jr. is nothing like the classic game of Life. Unlike Monopoly or Clue Jr that just simply the rules of a similar game, Life Jr. is completely different. And it's super fun!
You go around the board collecting stars as you visit places like amusement parks, playgrounds, and the beach. But you also have to pick cards that tell you to act things out, do silly things, and other activities to earn money to visit those places!
In this Cat in the Hat inspired game, you randomly pick cards that are associated with objects, parts of your body, and actions (like spinning in a circle). After you choose your cards, you have to try your best to complete the silly actions that the random cards say.
It's fun, silly, and a great way to get some energy out!
In this game, players have to connect tiles on the board to get their pieces from one side of the board to the other. But watch out – if you roll a dragon, that dragon could disrupt your progress and make it impossible for you to get across!
This is a cooperative one that we played over and over when we got it. The game is always a little different and because it's based on the luck of the dice, it can often be challenging and fun enough for the adults playing along.
The description of this game on Amazon is just about right – an award winning game that gets you up and moving and creative and just plain silly. The game comes with a giant puzzle board, 55 silly action cards, and a bag to store it all in! The actions include things like acting things out, making up stories, and more. Definitely one of our favorites!
This is one of the few games on the list that I'm not sure is just for kids or at least not ideal for kids to play on their own. You'd probably need older kids or teens to play along but when I asked my almost 7-year-old for his favorite board game, this was it.
This is a cooperative game where each player takes on a Marvel character and as a team you have to work together to beat the villains. It takes a few minutes to set up each game but then the games themselves are less than five minutes. It's always a little different because the Marvel characters each have different abilities and card decks. Definitely a fun one – especially for Marvel fans!
This game is similar to the Snail Pace Race I mentioned above but it's almost like a step up challenging and fun wise. Everyone gets a secret set of cards that match snail colors on the board. You have to try and get your snails to finish first without giving away which snails you have. Snails move based on the roll of the dice and they move up, down, and all around!
It's a little bit strategy, a little bit luck, and a lot of fun!
Otrio is a new game for our family, one that we first played during our trip to Beaches Turks and Caicos. It's a total strategy game that is like Tic Tac Toe but way more. Each player gets circle pieces and you have to figure out a way to make three in a row before the other players do. It's fun because you can play with up to four people and unlike Tic Tac Toe, it's hard to keep track of all of the other players' pieces long enough to block them from winning.
This is one of the games we definitely play just as adults, without the kids, as well.
Vegas is one of the few games in this list that also falls into my best board games or adults list. It's easy enough for kids to play yet challenging and fun enough for adults. You roll the dice, place your dice where you think you'll win the most money, and hope that no one else rolls better than you!
The best part about this game is that it's unknown who's going to win until the very last dice are rolled. Definitely a family favorite!
While this game seems like it would just be another in a series of Frozen party games, it's actually surprisingly fun. One person hides Olaf in the house somewhere and then the other people pick cards – the cards tell them what to find in the house. It could be things like a lamp or a sock or a vase or the card could tell them they have to go find Olaf before the time runs out.
It's kind of like a little miniature scavenger hunt or life seek and find and definitely a game you could spend a while playing!
This is one of our newer games and fun for both kids and adults. Similar to the classic pictionary game, you pick a card and have to get your team to guess what it is. But in this game – you have to sculpt it instead of draw – and you never know how you'll have to sculpt. Sometimes it's with your eyes shut, sometimes it's sculpting a prop to use to act something out, and sometimes it's just regular sculpting.
This is another one that's as fun for adults as it is for kids!
This should probably be on the classic list of board games for kids below but I don't necessarily see it in the ranks of the classics like Monopoly and Sorry, so it's getting it's own line item in this list!
There are so many different variations of this game now but the idea is that you put a card on your head and your teammate has to give you clues to get you to guess it. Pick a version that makes the most sense for your family whether that's a generic one or something more specific like this Pokemon Hedbanz or this Disney one.
I first played this game when my nephews were little, and it's been one of my favorite board games for kids since. And it's not just because I love a good game of bingo! In this game, kids have to match words/pictures that come out of the little bingo machine with words on their board. Get enough in a row and call out Zingo – even better if you dance while you yell it out!
It's a fun, educational, and a silly one that's great for little kids!
It's only appropriate that because my kid loves dinosaurs that I end with another dinosaur game. In this cooperative game inspired by Disney's The Good Dinosaur, you have to get from one side of the board to the other before the roarin river gets you! The river moves when you spin the wrong thing and speaking from experience, it's easier to lose than you'd think, making it actually fun and challenging!
Out of all of the dinosaur games on this list, this one is my personal favorite!
Classic Board Games for Kids
I didn't include any of these in my list of 25 above because they're classics. People know about these games and know that they're always going to be some of the best board games for kids! If you don't, well this is my testimonial that these are classics for a reason!
If you don't have any of these and are looking for board games for kids, these are always a good place to start! And bonus – since they're classics, they tend to be available for cheap!
Don't forget to pin the best board games for kids for later!