Minute to Win It Games are one of the easiest type of games to play at any party. Games for every holiday, every season, and every theme you could ever think of! And a minute to win it game list that work for individuals, teams, groups, and even work parties.
Honestly it doesn't matter, these minute to win it challenges work for any age. Bookmark this page to have the ultimate minute to win it games list at your fingertips any time you need party games!

This post contains affiliate links to products for your convenience. If you purchase via my links, I may receive a small commission at no additional cost to you.
Find What You're Looking For
What Are Minute to Win It Games
How to Play Minute to Win It
Supplies for Minute to Win It
How to Score Minute to Win It Games
Other Helpful Minute to Win It Resources
Minute to Win It Game List
What Are Minute to Win It Games?
A few years back NBC had a show called Minute to Win It where contestants had to complete a task using household items in less than a minute to move on to the next challenge and ultimately win money.
People now play minute to win it games just like simple party games – sometimes actually having the minute time limit and other times just playing them as quick and easy party games.
They're fun, simple to play, inexpensive, and typically hilarious!
Check out this video to see how fun these can be – and this is only a few of the over 200+ minute to win it games in this list!

How to Play Minute to Win It Games
You can play minute to win it games in one of three ways:

Style #1: Minute to Win It for Individuals – Man vs. Clock
In this version, one player will be trying to beat the clock for each game. So for instance, they will have to try and complete the game within a minute (hence the minute to win it name).
If they do, they win a prize. If not, let someone else have a shot. If you go with this style, I recommend choosing a different person for each game.
As an alternate version to this, you could also let the same person continue playing games until they can't finish one in a minute. Or you could have everyone playing individually all at the same time (similar to version 3 below but in individuals rather than teams) and see who all can finish the challenge in a minute.
Style #2: Minute to Win It for Groups
In this style, you'll pick two players for each game who will going head to head against each other playing a game rather than trying to beat the clock. So you'll give each person the game supplies and see who can finish first.
The first person to finish wins the prize. Again, rotate through pairs for each game, repeating players as necessary but this works well when you have smaller groups so everyone can participate in a variety of games.

Style #3: Minute to Win It for Teams
In this style, you'll split your group into two (or 3 or 10 depending on the number of guests) teams. For each game, teams must choose one player to compete head to head in the game with the other teams.
So for instance, one person from each team will be given the supplies and game instructions. When you say go, everyone competes to be the first to complete the game.
First team to finish gets 5 points, second team gets 3, third team gets 1, and everyone else gets none. This works best if you have quite a few people and is a good way to get everyone involved cheering for their team.
How to Score Minute to Win It Games
The only time you really need to score minute to win it games is if you're playing in teams and having teams race against one another to complete the challenges. In this case, I highly recommend getting a large dry erase board or poster board and writing each team's number across the top.
Alone the left side of the board, write down the names of each game or at least the game number (1, 2, 3, etc.).
For each game, the first team to finish receives five points, the second team gets 3, the third team gets 1, and the other teams don't score that round.
If you want everyone to earn a point if they finish, set a timer for each game. First team to finish gets 5, second team gets 3, third team gets 2, and any other team that finishes within the minute timer gets 1 point.
The latter version of scoring will help keep the score a bit closer if you think one team might blow another out.
Here's what an example scorecard might look like at the end of the games.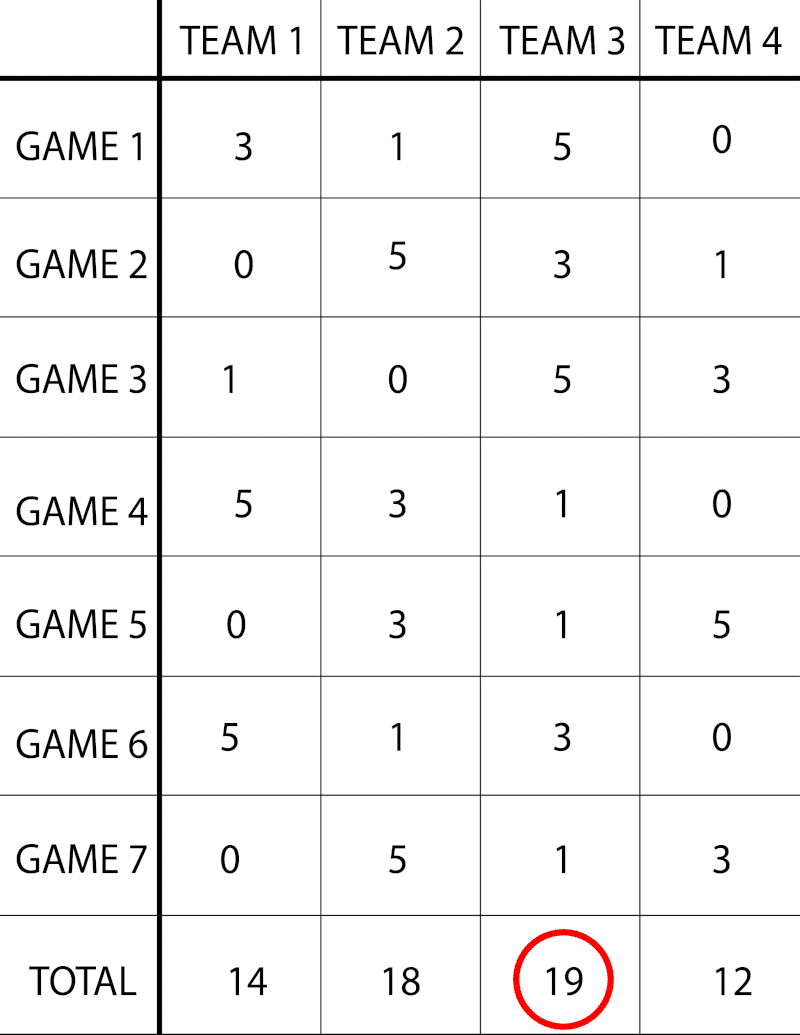 If you were playing where anyone who finishes the challenge gets a point, it would look a little different. I just like to have it up on a big whiteboard for everyone to be able to see how each team is doing!
Supplies for Minute to Win It
Most minute to win it games can be played with items that you have around the house, but there are a few key supplies that you'll most likely want to purchase and have on hand if you're going to play often.
I have a box with these 10 things in it in my craft room so we can always play when family comes around!

Other Resources for a Great Minute to Win It Party
I typically use minute to win it games in my parties regardless of the theme, but you can actually host an entire minute to win it themed party. Here are some other great resources if that's what you want to do!
Top 10 Minute to Win It Games
These minute to win it games are ones I've used over and over again, just with different holiday themes! They may not necessarily be the most fun, but they're ones you could just grab and change up whatever party you're having!
1 – Face the Cookie
Place a cookie on someone's forehead. They have to use only their face muscles (no hands) to get it into their mouth.
2 – Defying Gravity
Give each player three balloons. They have to keep all three balloons up in the air for a minute.
3 – Bottle to Bottle
Fill one 2-liter bottle with something (Lucky Charms, Jelly Beans, etc.) then tape to another 2-liter bottle – players have to transfer all from one bottle to the other.
4 – Shamrock Shake
Tape an empty Kleenex box to a pair of panty hose, fill with ping pong balls, then tape around someone's waist. They have to shake until all the balls fall out.
5 – Wrap It Up
A two player game where one person has to wrap the other person in streamers, toilet paper, or something else
6 – Traffic Yam
Push a sweet potato across the floor from one side of the room to another with just your nose (I've also done this with cabbages for St. Patrick's Day)
7- Iron Man
Use a chopstick to stack iron nuts on top of each other
8 – New Year's Eve Countdown
Fill boxes with different numbers of bells (1-5). Players must shake them and put them in order of the number of bells.
9 – Obstacle Course
Set up a themed obstacle course of objects around the room. Players have to go from one end of the room to the other around the obstacle course on a bath mat or towel.
10 – Choosing Cups
Set out like 25 cups, filling all of them part way with water. Put a sticker on the bottom of some of the cups. Players have to pick one cup at a time, trying to find a sticker.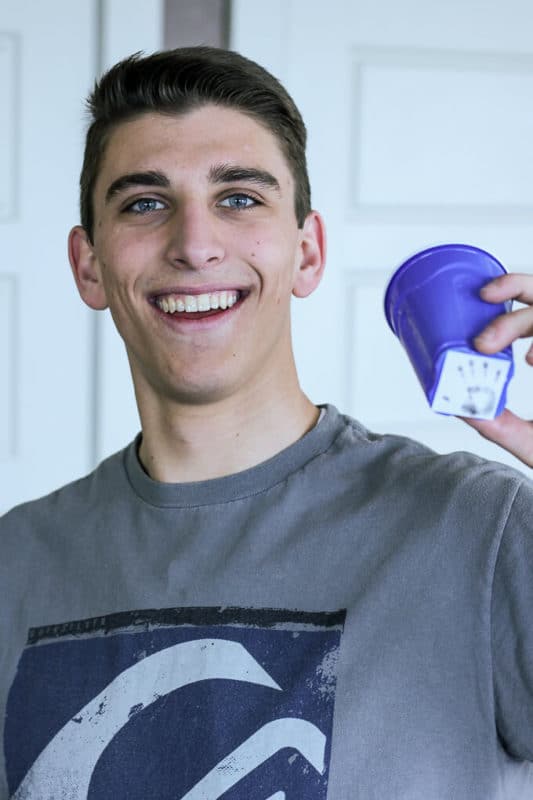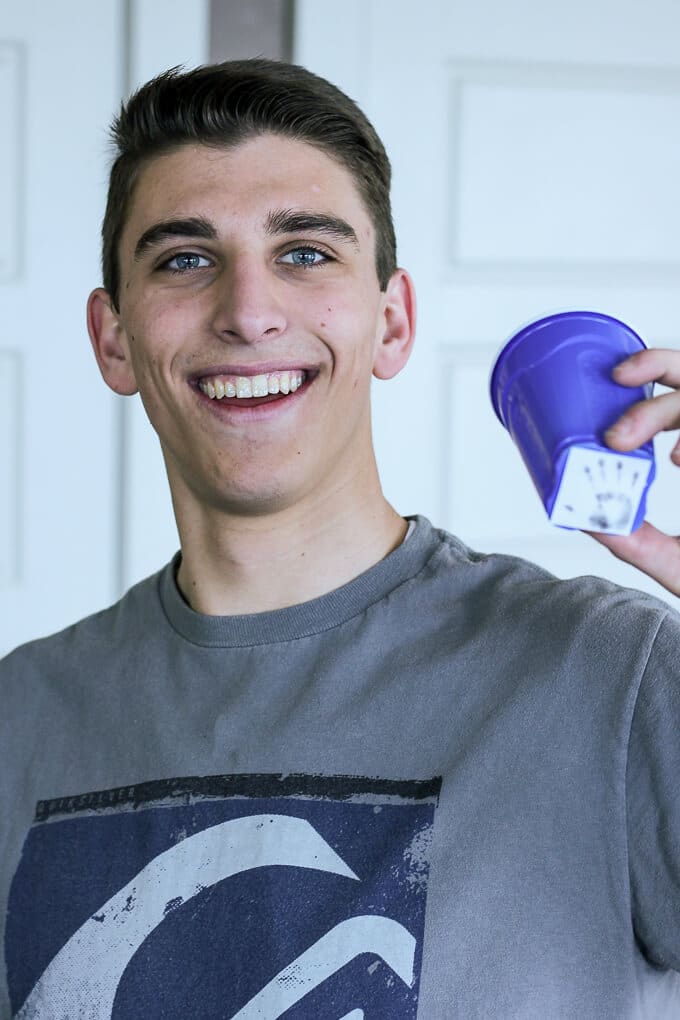 The Ultimate Collection of Minute to Win It Games
Here's the ultimate minute to win it game list!
Click on the links below to be taken directly to game instructions, supply lists, and photos for each of the individual games.
And it's worth checking out the different posts if you need more ideas for a particular holiday. There are plenty of minute to win it games that can be changed slightly to work for another holiday or occasion! (e.g., baby shower games might work with different objects for Christmas)
Pretty sure I've used this "face the cookie" game as many times as there are flavors of Oreos!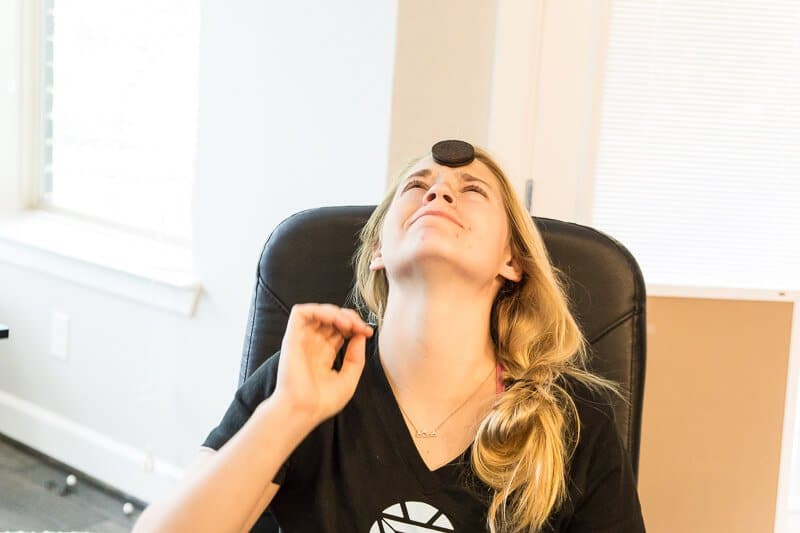 Minute to Win It Christmas Games & Other Holidays
Minute to Win It Challenges for Special Occasions
Seasonal Minute to Win It Party Games
Miscellaneous Minute to Win It Games
Don't forget to bookmark and pin this guide to playing minute to win it games! It will be updated any time I post new game ideas!