These fun baby shower games are perfect whether you're planning a baby sprinkle, looking for coed baby shower game ideas, or just traditional baby shower games! They're unique, easy to setup, and fun for everyone to play!
These baby shower game ideas are guaranteed to have everyone laughing before they go home! And as an added bonus to these unique baby shower games, there are also tons of ideas for baby shower prizes to give out to the winners!

The Best Baby Shower Games
I'm at that point in my life where everyone around me is getting pregnant whether it's with their first, second, or whatever number of baby. It's just the stage of life I'm in I guess.
It also means that I have hosted and attended a lot of baby showers in the past few years since my son was born. And served this sausage egg breakfast casserole a lot.
It also means that I've been asked to come up with unique baby shower games so that people aren't playing the same ones over and over again!
If you've read my blog at all before, you know I'm a big fan of playing Minute to Win It style games. I love them because they work for small groups, large groups, men, women, kids.
You name it and most of the time people can play them.
So naturally I put together a set of 20+ hilarious baby shower games that can either be played as minute to win it games or honestly, they can just be played as individual games.
Or if minute to win it games aren't your thing, this baby shower emoji game is great for a low-key shower!
Pick whichever ones sound the most fun to you and go for it. If you want to play them minute to win it style, check out my minute to win it page for instructions first.
They're great if you're looking for coed baby shower games, group baby shower games, or just the most fun baby shower games. Promise – they're so fun!
Baby Shower Games List
Here's the full list of games, make sure to keep scrolling for detailed instructions on how to play each of these baby shower games! And watch the video below to see how easy they are to play!
Bottle to Bottle
Rock A Bye Baby
Diaper Hang
Nipple Toss
Five Little Ducks
Baby Name Game
Diaper Fashion
Ice Ice Baby
Blind Blocking
Wipe Out
Chop Binky
Lost Sock Hunt
Baby Shark
Name that Nursery Rhyme
Bathtub Bounce
Spin the Bottle
Baby Sitter
Matchmaker
Hooded Towel Race
Baby Got Back
Sugar Baby
How to Play These Baby Shower Games
As I mentioned, these games can be played minute to win it style or really just as group games. Below are some basic instructions for setting these up to make them great large group baby shower games!
Style #1: Man vs. Clock – In this version, one player will be trying to beat the clock for each game. So for instance, they will have to try and get all of the sprinkles from one bottle to another within a minute (hence the Minute to Win It).
If they do, they win a prize. If not, let someone else have a shot. If you go with this style, I recommend choosing a different person for each game.
Style #2: Head to Head – In this style, you'll pick two players for each game who will going head to head against each other playing a game rather than trying to beat the clock. So you'll give each person a bottle and see who can get the sprinkles from one bottle to the next first.
The first person to finish wins the prize. Again, rotate through pairs for each game, repeating players as necessary.
Style #3: Team Competition – In this style, you'll split your group into two (or 3 or 10 depending on the number of guests) teams. For each game, teams must choose one player to compete head to head in the game with the other teams. So for instance, each team will be given a bottle and the first team to finish will receive 10 points, the second team will receive 5, etc.
This works best if you have quite a few people and is a good way to get everyone involved cheering for their team.
How Many Baby Shower Games?
How many baby shower games you should play will totally depend on your mother-to-be and the guests attending the baby shower. If you have a mother-to-be like me who loves games, I'd say go all out and plan 2-3 different games.
And if you're playing the fun baby shower games in this post, I'd probably choose at least five of them, maybe seven. Do those 5-7 quick and hilarious baby shower games then round it out with one of these printable baby shower games.
If you have a mother-to-be who doesn't really like games, I'd probably skip the baby shower games in this post and head over to this one with simple baby shower games, including tons of free printables, and stick with maybe 1 or 2 games.
Supplies for These Baby Shower Games
I've included 21 different baby shower games that incorporate baby items throughout. And you by no means have to do all of these, this list is meant to be a long list for you to choose from, not a list of baby shower games that you have to play all together.
Pick your favorites and go with those as I mentioned above.
If you'd like to play all of these games, you'll need the items in the list below. The other thing to keep in mind, since I know some people have mentioned in the comments that they think these games are wasteful, is that a lot of these things can be used again.
Gift the items that make sense (binkies, blocks, bathtubs, towels, etc.) to the mother-to-be after the baby shower so things don't go to waste.
#1 – Bottle to Bottle
Fill one baby bottle (long skinny bottles like these work best) with sprinkles then put a piece of double-sided tape or paper with a medium size hole in it over the opening of the bottle (no nipple). Take another bottle and put it upside down (so the two openings are touching) on the other bottle and tape together.
Players must transfer sprinkles from one bottle to the other bottle to win. Some of the sprinkles will likely get stuck on the tape but the majority of them should be able to make their way through to the other bottle.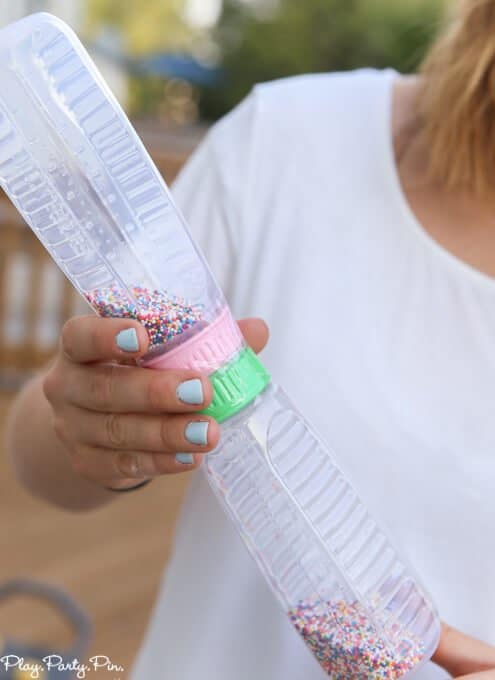 2 – Rock A Bye Baby
This game is played in pairs. Give each pair a pair of fuzzy baby pjs and a bucket full of these little plastic babies. On the other side of the room, place a bucket or box.
When you say go, one person should hold the feet of the pjs while the other person holds the top of the pjs. Then the team should put a baby in the middle of the pjs and use the pjs to fling the baby across the room, hopefully landing the baby in the bucket.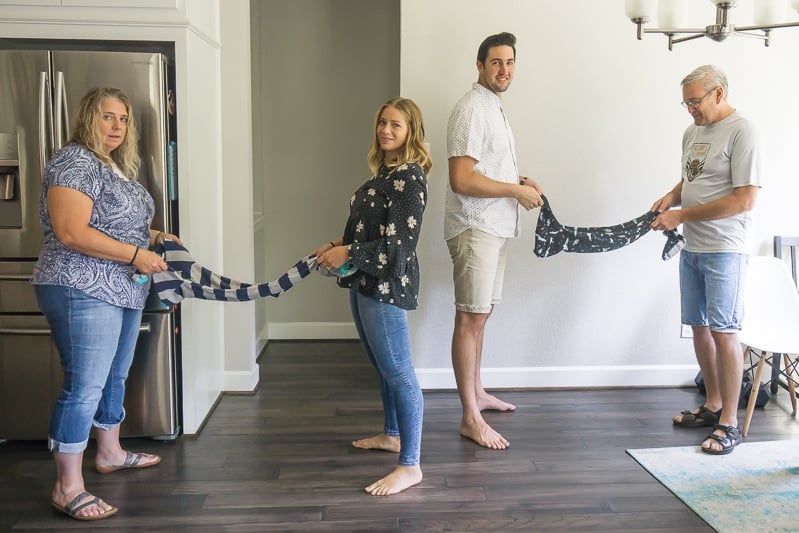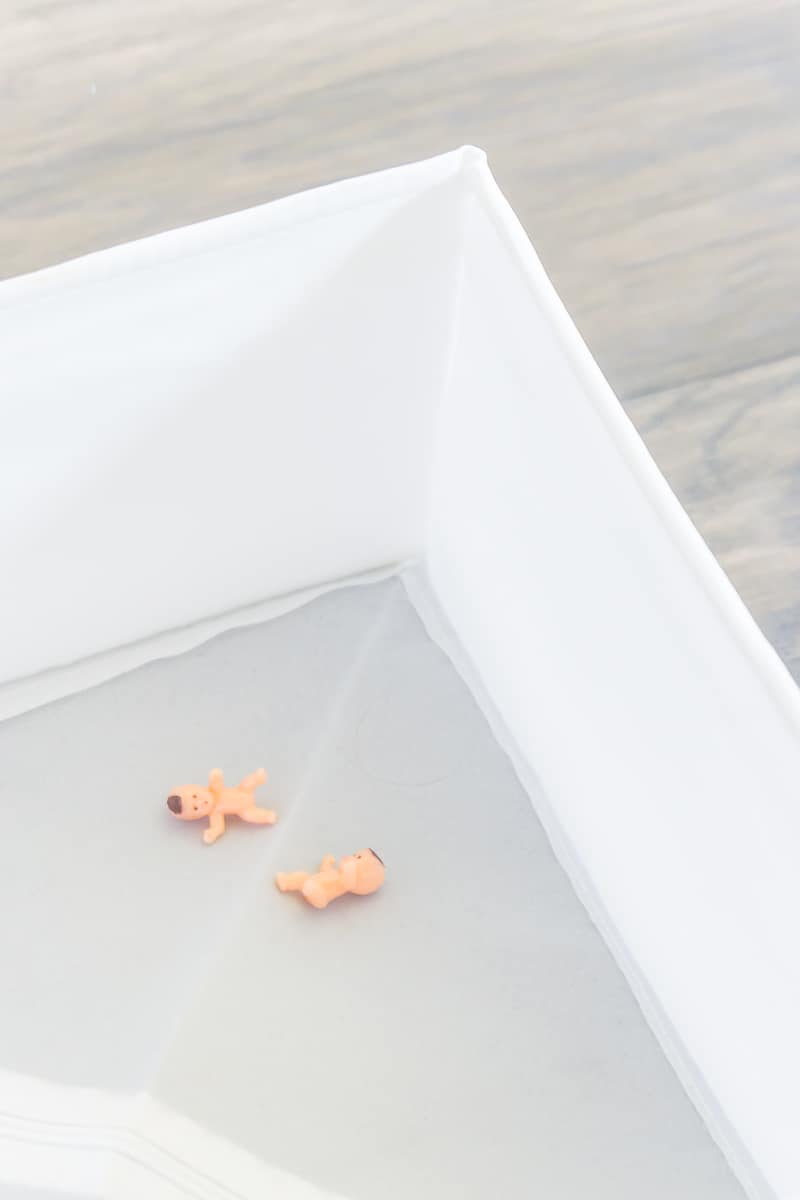 3 – Diaper Hang
Provide players with a bucket full of diapers and mini clothespins like these ones. Players must hang as many diapers as possible using just the mini clothespins on a string or clothesline in the allotted time.
4 – Nipple Toss
Remember those nipples you took out of the bottles for the bottle to bottle game? It's time to use them. This game is played in pairs. One player will have 5 (or another number) of the bottle nipples and have to toss them over to their partner who has to try and catch them on a chopstick. If they catch one, they can put it in their "caught" pile. If they drop it, it returns to the tossing player to try again.
5 – Five Little Ducks
This game is played in pairs as well. Give each pair a bucket full of small ducks like this one and setup an empty bucket across the room.
One player on each team should stand on one side of the room. Their partner should stand in the middle of the room between their partner and the empty bucket.
To play, the first player on the team has to toss ducks over their partner's head (who has to duck) and try and land them in the basket on the other side of the room. First player to land five ducks wins.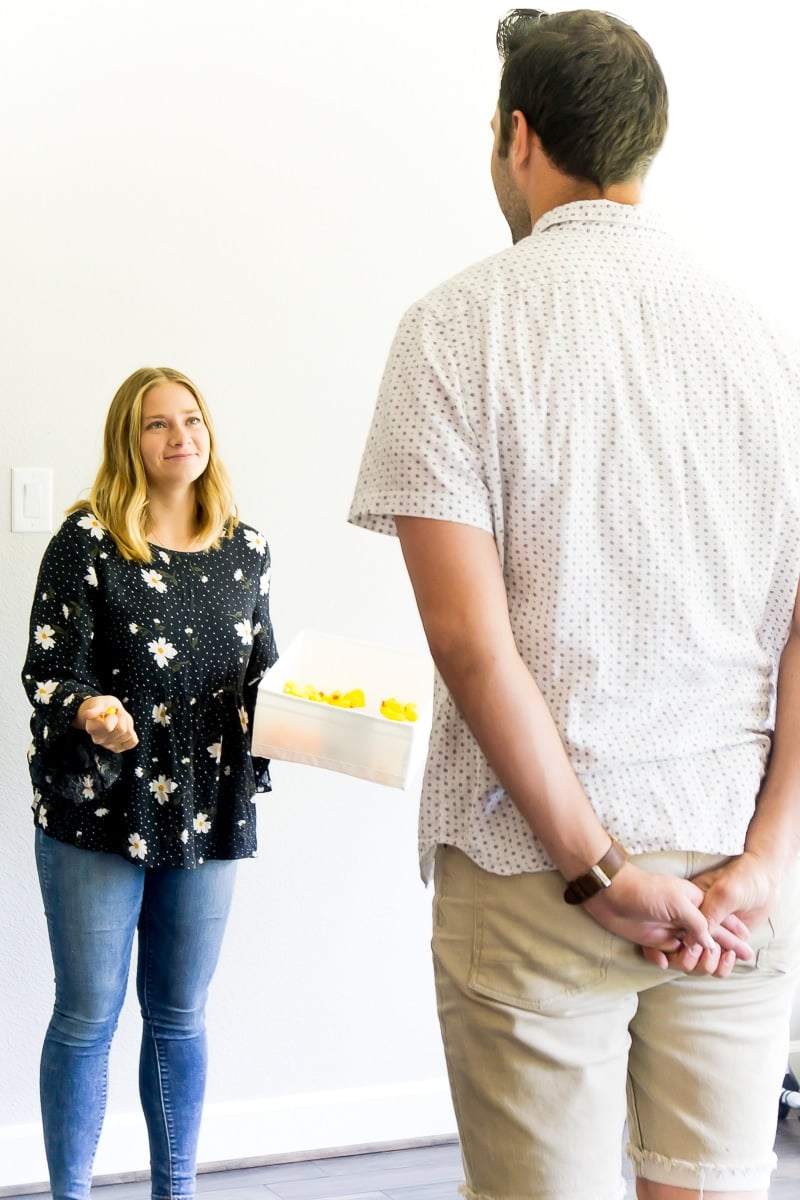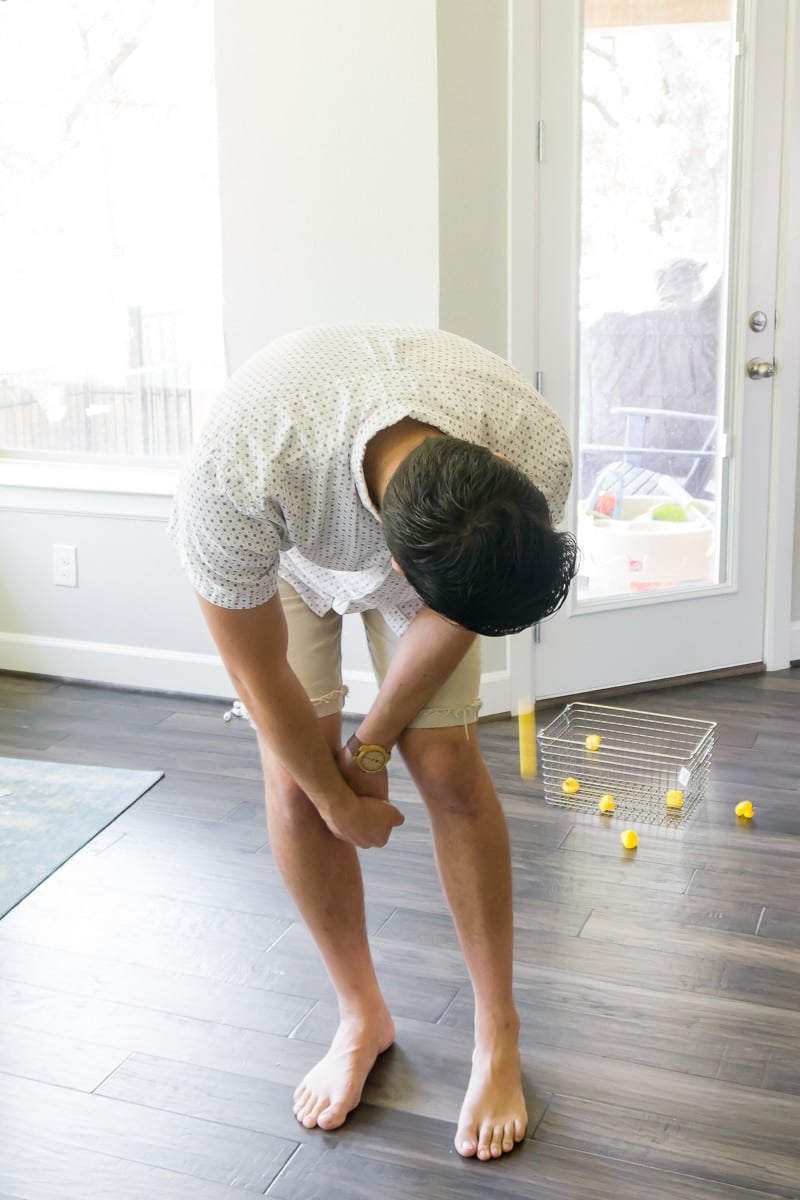 6 – Celebrity Baby Name Game
Print out pictures of celebrities and pictures of their babies. Put them upside down in a pile and to play, guests have to turn over the pictures and match all of the celebrity moms to their babies within the time limit.
7 – Diaper Fashion
Give players a box of Luvs diapers (this size is perfect) and challenge them to attach as many diapers as possible to themselves within the time. Players can attach the diapers however they want, whatever works best for them.
8 – Ice Ice Baby
Before the party, buy some of the mini plastic babies and freeze them into ice cubes. For this game, give each player one ice cube and the first player to melt their ice cube and get their baby out first wins.
9 – Blind Blocking
Blindfold each player and sit them in front of a pile of blocks (use these alphabet ones then give to mom-to-be as a gift). Players must build a stack of blocks as high as possible in the allotted time. If their stack falls over, they can start again.
Alternate version – give each player a partner and allow them to help direct their block stacking.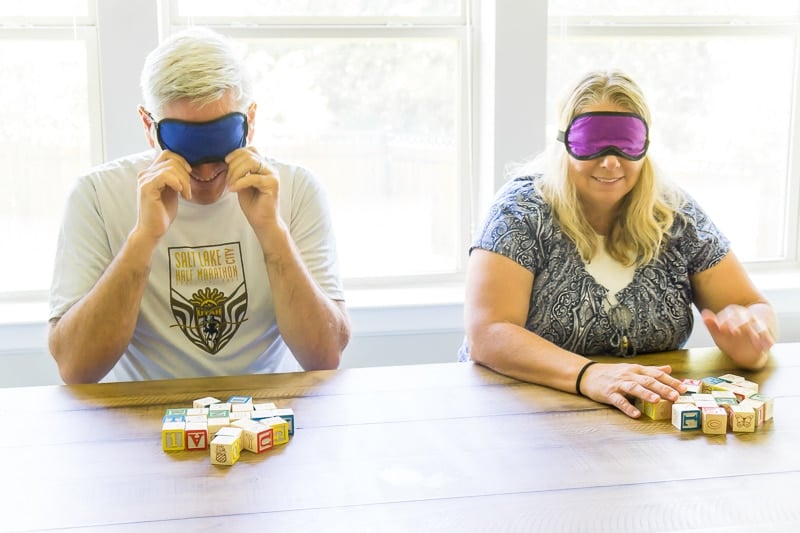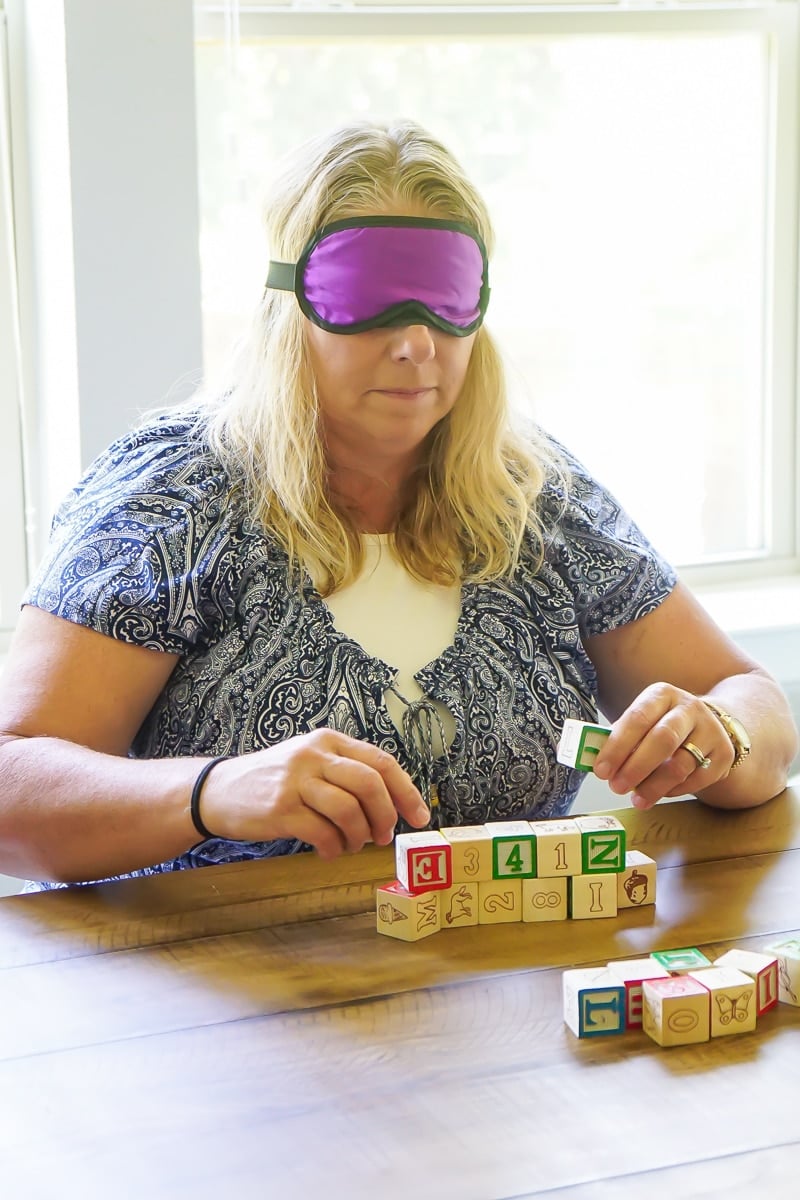 10 – Wipe Out
Give each player a large pack of wipes. Players must use one hand to pull out all of the wipes from the container. First player to empty all of the wipes wins. These are our favorite wipes, perfect for this game and for actually using later!
11 – Chop Binky
Players must use a chopstick held in their mouth (no hands) to pick up binkies from a table. First player to pick up a certain number of binkies or player that picks up the most in the allotted time wins. Make sure to use binkies like these ones so the chopstick fits through the handle.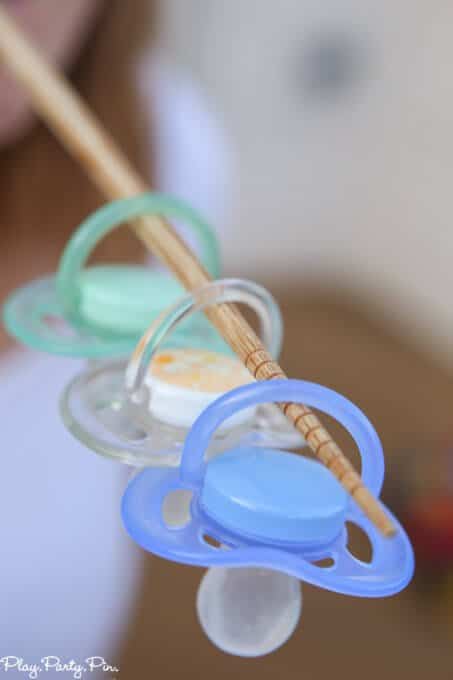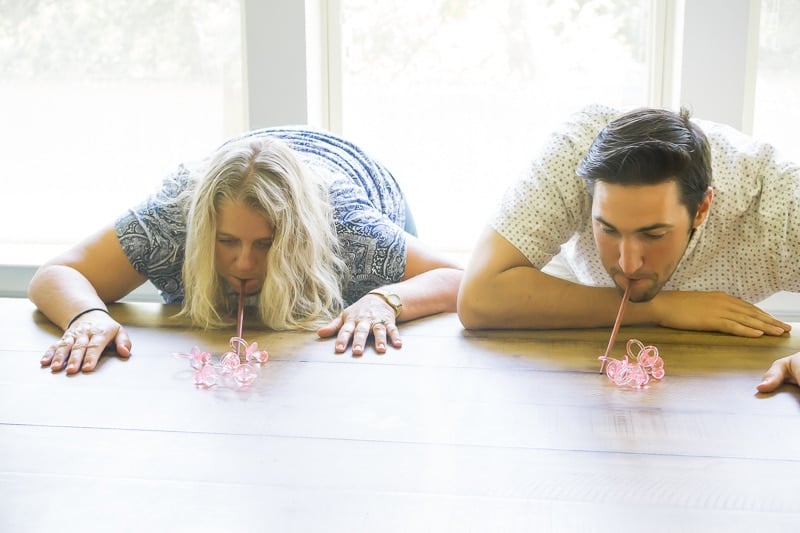 12 – Lost Sock Hunt
Give each person a diaper bag (one with lots of pockets like this one would be great) filled with all of the typical things you might find in a diaper bag (diapers, snacks, toys, clothes, etc.) including a blue or pink sock. Teams must search through the diaper bag to be the first one to find the hidden sock.
13 – Baby Shark
This game is played in pairs. Give each pair a small bag of Swedish Fish (or gummy sharks). Have one person stand on one side of the room and the other person stand on the other side of the room.
To play, players must toss Swedish Fish across the room and their partner must catch the fish in their mouth. As soon as a player catches a fish, they must switch with their partner and continue tossing until the minute is out. The team that catches the most wins.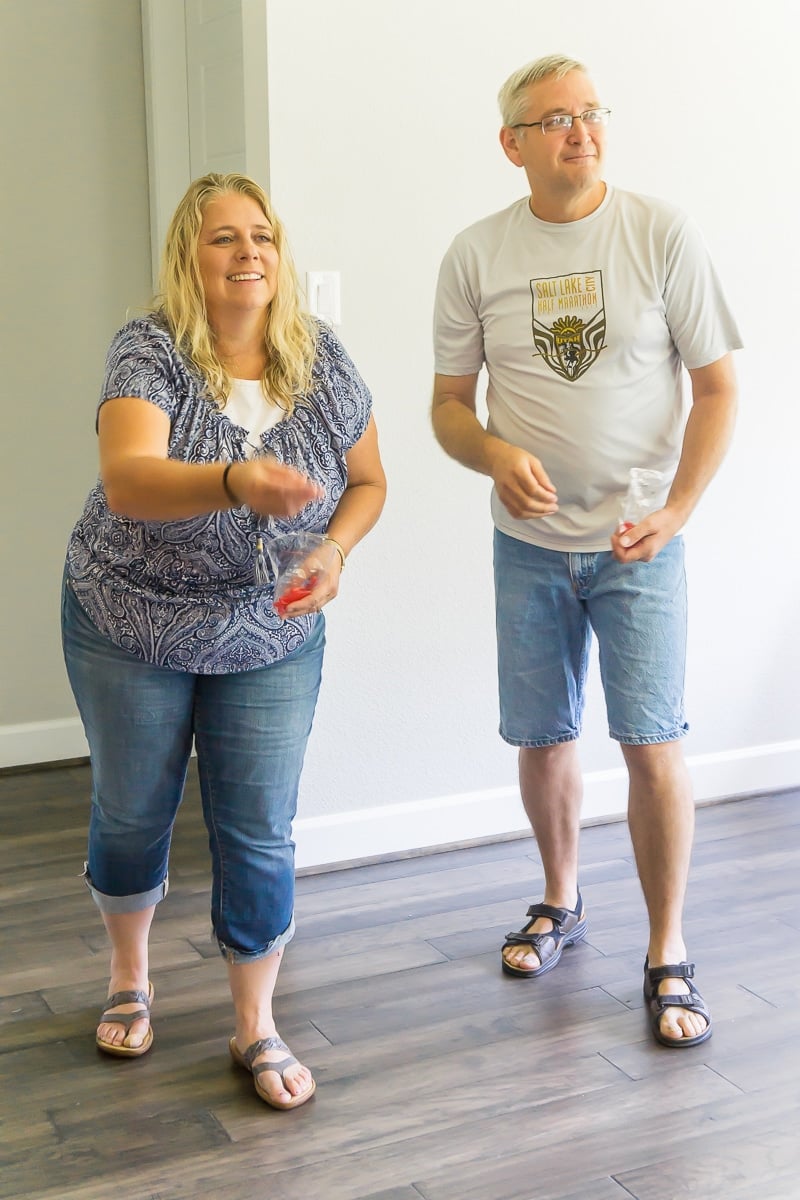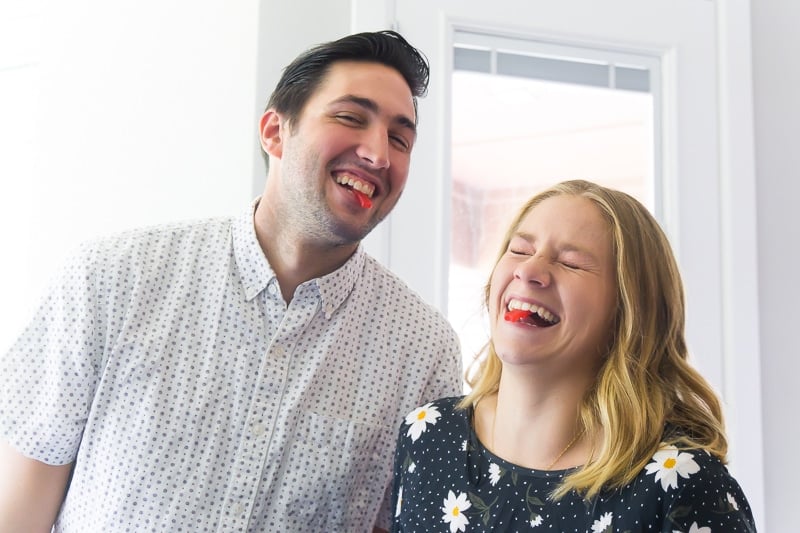 14 – Name that Nursery Rhyme
Before the party, put together a pile of index cards that have lines from nursery rhymes on them. Players must pick a card from the pile and name the correct nursery rhyme as quickly as possible. Once they name one, they can move onto the next card and try to get as many as possible in the minute. Players can pass if they don't know it, but they can't come back and try it again.
Don't know your nursery rhymes? Get the words in this nursery rhyme book that my toddler loves!
15 – Bathtub Bounce
Setup a table with one of those small baby bathtubs (like these bins moms get from the hospital) at the end and fill it with water. Players must bounce ping pong balls from one side of the table to the other, trying to get as many ping pong balls into the bathtub as possible in the minute. For a little added fun, try these pink ping pong balls or these blue ones.
16 – Spin the Bottle
Give each person an empty baby bottle (or fill it with sprinkles to make it harder to spin) and a piece of paper with the letters "BOY" or "GIRL" in the corners. The player must be the first to spin the bottle and have it land on all of the letters to spell the word Boy or Girl.
17 – Baby Sitter
Before the game, write out the letters B-A-B-Y on small slips of paper. Put one letter in four balloons and blow up the balloons.
To play, players must sit on the balloons, find the letters, and put them in order to win.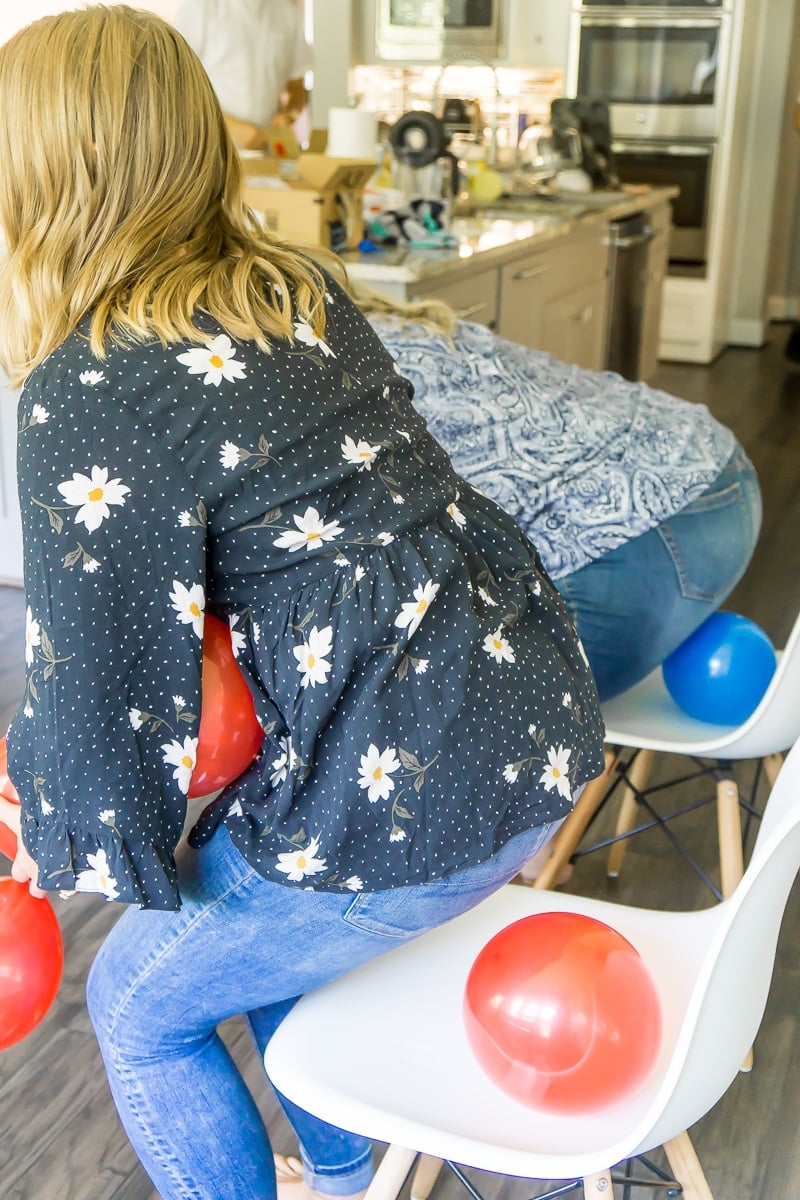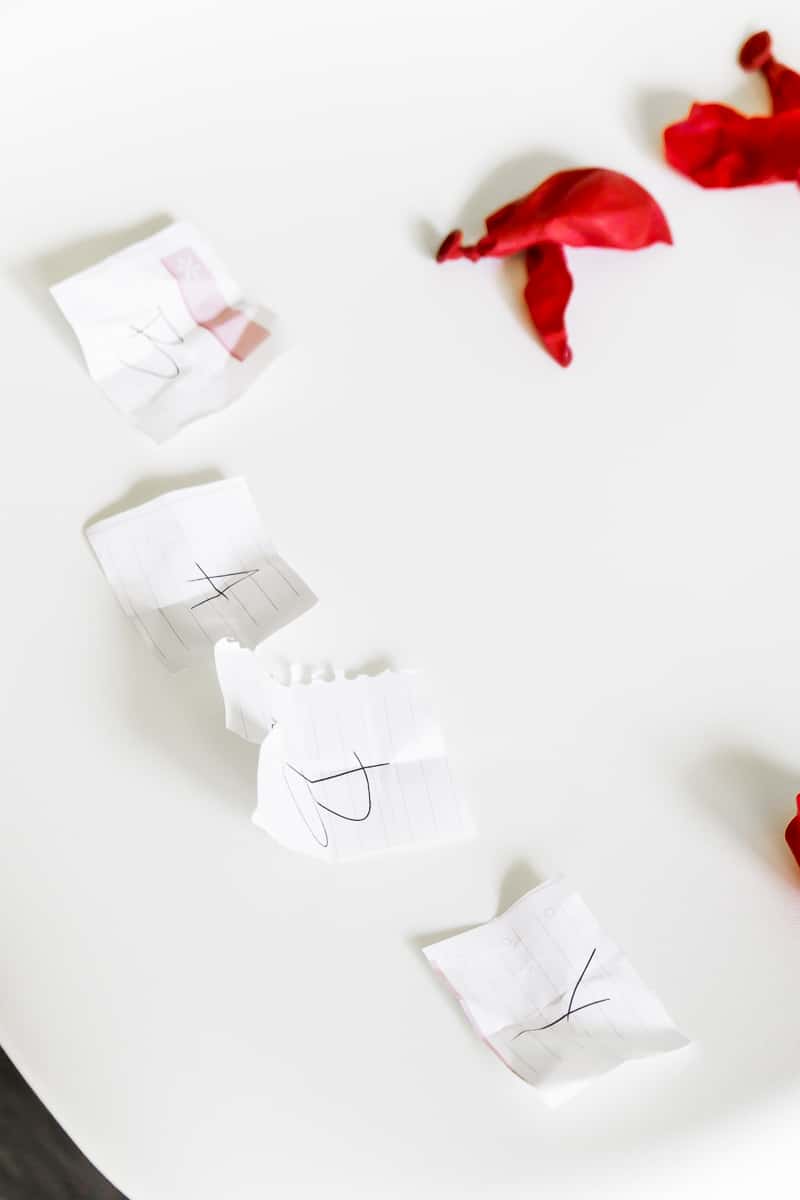 18 – Matchmaker
Fill a laundry basket with baby clothes. Players must go through the laundry basket and put together as many complete outfits (including matching socks, a hat, mittens, etc.) as possible in the time.
19 – Hooded Towel Race
Before the game, setup a course using stuffed animals, Luvs diaper boxes, etc. that players will have to go around like an obstacle course. Give each player a hooded towel and time them as they scoot on the towel on the ground from one end of the obstacle course to the other and back.
20 – Baby Got Back
Tie these small hooks onto pieces of string that are about the length of the table. On the other side of the table, place these plastic babies.
To play, player must stand at the end of the table opposite the babies and when the timer starts, they must toss the hooks with the string and try to catch the babies and bring them back in. Player must hook a certain number of babies within the time limit or be the first one.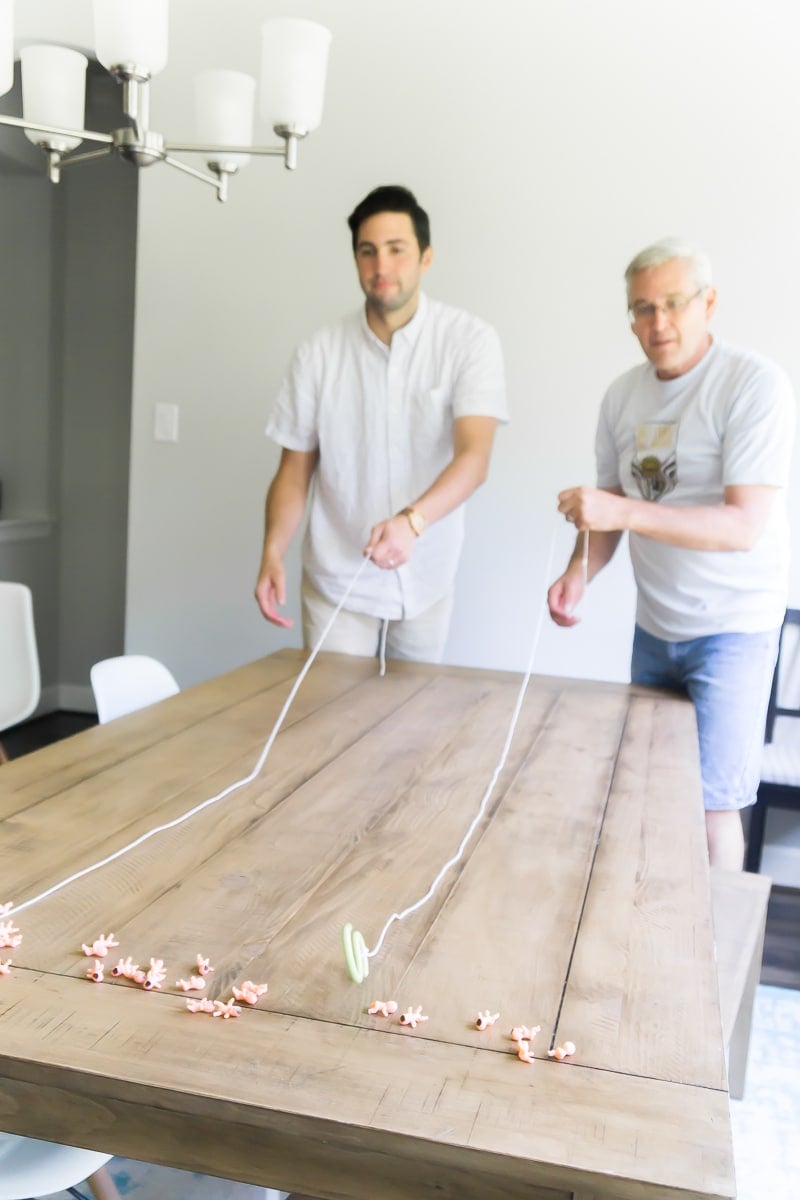 21 – Sugar Baby
Hide the gummy letters B-A-B-Y in a bowl of sugar.
To play, a player must use a plastic spoon in their mouth to try and dig out the letters first.
Hint: Put the bowls on top of a plastic tablecloth then just roll up the tablecloth and throw away at the end of the day!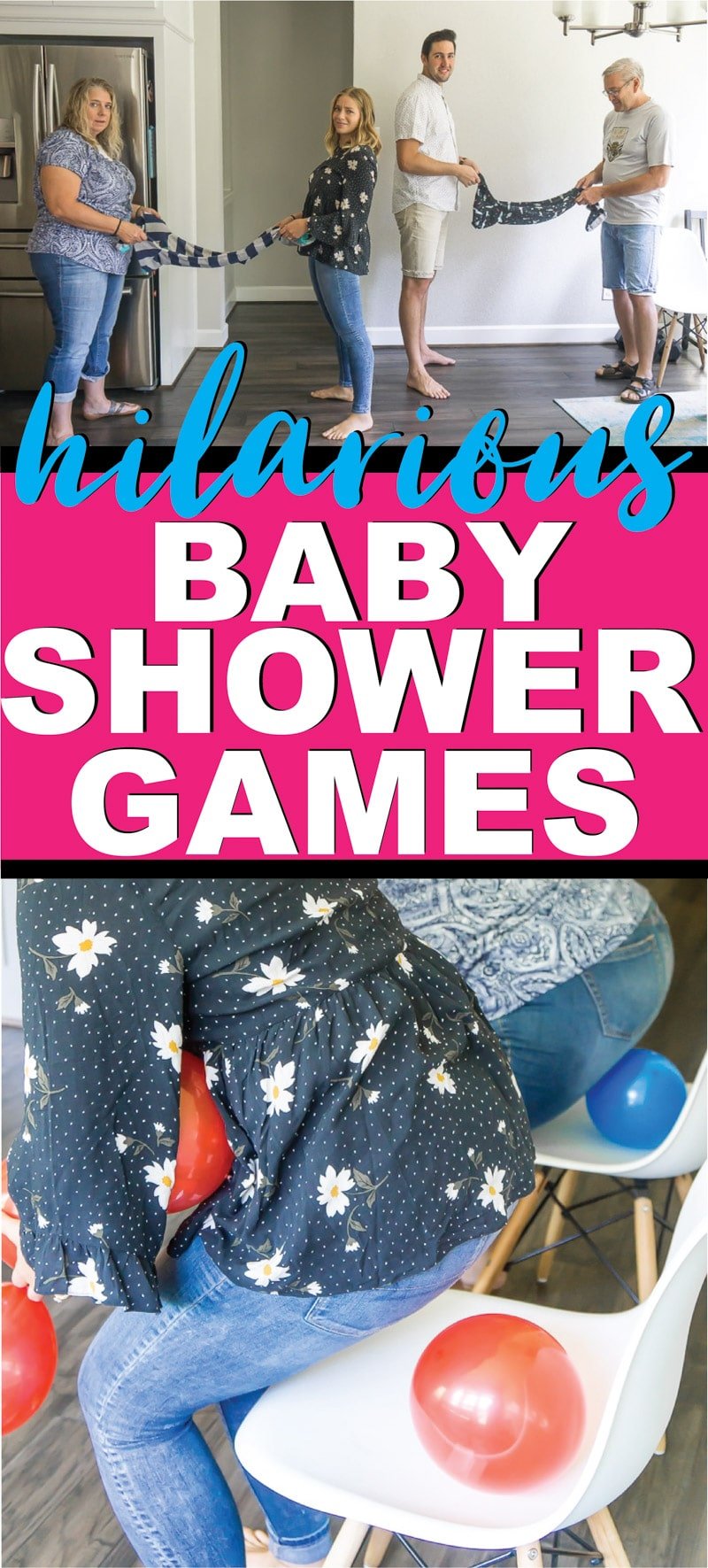 Baby Shower Games FAQs
I've answered some of the most frequently asked questions about these baby shower games below. If you have more questions, feel free to leave me a comment and I'll respond as quickly as possible!
Are baby shower games necessary?
No, baby shower games are not necessary. That being said, I think they're a huge part of a baby shower and most people think they're really fun! So while it's not an absolute requirement to have baby shower games, I'd still do it if I were you!
Alternative for baby shower games?
If you still don't want to have baby shower games, try doing one of these baby shower activities as an alternative instead. They're not necessarily games but still activities to keep your baby shower moving.
How to win baby shower games?
You win these baby shower games by either beating the clock, getting the most points as a team, or completing one of the challenges first! Go back to the top of this post under how to play these baby shower games for more details on how to win!
Songs for baby shower games?
Baby shower games don't necessarily need music but if you want to have a playlist going, this baby shower name that tune game has a great playlist full of songs that have the word baby in the title!
How do you play Baby Bingo?
You play baby bingo with these free printable baby shower bingo cards! This is a question I get more often on that post but it comes up often so figured I'd put it here as well!
What prizes for baby shower games?
The best prizes for baby shower games are things that people actually want. If you're looking for prizes for baby shower games coed adults might play, then I'd go with something universal like gift cards, gourmet food, or something off this list of universal gift ideas. If you want to know what prizes for baby shower games just for women, I've included a handful of great ideas below!
Lip Balm in Matching Colors
Fancy Chocolate
MAC Oh Baby Lip Gloss
Gift Set of Baby Books (these are our favorite!)
Oh Boy Snacks
Fuzzy Socks (for chasing the kids around all day)
Sweet Baby Treat Box
Baby Bottle Filled with Treats
More Fun Baby Shower Games
Pin the Pacifier
Baby Shower Bingo
The Price is Right Baby Shower Game
My Water Broke Baby Shower Game
Baby Shower Ball Toss
The Dirty Diaper
What's In Your Diaper Bag?
Don't forget to pin these fun baby shower games for later!