This is a sponsored post written by me on behalf of The Clorox Company. All opinions are 100% mine.
These fun family activities are perfect for family nights at home! Pick a theme, plan an activity based on that theme, and make memories with your family all year long!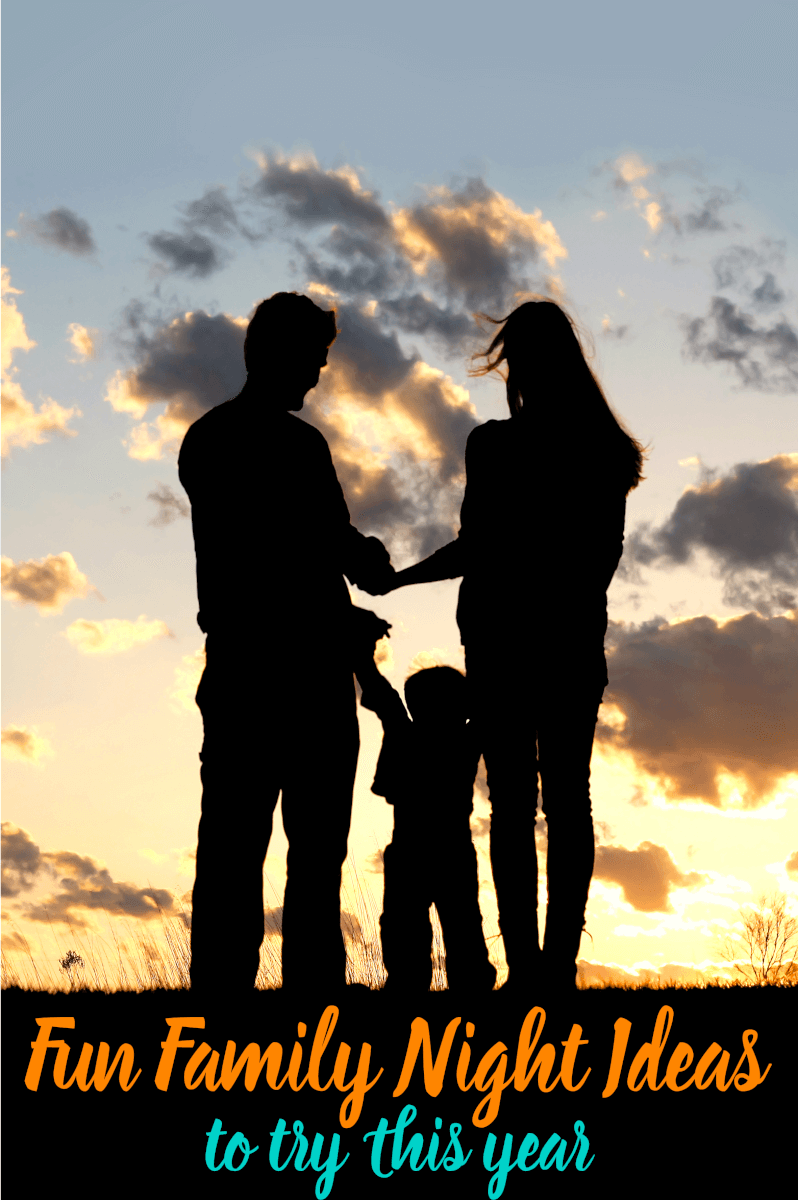 Last year was a blur. Other than moving to Texas, going to my sister's wedding, and saying goodbye to my parents when they moved to Bosnia, I'd have a hard time telling you what we did last year. It was pretty much chaos and my preschooler got the short end of the stick with all the traveling, staying with grandma while I traveled, and being parented by Disney Channel.
This year is going to be different. Because I'm going to make it different.
I have very few goals for 2017 but one of them is to spend more time making memories with my family. I'm a firm believer that it's important to spend at least one night together just a family. No tv, no friends, no distractions; just family making memories together. And this year we're going to do that.
Fun Family Night Ideas
Since one of the hardest things about family night is trying to figure out something different to do, I created a little printable with fun family activities and themes we're going to use to plan out our family nights.
Get the Free Printable
Enter your first name and email address below to get the free printable. You'll be immediately taken to the PDF to download and receive a copy to your email shortly after. If you can't see the form below, click here to get to the form to enter your info.
I recommend printing on white card stock and maybe even laminating if you want to use again and again.
Download the Free Printables
If you're ready to download the free printables to use this idea, simply click the button below or click here.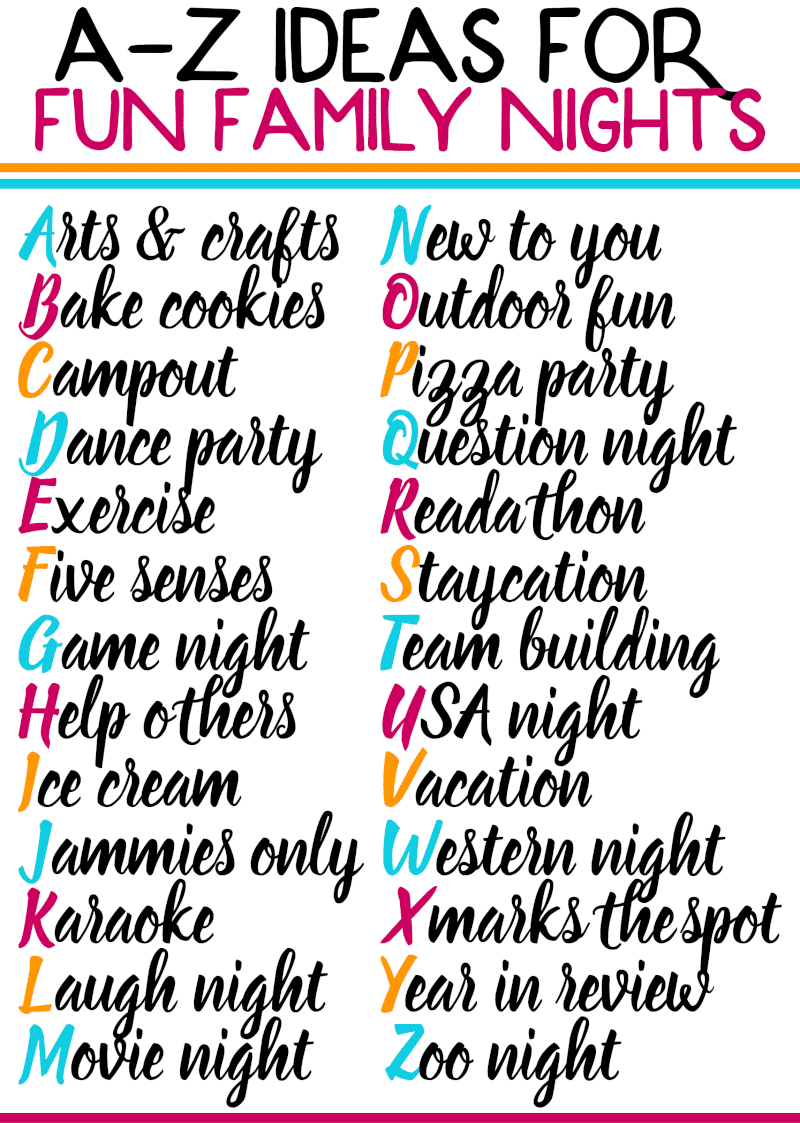 I came up with ideas for fun A-Z themes just to keep me on track coming up with ideas, but that doesn't mean you have to go from A to Z. Pick whatever theme works best for you, plan a night into your week (or every other week if that's what works), and do activities together that go along with that theme.
We put ours in a picture frame and hung it on the wall with our command center. Each week we're picking a theme and crossing it out with dry erase marker when we do it! And don't forget to get the kids involved. Kids are way more likely to participate if they helped with the planning and/or prep.
Tips for Doing Fun Family Activities Together:
I already mentioned planning ahead but these are some other tips that can help make family nights happen once a week:
Put it on the calendar and make sure everyone knows when it is
Plan activities that everyone will enjoy or can at least participate in
Mix things up – the themes can help with this
Keep things simple. No need to get all Pinterest crazy; it's about the memories, not about stressing about making everything perfect
Put supplies together ahead of time so that you're all ready to go when it's time for family time. You don't want to lose your family's attention as you're getting things ready to go when it's supposed to be "family night."
Make sure everyone understands that family night starts when you start the activity and ends when everything is cleaned up.
Tips to Make Cleaning Fun
After a fun family night together, the last thing anyone wants to do is clean up. But like I mentioned above, if you help people understand upfront that cleaning is part of family night, it'll be a lot easier. And these tips can help even the cleaning portion fun:
Have Scentiva Wipes on hand throughout messy nights to make cleaning a constant thing, not just something you do at the very end of the night when everyone is tired. They're available in Tuscan Lavender & Jasmine and Hawaiian Sunshine scents, perfect for all-in-one cleaning while still smelling great! So when you accidentally spill raw egg on the ground, you can just grab a wipe and clean it right up rather than waiting until the end of the night. Pick some up at Target right now and save with the Cartwheel app!
Turn cleaning into a game or a competition. See who can pick up the most things in a certain amount of time. Pit teams against one another to pick up rooms and let the team who wins get dessert first.
Sing songs while you clean. One of our favorites is the all-traditional "Clean up, clean up everybody everywhere" song from Barney back in the day. It's cheesy, but it works.
Get everyone involved and be positive while you're cleaning. Your attitude cleaning can completely set the tone for the rest of the family.
Set a timer and see if you can get the entire area cleaned before the timer goes off.