These sweet and salty s'mores are the perfect summer treat and one of my favorite s'more recipes! Triscuit sponsored this blog post. The opinions and text are all mine.
I cannot believe that it's already the end of May. Summer is seriously right around the corner, okay who am I kidding, it's already summer in my head. And summer to me means being outdoors, getting in the water, and anything and everything s'mores.
While I love a traditional s'more, I thought it would be fun to try out a new kind of s'more. I was looking through my pantry and came across a box of Triscuit crackers and it hit me, what about a sweet and salty s'more? I love salted caramel and chocolate covered pretzels, so why not a salted s'more? Triscuit crackers aren't just for appetizers and snacks; they can be eaten all day long, for any meal, and even for dessert! They're absolutely perfect in this recipe with their nice salty flavor and the great crisp crunch you are expecting in a s'more.
These are really easy to make and the best part is that you can make them indoors, so it's a great alternative when you're craving that delicious s'more flavor without having to find a campfire somewhere. You'll need a box of Triscuit crackers, graham crackers or graham cracker crumbs, chocolate chips (I used semi-sweet), marshmallows, and a little bit of kosher or coarse sea salt.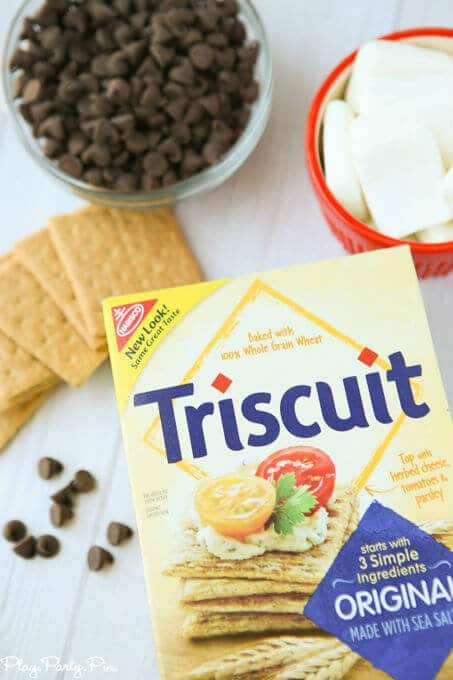 First things first, melt your chocolate chips in a microwave safe dish. While the chocolate is melting, if you're using graham crackers crush those babies into graham cracker crumbs. Once the chocolate is microwaved, cover one side of your Triscuit Crackers with chocolate, smoothing it out so there's not too much. Put them on a piece of parchment paper and sprinkle the chocolate with graham crackers so they look something like this.
Repeat until you have tons of chocolate covered graham sprinkled Triscuit crackers (and trust me, you'll want tons) then put that tray in the freezer to allow the chocolate to harden for a few minutes. While the chocolate is hardening, turn on your broiler and toast your marshmallows under the broiler.
Speaking of marshmallows, I used regular store-bought marshmallows but these would be way better with flavored homemade marshmallows from Wondermade. I mean seriously a peanut butter cup marshmallow in the middle of this, oh my goodness that sounds amazing. Or how about the blackberry marshmallow that the owners of Wondermade, Nathan and Jenn, created specifically to pair great with Triscuit crackers.
If you like marshmallows, Wondermade's look amazing and their back story about the company being created because the owner Nathan wanted to do something sweet for his wife for a gift, just perfect. Here's the rest of their story, definitely an inspiration to all makers out there of a couple who turned a simple gift idea into an amazing company that they run together. Just because they wanted to make something better. Maybe I'll try that one out on my husband this weekend, make him something for his birthday gift and it'll turn into an awesome company the two of us can run together.
Once your marshmallows are toasted, all that's left to do is put the s'more sandwiches together – one chocolate covered Triscuit on each side with a gooey roasted marshmallow in between. Top it with a tiny bit of sea salt and you have yourself an amazingly delicious sweet and salty summer treat.
These would be perfect for a camping themed party, a summer get together, or even just a late night snack when you're craving a little bit of sweet and salty goodness. For more great recipe ideas that are perfect for parties or snacks, check out Triscuit on Pinterest. They've got tons of ideas for ways to use Triscuit crackers for more than just topping with cheese.
Ingredients
Triscuit Crackers

Semi-sweet chocolate chips

Graham crackers or graham cracker crumbs

Regular size marshmallows

Coarse or kosher salt

Parchment paper
Instructions
Melt chocolate chips in the microwave for a minute at 50% heat. Stir chocolate chips then put back into the microwave for 30 second increments until completely melted. While chocolate chips are melting, line two baking sheets with parchment paper.

Dip and cover the Triscuit crackers in chocolate then place on a one of the lined baking sheets.

Sprinkle graham cracker crumbs on top of one side of the chocolate covered Triscuit cracker.

Place baking sheet of Triscuit crackers in refrigerator or freezer to allow to chill while marshmallows roast.

Turn your oven to broil and put marshmallows evenly spaced out on second lined baking sheet. Put baking sheet in the oven and allow marshmallows to roast until the broiler. Every broiler is a little different so just keep a close eye on the marshmallows and remove from the oven when they turn brown like a roasted marshmallow.

Remove chocolate Triscuit crackers from freezer and turn over on the baking sheet. Top half of the crackers with roasted marshmallows then immediately sandwich the marshmallow with another cracker.

Sprinkle with a tiny amount of kosher salt.

Enjoy!
Notes
For saltier s'mores, only dip one side of each Triscuit cracker into the chocolate.
For sweeter s'mores, omit the kosher salt from the top.
Triscuit believes in simple things coming together to create something more. Whether it's just three ingredients on a Triscuit or about life, we believe that you (and Triscuit) are "Makers of More".
Triscuit sponsored this blog post. The opinions and text are all mine.