Is there anything better than making s'mores around the campfire on a warm summer night? Well maybe doing the same around a campfire on a crisp fall night. I mean it's on everyone's summer bucket list right? These DIY s'mores bar ideas can help make a s'mores night even sweeter!
Simply set up your s'mores bar, print out a s'mores bar sign with the menu and toppings, and you're on your way to one magically delicious evening.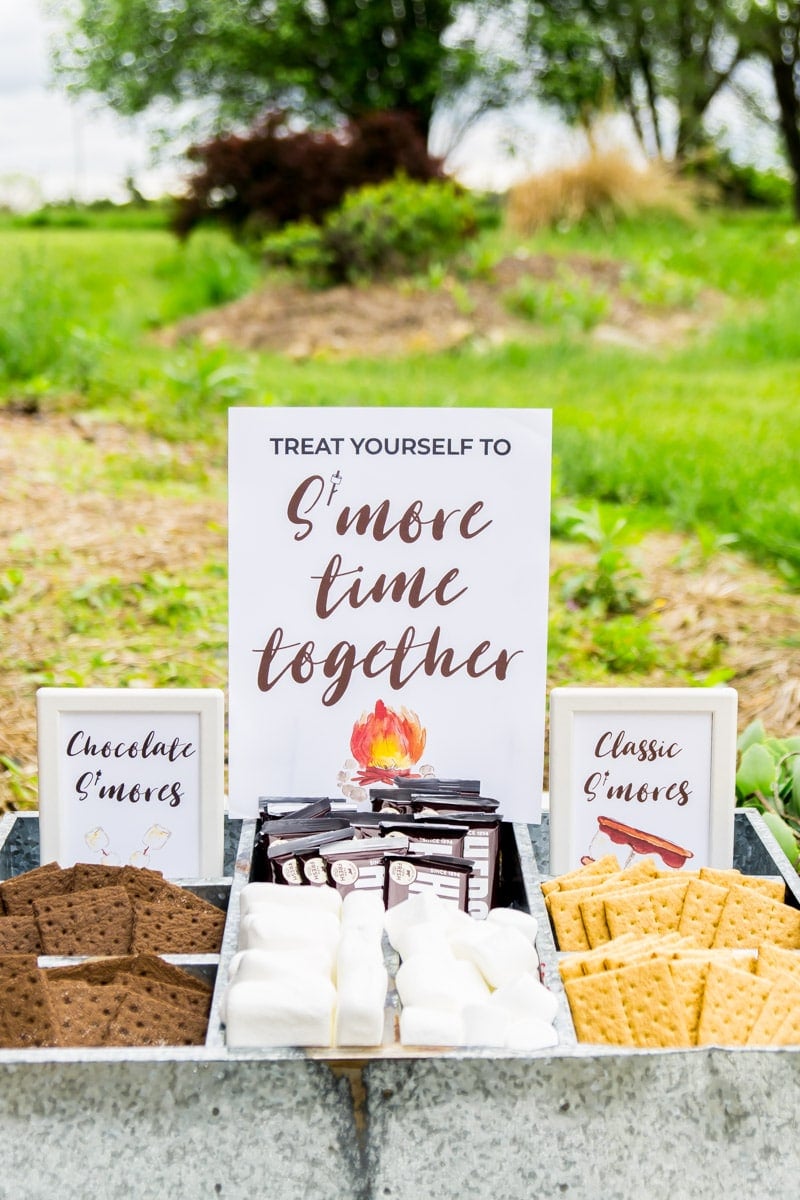 This post contains affiliate links. If you make a purchase via these links, I may receive a small commission at no additional cost to you.
I'm a sucker for a good s'more, especially the classic version that's just graham crackers, a chocolate bar, and a toasted marshmallow. But I've also been known to get a bit creative with variations like these cookie s'mores and these sweet and salty s'mores.
We even had a DIY smores bar at my sister's bohemian wedding a few years ago! So you can say I love s'mores.
I also love me a good DIY food bar. Whether it's a caramel apple bar, nacho bar, or make your own mini pie bar – I love giving people the chance to make their own versions of things.
So it's probably no surprise that for our recent housewarming party at my parent's house, I did a little DIY s'mores bar setup complete with printable signs I'm sharing in the bottom of this post!
It made it so much easier to keep the s'more fixings together and gave me the chance to offer a couple of different varieties of s'mores rather than just the classic.
How to Create a S'mores Bar
Making a s'mores bar is much easier than it may seem. The goal of a DIY s'mores bars is two-fold:
Have a pretty and organized place to put all of your supplies
Give people the chance to get creative with their s'more options. I've got an entire list of delicious s'more options you could use on your s'mores bar below!
To create your s'mores bar simply:
1 – Purchase, build, or get together dishes you'll use to hold all of your s'more supplies. If you're feeding a lot of people like at a wedding, you may want to get something like this already made s'mores bar.
If you're doing something smaller like a family get together, bowls or plates could work. I used a metal box that I bought a few years back and couldn't find one exactly like it. But if you like the look, you could totally use this metal 3-tiered tray instead!
2 – Purchase all of the s'more toppings you want to offer. I went simple with chocolate graham crackers, regular graham crackers, regular chocolate bars, regular marshmallows, and large marshmallows. But take a look at my menu of s'more options for some more creative options you could include!
Have leftover graham crackers after? Make this chocolate eclair dessert the next day!
3 – Set it all up in a place that's close enough to your fire source so people know they're supposed to make s'mores.
4 – Add a smores bar sign or two + s'more sticks. We love these ones because they extend so you can stand further away from the fire.
5 – Encourage everyone to enjoy s'more time together! And don't forget to make your own s'more! Or just eat the marshmallows and graham crackers plain if that's what floats their boat!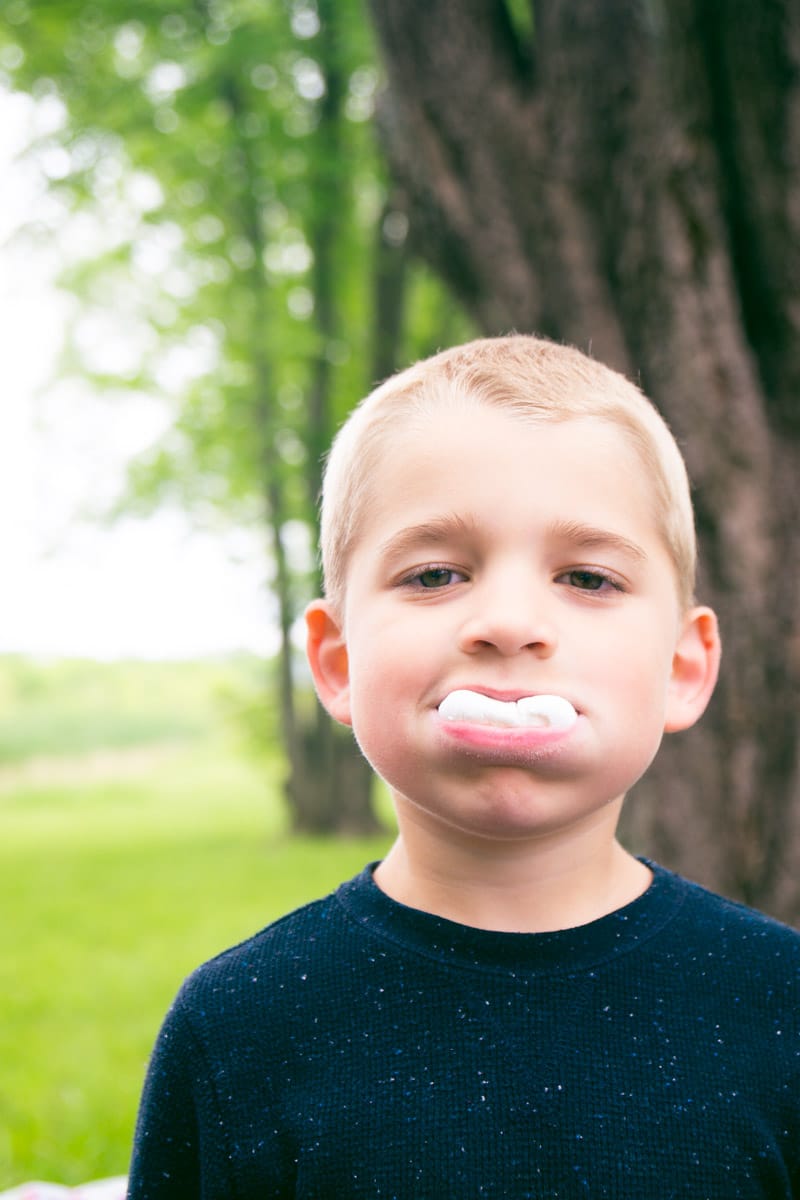 How to Set Up an Indoor S'more Bar
You could also do a simple indoor s'mores bar if you are limited on your outdoor space. Not quite the same as s'mores outside by the fire but a close second if you can't get outside!
Simply follow the same directions as above, simply replacing the outdoor campfire with one of these indoor s'mores kits, or use sterno cans with one of the setups I mentioned below.
Indoor s'mores is actually one of my favorite indoor campout ideas!
What Goes on a S'mores Bar
Really the sky is the limit when it comes to what goes on a DIY s'mores bar but here are the four main things you'll need, with one optional bonus!
Graham crackers or something similar to hold the s'more all together. Some great graham cracker alternatives include cookies (of all varieties), shortcake biscuits, waffle crisps, rice krispy treats, or even apples!
A toasted marshmallow – because it's not a s'more without a marshmallow no matter what other people might say
Some sort of additional filling – chocolate bar, chocolate peanut butter cup, roasted fruit, caramel or dulce de leche sauce, etc. Check out the list of creative s'mores at the bottom for even more delicious filling ideas!
Sticks – these ones are my favorite because they expand allowing you to stand a little further away from the fire. These don't necessarily go on the bar but they are an important part of the setup.
Optional – cute signs or a menu explaining different flavor combinations. I have some simple s'mores bar sign options at the bottom of this post but if you want a full menu, you can get a custom one made here!
Where to Buy a S'mores Bar
Since a lot of people don't have fancy trays or all the party supplies I do, I've put together a quick list of items below that can help you get on your way to the perfect DIY s'mores bar! There are printable signs, menus, trays, sticker holders, and more! Perfect for setting up your very own DIY s'mores bar!
If you want to buy your s'mores bar, here's a great place to start!
The Ultimate List of S'mores Combinations
And again, if you want to get creative with the type of offerings on your s'mores bar, here are some s'mores combinations you may never have even heard of! I haven't tried all of these but they sound incredible!
My favorite is still classic s'mores but any of these would be a great option as well!
How Much Does a S'mores Bar Cost?
You can totally do a s'mores bar on a budget by using plates/dishes you already have, the free printable signs in this post, and the classic flavor combinations. Or you can set up a s'mores bar that costs an arm and a leg but makes delicious s'mores!
This also totally depends on the number of people that you're doing the s'mores bar for. I typically recommend planning on enough stuff for people to make two s'mores with the caveat that some people will make more and some people will make less.
If you're going with gourmet topping options, you don't need to have two of each item for every person – just at least for people to make two total – keeping a refill of items that you think might be the most popular. Just don't open them until you need them and return what you can later!
So the cost is totally dependent on what you're serving, how many people you're serving it for, and how you're serving it.
Download the Printable S'mores Bar Sign
I just made four different s'mores bar sign options – one that is encouraging people to make s'mores together and then two with our s'more flavor combinations. And lastly, a blank one that you can handwrite (or use a PDF editor) your own s'more combinations in if you'd like.
I recommend printing them out on white card stock and if you're going to be outside possibly even laminating so they don't get destroyed easily!
Download The Free Printables
If you're ready to download the free printables to use this idea, simply click the button below or click here.
Don't forget to pin these DIY s'mores bar ideas for later!