Get prepped for the release of Ralph Breaks the Internet with these printable Wreck it Ralph coloring pages and activity sheets! With four different coloring pages to choose from and a variety of activities, there's something for all Wreck it Ralph and Vanellope lovers!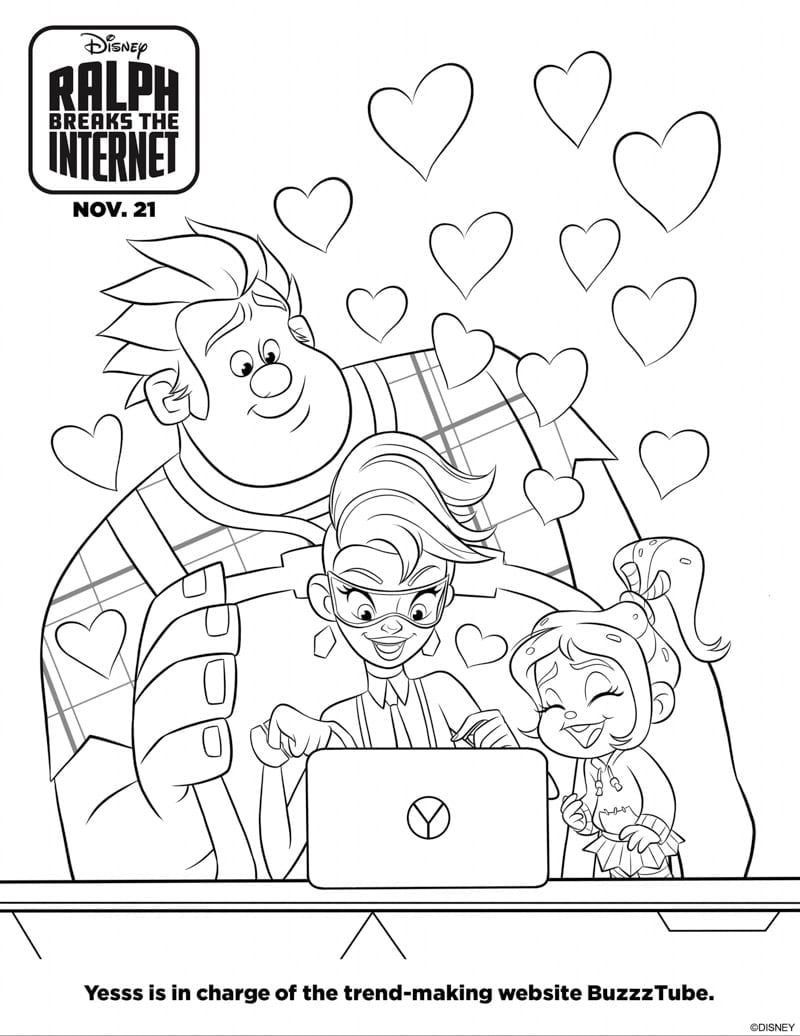 This post contains affiliate links. If you purchase something via those links, I may receive a small commission at no additional cost to you.
In two weeks one of the most highly anticipated animated sequels hits theaters – Disney's Ralph Breaks the Internet! I had the chance to sit in on a couple of presentations with the teams that created this movie, and I can already tell you – it's going to be amazing!
I had a number of friends who went to the Ralph Breaks the Internet red carpet premiere this week and so far the reviews I've heard are nothing short of fantastic. And the princess scene, I seriously can't wait! Be prepared to laugh your heads off.
Wreck it Ralph Coloring Pages
Luckily these coloring pages and activity sheets aren't just Wreck it Ralph – they also include many of my other favorite characters from the brand new movie including YESSS (read more about why I am so excited for this trendy digital character here), Knowsmore, and Shank – the racer played by none other than Wonder Woman's Gal Gadot.
But they of course also include my two favorites – Ralph and Vanellope. Hello #friendshipgoals.
And they're perfect for kids like mine who love to color but also love to do activities like spot the difference, memory games, and more. Pretty sure when I printed out this Cars memory game, my son played it for hours on end all by himself. Now that's a total mom win!
What's Included with the Ralph Breaks the Internet Coloring Pages
The free downloadable PDF below comes with:
Three coloring pages
Spot the difference sheet
Printable door hangers
Memory game
Create your own Net User (find out what a net user is here) activity
DIY Knowsmore costume instructions

About Ralph Breaks the Internet
In Ralph Breaks the Internet, Ralph and Vanellope leave Litwak's video arcade behind, venturing into the uncharted, expansive and thrilling world of the internet—which may or may not survive Ralph's wrecking. Video game bad guy Ralph (voice of John C. Reilly) and fellow misfit Vanellope von Schweetz (voice of Sarah Silverman) must risk it all by traveling to the world wide web in search of a replacement part to save Vanellope's video game, Sugar Rush.
In way over their heads, Ralph and Vanellope rely on the citizens of the internet—the netizens—to help navigate their way, including a webite entrepreneur named Yesss (voice of Taraji P. Henson), who is the head algorithm and the heart and soul of trend-making site "BuzzzTube." And they meet a few (or all of the) princesses along the way!
Ralph Breaks the Internet crashes into theaters November 21st!
Follow along for more Ralph Breaks the Internet News:
And don't forget to pin these Wreck it Ralph Coloring Pages for later!