These bachelorette party games are not only hilarious but also clean enough for anyone to play – no alcohol required. Bachelorette party games clean enough for anyone to play but still in the full spirit of a girls only bachelorette party! Try at least one and try not to die or pass out from laughter!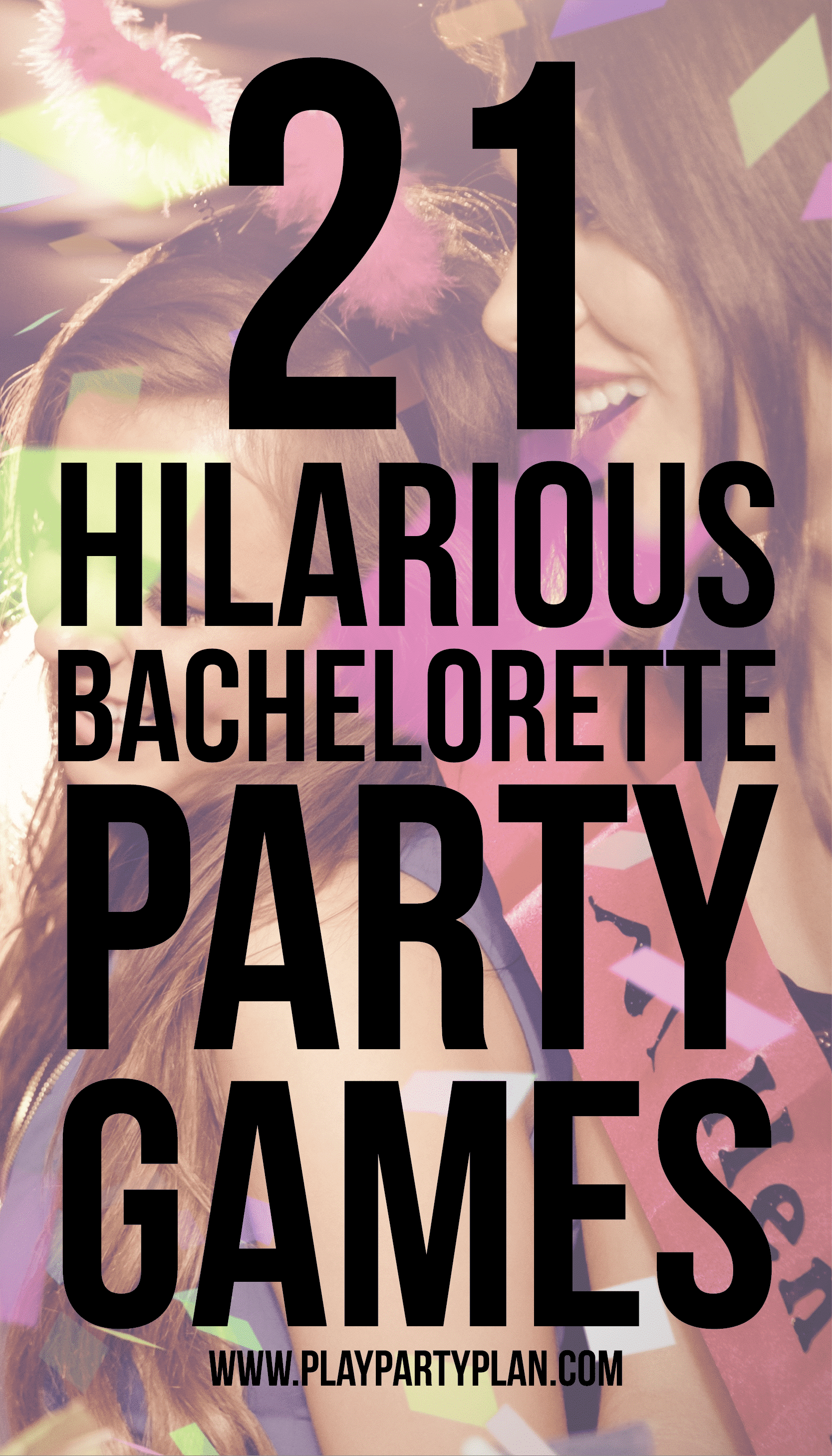 21 Bachelorette Party Games Everyone Can Play
Bachelorette parties typically include a few things – drinking, boys, something raunchy, and girls having embarrassing fun. Since I don't drink and wouldn't ever just go make out with some random guy like in many of the bachelorette party scavenger hunts out there, these bachelorette party games are my solution for people like me. No drinking or bars required – just good hilarious fun themed in typical bachelorette party style with dirty names. And if you're doing a traditional bachelorette party, these might be a great way to get everyone laughing and comfortable before you head out on the town!
How to Play These Bachelorette Party Games
All of these games are Minute to Win It style bachelorette party games and depending on the number of girls at the party, there are three different ways you can play them. You choose. No matter which way you choose, I guarantee they'll still be fun. And because they're clean, they work for anyone – even if you have a friend who might be pregnant and can't drink or someone whose already married and not into hitting on random guys at a bar. These hilarious bridal shower games are similar and might work as well!
Style #1: Man vs. Clock – In this version, one player will be trying to beat the clock for each game. So for instance, they will have to try and finish the task in a minute. If they do, they win a prize. If not, let someone else have a shot. If you go with this style, I recommend choosing a different person for each game.
Style #2: Head to Head – In this style, you'll pick two players for each game who will going head to head against each other playing a game rather than trying to beat the clock. So for instance, you'd give two people a bucket full of ping pong balls (preferably different colors) and see who can get them in the glasses first. The first person to finish wins the prize. Again, rotate through pairs for each game, repeating players as necessary.
Style #3: Team Competition – In this style, you'll split your group into two (or 3 or 10 depending on the number of guests) teams. For each game, teams must choose one player to compete head to head in the game with the other teams. The entire team won't be competing, just one person from each team at a time. First team to finish gets five points, second gets three, and etc. This works best if you have quite a few people and is a good way to get everyone involved cheering for their team.
Bachelorette Party Games Supplies
I've come up with 21 different bachelorette party games, most including things that you likely have around your house. For a few of the games, you may need to buy some bachelorette themed supplies. I've put together a list of all of the supplies you'd need for the games below but 21 is a lot, choose the games you want to play and buy the supplies you actually need!
Bachelorette Party Games: Instructions
I've put together step by step instructions of each of these games but if you have questions, feel free to leave my comments, and I'll answer whatever questions you have. You may also notice there are alternate game names in parenthesis for some of the games – these are the more raunchy dirty names. Choose whichever one best suits your group!
Hot Stuff
Give a player a large size bra and a box of Kleenex. Before the game starts, the player should put the bra on outside of their clothes. To play, the player must pull all of the tissues out of the box and stuff them into their bra before the time runs out (or first if it's a head to head competition).
Mad Abs
Before the party, print out shirtless pictures of famous celebrities from the neck down. Print out each of the celebrities names and cut them into strips of paper so you have a strip of paper for each celebrity. Glue all of the ab photos on a poster board and then have players race to see who can match the celebrity name to the correct photo on the poster board fastest. If at any point they want to check how many they have right, they can ask and you can tell them which ones are right (or they may never finish!). If you want to do this in head to head or team style, have the other players go outside while one person is playing and time them. It's not really a fair competition if they can just watch each other and see what someone else has right.
Take It All Off
Wrap up Victoria's Secret boxes (or any other bachelorette style colored box like these ones) that has one of these cheap brightly colored thongs inside. Players must race to unwrap the box, open the box, and get the thong out using only their mouth. If you're concerned about putting your mouth on wrapping paper, feel free to play where people to have oven mitts instead.

String Along
Tie a strong string from two objects like you would if you were playing the eat a donut off a string game. Make sure it's tight and strong. Once the main string is tied, tie bananas to the string, hanging down just like you would with the donut eating game. To play the game, players must use only their mouth (hands behind their back) to eat the entire banana from the string.
All Blown Up (Blow Job)
Give each player a beach ball or a small blow up doll like this one and when you say go, see who can blow up the beach ball completely before the time runs out. Completely is subjective in this one, but we basically did where it was all stiff to the touch, no places where the ball was sagging at all.
High Rollers
Give each player five six-sided dice and when you say go, they must continue rolling the dice until they get a Yahtzee (five of the same number). They can roll as many or as few of the five dice as they want each turn, freezing them as they go. So if they get two 3s and three 2s on the first roll, they can choose to just re-roll the 3s until they get two more 2s and their Yahtzee.
Dance It Out (Lap Dance)
Before the game, empty out a round tissue container (like these ones!) for each player. Fill each one with the same number of ping pong balls and then tie string around the tissue container. To play, players must first tie the string around their waist tightly, so the tissue box is in the middle of their lap, facing up. They must then sit down in a chair and stay sitting for the duration of the game. When you say go, players must dance around and bounce the tissue box until all of the ping pong balls get out, no hands allowed. First player to lose all their ping pong balls wins.
Hook Up
Before your play, place a bunch of these gummy rings in a pile on the ground and tie Christmas ornament hooks to strings. To play, players must put the string (with ornament hook attached) in their mouth and try to hook it around as many gummy rings as possible. Either see who can hook the most in a certain amount of time or who can hook 10 first.
Drinks All Around
Fill up large plastic drink glasses like these ones with water then put them across a table in a or a circle (if you want to go with the "around" theme). Players have to stand at the other end of the table and bounce ping pong balls into each of the glasses. Before a player starts playing, spin them around in a circle five times then they can start shooting. First person to get one in each glass wins.

Hang Over
Just like the String Along game above, tie a string tight like you would if you were doing a donut from a string eating contest. This time, however, instead of tying bananas to the string, give each player an unpeeled banana. To play, players must hang the edge of the banana perfectly to get it to stay and hang on the string for five seconds.
A Fling Thing
Before the game places a bunch of plastic necklaces on a table along with a set of chopsticks per player. To play, players must be the chopstick in their mouth, hook it under a necklace, and fling the necklace backwards to get it around their neck. Make it even more challenging by having all players play at the same time, using the same pile of plastic necklaces!
Spin Me Round
Give each player one large roll of streamers. When you say go, players must unravel the streamers by winding it around themselves. First player to totally unravel the streamer wins. If they break the streamer, they must tuck the broken piece inside and continue with where the streamers broke.
She Said Yes
Before the game, write down wedding or bachelorette themed words on index cards (ring, flowers, lingerie, etc.) and put them in a pile. This is another team game – to play, the bachelorette picks up one of the index cards and looks at it. Her teammate then has to play 20 questions to guess the word before the time runs out. If you've never played 20 questions, you ask a yes or no question to the person who has the card. You can only ask yes or no questions unless you're ready to guess the actual word.
A Thong Shot
Give each player a bucket full of cheap thongs (like these ones) and on the other side of the room, place an empty bucket. To play, players must use the thongs like a sling slot and shoot it into the bucket. First one to either get one in the bucket (or if that's too easy, three) wins.
Call Me Maybe
For this game, players must use their cell phone to make phone calls on speaker phone and get the person on the other line to finish the other half of the song lines below. They can call whoever they want, but it's a race to get all five calls made and song lines finished first. When they make the phone call, they can't actually tell the other person the line to say back, they can encourage them to sing along or whatever but can't specifically tell them the line or that they need to say the second line in the song.
"Hey, I just met you…" (must get someone to say "and this is crazy.")
"Going to the chapel and…" (must get someone to say "we're gonna get married.")
"Cause the players gonna play, play, play, play…" (must get someone to say "and the haters gonna hate hate hate")
"If you wanna be my lover…" (must get someone to say, "you gotta get with my friends.")
"I put my hands up…" (must get someone to say "they're playing my song.")
Get Leid
This game is one of the only partner games in this list. To play, one teammate must stand behind a line taped on the ground (use painter's tape!) and the other teammate must stand across the room. Give the first teammate a bucket of plastic Hawaiian leis. To play, the first teammate must toss leis to their teammate who must try to catch them around their head, no hands. First team to catch three leis around their head wins!
Droppin' Bottles
Line up empty soda bottles along the horizontal edge of a table. Give each player a balloon that's not blown up. To play, players must blow up the balloon and then let the air out, continuing until they've successfully knocked all 10 of the bottles off the other edge of the table. First player to knock of all the bottles wins.
Gone Garter
This is one of the simplest games out of the bunch. Give each player a garter and make them put in the middle of their upper thigh. To play, players must try to get the garter off of their leg, no hands allowed. First player to have the garter off their leg and step away from it wins.
The Ringleader
Buy a bunch of these plastic diamond rings (or you could use the same gummy rings mentioned above if you'd prefer) and put them in a bowl. Then glue a stick or a chopstick to a piece of cardboard and put that on the opposite of room from the bowl. To play, give each player a chopstick. They must put the chopstick in their mouth, use it to grab a ring out the bucket, and take it across to the chopstick on the other side of the room. First player to get enough rings to cover the chopstick completely wins.
Suck and Blow
Forget everything you know about the game suck and blow from movies and high school parties. In this game, players must use a straw to suck up a playing card, race across the room, and blow the card into a bucket. I promise you, it's harder than it seems.
Tie the Knot
In this game, players must race to be the first to successfully tie a knot in a cherry stem using just their tongue (or a certain number of knots if you have an advanced group). First person to tie a knot in the stem wins.
Ring a Ding-A-Ling
Give each player five Ding Dongs and place a ringing bell about ten feet from the table. To play, players must stack all five Ding Dongs, alternating the flat ride and the rounded side, until they have all five stacked. Once all five are stacked, they must race over and ring the bell before their ding dong stack falls down. If it falls before they ring the bell, they have to start again.
Other Funny Bachelorette Party Games
Inflatable Banana Ring Toss
What's On Your Phone Game
Finish the Bachelorette's Sentence
Don't Say It (Bachelorette version of Taboo)
How Well Do You Know the Bachelorette?
That's What She Said
Bachelorette Against the Team Card Game
Other Bachelorette Party Essentials
Bachelorette Party Glitter Tattoos
Bachelorette Party Name Tags
She Said Yasssss Bachelorette Party Cups
Bachelorette Mug Shot Signs
Last Fling Bachelorette Party Banner
Don't forget to pin these bachelorette party games for later.