This is a sponsored post written by me on behalf of Ocala/Marion County VCB. All opinions are 100% mine.
For a city I'd never heard of before I visited this summer, Ocala, Florida sure has some incredible restaurants that serve some amazing food. Everything from make your own s'mores to soft serve ice cream in way too many flavors to choose.
I know this list isn't comprehensive, but these are what I think are eleven of the best places to eat in Ocala, Florida. Okay, really all of Marion County but it's easier to just say Ocala. Definitely a reason to do a little more Florida Travel.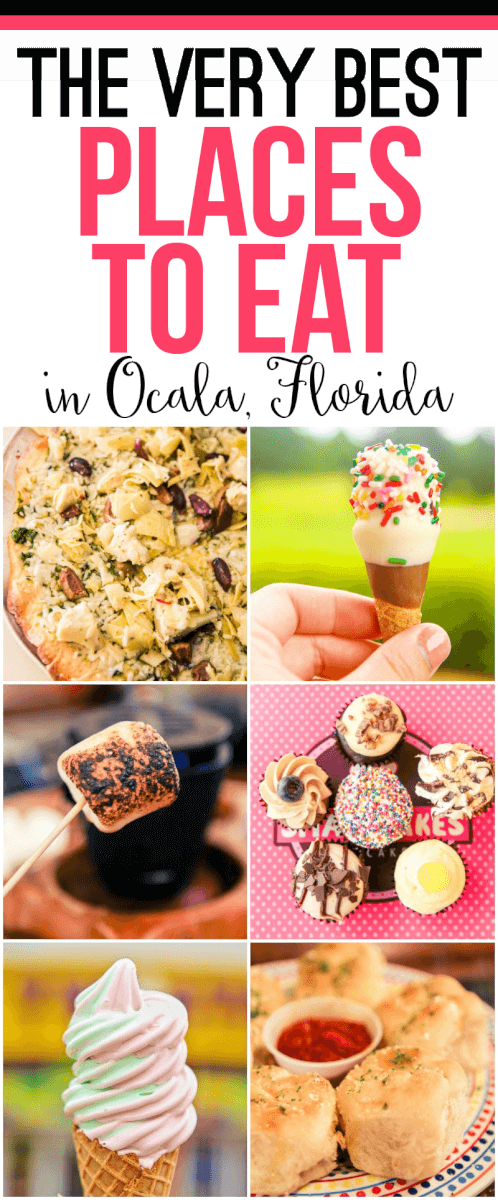 Best Places to Eat in Ocala, Florida
Best Places to Eat Breakfast in Ocala, Florida
I'll be honest, I didn't try out breakfast anywhere but at my hotel, the Ocala Hampton Inn & Suites because not only was it free, it was a decent breakfast. And one of the employees in charge of breakfast drew up all of these cute signs that made it even more fun to just grab a quick breakfast on my way to my Ocala/Marion County Activities.
I highly recommend Hampton Inn & Suites as the perfect Ocala/Marion County Lodging and if you stay there, enjoy the complimentary breakfast before you hit any of these great activities in Ocala. And if you're not staying there, many of the locations I mentioned below for lunch or dinner have a delicious looking breakfast menu as well. Hampton Inn and Suites | Open 24 hours a day, 7 days a week


Best Places to Eat Lunch in Ocala, Florida
Ever tried a grilled cheese sandwich on a glazed donut? Or how about blueberry coleslaw? I picked these four restaurants for lunch because they're great places to grab a quick bite to eat and enjoy a little local culture and flavor.
Out of all four, The Lunchbox is my top pick. If you only have time for one lunch in Ocala, eat here and order either a glazed donut burger or a grilled cheese sandwich (with bacon!) on a glazed donut. I'm pretty sure I'm never going to look at grilled cheese the same way.
The combination of the salty bacon and green with the sweet and sugary donut was insane. The fun vintage lunch boxes and artwork on the walls rounds out the fun feel of this local joint. After lunch if you haven't had enough sugar, stop by Ocala Chocolate and Confections right next door. The Lunchbox | Open 7 days a week from 7-2:30PM (hours may change)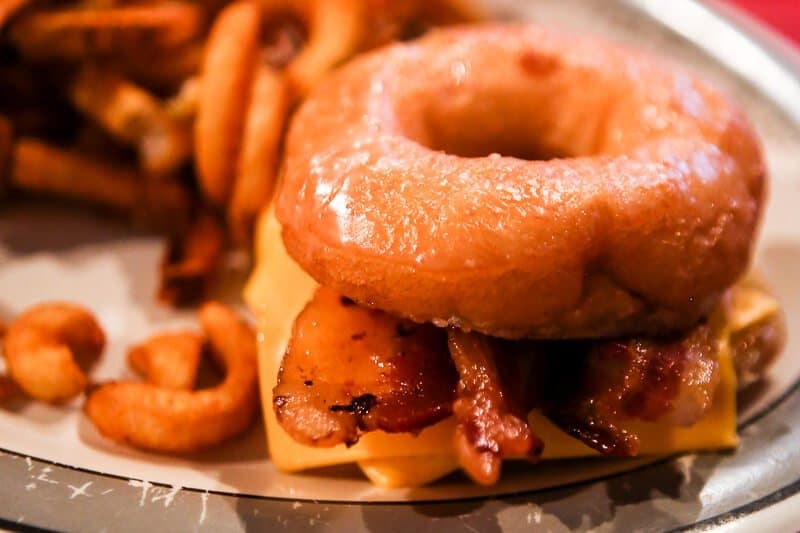 If you're looking for something a bit more gourmet or some cute food props, try Stella's Modern Pantry. Part bakery, part deli, part shop, this place is fun, fresh, and definitely worth a stop in. I tried out a flatbread pizza and two of their yummy desserts (more on that below) for a pretty low price. It's also a great place to pick up anything you might need for your kitchen – cookbooks, aprons, and gourmet cheeses. Stella's Modern Pantry | Tues-Fri 9AM-7PM/Sat 9AM-6PM(hours may change)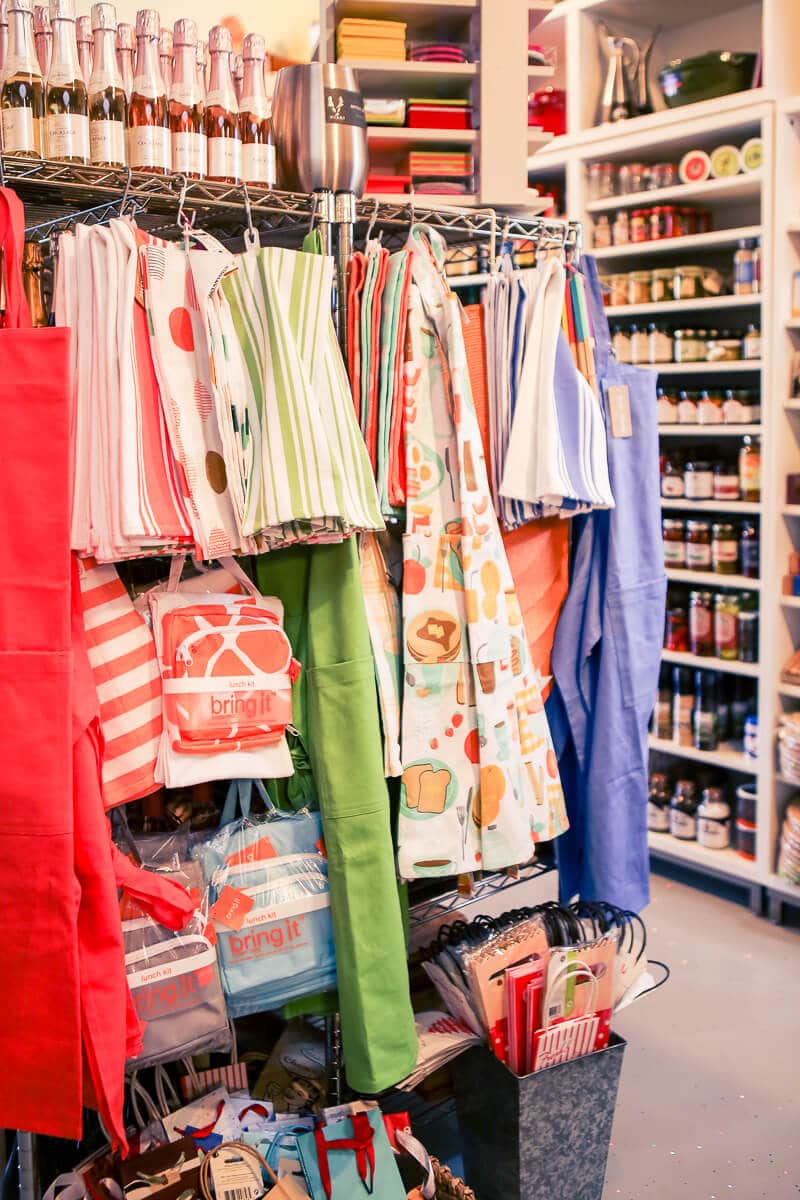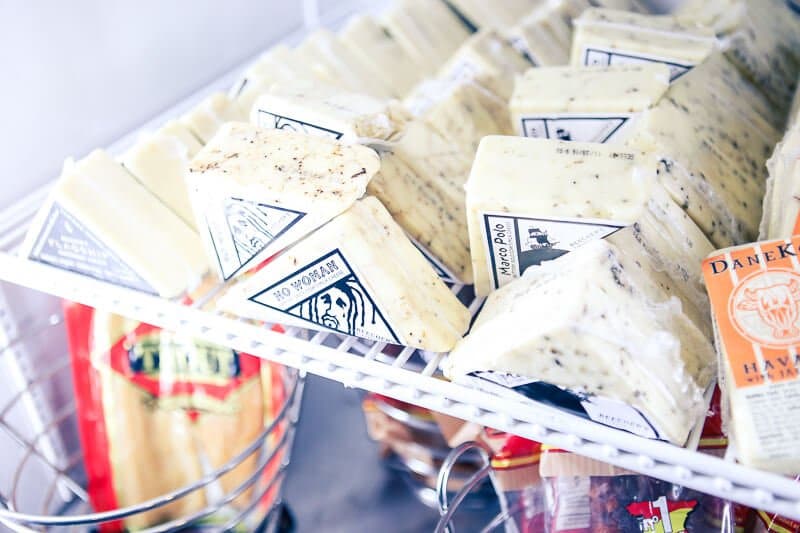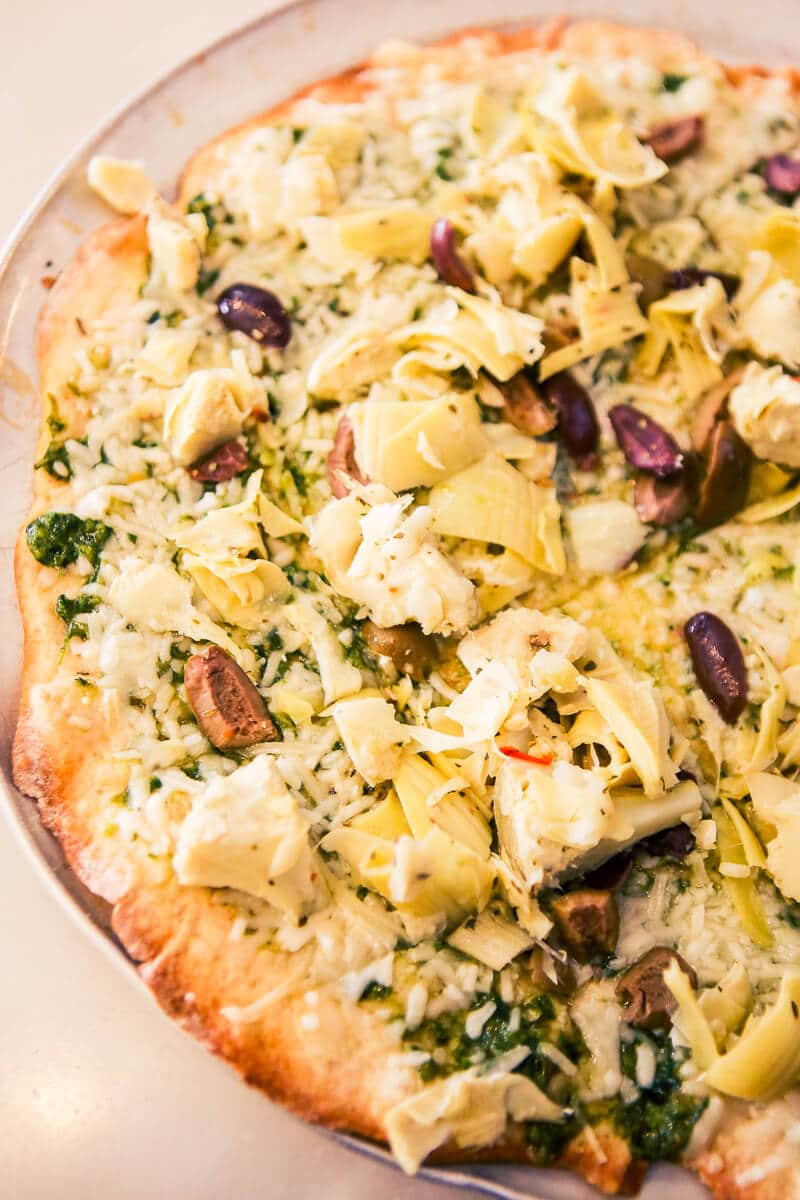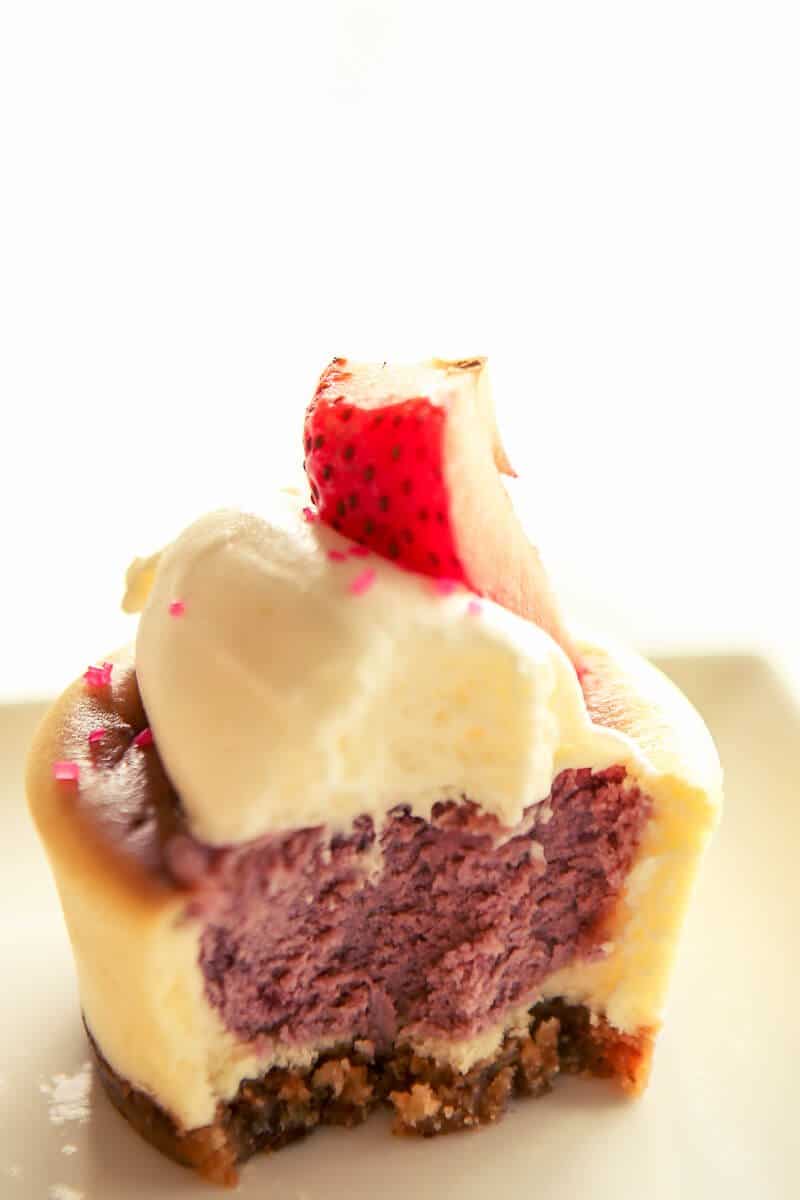 Hungry Bear Drive-Thru is part of Ocala's history and a must if you're looking for a lunch when it's open. With a simple menu of burgers, sandwiches, fries, and shakes there isn't much variety but what I tried tasted just like I would cook it at home.
Make sure to get a shake, strawberry is apparently the most popular, but I thoroughly enjoyed the cherry. Oh and don't expect to get out and eat, it's a drive-thru and drive-thru only. If you don't want to drive and eat, there's a great parking lot across the street that makes a good stopping spot. Hungry Bear Drive-Thru | Monday-Friday 11AM-4PM (hours may change)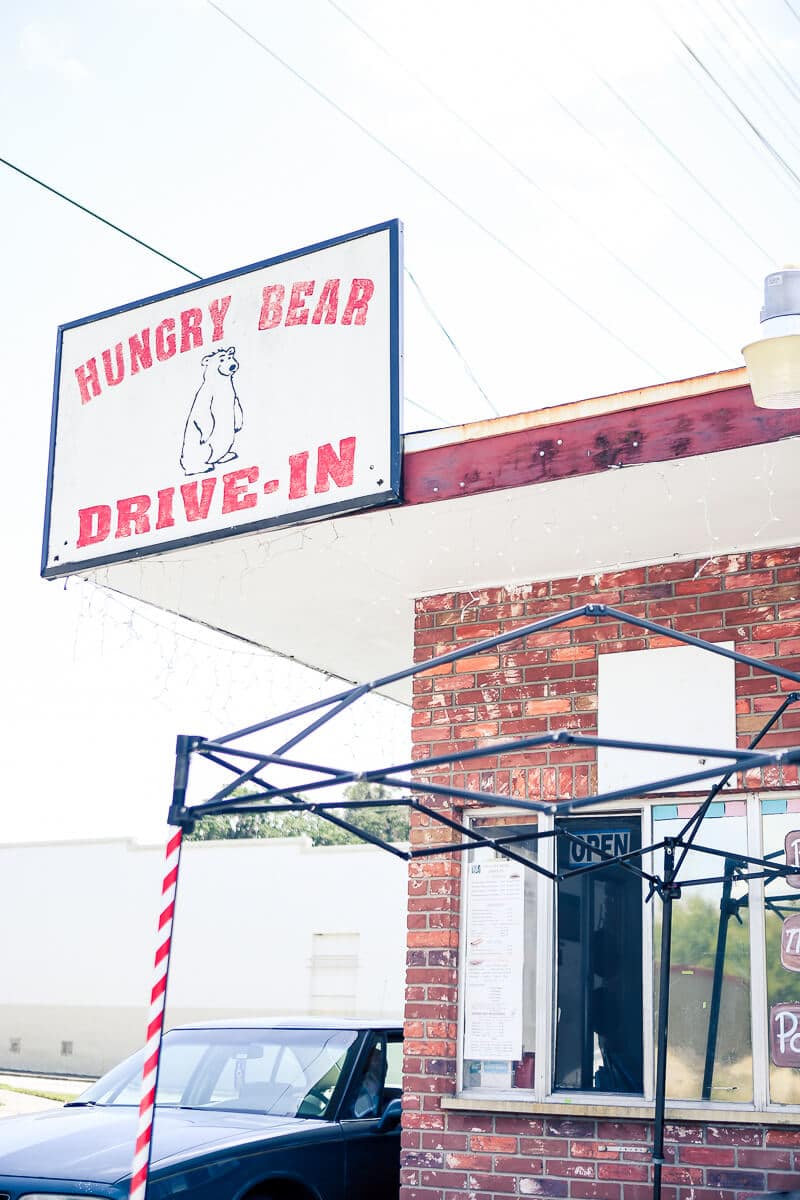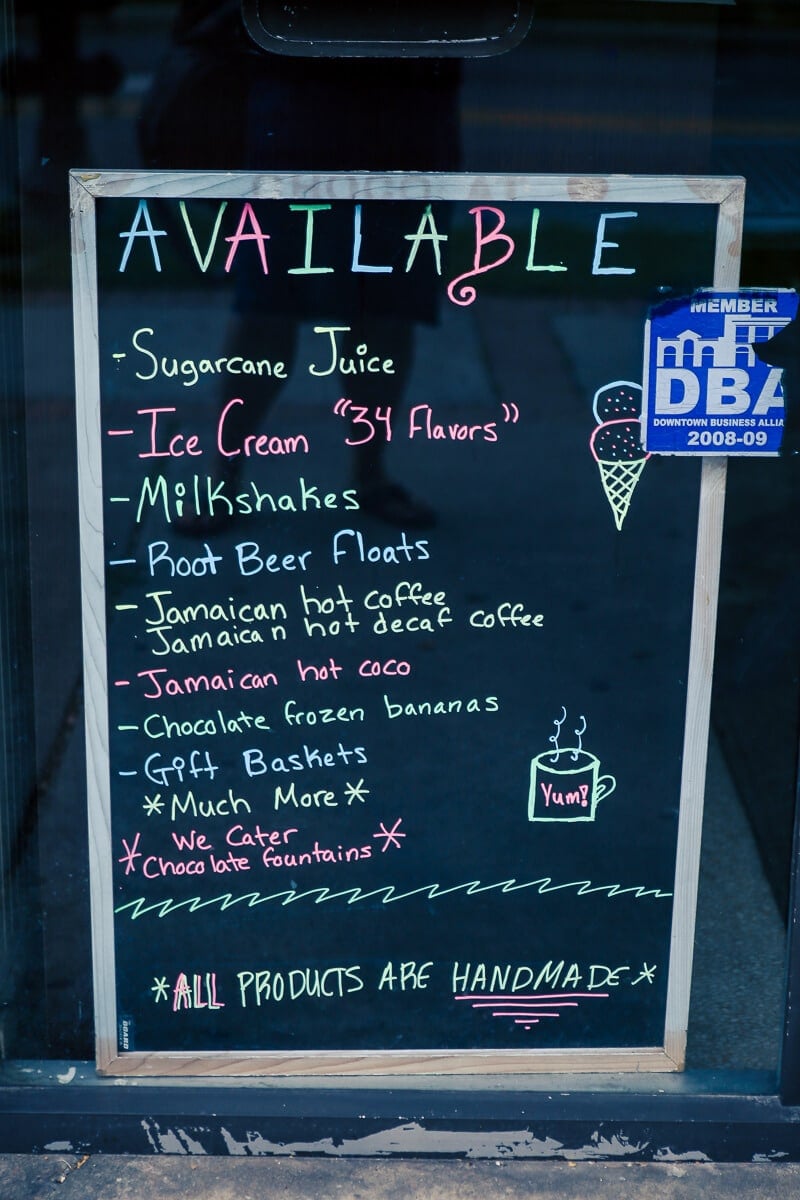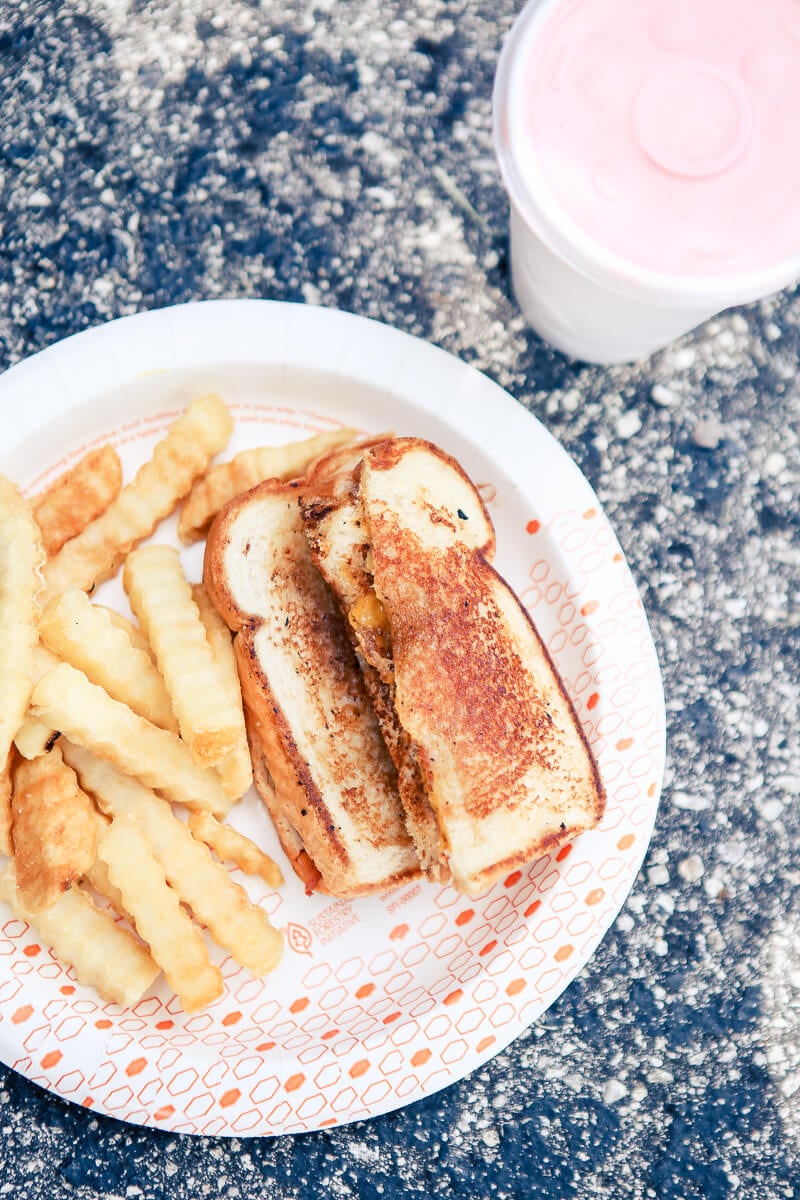 Speaking of fast food, PDQ is the local fast food restaurant that's known for doing fresh food, fast. With 100% all natural chicken that's never frozen, they pride themselves on great chicken tenders, nuggets, and anything that you can make with those tenders – sandwiches, salads, etc. Oh and a pretty impressive list of both sauces and milkshakes, though I wouldn't recommend eating the two together.
I recommend getting a tender meal with the blueberry coleslaw, homemade honey BBQ sauce, and a hand-spun Oreo shake because for some reason Oreo shakes are just the best. PDQ | 7 days a week, 10:30AM – 10:00PM(hours may change)


Best Places to Eat Dinner in Ocala, Florida
There are so many places you can eat dinner in Ocala, Florida and I'll be honest, I haven't tried them all. In fact, I haven't even tried all four on this list, but they got such high reviews and sounded so interesting, that I still feel okay recommending them.
First off, hear me out on this one. The Ocala Drive-In Movie Theater is not the place to go if you're looking for a foodie's dinner or even fresh food. It's the place to go if you're looking for budget dinner and entertainment.
Grab amusement park type food (corn dogs, french fries, and burgers) from the snack bar and enjoy a double feature movie for the low price of $6 for adults and $3 for children under 12.
It makes this list solely because it's a great deal for dinner + entertainment, especially if you're visiting with your family. And what kid doesn't like corn dogs? Ocala Drive-In | Check Facebook page for weekly movies + schedules
Next up is another family-friendly joint, Blue Highway Pizza. With a menu that caters to both families and date nights, it's the perfect place for dinner out regardless of who you're with. They have all of the traditional Italian entrees like pizza and pastas, but the item really calling my name is the piadines – flatbread fresh from the oven and topped with salad. It's like a pizza topped with a salad and pretty sure it's the perfect way to feel better about eating pizza for dinner every night. Blue Highway Pizza | Sun-Thurs 11:30-9PM/Fri-Sat 11:30-10PM (hours may change)
My third recommendation is my personal favorite and it's not just because you can make actual s'mores for dessert. Brooklyn's Backyard just felt like home to me. With live music playing on the Friday night I visited, lights twinkling throughout the restaurant, and families (and little league baseball teams) enjoying good food together, it truly just felt like the kind of place I would go back to time and time again.
The menu is full of things that I wanted to order, but I ate there on my own and still felt like of foolish ordering two appetizers, two entrees, and an order of s'mores just for myself.
The garlic knots were hot, fresh, and addicting. The cheese bites were crunchy, flavorful, and again addicting. And the homemade Fettuccine Alfredo may have been the best thing I ate during my entire 48 hour visit to Ocala, Florida. I'm still wishing I'd asked them for the recipe to make it back home.
And then there were s'mores, like a plate of fixings and you cook them yourself over an open flame s'mores. And I fell even more in love with Brooklyn's Backyard. Brooklyn's Backyard | Mon-Weds 11-9/Thurs-Sat 11-??/Sun 11-8 (hours may change)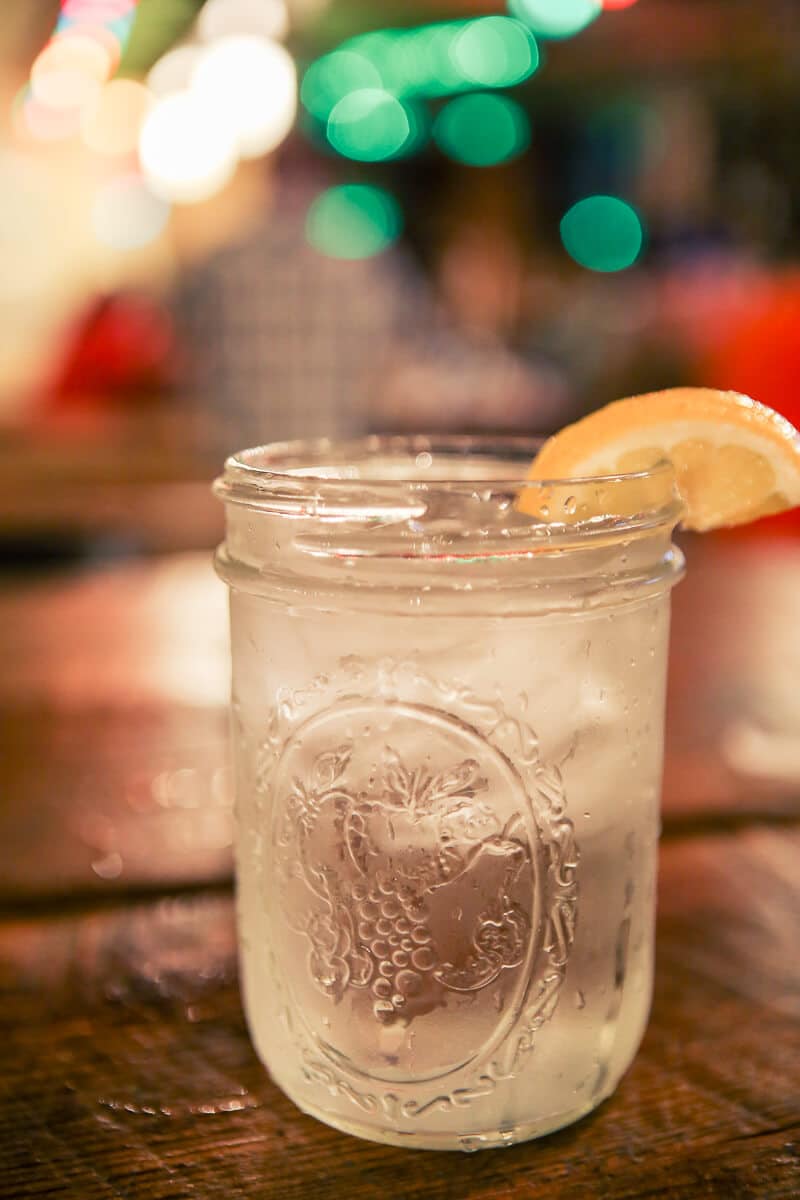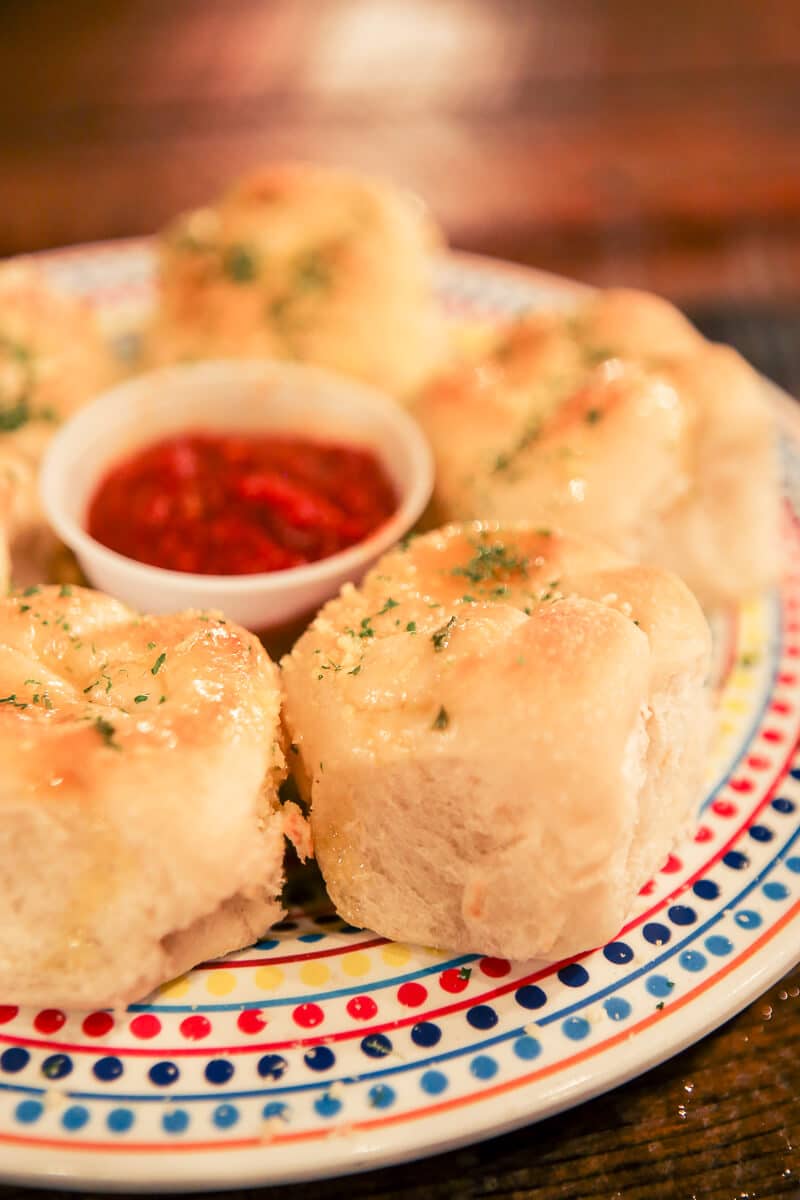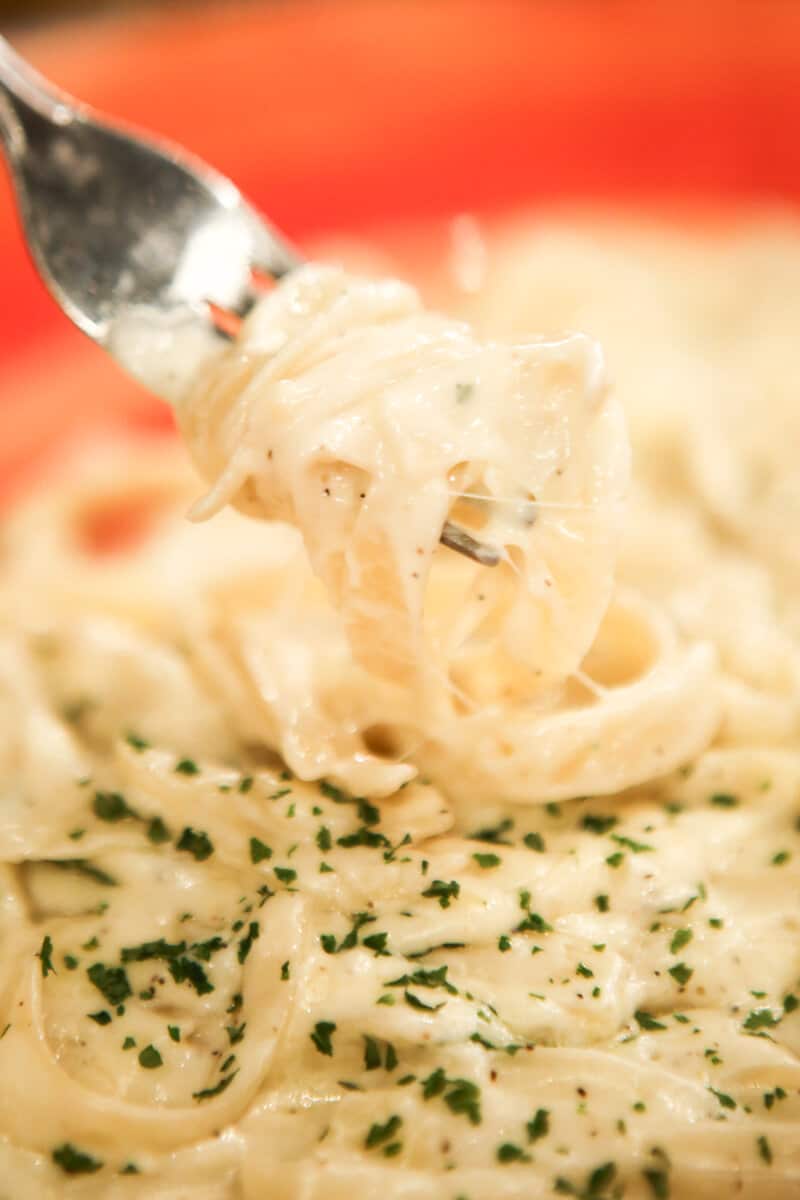 Best Places for Dessert in Ocala, Florida
And now onto my favorite course – dessert! I already mentioned that both Stella's Pantry and Brooklyn's Backyard have stellar dessert options so if you're eating there, make sure to try out the desserts they offer. But if you're not eating at either of those restaurants or happen to want a mid-day or second dessert, these are three of my favorite places for sweet treats in Ocala.
Ocala's Chocolate & Confections is right around the corner from The Lunchbox and full of everything you'd expect from a chocolate shop – chocolates, ice cream, and other sweet treats like marshmallow filled ice cream cones.
Pick out a small box full and take it over to Silver Springs to enjoy on a leisurely afternoon. Ocala's Chocolate & Confections | Mon-Weds 11-9/Thurs-Sat 11-10/Sun 1-7 (hours may change)
Small Cakes is what I think every cupcake shop should be. It's bright, colorful, and full of delicious cupcake options – in the regular and mini-sized varieties. My husband and I often buy two or three cupcakes and then cut them in fourths or halves when we get home to try a bunch – Small Cakes makes that completely unnecessary because you can just order a bunch of little mini cupcakes instead of the big ones.
I tried out six different flavors and while they were all very yummy, the lemon drop and birthday cupcake (hello sprinkles!) were my favorites. Small Cakes Cupcakery | Mon-Sat 10-8/Sunday 12-6 (hours may change)
Last but not least, this list wouldn't be complete without ice cream. Twistee Treat would make this list even if their ice cream wasn't good because the location is literally shaped like an ice cream cone. But their ice cream is good, and it's one of the few places I've ever been that serves fun flavors of soft serve.
If given the option, I would pick soft serve over scoop ice cream any day, so I'm a huge fan of Twistee Treat. It's one of my favorite places to eat outdoors in Ocala, Florida.
I tried a black raspberry + pistachio soft serve swirl cone, and it was delish. I honestly was trying to figure out what excuse I had to try out every combination in my 48 hour trip, but couldn't come up with one good enough. If I lived in Ocala, I'd be there daily. Twistee Treat | Sun-Thurs 11:30-10:30PM/Fri-Sat 11:30-Midnight (hours may change)
So those are my favorite places to eat in Marion County. If I missed your favorite, leave a comment and let me know so I can check it out next time I'm in town.