Make life easier for everyone by throwing a Chuck E Cheese birthday party. Let my experience with Chuck E. Cheese's guide you in planning the perfect Chuck E. Cheese party. Everything you need to know from the Chuck E Cheese menu to the prices for the birthday packages.
One of the hardest things about not living near my family is not being there for all the special occasions – the concerts, the games, the graduations, and the birthdays. Since we won't all be together again until who knows when, over the Christmas break we decided to have a little birthday party at a Chuck E Cheese near me for my son K, so he would get the chance to celebrate with his cousins for once.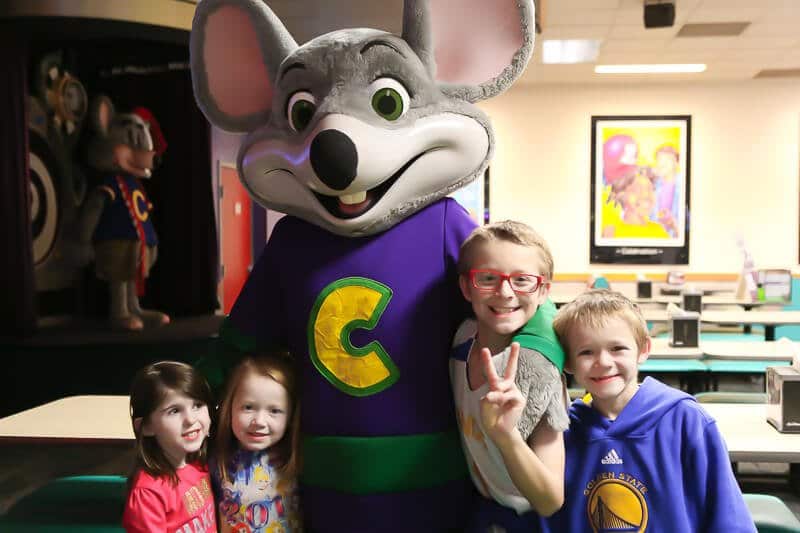 It's been a long time since I've either had or been to a Chuck E. Cheese birthday party, but this one was way better than the ones I remember growing up. I can definitely see why Chuck E. Cheese is now America's #1 place for birthday parties – ours was definitely awesome! Chuck E. Cheese recently added a bunch of new birthday party offerings including everything from a new Chuck E. Cheese birthday cake to new goodie bags and four fun themes to choose from (Rock Star, Sports, Dressed in Pink, or Chuck E. Super Fan)! We did the sports theme, and it was perfect for our active and sports-loving family!
How to Plan a Chuck E. Cheese Birthday Party
Chuck E. Cheese Birthday Party Packages
Chuck E. Cheese currently offers three different birthday packages – Star, Super Star, and Mega Super Star – with different options and perks for each package (find the full comparison list and Chuck E Cheese prices here). Right now, the packages start at $15.99/child for the Star and go up to $25.99/child for the Mega Super Star, but the prices are always subject to change. Definitely check the most updated price list before booking anything!
For us, getting the Mega Super Star package for the kids was a no-brainer. In addition to all of the standard things the other party packages come with (pizza, drinks, dedicated party space, and tokens), the Mega Super Star also included a Chuck E Goody Bag for each child, Dippin' Dots ice cream, a 1000 ticket Chuck E Cheese coupon for the birthday child, and a pull-string pinata filled with tokens, toys, and candy (for a few extra dollars, but what's a pinata without candy!?!). And I'd recommend putting that Chuck E Cheese coupon in a safe place because I accidentally lost ours, oops.
When we got to Chuck E Cheese, they had the party space all setup and ready to go. My son was so excited to see his name on the sign, and the kids were all excited about their Chuck E Cheese collectible cups and even bigger goody bags – Super Goodie Bags! – full of treats, tickets, tokens, and toys! If you'd rather have the party space all to yourself, choose the VIP option when you're booking your party, and you can get in before the restaurant's normal open hours!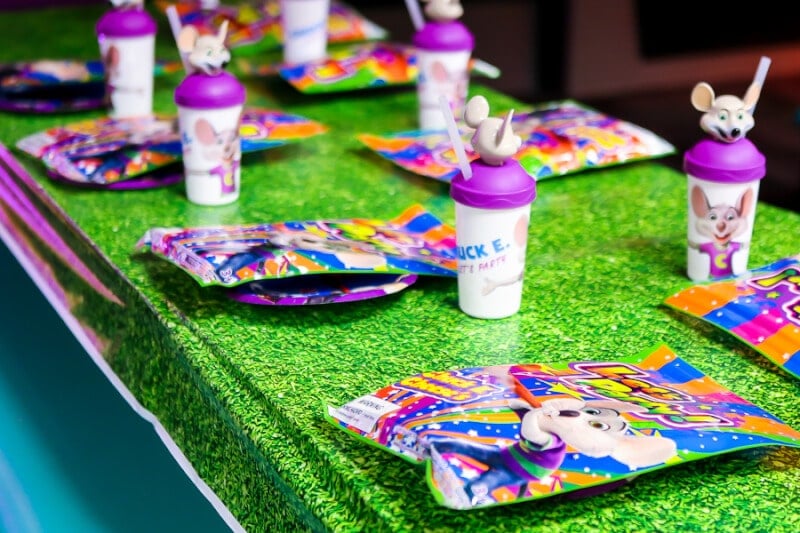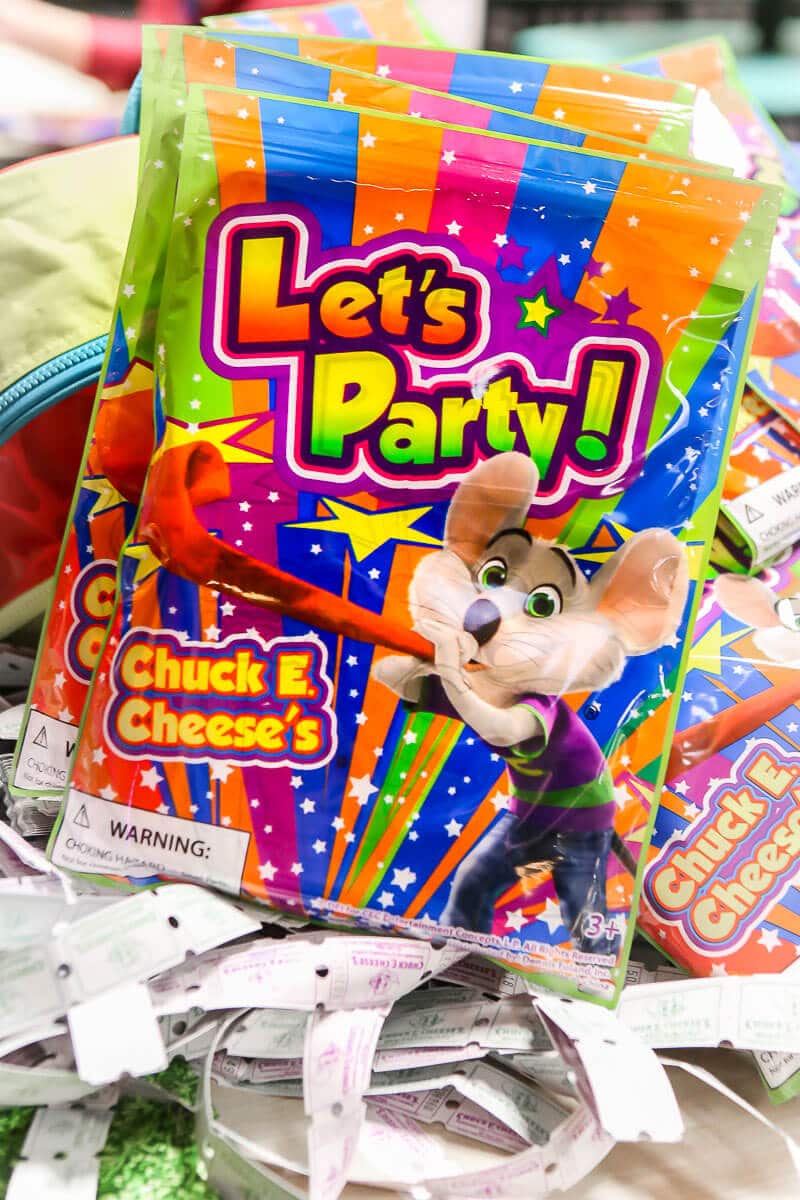 Chuck E Cheese Menu
Every kid gets two pieces of pizza included with any of Chuck E Cheese birthday party packages, but if you're like us and have adults or older siblings coming as well, I definitely recommend ordering some more things off the main Chuck E Cheese Menu as well.
While the menu doesn't have a ton of variety, they do have a bit of something for everyone – including individually packaged gluten free pizzas that my sister-in-law and her gluten-free family really appreciated. It's one of the few places I've seen where they literally cook the pizza inside the sealed package, so there's no possibility of cross-contamination. The only downside was they only had gluten-free cheese pizzas available and only in a personal size.
We went with the traditional pizza, wings, and a veggie platter to round out our comfort food extravaganza. And one of the new funfetti birthday cakes! The kids all loved eating at their own special table and two pieces of pizza each was enough to keep them going for playing all the Chuck E Cheese games!



Chuck E Cheese Games & Fun
I'd be lying if I didn't say that we go to Chuck E Cheese's for the games. The food and Chuck E Cheese himself are definitely secondary to the games and rides! In addition to all of the standard games and rides at each of the Chuck E Cheese locations, our Chuck E Cheese birthday party came with its own fun – the pinata I mentioned earlier, blowing out candles on a cake, the Chuck E Cheese song (happy birthday I think!), and hugs from Chuck E. himself! My son loves going to Chuck E Cheese, but is still a little nervous around dressed up characters, so he stood and watched from afar while the bigger kids stocked up on hugs and high fives.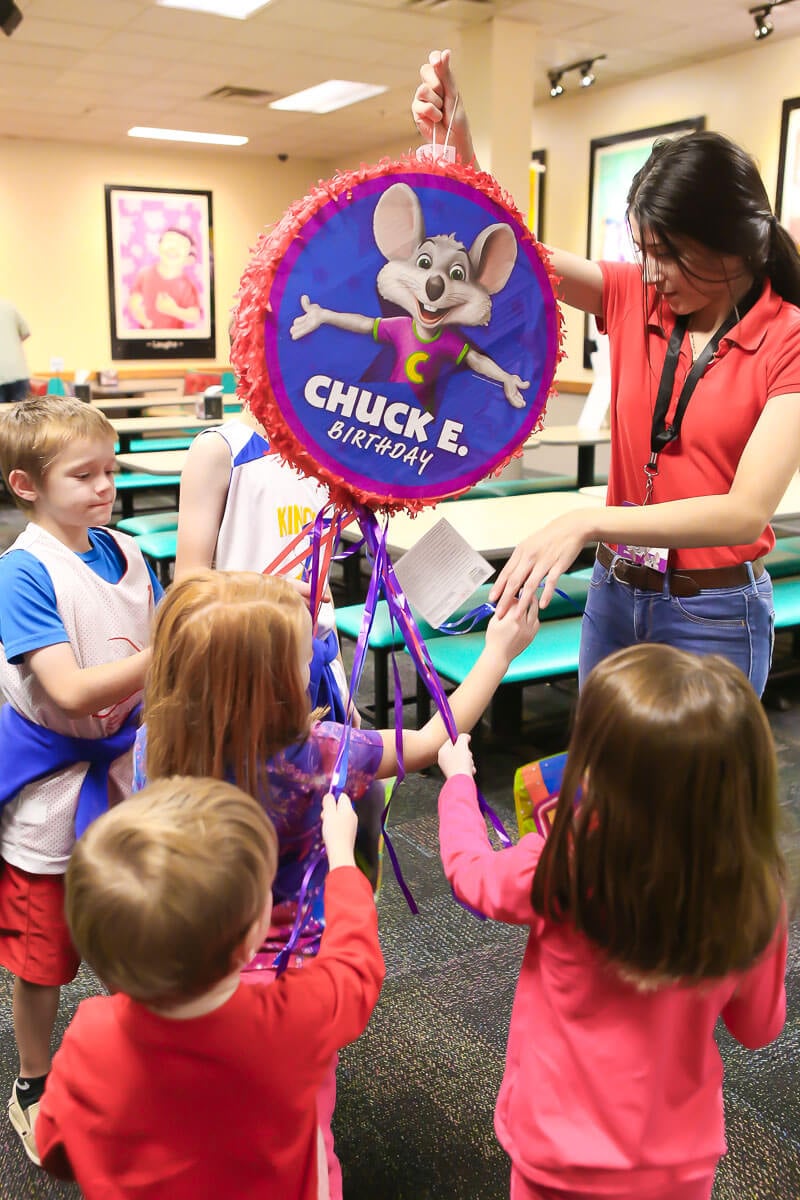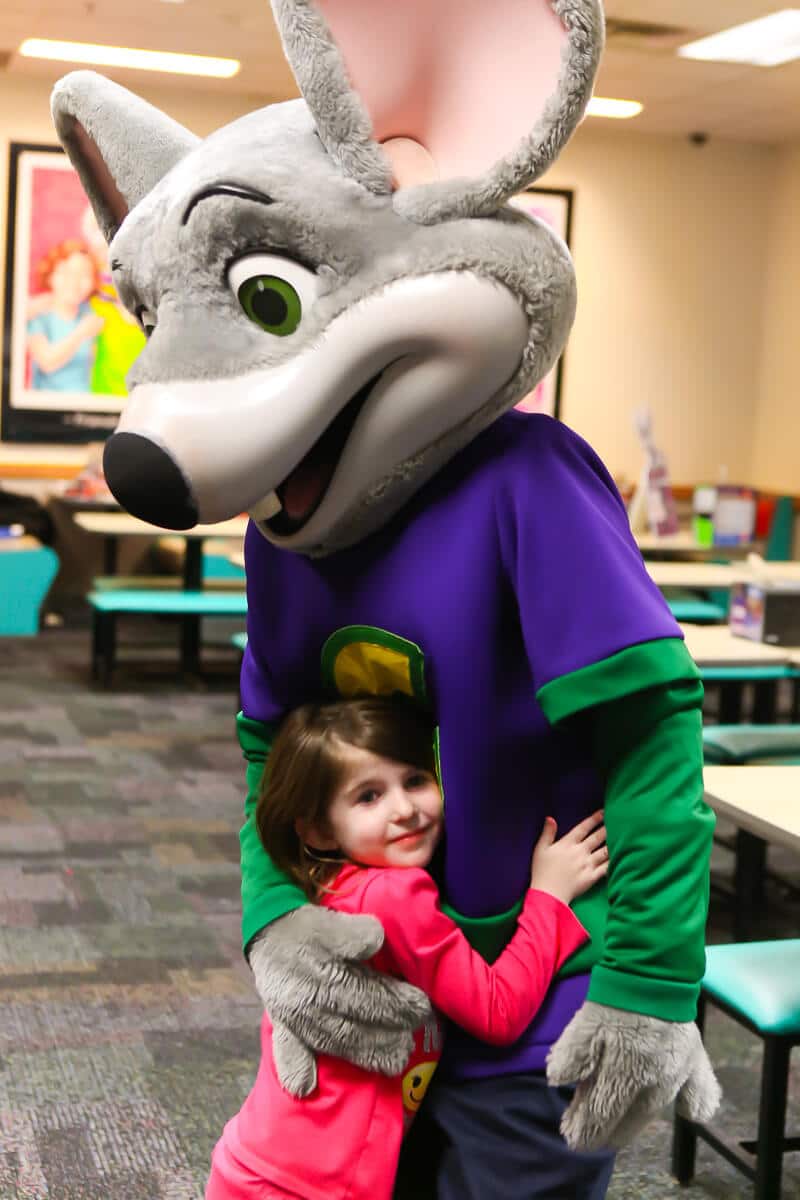 Invite the Adults to Your Chuck E Cheese Birthday
Chuck E Cheese isn't just for the kids! With fun games, different food items, and free WiFi, the parents and adults that came to our party had just as much fun as the kids. Well, maybe not quite but almost. And there was definitely an epic battle of who could beat my little brother in Skeeball. It was not me.
Another nice perk to inviting parents is having other adults to help you keep an eye on the kids. Chuck E Cheese does an awesome kid safe check where you get stamped at the door with your kids and then those kids can't leave without their corresponding adult. It definitely makes me feel better to know that some random person can't walk out with my son if I happen turn my back for one second.

Book Your Chuck E Cheese Birthday Party Online
One of the best things about planning our party was being able to book it online. I hate making phone calls, and we were doing it at one of the Chuck E Cheese locations that's not nearby, so going in wasn't an option. The new system lets you select your package, how many people, your additional food or add-ons, and an available time/date all online. It's seriously so simple – just go to ChuckECheese.com to book.
We've already had one Chuck E Cheese birthday party for my son + his cousins this year, and I'm thinking we'll be heading back again in April when it's time for him to actually turn four.
Need more tips or details about planning a Chuck E Cheese birthday party? Follow Chuck E Cheese on Facebook, Twitter, and Instagram, for more ideas!
This is a sponsored conversation written by me on behalf of Chuck E. Cheese's. The opinions and text are all mine.