Know a mom-to-be who loves Disney? Make her this DIY Disney onesie with some other Disney gifts for a great Disney themed basket!
Or have a baby yourself? Make one of these onesies for your own baby and show off your Disney love with this onesie on your next trip!
This post contains affiliate links to products and services I recommend. If you purchase via these links, I may receive a small commission at no additional cost to you.
This summer while my sister-in-law was in town, my mother-in-law hosted a Disney themed baby shower for her. If you know anything about me, you know I love Disney, so I was all in for the theme!
Instead of getting her a regular present, I decided to put together a Disney themed gift basket for my sister-in-law. I just grabbed a big basket and filled it with:
And of course since I love making my own matching Disney shirts, I made her a cute Disney love onesie to go with it! And I've got instructions so you can make one yourself AND a free SVG cut file so you can make one at home!
You could always just give them one of these Disney baby costumes, but a shirt you made is way better!
DIY Disney Onesie Supplies:
The best thing about this onesie is that it's literally so easy to make and it only takes a few items.
DIY Disney Onesie Instructions:
I mentioned it before but this Disney onesie is super easy to make!
1 – Open this Disney SVG cut file in Cricut Design Space. Click Make It to cut out the vinyl.
2 – Place the vinyl shiny side down on the mat and load into your machine. Cut out vinyl.
3 – Use weeder remove backing from the vinyl, making sure to get all of the little loops and letters.
4 – Heat the EasyPress according to these recommended settings for the material you're using. For the cotton onesie I was using, I heated it to 315 degrees for 30 seconds.
5 – Once the EasyPress is hot, use the EasyPress to quickly press the onesie lightly to heat the material.
6 – Place vinyl on top of onesie.
7 – Place the EasyPress on top of the onesie and hold down firmly for the 30 seconds (or time appropriate for your material).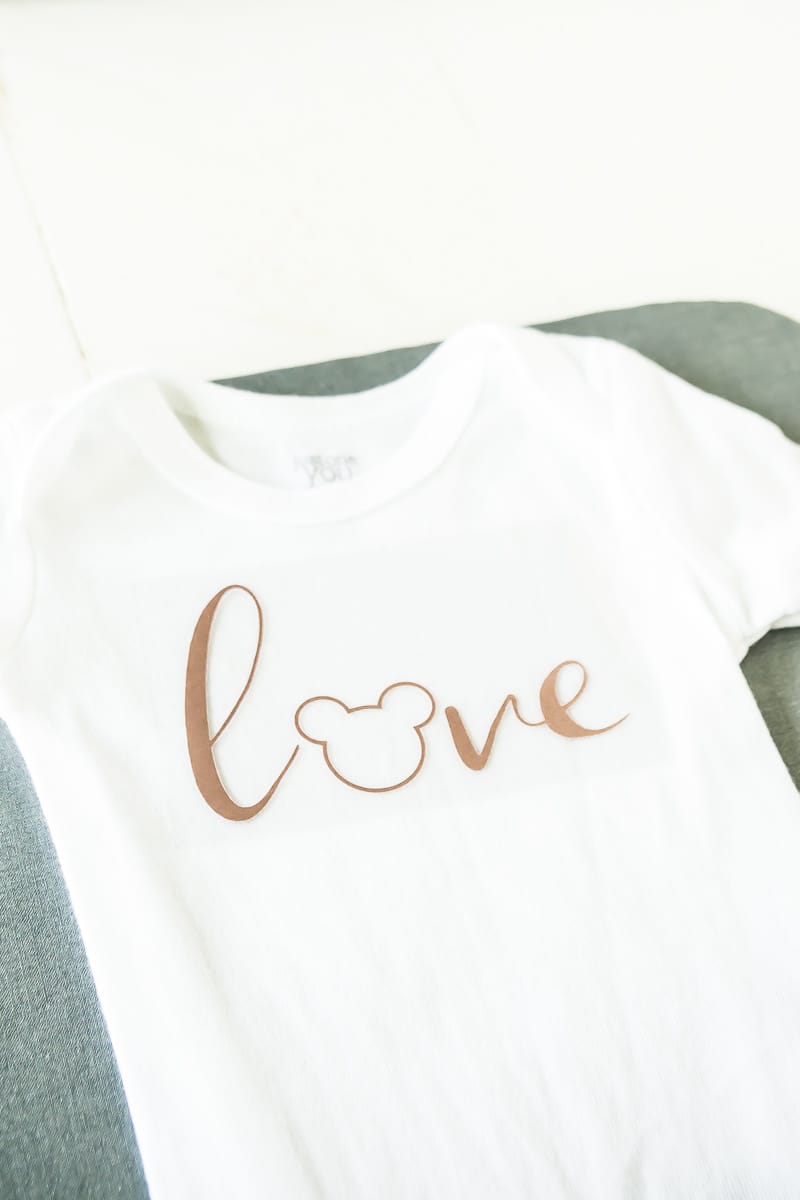 8 – Remove the vinyl backing from the vinyl immediately, while it's still warm.
And that's it – you're done! Put the onesie with some other Disney gifts for the perfect Disney themed gift basket!
Don't forget to pin this Disney onesie for later!