These easy DIY superhero costume ideas can be the fastest homemade Halloween costumes ever! Simply cut out the DIY superhero masks, iron on letters to personalize the capes, and fly away feeling more super than ever! They're the perfect last-minute DIY Halloween costumes and great for a family who loves superheroes but may not want to choose a favorite character!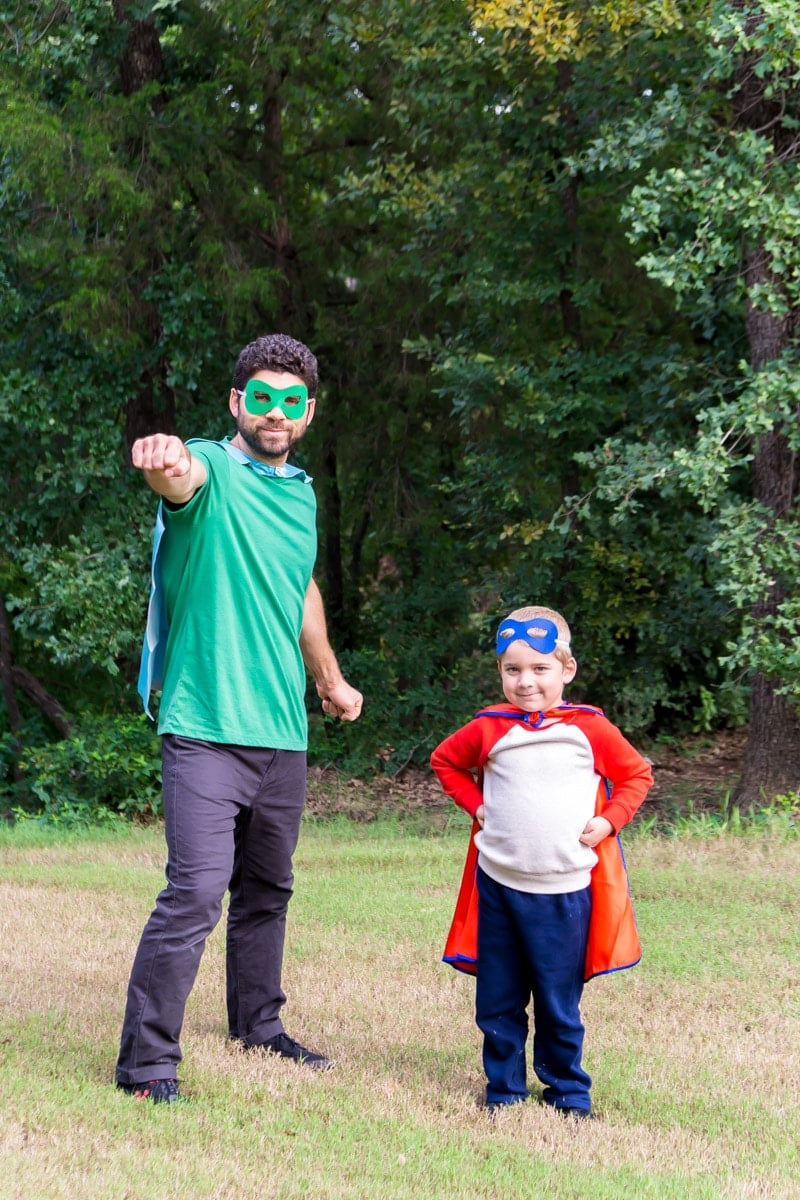 This post is sponsored by Cricut and contains affiliate links. If you purchase anything via my links, I may receive a small commission at no additional cost to you.
With all of the awesome superhero movies that have come out over the past few years, it's no surprise that my son loves superheroes. Dresses up like them. Plays video games inspired by superheroes. Plays with action figures. Plays board games inspired by superheroes. If it has to do with superheroes, he's in.
So this year instead of dressing up like one particular superhero or character, I thought it would be fun to come up with family DIY superhero costume ideas for each of our family members. That way instead of pretending to be someone else – my kiddo can be his very own superhero – Captain K.
DIY Superhero Costume Ideas
Making these DIY superhero costumes was so easy with my Cricut Maker because you guys, it cuts pretty much all the things. You'll see what I mean in the tutorial below – for this project alone I cut felt, foil iron on, leather, and fabric. And the Maker did it all without breaking a sweat.
It applies up to 4 kg of force, which means it can really cut hundreds of materials from the most delicate fabrics to thicker materials like the leather I used in this project!
It's seriously amazing. I also have a Cricut Explore Air, but it just isn't the same in terms of cutting abilities. The Maker cuts everything the Explore can and more!
So let's talk about the DIY superhero costume ideas I came up with. Or how cute my kid is. I'm not biased one bit.
Instead of fashioning them after any particular superhero, I just went with simple DIY superhero masks, capes with our initials on them, and leather cuffs for me because it just seemed like the way to finish off my costume! You could skip the cuffs if you want, but I'm telling you – there's something about wearing leather as part of a female superhero costume that makes you feel powerful, super even.
Let's start with the masks because those are probably the easiest of the projects.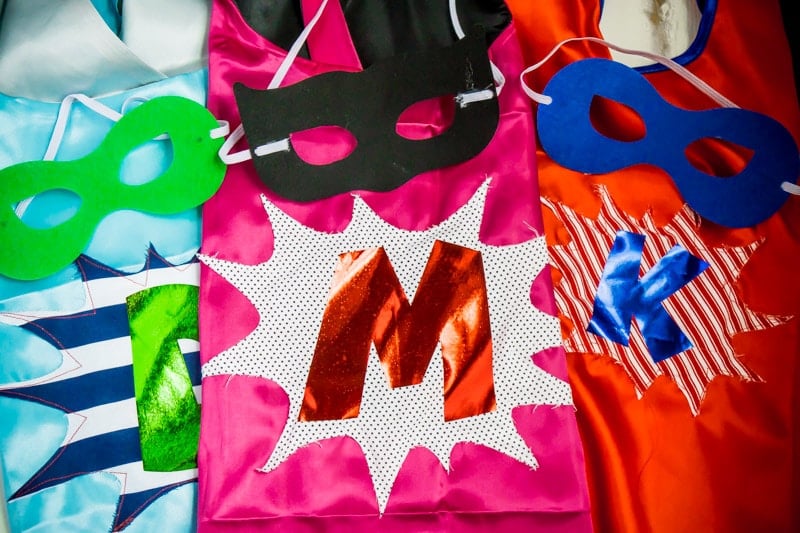 DIY Superhero Mask
I did two different type of masks designs because I thought one of them was a bit more feminine, almost like a cat, while the other was more masculine. I also originally tried two different sizes for kids and adults but to be honest, the kid-size was way too small for my five-year-old and the regular adult size just fit him better.
Superhero Mask Supplies:
I made my masks out of felt because I think it's the most flexible and comfortable on your face. You could try it with some other type of material, but I highly recommend the felt I have linked in the list below.
Cricut Maker (cuts felt like butter)
FabricGrip Mat (have one specifically for felt)
1/4 inch elastic (measure your family's face to make sure it fits right, not too tight)
Hot glue gun
Hot glue sticks
DIY Superhero Mask Instructions
The first thing you want to do is open this mask file in Cricut Design Space. It contains two masks that already have slits sliced out of them (for the elastic), so you don't have to do it yourself. The two mask shapes are included with Cricut Access (if you're not a member, get it here) and if you don't have Cricut Access, they're like $.99 each when you make the file.
I have the file to be setup with each mask in a different color. If you need to customize the file to add more masks, make the masks the same color, or resize them – simply click the customize button. If you're good to go, just click Make This, and you'll be ready to cut.
When the cut screen comes up, put your felt onto a 12×12 fabric mat. Load the mat and make sure your rotary blade is loaded into your Cricut Maker. The rotary blade is so much better for cutting felt because it glides, rolls, and turns to seamlessly cut any lines. It only works with the Maker, but it's a total game-changer, especially if you want to cut fabric.
Make sure the cutting screen finds your Cricut, choose felt as your material, and choose rotary blade (if it's not already selected), then go ahead and cut.
And prepare to be amazed – the rotary blade makes me want to cut all the felt things. Like all of them.
Once your masks are all cut out, it's time to add your elastic. Simply slide the end of the elastic through the pre-cut hold and hot glue to the back of the mask. Cut the elastic to the correct size and do the same on the other side.
And don't make the same mistake I did and accidentally hot glue one side to the front and one side to the back – that didn't work out so well!
And voila, your masks are done!
Time to move onto the personalized DIY superhero capes!
DIY Superhero Capes
I have to be honest – I didn't actually make the capes themselves. I bought the plain capes already made and personalized them with my Cricut Maker. But guess what, I showed my son his yesterday, and he was so pumped that he didn't want to go to bed. All he wanted to do was run around and pretend to be Captain K. It's not often I make him things with his name or initial on it, so he was absolutely thrilled. He didn't care I didn't make the actual capes.
If you want to make the capes yourself, more power to you! Here's a great tutorial for sewing a superhero cape.
Superhero Cape Supplies:
Pre-made capes in kids and/or adult sizes
12×12 inch square of coordinating cotton fabric for each cape
Cricut Foil Iron-On in coordinating colors
Sewing machine
Thread in coordinating colors
One of the keys here is to pick out colors for the superhero capes that coordinate well. I know my son loves red, so I went with a red cape and blue accents. For me, I love pink, so I went with pink, black, and red. Don't you just love how the white polka dots contrast with the bright pink cape? This would be a great project for some Fat Quarters or any of these Cricut Fabric packs. They come in tons of great colors and patterns.
DIY Superhero Cape Instructions
Once you've figured out your capes, colors, and sizes – it's time to make your capes!
Step 1 – Cutting the Fabric Shapes
First up, open a new file in Cricut Design Space. Rather than giving you a file that I already created, simply open a new file and add this image to your project. It's also included with Cricut Access or like $.99 otherwise. Or you can just use this one I already created…
To turn this shape into a solid shape, simply put a rectangle on top of the cape that covers the letters (without going over the edges of the shape) then select both objects and choose weld. This will weld the two objects together creating one solid shape to cut. It's one of my favorite tricks, especially as a way to use Cricut Access Artwork customized to work for your project!
Resize your shape as necessary to be the size you want on the back of your superhero capes. I went with 11.5 wide for the adult capes and 10 for my son's cape, so it wasn't quite so overwhelming on him.
Once your shapes are the right size, click make it to cut out your fabric. Select your machine, cotton fabric, and the rotary blade. Place your fabric on the fabric mat wrong side facing up and load into the Cricut Maker. Cut your shape out of the first fabric then repeat until all of your fabric shapes are cut.
Once your fabric shapes are cut, get back into your project and create your letters.
Step 2 – Cut Your Foil Iron-On Letters
For the letters, you simply want to pick something bold that looks superheroish. I went with the font Boink Com, a Cricut Access font, because I thought the letters looked almost superhero cartoonish.
Once you've chosen your font, resize your letter to fit into the shapes you just cut out. This will ensure that your vinyl will fit onto the fabric completely without any hanging off onto the cape.
Finish creating your letters then click make this. This time you're going to be selecting your Maker and Foil Iron-On. Place your foil iron on, colorful side down, onto a StandardGrip Mat, then load into your Maker.
This is important – before you cut out any of your letters, make sure to click edit on each of the images and click the button next to mirror – this will mirror your images so they iron on in the correct direction.
Cut out your letters individually then use the weeding tool to remove the additional vinyl from around the image.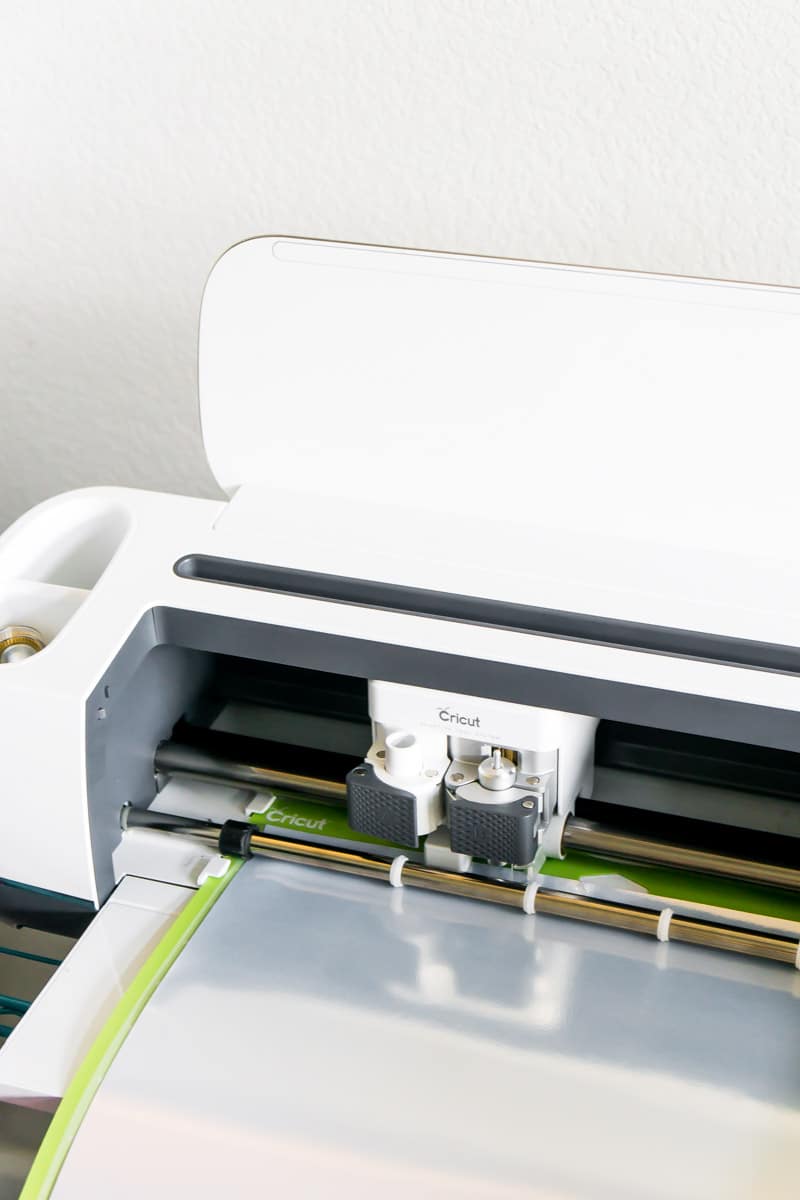 Step 3 – Add the Letters to the Fabric
While the letters are cutting, heat up the EasyPress2 to 295 degrees and 35 seconds – the recommended setting from this EasyPress settings guide.
And if you don't know what an EasyPress is, here's my walkthrough of how amazing it is. The EasyPress2 is even better – it goes to higher heats, heats up quicker, and comes in three sizes including a mini 6″x7″, a large 12″x10″ and the standard 9″x9″. And it's a pretty pinkish red raspberry color!
One at a time, iron on the letters to your fabric shapes.
To do this, put the fabric on top of my EasyPress Mat, use the EasyPress2 to quickly smooth out and heat the fabric, then place the foil letter on the fabric.
Place the EasyPress2 directly on top of the foil (no need for a sheet or anything between the EasyPress2 and vinyl because you're using the EasyPress Mat), press the little Cricut go button, and hold it down for the duration of the 35 seconds.
Remove the EasyPress2 and allow the vinyl to cool a bit to do a cool peel. Peel slowly and if for some reason everything isn't totally ironed on, simply repeat the same thing with the EasyPress2 again.
Do this for all of your shapes and letters and you're ready to get sewing!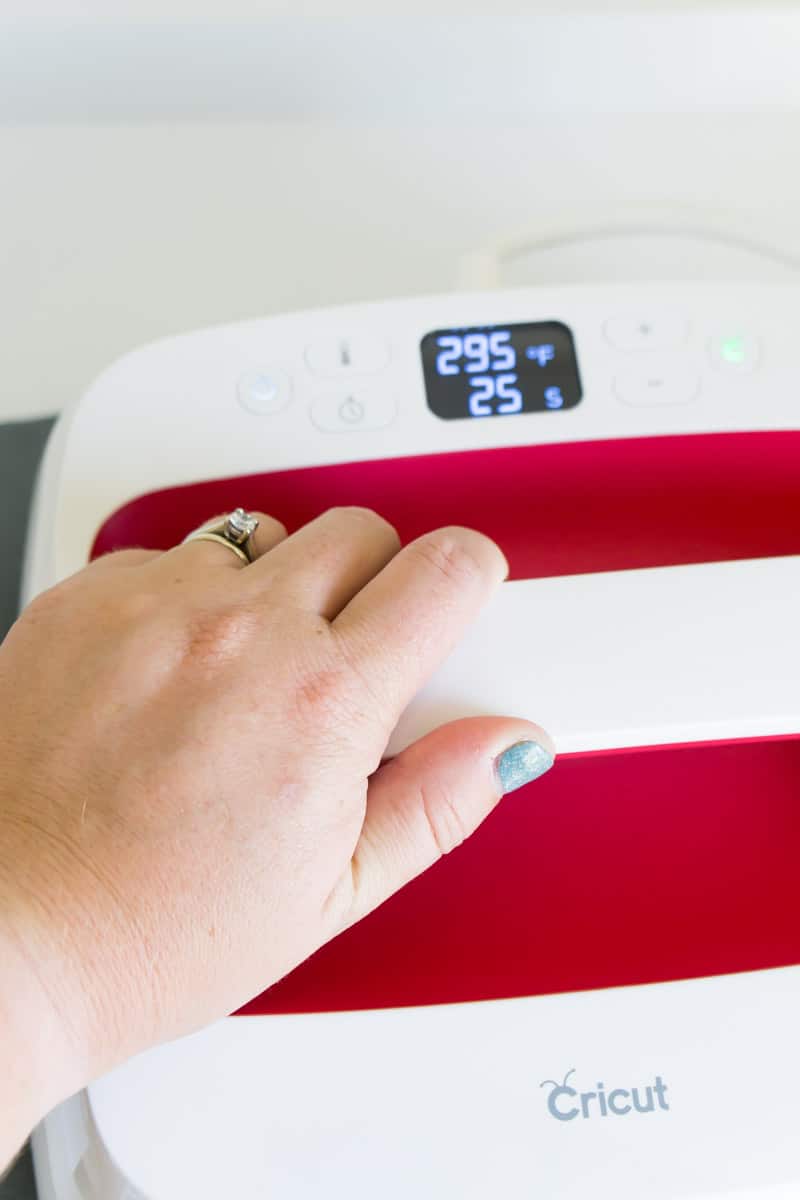 Step 4 – Sew onto the Capes
This sewing project might be the easiest ever. The only tricky thing is that you're sewing lots of pointy lines, but honestly if I can do it – you can do it. I'm not a seamstress by any stretch of the imagination. In fact, when my bobbin ran out of thread yesterday, I almost called it quits because I couldn't remember how to thread a bobbin to save my life. Thank goodness for YouTube!
All you need to do is pin the shape loosely to the cape, then start at one point and sew a straight line to the bottom of the point. Rotate your fabric then go back up the next point. And repeat. Keep going all the way around the shape until it's completely sewn on.
You can either do thread that stands out color wise like I did with my son's cape or you can do something that won't show up like the white I put in mine. Totally up to you but if you're not great with a sewing machine, I'd probably recommend the one that doesn't show up.

DIY Superhero Cuffs
Last but not least, let's talk about how to make leather superhero cuffs. They're honestly even easier than the first two and totally optional but like I said, leather = power for some reason.
Superhero Cuff Supplies
Superhero Cuff Instructions
Open the Cricut Design Space file in a new project. The file includes two rectangles (the cuffs) with two scoring marks on each side of the rectangles. I put the scoring marks there so that when you're adding the velcro, you know where to add it so that they actually overlap and will stick together. Otherwise you may end up with cuffs that overlap weird and well just look weird.
You really don't need to do anything with the file unless you want to resize the cuffs. I measured them to my arms so if you have thin wrists/forearms, you may want to resize accordingly. This goes for if you're creating them for a little kid as well.
Once your file is ready to go, click Make This, and your file will show up on the next screen. Choose your Maker and it will immediately tell you to load the Scoring Wheel. The scoring wheel is awesome because like the Rotary Blade, it can do all directions and give you perfect scoring lines. And scoring is awesome when you want to mark something without making an actual cut! And since you'll be covering the scoring mark up with velcro, you won't even see it later!
Load your leather good side up onto a StrongGrip Map or I typically actually use my FabricGrip Mat since I use my knife blade, which is pretty sharp and can cause issues on regular mats. And load the mat into the Maker, making sure to listen to the prompts on your screen that will likely be telling you to move all of the stars (those round plastic things on the metal bar) to the right.
Then hit that little Cricut button and let the Scoring Wheel do its thing. It'll give you a couple of small score marks right where they're at in the design and perfectly show you where to put your velcro to line them up later.
Once the scoring is done, your Maker will automatically ask for your to switch to the Cricut Knife Blade then it'll cut right away. If you've never used the new Cricut Knife Blade before, it's seriously awesome. You can use it to cut things up to 3/32″ thick easily – think chipboard, leather, balsa wood, and more. I'm actually doing another project featuring the Knife Blade for Christmas and can't wait to show you more! It's just one of the many Cricut Maker tools in the brand new suite of expandable tools!
Once your leather rectangles are cut, it's time to add your fasteners. Simply hot glue (the sticky velcro doesn't stick so well to the leather) a small piece of velcro to the leather cuffs where each of the scoring marks indicates. Then do the same thing with the opposite side of the velcro – but this time placing them underneath on the inside of the leather, still lining them up with the scoring lines.
By placing them on the scoring lines, you should be good to go with the velcro lining up but if you're concerned, you can always just stick them on with the sticky part first to make sure they line up before going into with the hot glue. And when I say hot glue, I mean like just a little dot of hot glue – don't get crazy.
And that's it – you're now the owner of leather cuffs and a complete DIY superhero costume!
This is a sponsored conversation written by me on behalf of Cricut. The opinions and text are all mine.