Love cooking with your kids? These two easy no bake desserts for kids are no fail and perfect for kids to make with just a bit of help from mom or dad.
Choose from the easy citrus parfait or the apple crumble parfait for a delicious dessert your kids will love, especially since they made it! And best of all, they both use fresh fruit, making it a simple way to get kids to eat fruit!
Lately my 3-year-old has been getting pickier and pickier with what he'll actually eat. He's always been a little picky but lately it's gotten even worse. The one thing I've found that really helps is when he gets to "cook" his own food.
Last week we made these mini pumpkin pizzas and this week I put together a fun little make your own dessert parfait bar for him as a fun after school snack. And normally he won't touch "white stuff" or cake because he doesn't like cake. But this time, he not only tried everything, he declared everything yummy. So yummy actually.
Parfaits are the perfect no bake desserts for kids because you really can't mess them up. I cut up some Otis Spunkmeyer iced lemon and cinnamon crumb mini loaf cakes into small cubes to use as the base.
The Otis Spunkmeyer mini loaf cakes are perfect because not only are they delicious, they're part of the new Otis Spunkmeyer no funky stuff line of snack foods that are free of anything funky – artificial coloring, artificial flavorings, high fructose corn syrup, partially hydrogenated oils.
And they seriously taste homemade, it's no wonder my son loves them. You can get the new no funky stuff snack cakes across the country at Walmart or via Amazon Fresh if you're lucky enough to have it available to you.
Anyway, start by cutting up a bunch of those. We used little parfait glasses and one individual loaf cut into cubes was perfect for the bottom layer of the parfait. Then I cut up fresh pineapple and apples, made up a citrus whipped cream (recipe below), and pulled out the sprinkles to give my son plenty of options for creating his own perfect parfait.
I think he did a pretty good job, don't you?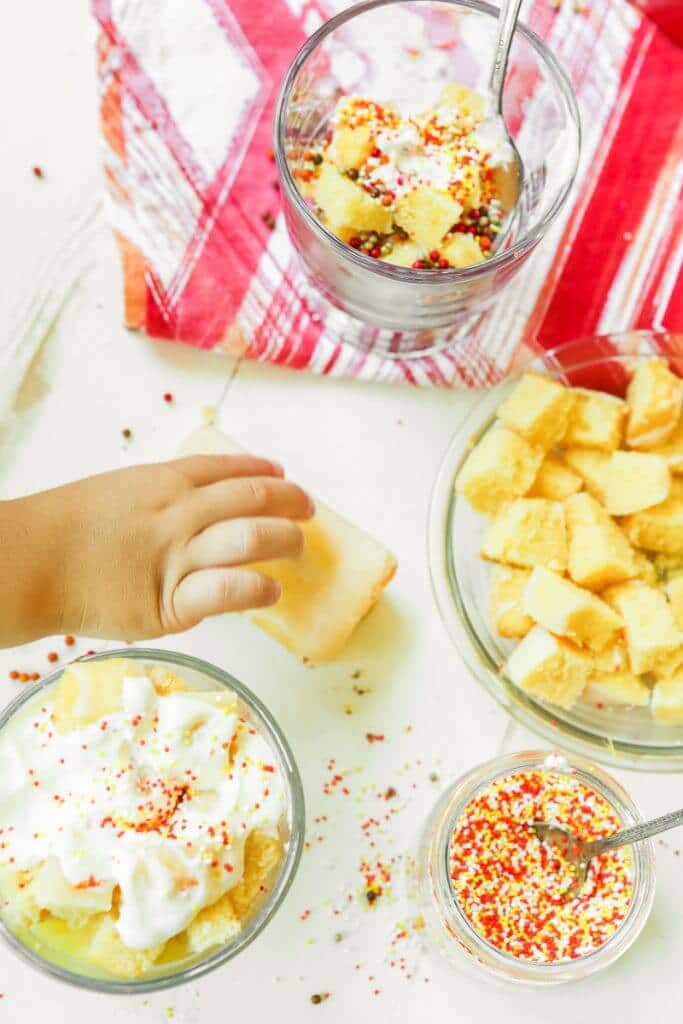 Parfaits
Simple parfaits made with lemon cake, pineapple, and a fresh citrus whipped cream!
Ingredients
For the Citrus Parfaits:
1 Otis Spunkmeyer Iced Lemon Mini Loaf Cake
¼ cup whipped cream
1 Tbs pineapple juice (optional)
1 Tbs orange juice (optional)
Fresh pineapple
Orange and yellow sprinkles
For the Apple Crumble Parfaits:
1 Otis Spunkmeyer cinnamon crumb Mini Loaf Cake
¼ cup vanilla ice cream
½ red apple , chopped into small cubes
Fall colored sprinkles
Instructions
For the citrus parfaits:
Cut iced lemon mini loaf cakes in half then cut into small 1/4 inch cubes.

Mix whipped cream with 1 Tbs pineapple juice and 1 Tbs orange juice to make citrus whipped cream, or leave plain if you'd prefer.

To create parfait, start with a layer of lemon loaf cubes, top with whipped cream, top with a pineapple ring or chopped pineapple, and finish it off with more whipped cream and sprinkles.
For the apple crumble parfaits:
Cut cinnamon crumb mini loaf cakes in half then cut into small 1/4 inch cubes, keeping the bottom half separate from the top crumb half.

To create parfait, start with a layer of the bottom (non-crumb) loaf cubes, add chopped apples, top with the crumb loaf cubes, and finish it off with vanilla ice cream an sprinkles.
Tips & Notes:
Recipe written for 1 parfait, multiply by however many parfaits you need to make more.
Nutrition Info
Serving: 1g, Calories: 4331kcal, Carbohydrates: 837g, Protein: 43g, Fat: 92g, Saturated Fat: 30g, Cholesterol: 25mg, Sodium: 7189mg, Potassium: 2169mg, Fiber: 17g, Sugar: 485g, Vitamin A: 240IU, Vitamin C: 15.2mg, Calcium: 1634mg, Iron: 35mg