This post is part of a campaign with Tiny Prints and LooksiSquare. All opinions are 100% honest are entirely my own.
This DIY graduation advice tree is simple to make and one of my favorite graduation party ideas and a great way to display graduation announcements!
I've mentioned it before but every summer I am in charge of a week-long camp for young women for church. One of my main responsibilities as part of camp is to prepare the 16-18 year old girls to be youth camp leaders (or YCLs). I've been doing this for the past 3-4 years and in doing so have made some pretty strong relationships with quite a few of the older girls. So it's no surprise that when graduation season comes around each year, I receive quite a few announcements in the mail.
When I graduated from high school forever ago, our graduation announcements pretty much all included our senior pictures (black drape over the shoulders and all), so I love the new trend toward modern and unique announcements and invitations rather than all of them looking the exact same.
My current favorites are the ones on Tiny Prints that include trend forward options like foil stamped designs, letter press designs, and even matching envelope colors and inside liners. As a party planner, I am a little obsessed with things matching, so I absolutely love the matching trend. I mean it's way more fun to get a gold envelope in the mail than a plain white one, especially when it matches the announcement itself. How awesome are these designs? Even my younger sister commented on how pretty the one on the left is, so perfect for today's obsession with hand lettering and gold foil.
One of my favorite designs is this gold foil stamped graduation announcement, I just love how modern and sleek the gold foil border is on the outside. It was the inspiration behind today's DIY idea – creating a graduation advice tree that's perfect for any graduation party. Here's how to make one yourself.
DIY Advice Tree
Supplies:
Branches (I just cut some off the tree in our front yard but they also sell them in stores)
Vase
Colored candies
Gold spray paint
Plastic tablecloth, trash bag, or painting dropcloth
Scrapbook paper with gold foil designs
Black clothespins
Black pens
Instructions:
Step 1 – Lay out the branches on your tablecloth.
Step 2 – Spray paint one side of the branches then let dry. Once dry, flip over and spray paint the other side. Repeat if necessary to give the branches a light gold color.
Step 3 – While spray paint is drying, cut paper into small note cards. Don't you love that I suckered my little sister into helping me with everything? And that she's wearing my Hunger Games t-shirt? I do.
Step 3 – Fill your vase with colored candies.
Step 4 – Stick your branches into the vase full of colored candies and arrange in an even manner.
Step 5 – Attach the gold foil graduation announcement to the tree using a black clothespin.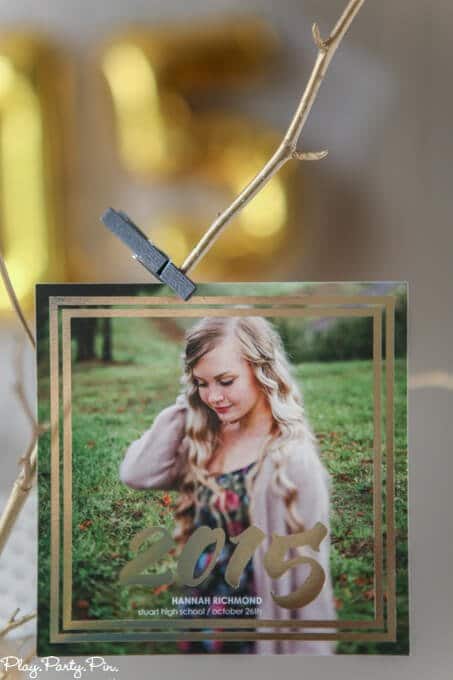 Step 6 – Set out the papers, black pen, and black clothespins near the tree. And you're done!
And you never know – those advice cards may be the graduation gifts the graduate loves most!
I just setup a little table where people could write advice, notes, congratulations, or whatever on the cards then stick them on the tree with the clothespins. And behind the tree, I put some gold polka dot tissue paper up on the wall with the coolest gold 2015 balloons from My Paper Crush. They blow up in just a few seconds and add the perfect little decorative element behind the tree without taking away from the announcement and advice cards.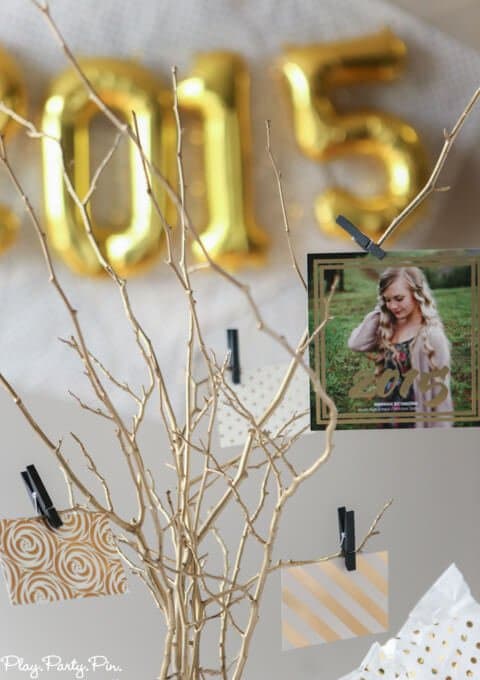 What did your graduation announcements look like?