Try one of these housewarming party games next time you're celebrating a new house warming! There's a little bit of something for everyone, both kids and adults!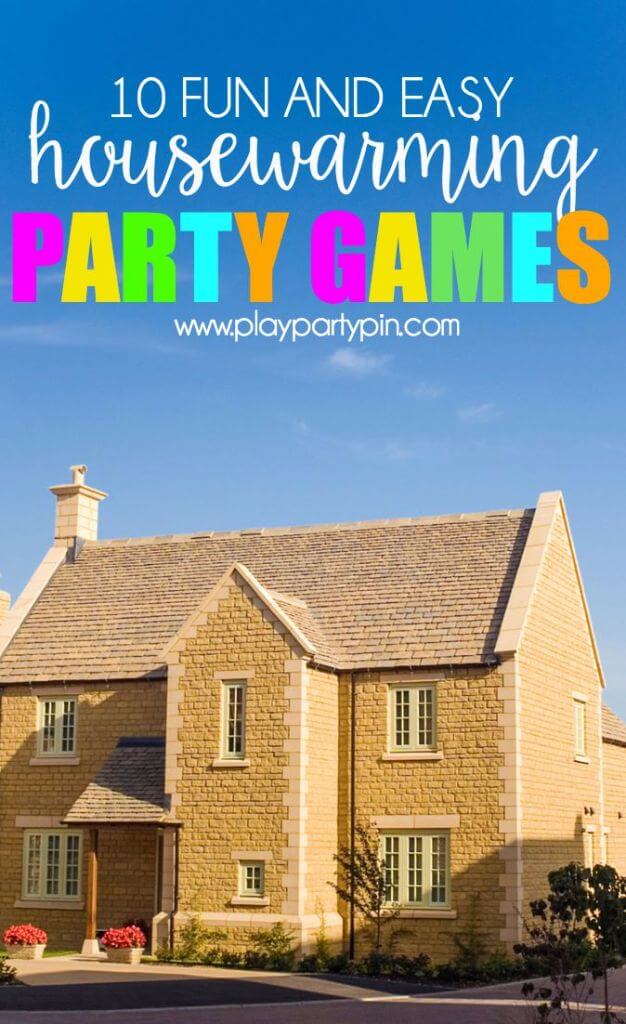 This post contains affiliate links to things that will make your housewarming party easier!
Last week we had our housewarming party finally. It only took us nine months to have people over really for the first time. When I hear the word party I immediately think two things – food and games. The food part was easy and yes, we went overboard yet again.
The games, however, were a little tough to come up with. I searched all over the internet and Pinterest to see if anyone had any inspired housewarming party games and honestly most things said you don't play games at housewarming parties. But I like to play so of course I had to come up with some fun games and fun prizes to go with them. We came up with both game ideas that are quick and work for an open house style and ones that could be used for a longer party.
Housewarming Party Games
Home Trivia
Trivia questions about our home, the city we live in, Richie and I, the word home, and anything else related to home. Some of the questions we came up with were how many homes have we lived in together, which President's home is in Alexandria, who sings the lyrics "Just know you're not alone, cause I'm gonna make this place your home," etc.
Room Memory
Take all of your guests into one room and give them 60 seconds to look around and memorize everything they can. Most websites said to have them write down as many things as they could but I thought it sounded like more fun to ask the specific questions about the room to see who could remember the most. Our questions included things like, "how many elephants are visible in the room," "what is the last word of the quote on the wall," "what pattern is on the rug," "what is the top book on the bookshelf," etc. We included some easy questions and more difficult ones to make it so that not everyone got all of the questions right.
We placed two sets of keys (play keys
like these ones work great) around the house in visible but not obvious places and told the group that whoever brought us the keys first would win a prize. We didn't tell them that they were play keys to make it a little more difficult.
Keep Your Key
As everyone comes into the house give them a key
, key sticker, etc. and let the know that they are not allowed to say the words house or home (and any other words you'd like to include). If someone hears them using either of those words they have to give the other person their key. The person with the most keys at the end of the night (or whoever ends up with all of them) wins a prize.
Trivia Scavenger Hunt
There are a couple of ways you can do this. The first would be to send teams on a scavenger hunt to find and take pictures of specific items in the house (e.g., your beloved t-shirt quilt
) and the second would be to send them on a scavenger hunt to answer questions (e.g., how many windows are in the house, what brand is the lamp in the guest room).
Pick a Key, Any Key
This is one that you'd have to plan ahead for just because it requires getting a lot of keys together. The idea is that you would have a bowl of keys that all look similar and only one that opens something (e.g., your house door). People would pick one key from the bowl and try it in the lock. If anyone picks the key that works they win the prize. To make it fair, you would need to have people put the keys back in the bowl after they try them but if you'd rather make sure someone eventually wins, have a bowl for discarded keys as well.
And if you were looking for some games to fill more time than just a few minutes, check out these awesome party games for groups that will keep everyone entertained!
.
Housewarming Party Supplies:
The Best Housewarming Party Game Ever
Housewarming Party Invitations
Housewarming Party Decorations
Housewarming Party Printables
Housewarming Gift Ideas
Home Cleaning Service
Knock Knock Bathroom Guest Book
Home Coordinates State Pillow
Mi Casa Figurine
Embrace Chaos Apron
Home Stones Doormat
Housewarming Gift Basket
Housewarming Party Games Prize Ideas
I'm a gift card person so I bought gift cards as prizes for all of our games but there are tons of other things you could do as well. I would steer away from doing anything home decor related just because everyone's homes are so particular and home decor can be tough. You don't want to spend money on a prize that someone is going to go home and throw away or store in their junk drawer. The gift cards I bought were all home themed, of course.
Home Depot
– to build something for your home
Michaels
– to create something for your home
Bed, Bath, and Beyond – to buy something for your home
Cheesecake Factory
– for the times you just need to get away from home