I love hosting girls nights and one of my favorite things to do is to have all of my girl friends over for a night of pampering. We do facials, give each other manicures, and eat delicious food.
For this party, I decided to host a pamper night with a twist, a DIY spa product night, and had all of my girl friends come over to create their own spa products to take home and pamper themselves at home whenever they need to de-stress or take a break from real life and their little ones. The theme of the party was lovely in lavender, and I used lavender, mint, and purple colors throughout the party.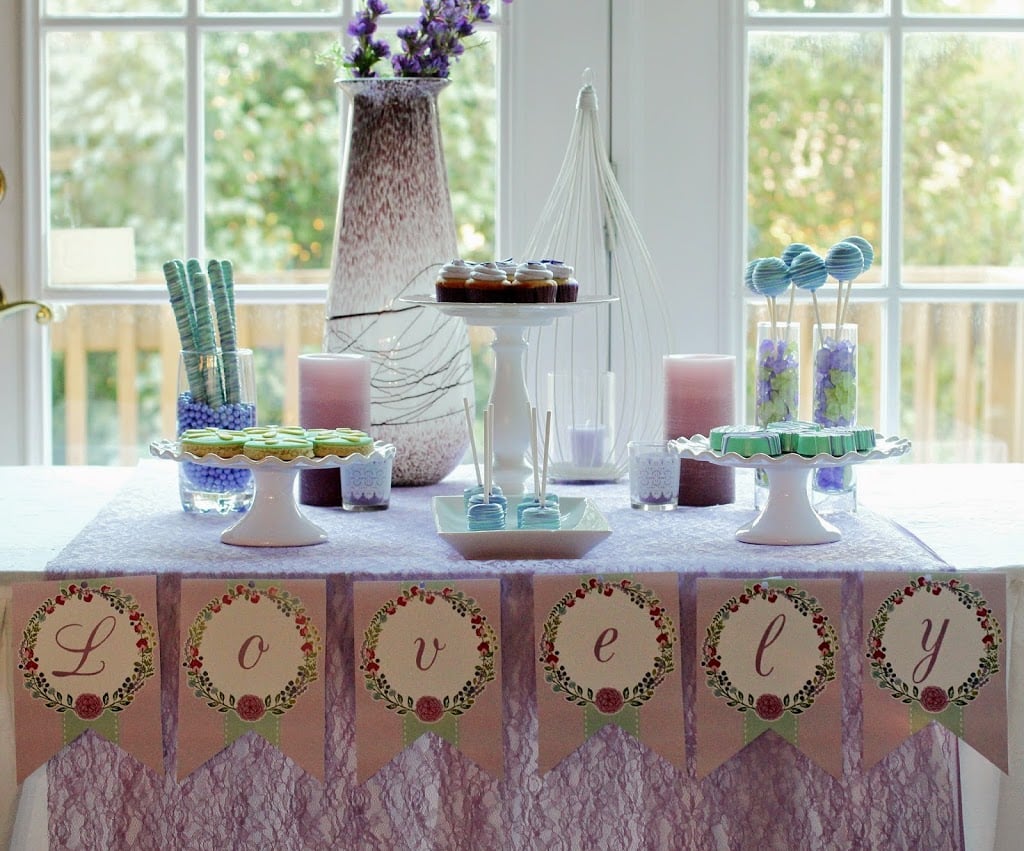 Before my girl friends came over, I setup three DIY stations for creating three different beauty products – spa scrubs, lip gloss, and neck heating wraps.
At the first table, each of the girls could make a sugar scrub to take home. The table was setup with empty pint-sized mason jars topped with cute labels from Worldwide Party, sugar, coconut oil, and tons of flavoring options like lavender, orange, lemon, and even peppermint that they could use to add a scent to their sugar.
To stay consistent with the spa feel, I added some lavender and white colored flowers, and a gorgeous white candle holder.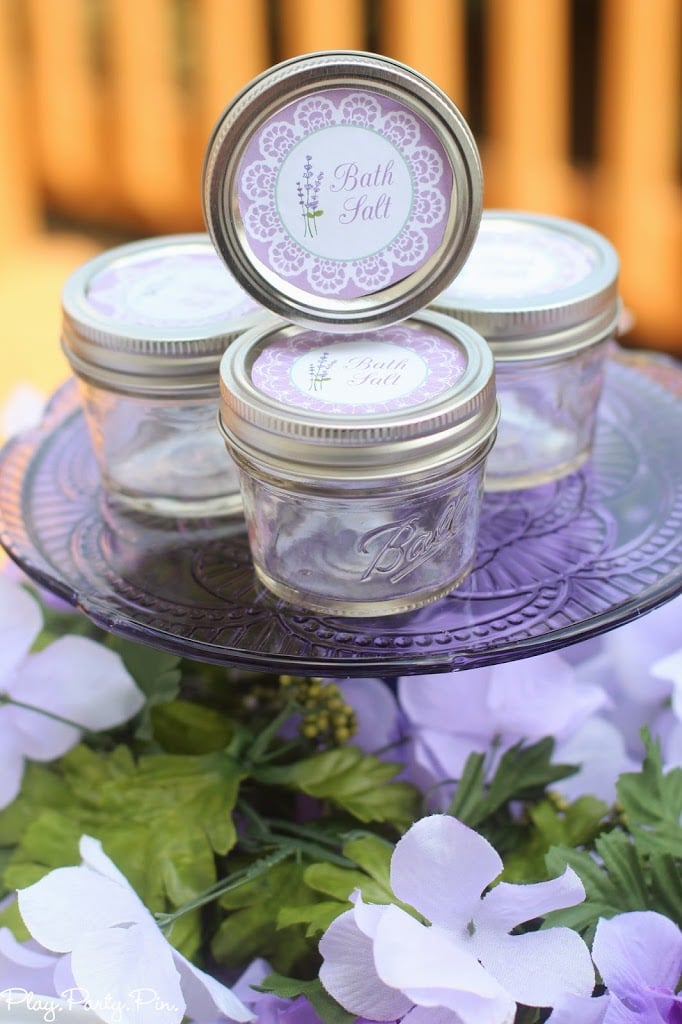 The next station was setup as a DIY lip gloss table where all of the guests could make their own lip gloss to take home. On the front of the table, I used a tissue garland that I customized with my own colors from
The Flair Exchange
. On one side of the table, there were samples of each of the lip glosses so each of the girls could try the lip gloss on before deciding which color and flavor they wanted to use for their own.
To make the lip gloss samples, I just mixed vaseline with various flavors of Crystal Light – fruit punch, raspberry lemonade, and cranberry raspberry. Along with the samples of the lip gloss, I included little tester sticks (to try on the lip gloss) and also had a beautiful handmade mirror from
Princess Mirrors
that was designed to match the party perfectly with purple bows and a beautiful mint jewel on the back. Just another little detail to help the ladies at the party feel glamorous and pampered.
On the other side of the table, I setup small jars filled with the Crystal Light flavoring, small metal lip gloss containers, and a bowl of vaseline. To continue with the spa theme, I also included purple candles in gorgeous lace frosted tea light holders from Kate Aspen and white and purple flowers made out of hand towels from Confetti Couture Events.
The final table was setup so that all of the girls could make their own lavender scented neck wraps. Shauna from
Cupcake with Character
made these custom lavender and mint sleeves and then everyone filled them up with rice, added a couple of drops of lavender, and sewed them shut. Heat it up for a few minutes in the microwave and you've got yourself a shoulder heating pad.
Cupcake with Character sells them already made on her site if you'd prefer to not make it yourself.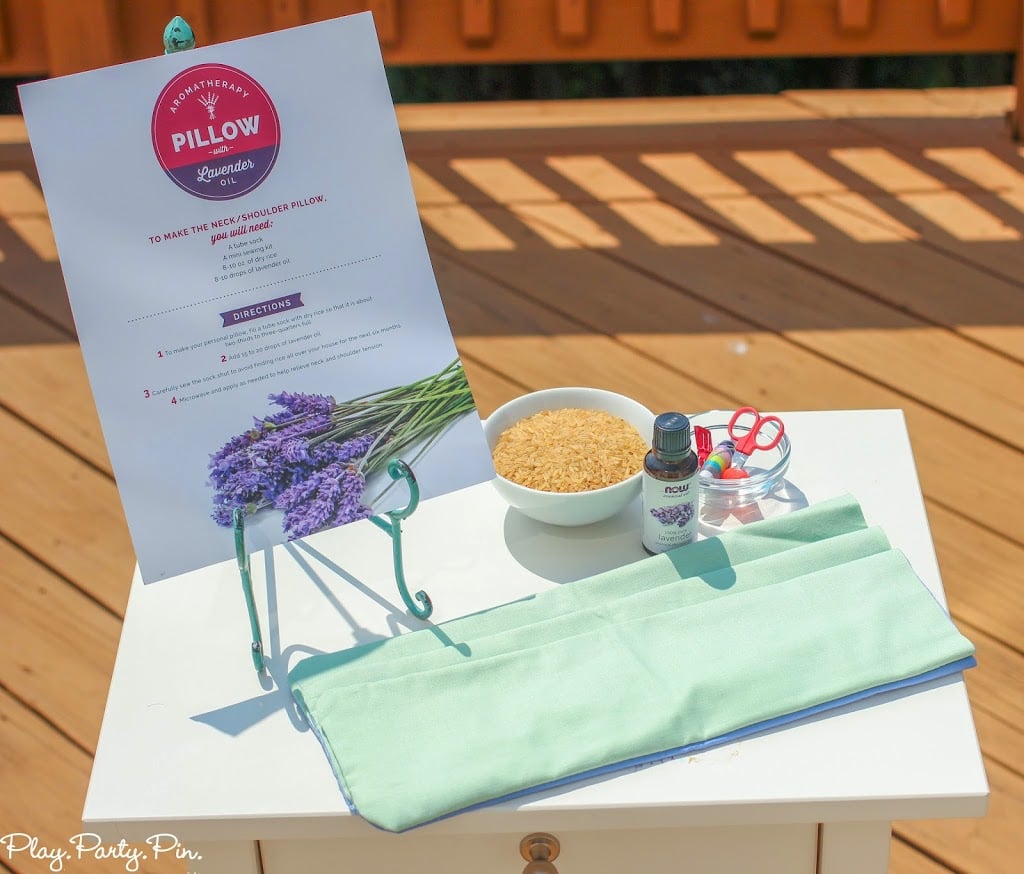 Of course, you can't call it a pamper party without food, and we had some delicious goodies to eat while we were making all of our DIY spa products. Pink Piggy Sweets made mini purple cupcakes topped with modern purple toppers, and really cute cookies designed to look like the cucumbers you would put over your eyes at a spa.
And Maria from Sweetly Bites made a set of lavender and mint chocolate covered pretzels, Oreos, marshmallows, and cake pops. Everything was delicious, and I was highly disappointed we didn't have leftovers for the first time ever! I finished out the dessert table by using lavender chocolate candies with the pretzels, more candles from Kate Aspen, and spa bath rocks in the cake pop stands. And on the front of the table, I used a custom designed banner made for the party by Worldwide Party.
With all of the chocolate treats, we had to have something to drink. Since this was a DIY party, I setup a DIY spa water station complete with ice water, fresh fruit, and of course striped straws that I bought from
Painting Paris Pink
.
Last but not least, all of the guests were sent home with their own little pamper spa kit to take home with a "thanks for making the night lovely" tag on it. I had so much fun finding things to go in the take home kit. Each one included everything you need for an at home pedicure and my favorite, these darling handmade eye masks from Confetti Couture Events.
I love how she made them double-sided, one side purple and the other mint or white to match the party colors. I put each of the take home kits in a purple colored tupperware container and tied it up with a pretty mint ribbon.
This was such a fun girls night and best of all, the fun continues with all of the great spa products I made! I hope I've given you a fun idea for a girls night you can do in the future!