Fun and creative ping pong games for the entire family! Play these games at a party, for family night, or when you just want a good game of ping pong!
Sponsored by: Pro-Spin. All opinions are 100% honest and my own.
When I was growing up my family had a ping pong table in the basement and I played with my siblings and friends all the time. I never got to the point where I was really good, but we had a lot of fun anyway!
The only problem with having a ping pong table in the basement was that it took up a lot of space – like that entire section was either you played ping pong or you didn't use that area.
I'm so excited to share an awesome solution for that problem PLUS four super fun ping pong games to play! I've used ping pong balls in a ton of my minute to win it games in the past, but this time we're using the entire ping pong family – table, paddles, and balls!
Let's get this ping pong party started!
The ping pong table problem
I mentioned above that I loved growing up with a ping pong table, but I hated that it took up so much space.
Right now we're in the process of finishing our basement, and I know that we want the kids to be able to play ping pong down there, but I don't want to take up all the space.
I've talked to other families who have the same problem – they want to play ping pong, but they don't want to have an actual ping pong table set up all the time. Because unfortunately a ping pong table isn't like a card table where you can play the best board games, eat, or do anything – it's really just for playing ping pong games!
I've got two awesome solutions for you whether you just don't have the space for a table at all or you have space but don't want the table setup taking up the space all the time!
1 – Get a foldable ping pong table
The first option – get a foldable ping pong table. We just got a Pro-Spin Portable Mid-Size Ping Pong Table (use code PLAYPARTYPLAN for free shipping!) and it's the perfect option for families who want an actual ping pong table but don't want it setup all the time.
It comes pre-assembled so just open the box, set it up in seconds, and you're ready to play!
Plus it only weighs 34 pounds, so it's not heavy and bulky to carry around if you want to take it inside, outside, upstairs, downstairs, etc.
You can watch a video below of how easy it is to setup and takedown! This would make an awesome family gift – set it up and put it at the end of this Christmas scavenger hunt!
Just a few more details about the table in case you need to figure out where you'd store it when you're not playing:
Regulation height of 30″
Table dimensions: 71″ L x 41″ W x 30″ H
Folded dimensions: 41″ x 35″ x 3″
2 – Get a Portable Ping Pong Set
The other option, if you don't want an actual table or don't have room for a table at all, is to get a portable ping pong set that turns any table you have into a ping pong table.
Honestly, the idea is absolutely genius and I wish I'd thought of it. This Pro-Spin Portable All-In-One Ping Pong Set (use code PLAYPARTYPLAN for free shipping) comes with a retractable net that clips onto any table up to 2″ thick, 2 ping pong paddles, 3 ping pong balls, and a carrying case.
All you do it take the net out of the package, clip it to either side of the table, and you're ready to play.
It's great for at home but also for traveling. You can turn that boring vacation rental table into a ping pong table to keep the kids entertained! It's also a great gift for a family, a hostess gift, or a good gift for kids!
Fun Ping Pong Games
Okay so now onto those fun ping pong games I promised! I've got four different games for you including two games if you just want an alternative to normal ping pong, one game that's a fun competitive game, and one that's great for parties!
You can watch these games being played in the video in this post!
1 – Ping pong Prizes
This ping pong game is my favorite out of the four just because it's one of my new favorite party games. It's great whether you want to play it as one of many Christmas party games, birthday party games, or really whenever you want a fun way to give out prizes!
Supplies Needed:
1 ping pong paddle
1 ping pong ball
A bunch of small prizes $1-5
Trivia questions – they can be either true or false like in this Christmas trivia game or a little harder like these answer the question Christmas trivia questions. Or not Christmas at all – use questions from these trivia games instead!
Setup:
Place the prizes on one side of the ping pong table, spread apart with space between them. Try to place all of them in spots that will actually be hittable (so maybe not right behind the net).
How to Play:
There are a couple of different ways you can play this but the general idea is the same – ask a trivia question and if they get the answer correct, they get to serve the ball over the net to try and hit and win the prize they hit.
Players only win one prize even if it bounces and hits multiple prizes – they get whatever was hit first!
Tip!
Let kids just bounce the ball over the table rather than having to serve it. Serving to spots is pretty tough for the youngest players!
The first option is to just take turns asking people questions and if they get it correct, they get a chance to win. If you do this, you can ask open-ended trivia questions, multiple choice trivia questions, or even true or false ones.
Just make sure to choose your trivia questions for the people playing. It's not super easy to hit a prize so you don't want to make it double as hard by giving them really tough trivia questions just to get a chance to hit.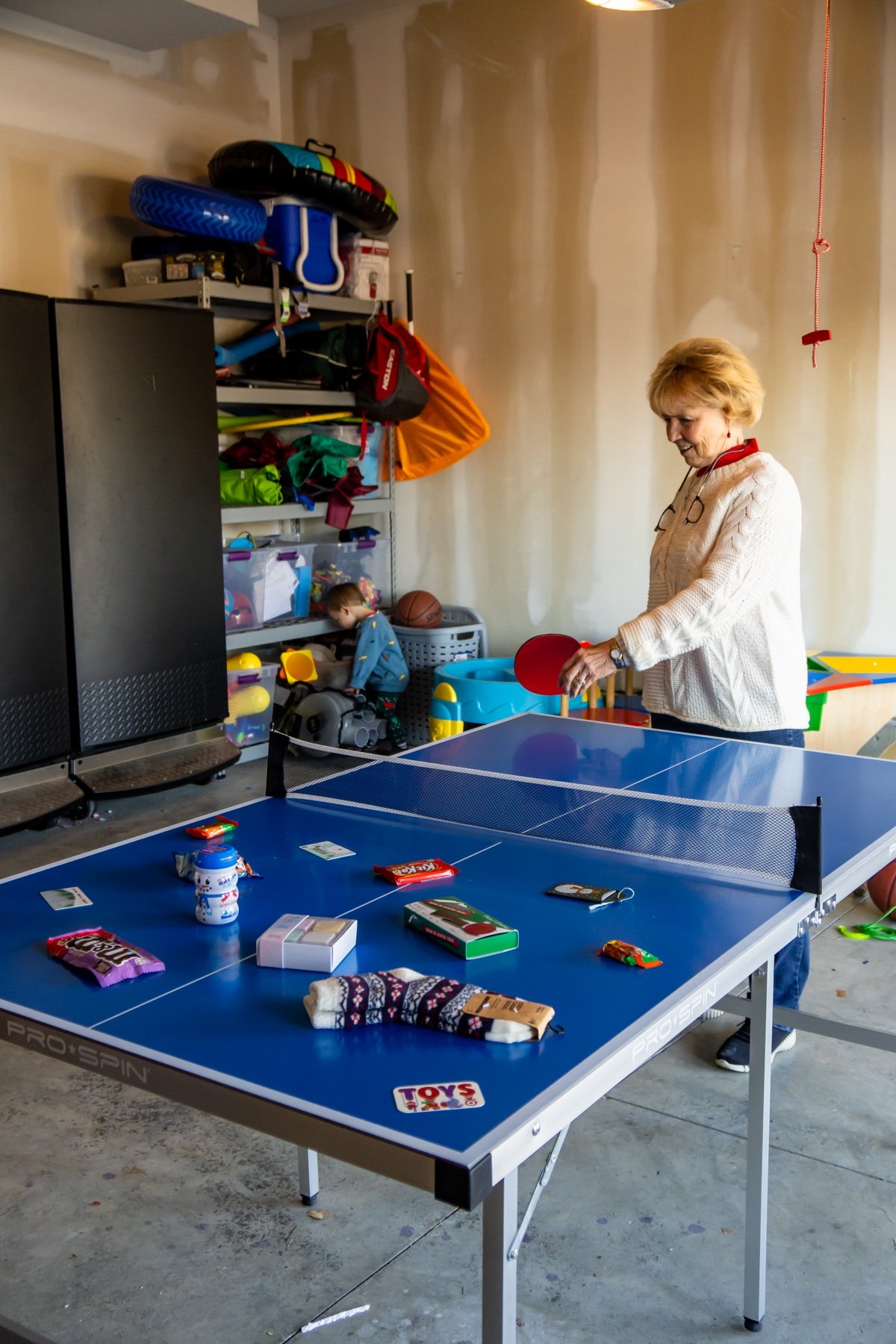 The second option is to ask the entire group the trivia question and whoever guesses the answer first gets a chance to play.
The third option is to do this kind of like Christmas name that tune – play a song and the first person to answer gets to take a shot at winning a prize!
Honestly, you could really use any sort of Christmas games you want and then the winner gets to try to hit a prize. Totally up to you, but the prize hitting is the fun part of this game!
And if you don't have an actual ping pong table, just use the Portable All-In-One Ping Pong set to make your dining room table a ping pong table and do the same thing!
2 – Ping pong battleship
Okay so let's start with a little ping pong Battleship. Battleship is one of my favorite board games for kids, so creating a ping pong version was a blast! Especially after we did a sports version with our ball games for kids project!
Supplies Needed:
Ping pong paddle per team
Ping ping ball per team
17 small plastic cups per team (like Dixie cup size)
Setup:
Give each team 17 cups and have them place plastic cups on their side of the net to create "ships." Each team should create a 5 cup ship, 4 cup ship, (2) 3 cup ships, and a 2 cup ship.
Once done, teams should stand on their side of the net and get ready to play!
How to Play:
One team should serve the ball over the net (avoiding their own cups) and try to hit a cup on the other side. If they hit a cup (or multiple cups) on the other side, that cup is taken out.
Then the other team will serve a ball and try to hit a ship on the other side.
Keep rotating teams trying to hit ships. If all the cups in a ship are hit, that ship is sunk. The team who sinks all of the ships on the other side first wins.
3 – Around the World
Now that we're done with those fun party games, here are a few fun ways to use the table just for playing some non-traditional ping pong games!
These games are a little harder to explain so make sure to watch the video in this post to see how they work – they're much easier to understand visually!
This around the world game is best played with at least four people but more fun with like six or eight.
Supplies Needed:
One ping pong paddle per person (or least four paddles)
Ping pong ball
Ping pong table
Setup:
Have one player stand at each end of the ping pong table, and then the rest of the players stand around the table making a big circle around the table.
Give the players at the end and the player to the right of the players at the end ping pong paddles (or everyone if you have enough).
Give one player at an end of the table a ball.
How to Play:
The first player should serve the ball to the other player on the end then move to their left into the circle. When they move to the left, the person to their right fills in their spot at the end of the table.
The person on the other end of the table should return the serve, move to their left, and their spot should be filled by the person on their right.
Keep hitting the ball back and forth across the table, rotating one spot to the right, until someone misses the a hit. When they miss a hit, they're either out of the game (if you have 6+ players) or they get a strike (if you have less than 6) and they're out after three strikes.
This game tends to go fast and keep people moving around the table quickly so make sure you have plenty of space to move around the table.
4 – Partner Ping Pong
This last game is a fun way to play team ping pong while still incorporating a bit of the movement of around the world above. The basic idea is that you'll play in teams of two then take turns hitting the ball when it comes to your side.
Supplies Needed:
One ping pong paddle per person
Ping pong ball
Ping pong table
Setup:
Two players should stand on each end of the table, ping pong paddles in hand.
Have one player from each team stand at the end of the table and the other player stand off to the side.
How to Play:
One player from the first team should serve the ball to the other team. As soon as they serve, they should move off to the side of the table and their teammate should step onto the end.
The opposing team should return the serve then switch players as well.
Keep playing like this – hitting the ball over the net and switching partners hitting until one team misses a ball or hit and scores a point. You can use regular ping pong scoring or just say first team to ten wins.
More Fun Family Games
Minute to win it games – over 200 fun minute to win it games that are perfect for the entire family!
Virtual scavenger hunt – a hilarious scavenger hunt you can play over Zoom or another web conferencing app!
Board games for kids – 25 of the best board games that not only kids will enjoy but the adults too!
Ping pong games – fun games you can play with a ping pong table (or without!)
Family feud – over 50 great questions for a Family Feud game you'll never forget!