Next time you're looking for baby shower ideas for girls, look no further than this list of unique and creative baby shower themes for girls! Creative baby shower themes inspired by books, inspired by a color, and even inspired by fashion. With so many girly baby shower themes, you're guaranteed to find something the mom-to-be will love!
Creative Baby Shower Themes for Girls
I'll admit it, I've always wanted a little girl. Don't get me wrong, I LOVE my little boy but there's just something about a little girl and all of the cute and frilly stuff that goes along with little girls that makes me excited about the possibility of someday having one of my own. I do luckily have a couple of friends who are having little girls and thought it would be fun to put together 50 cute AND creative baby shower themes for girls from all of the ones I saw on Pinterest. I've also included affiliate links to some of my favorite things to help you pull off one of these girly baby shower themes!
And if you're inspired to make your own diaper cake for any of these themes, here's a great tutorial on how to make a diaper cake in just a few steps!
Book Inspired Baby Shower Ideas for Girls
I'll be honest, these are probably my favorites because I'm a sucker for books. I mean I threw my son a Pajama Time 1st birthday after all. These are some super cute ideas to get you started but if Chicka Chicka Boom Boom
isn't your thing, then just pick up your favorite children's book and have at it. If you need some ideas, these are some of the most popular baby shower books! Click on the theme below to go directly to ideas for that theme.
Vintage Booked Themed
Chicka Chicka Boom Boom
Twinkle, Twinkle, Little Star
Cinderella Shower
Little Red Riding Hood
Storybook Baby Shower
Mary Poppins Baby Shower
Velveteen Rabbit
Fairytale Theme
Mad Hatter Tea Party
Book Inspired Baby Shower Supplies
Even if you're not going with one of the baby shower themes above, I thought that these book inspired baby shower supplies were darling. They could just be an addition to any book themed baby shower you host!
Dr. Seuss Inspired Cupcake Toppers
Classic Children's Books

Story Book Inspired Cupcake Toppers
Little Golden Book Inspired Banner
Book Page Heart Banner
Book Page Favor Boxes
Other Book Baby Shower Decorations
Animal Inspired Baby Shower Themes for Girls
While the book themed showers may have been my favorites, these are by far the cutest in the group. I mean how can you go wrong with woodland animals or elephants? We had an elephant baby shower for my little boy to go with his nursery decor, but it's perfect for little girls as well!
Woodland Bunny
Foxy Baby
Raindrops & Unicorns (this unicorn popcorn would be perfect for this theme)
Little Birdie
Safari Theme
Owl ThemedLittle Lamb
Elephants on Parade
Woodland Animals
Under the Sea Marine Animals
Animal Inspired Baby Shower Supplies
Same thing here – some of my favorite animal themed gifts and baby shower supplies!
Jungle animal stroller
balloon set
Zoo animal cupcake picks
Woodland animals baby shower invitations and envelopes
Born to Be Wild baby shower favor boxes
Zoo Animals Baby Shower Bags
Whoo's the cutest baby shower owl candles
Pink Elephant Baby Shower Plates
Little Lamb Baby Shower Printable Pack
Under the Sea Diaper Cake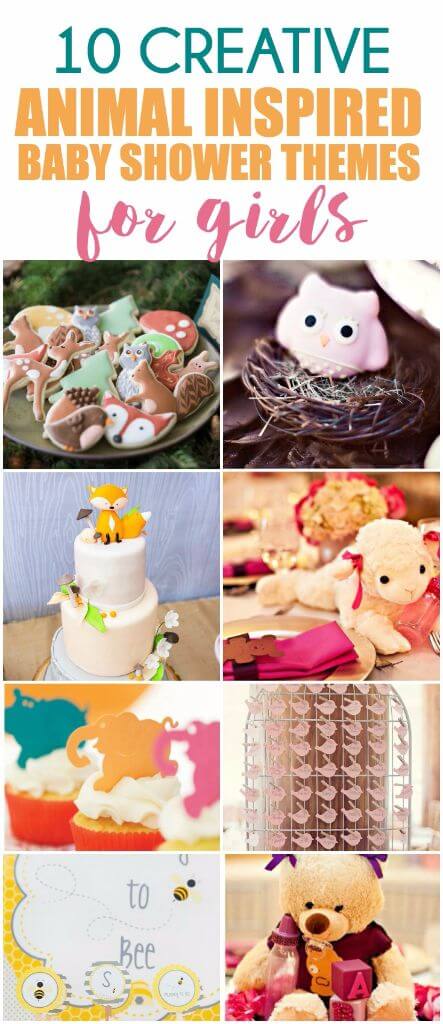 Fashion Inspired Girly Baby Shower Themes
I included these because honestly I just think they're so clever. One of my favorite party stylists, Amy Atlas, talked about using fashion to inspire parties in her book, Sweet Designs
, and I've always wanted to base a party off of it since. I haven't but absolutely adore these five fashion inspired baby showers! They're definitely some of the more girly baby shower themes on this list!
Burberry Inspired
Baby Wears Prada
Pink Tiffany & Co.
Coco Chanel Inspired
Boho Baby Shower
Fashion Inspired Baby Shower Supplies
Pink diamonds table confetti
Pink diamond nail polish (perfect for shower favors!)
Pink Baby & Co Baby Shower Invitations
Coco Chanel Inspired Poster
Coco Chanel Printable Party Decorations (banners, cupcake toppers, etc.)
Baby Wears Prada Printable Invitations
Burberry Baby Shower Invitations
Burberry Inspired Thank You Cards
Shabby Chic Fabric Garland
Boho Inspired Paper Straw Mix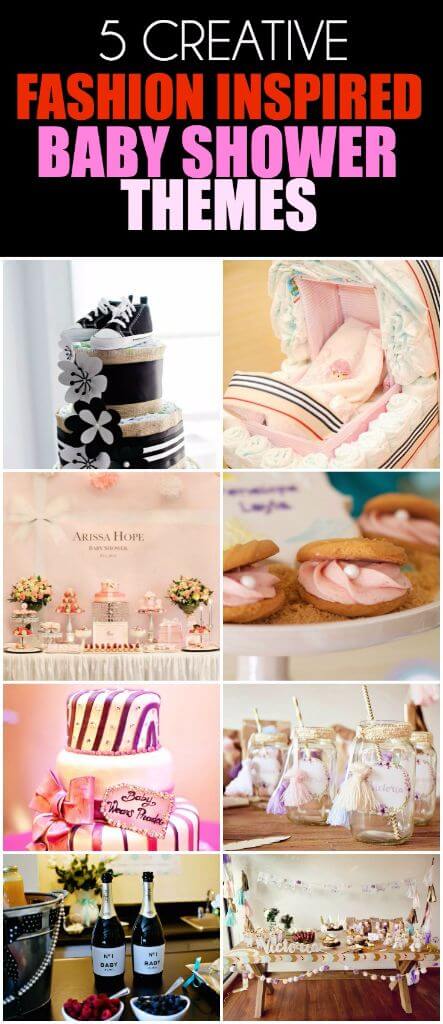 Clever Saying Inspired Baby Shower Themes for Girls
I'm a sucker for a good pun, which is probably why the last baby shower I hosted was a "love makes the world go round" themed shower, but I think some themes have been overdone. That's why I put together a list of these girl baby shower themes inspired by clever sayings, some a little more clever than others, but all cute!
Sprinkled with Love
Berry Sweet Shower
Ready to Pop
It's a Girl Ya'll
Showered with Love
In Full Bloom
A Baby Hour
Happy Trails
Feather Their Nest
Love Makes the World Go Round
Life is a Gift
Sugar & Spice
Deer Love
Wish Upon a Star
Thank Heaven for Little Girls
Mommy to Bee
Bun in the Oven
You Are My Sunshine
Beauty in Small Things
Clever Saying Baby Shower Supplies
Pink Mini Striped Popcorn Boxes
About to Pop (balloon) Invitations
Scented Honeycomb Soaps (perfect for mommy to bee favors)
Thank Heaven for little girls gold art print
You Are My Sunshine Baby Shower Balloons
Deer & Fawn Cake Toppers
Welcome Baby Chalkboard Rose Sign
Pink Party Decorations Package
Nest Inspired Diaper Cake
Ceramic Sugar & Spice Bowls
Other Unique Baby Shower Themes for Girls
And last but not least, five of the cutest baby showers I've seen that just didn't fit into another category. Sometimes everything just doesn't fit into a square box, and these girly baby showers were those ideas! I think the candy theme one would be really fun, and these baby shower games would be a perfect addition to that theme!
Blooming Baby Shower
Ribbons & Ruffles
Candy Theme
Alphabet/Schoolhouse Themed
Hot Air Balloon
Donut themed party
Other Unique Girl Baby Shower Supplies
Puffy Fabric Clouds
Floating Hot Air Balloon Model
Hot Air Balloon Baby Shower Printables
Classic Alphabet Blocks
Painted Wood Letters
Apothecary Jars
Pink Washcloth Lollipops
Ruffle Diaper Covers (perfect for diaper cake or on table decorations)
Ribbon Garland
Don't forget to pin these baby shower themes for girls for later!