We recently visited SeaWorld San Antonio TX and during our visit, learned a handful of important things to know before you go. Everything you need to know about the best tickets to buy, what hours to go, which SeaWorld shows are worth your time, how to play over 20 games for $20, and more! If you're heading to SeaWorld Texas, read this first.
I recently visited SeaWorld San Antonio Texas with my husband, 4-year-old son, my sister, and my brother-in-law. We visited both SeaWorld and SeaWorld Aquatica and learned a bunch of tips and tricks for making the most of your visit. 
Insider Tips for Visiting SeaWorld San Antonio TX
Buy an unlimited flex ticket and buy online at least 3 days in advance to save money. 

Get at least one SeaWorld all-day dining pass.

Sit in the splash zone during the SeaWorld Shamu show. 

Get a quick queue pass to skip lines at SeaWorld rides. 

Plan out which SeaWorld shows to watch ahead of time. 

Don't miss SeaWorld rides.

Do at least one animal experience at SeaWorld San Antonio. 

Play games at SeaWorld instead of buying souvenirs. 

Plan a half-day at SeaWorld Aquatica. 
Buy the Right SeaWorld San Antonio Tickets
One of the biggest ways you can save money on your trip to SeaWorld San Antonio is to buy tickets in advance. SeaWorld offers both a single day/single park ticket option and a flex ticket that gives you unlimited admission into both SeaWorld and SeaWorld Aquatica for five consecutive days. The amazing thing is that the flex ticket is pretty much the same price as the single day ticket, so it's a no-brainer. Buy the flex ticket and buy it in advance.
If you buy your tickets online three or more days in advance, you can save up to 50% on the ticket compared to if you bought it at the park the day of your visit. And when you're traveling with a family of people, that 50% savings can really add up! 
Or if you know you're going to visit SeaWorld or Aquatica more than once during the year, check out the silver or gold annual pass. You get unlimited admissions for 12 months, free parking, and more all for less than $8/month. Annual passes tend to be a great deal IF you're visiting at least twice!
Get a SeaWorld Dining Pass
If you plan to eat in the parks at all, get at least one SeaWorld all-day dining pass. The dining pass is a wristband that allows you to get one entree, one side or dessert, and one drink up to once an hour in most of the SeaWorld San Antonio restaurants. So basically you can eat and drink all day long for a minimal price if you time it right. The hour starts as soon as you check out, and we just set an alarm to stock up on food again the next hour. An adult dining pass is currently $34.99 and a child is $19.99. I'll tell you – the one meal we purchased out of pocket was about $15/person. The dining pass is definitely worth it! 
You can't share the dining pass but no one is stopping you from sharing that bottle of water you chose as your drink with your family. We found that the best restaurants were Shamu's smokehouse and the Harbor Market. But all of the restaurants had decent entree options with healthy side options available!
If you don't get an all-day dining pass, at least get a refillable cup souvenir cup to stay hydrated. You pay once and drink all day long. If you return to SeaWorld again during the season, you can use it again and pay a minimal fee for refills.
If you want something that's more of a sit-down experience, SeaWorld also offers fun character and animal eating opportunities like dining with the orcas (in the pool behind you), dinner with Elmo & Friends, and more. Get more info and dining reservations here.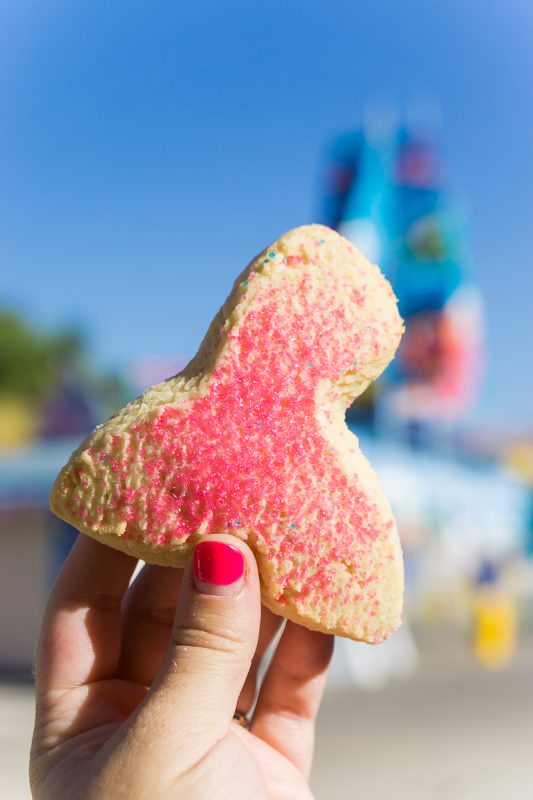 Skip Lines for SeaWorld Rides with a Quick Queue Unlimited Pass
Unlike other parks where express passes and fast passes are well known, I feel like the quick queue unlimited ticket upgrade at SeaWorld is something not many people know about. Or at least it seemed that way as we walked to the front of the line with ours during our recent visit.
The quick queue unlimited is an upgrade option for your ticket and really it's a piece of paper that lets you walk to the front of the line on pretty much every one of the SeaWorld rides. The quick queue lines aren't particularly well marked, so just ask an employee at the front of the ride when you get there. Most often, we went up the exit line directly to the front of the line where they scanned our pass and let us walk right onto the ride or back onto the ride as was the case when we rode the SeaWorld Journey to Atlantis ride! 
SeaWorld currently offers three different options for QuickQueue upgrades depending on what kind of rides you'll be going on and how often.
Quick Queue Thrills – one quick queue entrance at Steel Eel, Wave Breaker, Rio Loco, Journey to Atlantis, and The Great White
Quick Queue Junior – one quick queue entrance to Shamu Express, Grover's Round Up, and Abby's Rockin' Wave
Queue Queue Unlimited – unlimited quick queue entrance to all participating attractions (this my recommendation since the price is only about $5/person more)
In addition to those options, there is an option to purchase a quick queue unlimited + reserved show seating pass. The price for the quick queue unlimited + reserved seating is just a bit more, so we went with that one. And having the reserved seating was awesome in almost all instances.
You can also upgrade even more to a reserved seating plus that also gets you a snack at the shows. It's $2/person more right now and gets you a snack at each of the shows so if you like snacks, that upgrade might be worth it as well.
Pick the Right Seats at the SeaWorld Shamu Show
One mistake my family made was to purchase AND sit in the reserved seats for all of the shows. While it was wonderful to not have to get to shows early with the reserved seating pass, we really missed out on feeling like part of the action at some of the SeaWorld shows.
For instance, some of the key components of the SeaWorld Shamu show, One Ocean, is the orcas splashing the audience. The reserved seating for that show is up and above everything. You have a great view but you don't get splashed and really don't get any interaction with the animals or trainers. So I highly recommend getting to One Ocean early, sit in the splash zone, and be prepared to get soaked. It's all a part of the SeaWorld experience.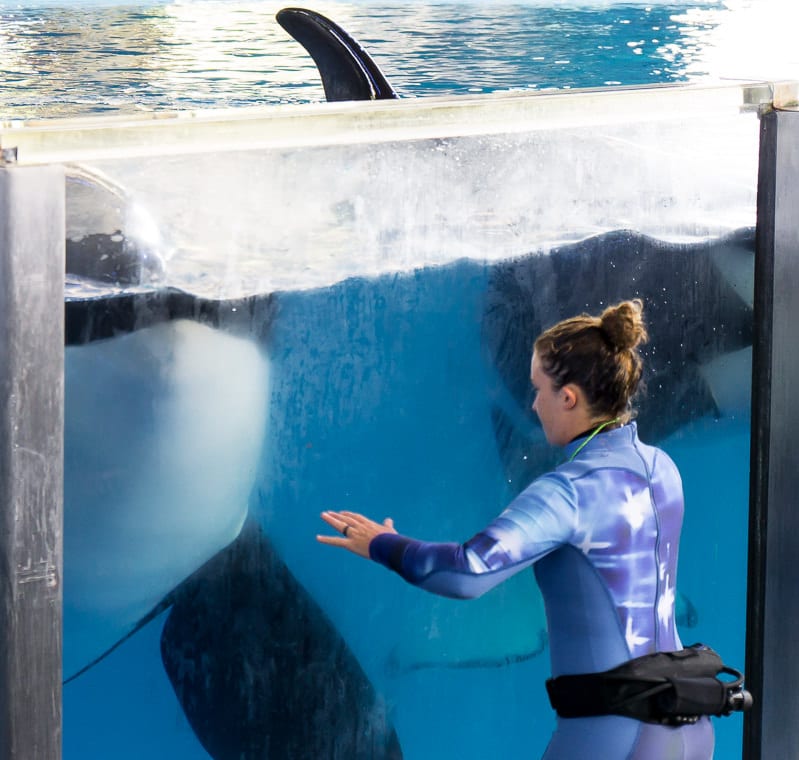 Plan Out Your Schedule for SeaWorld Shows Ahead of Time
One of the main reasons I actually recommend getting a flex ticket is so that you can do everything there is to do, including all of the SeaWorld shows. We only visited SeaWorld for one day and realized it just wasn't enough time. Each show only runs a few times each day, and it's hard to make it all fit into one day. Plan two full days in the park, get a schedule of the SeaWorld shows ahead of time, and plan out when you're going to watch each show. 
If you're planning out your trip now, you can get a daily show schedule by clicking on the park calendar then choose the individual day (the actual number circle!) you're visiting.
Out of all of these SeaWorld shows, we only missed the animals ahoy one, which my son wasn't too excited about because it's not focused on sea animals. I've put stars by the shows I personally think are can't miss shows! Get more info on SeaWorld shows here.
One Ocean* – SeaWorld's premiere show full of orcas interacting with their trainers, jumping out of the water, splashing the audience, and more. If you're going to see one show, see this one. 
Sea Lion High* – sea lions play students at a high school on graduation day and have to go to "classes" to graduate. Silly but fun to see the sea lions at play. 
Ocean Discovery* – See birds, beluga whales, and Pacific white-sided dolphins interact with their trainers and perform. 
Pets Ahoy – Land animals like dogs, cats, and pigs (most rescue animals from local shelters) do entertaining tricks and perform for the audience. We did not watch this show but if you're at SeaWorld to see sea animals, you can probably skip this one. 
Hydro Power Extreme FX – A fireworks + water sports show at closing time that features boat tricks, water skiis, and music. It seemed like the focus was more on the music than the tricks so this is one show I didn't mind leaving early. 
Sesame Street Shows – In the kids' Bay of Play, these kid-friendly shows are perfect if you have a little one who likes Sesame Street. 
Sesame Street Parade – A kid-friendly parade where Sesame Street characters sing, dance, and play their way around Sesame Street Bay of Play.
Sea Lions at Play – A chance to see sea lions and otters in a less formal, more laid back environment. Definitely not as structured as Sea Lion High but still fun if you like these animals. 
Shamu's Celebration: Light Up the Night – If you like orcas, this one is a fun flashy and loud celebration with orcas, their trainers, and more audience splashing. I preferred the One Ocean show if you only can watch one of the orca shows but if you have time, this one is fun as well. 
Killer Whales Up Close – this one only happened once and in the morning, so we missed it. It's an up close look at the orcas and their trainers and definitely more educational than entertaining.  
Electric Ocean – A new nighttime celebration throughout the summer that incorporates a dance party, a cool down club, and various show options. Check the daily schedule to see which show is on tap for the evening!
IgNite – Part of the Electric Ocean summer is a brand new fireworks show called IgNite. It features electronic dance music and can best be seen from the Bayside Stadium but they're fireworks so really anywhere around the lake should work!
Don't Count Out SeaWorld Rides
One of the most surprising things to me about SeaWorld San Antonio was how good the rides were. You don't expect a park dedicated to sea animals to have good coasters, but it really does. And I know roller coasters! 
The newest of their coasters, Wave Breaker: The Rescue Coaster, actually just opened for this season and while it may not be the most thrilling of their three coasters – it has the best story. It's a jet-ski coaster and you start the ride by being told that you're on a mission to rescue sea animals who are in need of help then you blast off on your rescue mission. You don't do much with the rescue mission other than the introduction, but it's still a fun way to reinforce SeaWorld's active involvement in animal rescue efforts. 
Out of all of the SeaWorld rides, make sure not to miss these ones: 
Wave Breaker: The Rescue Coaster (mentioned above)

Great White Roller Coaster (my favorite of the three coasters) 

Steel Eel Coaster

Shamu Express (fun mini coaster for the kids) 

SeaWorld Journey to Atlantis (a large boat type log flume that goes forward + backwards, fun!) 

Stingray Falls (at Aquatica – a tube ride in Aquatica with views of stingrays)
And if you're a big fan of raft rides, Rio Loco is fun as well but not on my must-ride list unless it's really hot outside!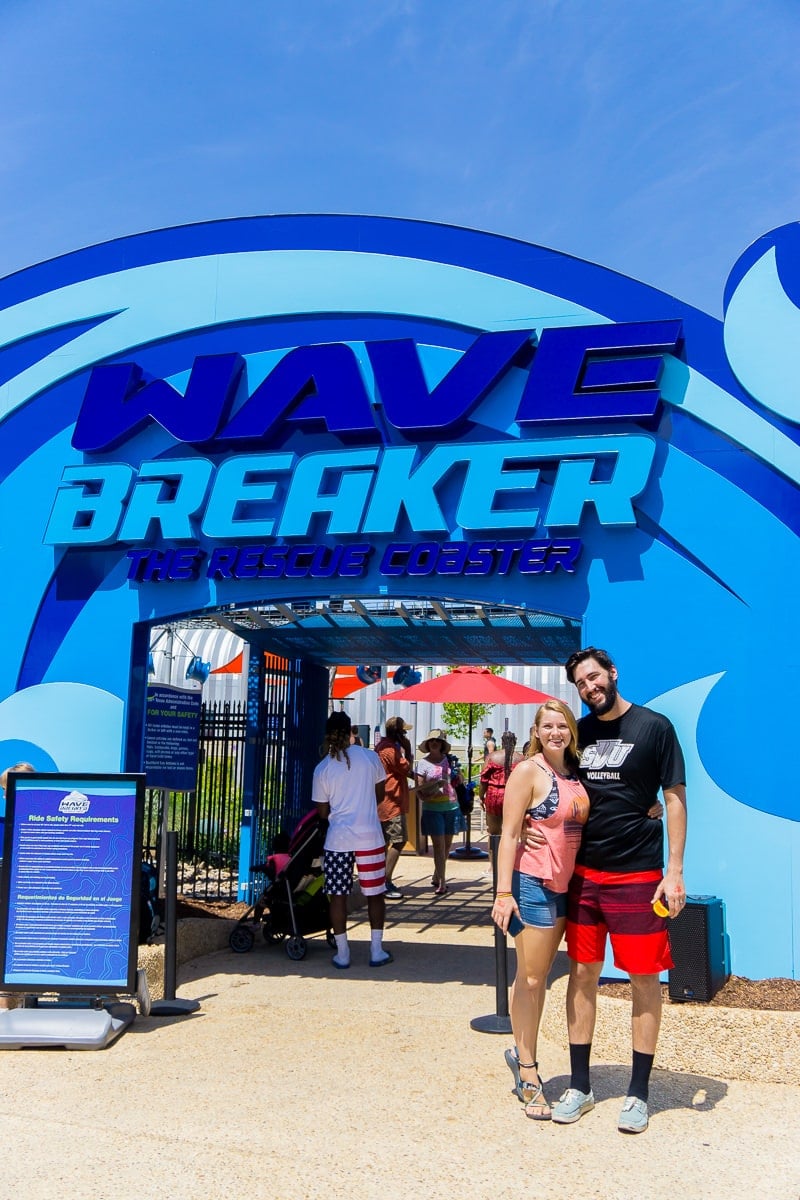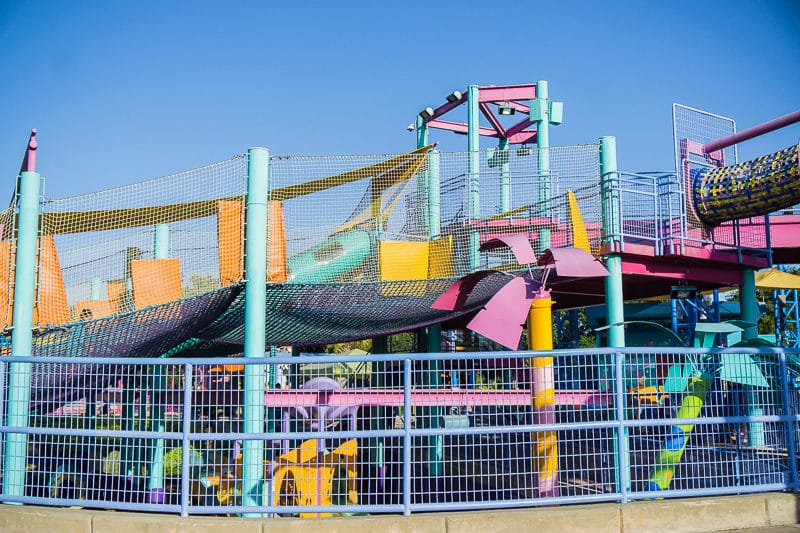 Do At Least One Animal Experience at SeaWorld Texas
SeaWorld's mission has always been focused on education, conservation, research, and entertainment. One of the best ways they support that mission is through animal experiences for all ages at their various parks.
We had the opportunity to meet and interact with dolphins, to do a penguin encounter where we learned about penguins and actually met a penguin, and to get in the water with and feed stingrays (at Aquatica). And even though the shows and rides were amazing, the things that my family will remember from our visit was definitely getting the chance to learn about and interact with these amazing creatures.
Since we had my 4-year-old son, we just did some of the more basic encounters but if your group is old enough, SeaWorld also offers the opportunity to swim with a number of the animals (beluga whales, sea lions, and dolphins) at Discovery Point. It's definitely on our bucket list as soon as my son hits the age minimum. 
Insider Tip – Call SeaWorld San Antonio when you're booking your animal experience because some of the times are not listed on the website, especially if there is only one time a day for the experience. You don't want to accidentally book an experience during something else, so make sure to double-check times before booking!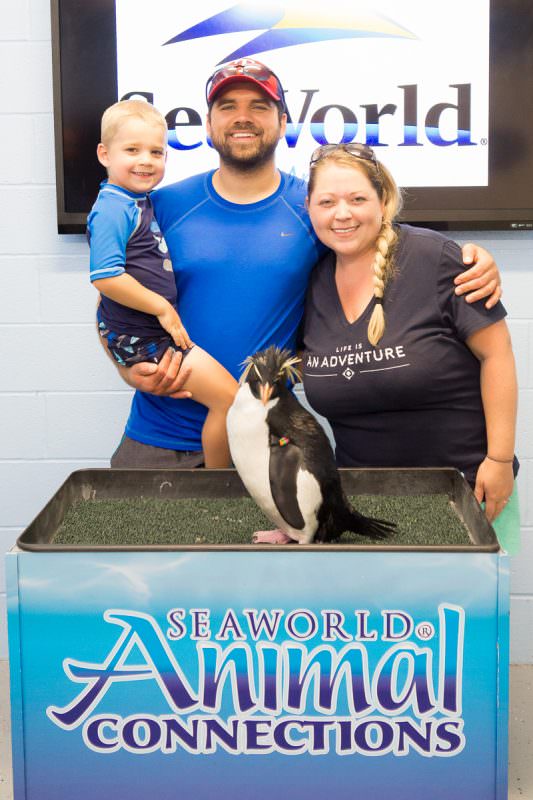 Play Games at SeaWorld Instead of Getting Souvenirs 
SeaWorld San Antonio has one of the best game deals I've ever seen in my life, and I've been to a lot of amusement parks. This may have just been a promotional deal this summer but if it's going on when you go, do it! Basically you pay $20 for a game card and that game card allows you to play every single carnival style game in the park. I asked one of the employees, and she said there were like 25 games in the park. Normally games are like $5 each, so it's again, like the flex ticket, an absolute no-brainer.
The best thing about it is that there are a handful of games in the park that are always win games. We played all of those and went home with bag full of stuffed animals that my son now sleeps with every night. And $20 for a bunch of stuffed animals + getting to play all of the games is a way better deal than buying something like a tube of dolphins or a t-shirt in a gift shop for $20. If you collect something from your trips, then go ahead and enjoy the souvenir shopping, but if not, the game card is the way to go! 


Don't Skip SeaWorld Aquatica
I mentioned it earlier but you can get an affordable flex ticket that gives you unlimited admission to SeaWorld and SeaWorld Aquatica. Definitely take advantage of the flex pass and plan at least a couple of hours, or even an entire day, at SeaWorld Aquatica. With one of my favorite rides (Stringray Falls) between either park, a great splash zone for kids, a handful of really fun slides, and more – SeaWorld Aquatica is definitely worth the visit!
Don't forget to pin these SeaWorld San Antonio TX tips for later!