When you find out how to make a diaper cake and see how easy it really is, you'll be addicted. Diaper cakes are one of the cutest additions to any baby shower and perfect for not only a gift but a great decoration! So let's go, time to learn how to make a DIY diaper cake in just a few easy steps!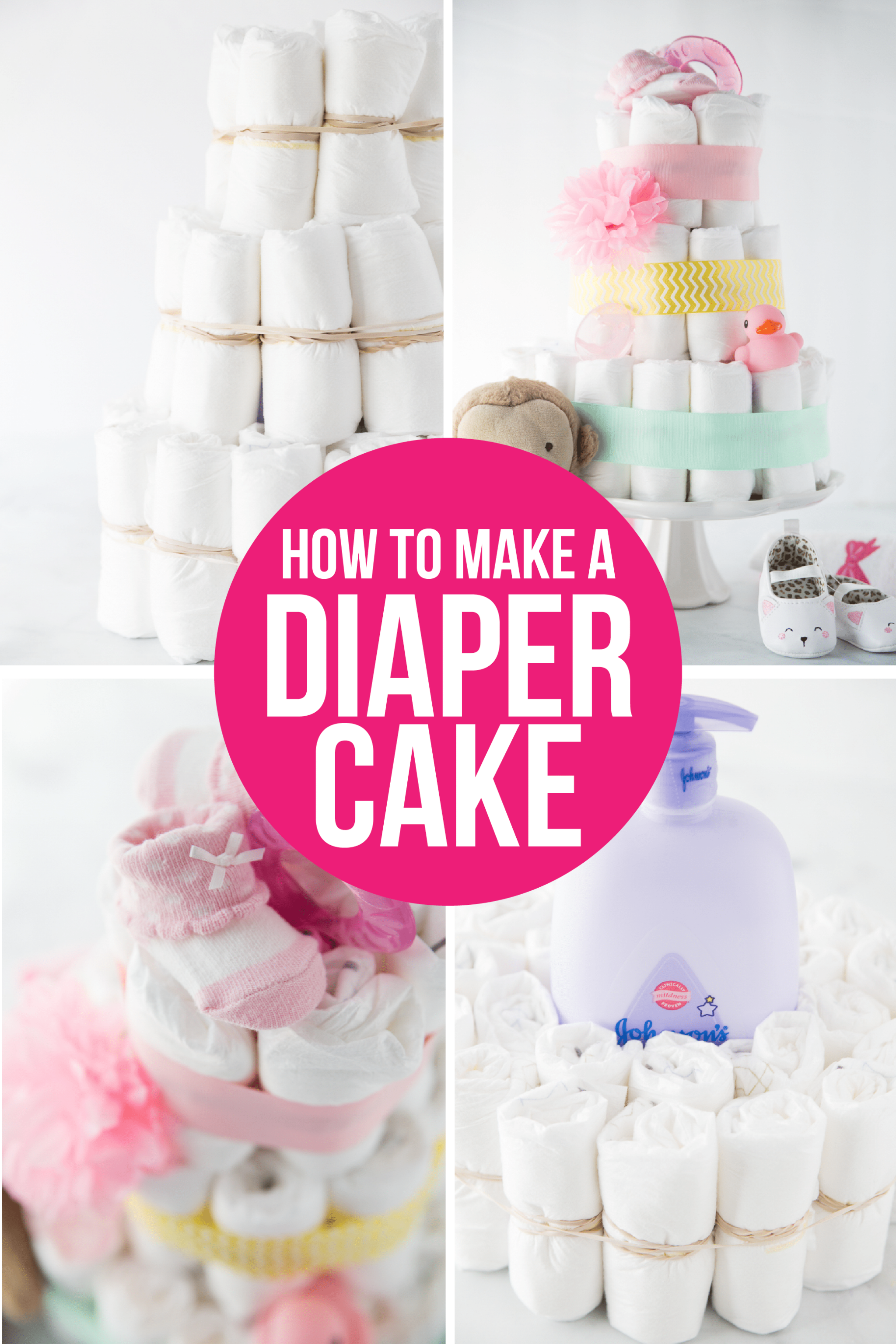 Why Make A Diaper Cake?
If you're reading this post, you probably already know that a diaper cake is a non-edible cake made out of diapers and other baby items. It's typically used in lieu of a real cake at a baby shower and doubles as a baby shower decoration and a gift for the mom-to-be! And that's one of the main reasons to make a diaper cake – it's a great baby shower centerpiece and a cute gift!
Diaper cakes always used to intimidate me until I realized how simple they are to make! Here's a quick and easy diaper cake tutorial – only three steps to a beautiful diaper cake! Making a diaper cake only took less than an hour, so it really is easy!
How to Make a Diaper Cake: Supplies
Before you get started, make sure you have all of your supplies. You don't want to get to the second layer and realize that you don't have everything you need because it'll make it 10x harder to finish! I've also included details on exactly how many diapers for a diaper cake because I've been that person who buys a box of diapers only to realize there weren't enough inside!
What to Buy for a Diaper Cake:
How Much Does a Diaper Cake Cost?
If you want to know how much a diaper cake costs, price out the items in the supply list above! The price will depend on the size of diapers you use (I used newborn), how many embellishments you get, and the items in the middle. So the cost of a diaper cake can really be whatever you want it to be, other than free!
How to Make a Diaper Cake Instructions
The first thing you need to do is roll up each of your diapers and secure with a small rubber band. Repeat this until all of your diapers are rolled and secured!
If your rubber bands are a little loose, I recommend wrapping the rubber band around twice.
Once your diapers are all rolled, place your tall object in the center of the cake stand and make a ring around it with the rolled diapers.
Once it's completely covered in diapers, place a large rubber band around the ring of diapers to create your base layer.
Repeat and make another ring around the first ring of diapers, this will give you that nice thick bottom layer of the cake.
After your bottom layer is secure, repeat with a second and third layer – the only difference is that this time you are only going to do one ring, not two for each layer.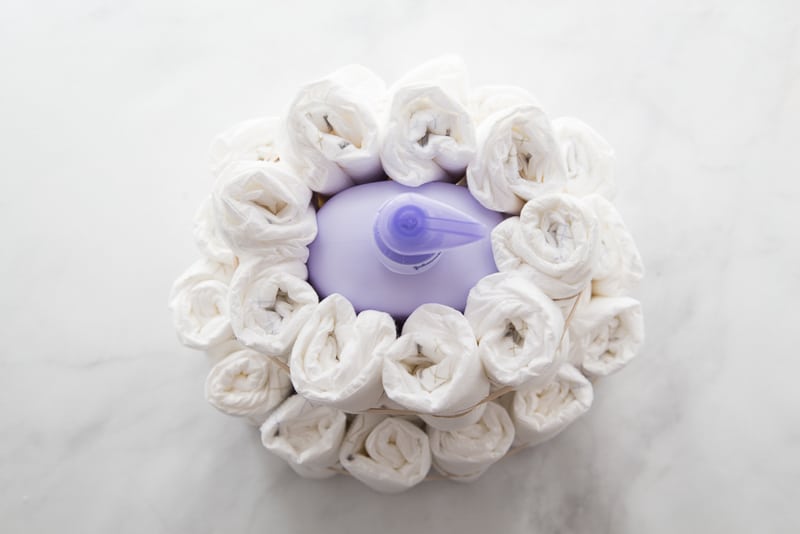 How to Make A Diaper Cake – Wrapping Your Cake
There are a lot of different things you can wrap your cake in, but my favorite is big thick ribbon. I think it looks the most like a regular cake! You could also use fabric or lace or really whatever you want to wrap it, just make sure it'll wrap nice and tight.
To wrap your cake, simply start on one side of the cake (preferably whatever will be the back), wrap around, then secure with either tape or a straight pin. I prefer the straight pin for looks.
How to Make A Diaper Cake – Decorating the Cake
One of the most fun parts of a DIY diaper cake is decorating the cake! Choosing how to decorate the diaper cake is totally up to you and can match your theme, your color scheme, the baby's nursery, or really any decoration scheme you want!
The idea is simply to decorate the cake with little toys, baby booties, and useful items (like wash cloths) that the mom-to-be can use with the baby. And of course anything that will make the cake look cute!
One of my favorite things to do is to roll up wash cloths, socks, etc. and tuck them into the rolls of diapers so you can't actually see them just by looking at the cake. I know it seems counterintuitive since the cake is supposed to be a decoration, but it's a really fun for the mom-to-be to pull out those surprises when she's taking the cake apart to keep the parts after the baby shower! Almost as fun as these
hilarious baby shower games
, almost.
And there you go – the cutest DIY diaper cake! Hope this diaper cake tutorial helped you figure out how to make a diaper cake on your own. It's so much simpler than it seems and a great way to add a themed and personal touch to any baby shower no matter which of these baby shower themes you pick!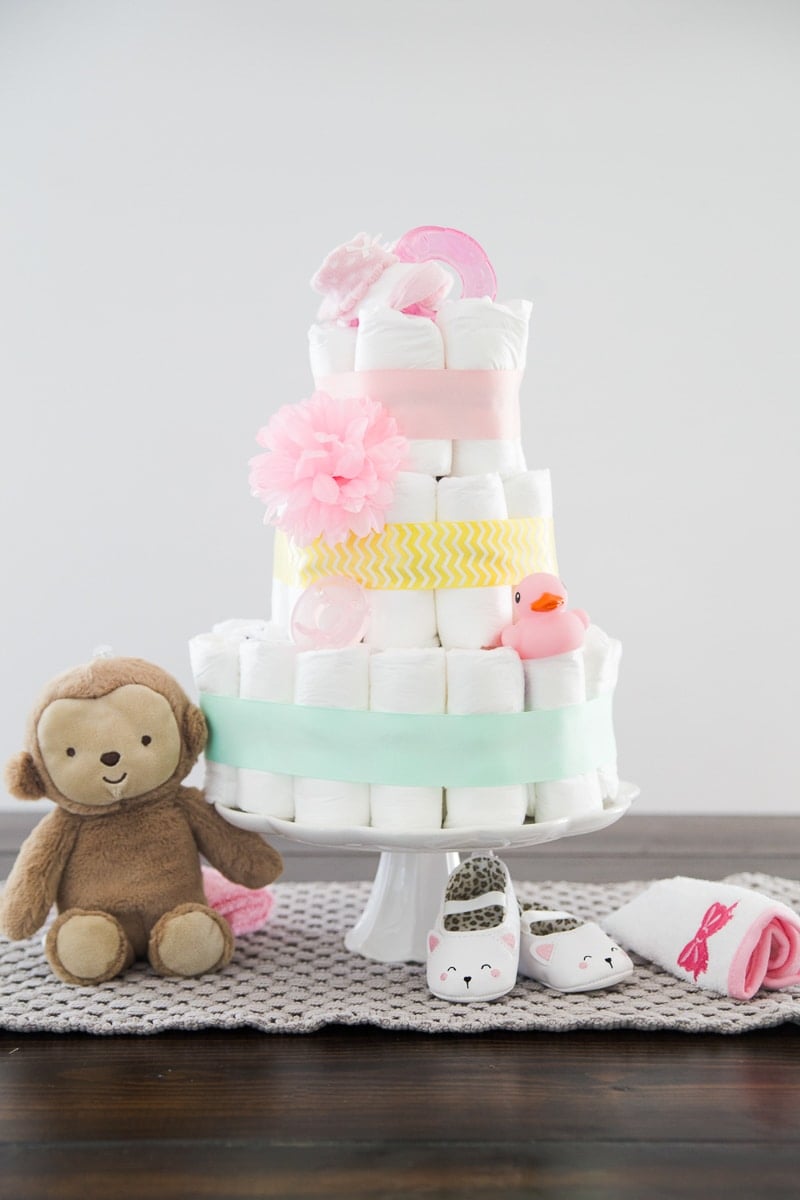 How to Make a Diaper Cake Video
Watch this fun diaper cake tutorial video to see just how quick and easy this process really is!
Where to Buy a Diaper Cake?
If your attempts at making a diaper cake fail, you can always just buy one from the experts. Or skip trying making a diaper cake and just buy one in advance. These are some of my absolute favorites, so cute!