Looking for the best food at Disneyland? Look no further! This is the ultimate list of what to eat at Disneyland! With everything from churros to the most amazing raspberry rose macaron, Disneyland food is not to be missed!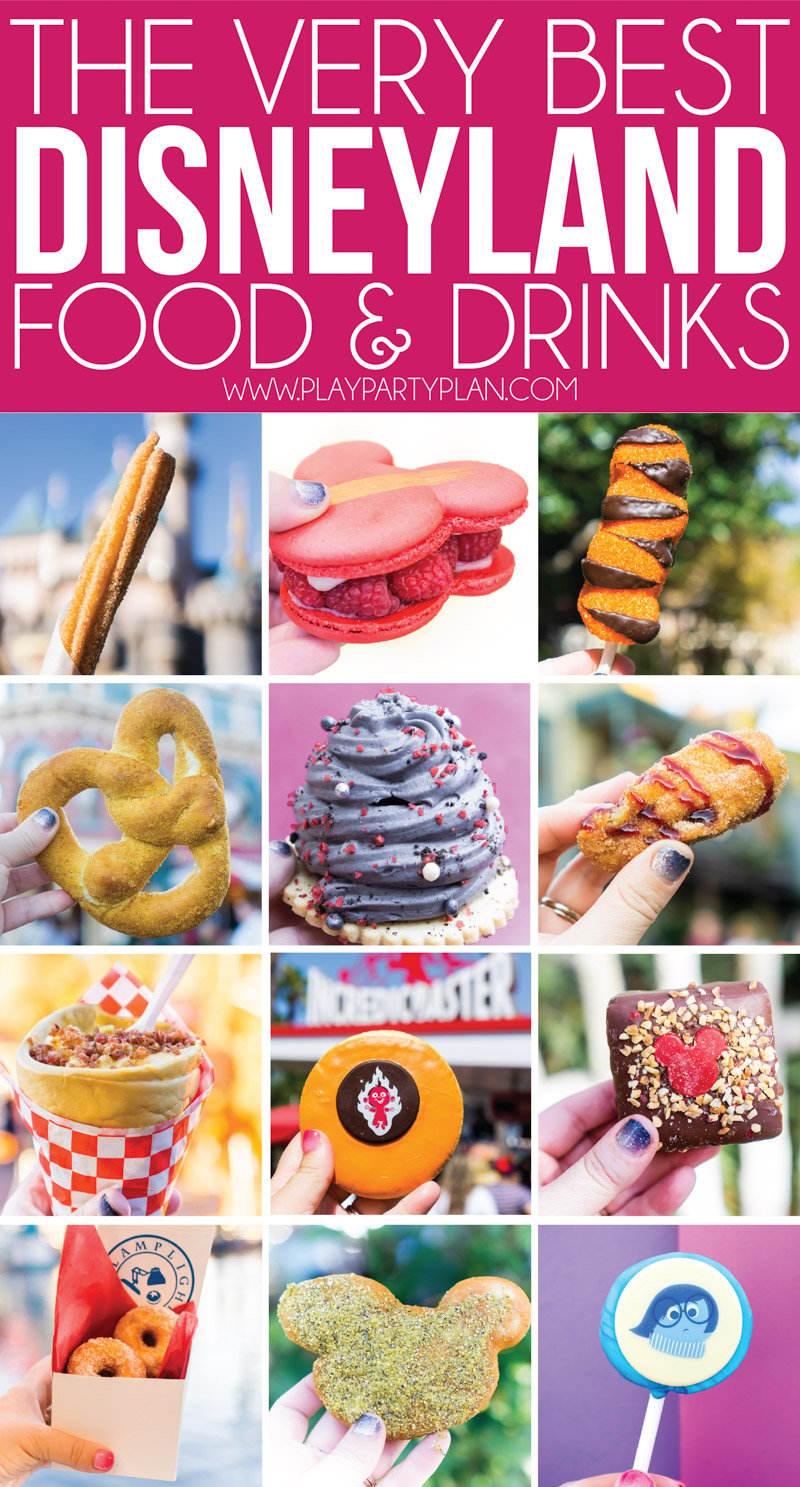 This post contains affiliate links to products I recommend. If you purchase via my links, I will receive a small commission at no additional cost to you. I received two free one-day park hopper tickets to Disneyland for my husband and son to join me on this journey to find the best food at Disneyland. 
Disneyland Food: The List You Have to Try
If you only have a small budget or a short amount of time, here are the things you have to try during your next visit to Disneyland and Disneyland's California Adventure Park.
These are things that are unique to Disneyland or maybe not unique but so good at Disneyland that you have to try them. You've never think a corndog would make a best food at Disneyland list unless you've tried Disneyland corndogs and then you understand.
And there's only one item (Dole Whip) on the list that also falls on my best Disney World snacks list, so even if you're a Walt Disney World veteran, these may be new to you as well!
Check out the video below to see my top eats!
Once you've made sure to try all of these things, then it's time to start branching out and trying the other things on this Disneyland food list!
And this is just a quick list, keep reading the post to find out why these made my top 15 list! And to see the full list of Disneyland food items to try!
Hand-dipped corn dog from The Red Wagon in Disneyland or Corn Dog Castle in California Adventure (get a great copycat recipe to remake these at home)
Churros from any of the many churro carts throughout both parks (see section below with more information about all the churros available)
Raspberry rose macaron from Jolly Holiday Bakery in Disneyland
Bacon mac and cheese cone from the Cozy Cone Motel in California Adventure
Dole Whip or a Dole Whip Float at the Tiki Juice Bar in Disneyland
Chili lime corn on the cob from various vendors around both parks
Mickey Beignets (make sure to try the seasonal ones!) from the Mint Julep Bar in Disneyland (make at home with this copycat recipe)
Gourmet Donuts from the coffee cart closet to the castle in Disneyland
Coconut Matterhorn Macaroon from Jolly Holiday Bakery in Disneyland (make at home with this copycat recipe)
Something with the Grey Stuff whether it be a twist, dipping sauce, or the Gateau from Red Rose Tavern in Disneyland
Tigger Tail from Pooh's Corner in Disneyland
Memory Refresher at Bing Bong's Sweet Stuff in California Adventure
Jack Jack's Cookie Num Num from in California Adventure (get a copycat recipe here!)
Mini Donuts from Lamplight Lounge in California Adventure
It's Lemon Soft Serve from Adorable Snowman's Frozen Treats in California Adventure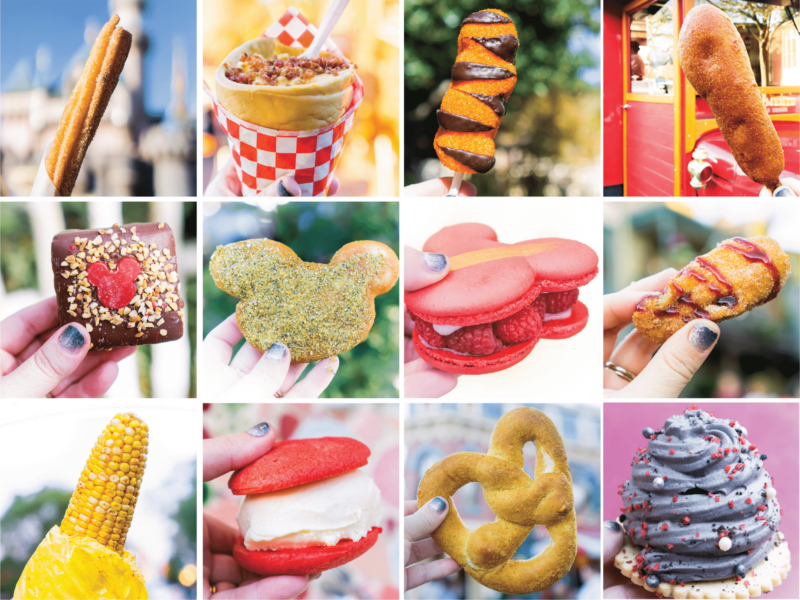 The Ultimate List of Disneyland Food Options
Now that we've gotten the best of the best list out of the way, here comes the full list of the best food at Disneyland!
My family has been to Disneyland twice this year and during our trips,  I made it my mission to try every single snack, sweet, and non-alcoholic speciality drink there was to try including all the brand new goodies at Pixar Pier. And we did do one Disney character breakfast while we were there, but that's a post for another day!
My husband was kind enough to take care of nap time while we were there so I was free to just roam around the two parks doing what I do best – eating! And after three full nap times of walking from restaurant to restaurant, I managed to try pretty much everything I could find. And that was a lot!
Luckily my family likes leftovers and helped me out with a bit of the eating. I managed all of the drinking myself, I'm a little bit of a sucker for mocktails and speciality drinks. And p.s., those are not included in this list, they're going to get a post all their own because Disneyland has some really fun drink options that deserve some attention including an amazing mocktail menu at the new Lamplight Lounge.
As with any list of food, these are my opinions on what's the best. You could ask 10 different people and get 10 different answers, but I'll try my best to give it to you straight so you can make a decision on what's worth your money. And make sure to read all the way to the end of a printable checklist of things to eat including where to find them in the parks!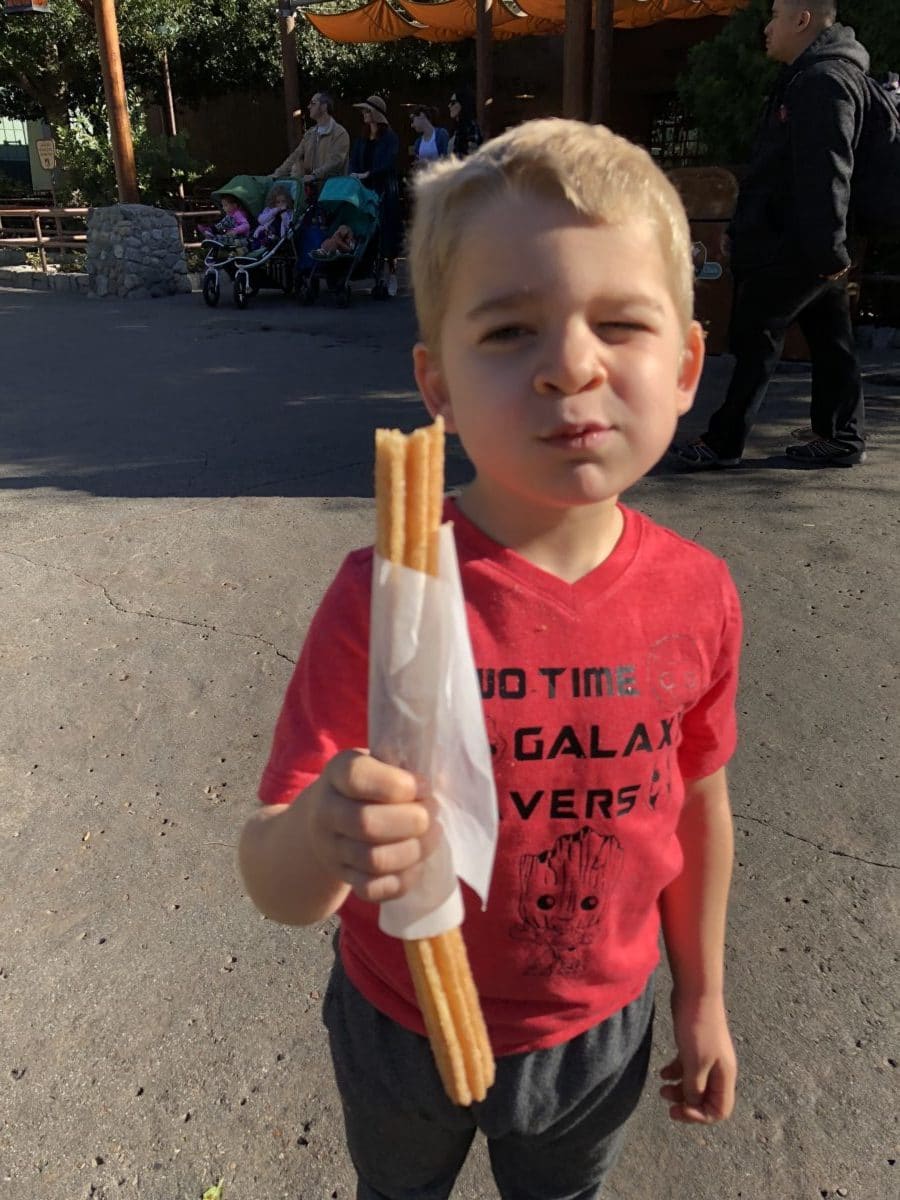 Disneyland Food Cost
While we're on the subject of money, let's talk about the cost of Disneyland food. I focused on Disneyland snacks and sweets, not meals, so almost all of these items will cost you between $4-$6, less if you have an annual pass and a discount is provided. There are a couple that are a bit more expensive but those "snacks" are really more like meals. Those include the corn dogs, Plaza Inn fried chicken, the bacon mac and cheese cone, and the stuffed potato. Everything else on my list was under $6, which isn't bad considering most of these are a pretty good size!
The food can add up if you're like me and want to try everything, so I recommend you try to save as much money on tickets as possible so you can eat all the things!
Disneyland is always announcing increases in ticket prices, especially with Star Wars: Galaxy's Edge this summer so if you're looking for the best prices on tickets, I highly recommend buying tickets through Get Away Today.
They do all sorts of deals and sales including the most recent one below. Buy tickets from Get Away Today here.
A Guide to Disneyland Food
Let's start it off with the food you'll find in Disneyland Park then we'll move on to California Adventure. I've broken this out by section of the park starting on Main Street U.S.A, then moving around clockwise ending in Tomorrowland. This by no means is intended to be an eating plan, just a break down to tell you where the snacks and sweets are in the park!
Disneyland Food: Main Street, U.S.A.
Main Street is comprised of a bunch of restaurants, shops, and the walkway leading up to the castle in the middle of the park. It's also the site of some great sweets and larger snack options for when you get hungry for a real meal!
Hand Dipped Corn Dogs from the Little Red Wagon
I can't even begin to describe these corn dogs. People told me they were amazing, but I still didn't expect a hot dog dipped in mounds and mounds of the most delicious corn bread. I'm pretty sure I had two full corn dogs worth of corn bread on my first one with a hot dog tucked somewhere in side. You could probably share one but don't, you won't want to let it go.
Even if you're not a fan of corn dogs, you need to try these. They're nothing like the reheated carnival ones that have been sitting out waiting to be ordered for who knows how long. These are what corn dogs are supposed to be. You can also get these at the Corn Dog Castle in California Adventure, but I prefer the simplicity of the Little Red Wagon!
And if you're craving corn dogs when you leave (I promise you will be), you can make your own version with this copycat recipe at home!
One hint – if you are craving the cornbread (the best part of the corndog) but don't want a hot dog. Corn Dog Castle also offers a cheese stick option, which is literally a corndog that has a cheddar cheese stick in the middle instead of a hot dog. It's rich but amazing.
Coconut Matterhorn Macaroon from Jolly Holiday Bakery Cafe
It's shaped like the Matterhorn ride, it's soft, and it's delicious assuming you like coconut. If you don't, skip it and go with the raspberry rose macaron instead. The matterhorn macaroon is a macaroon done right – crunchy on the outside and soft and chewy on the inside.
Make it at home with this copycat recipe!
Raspberry Rose Macaron from Jolly Holiday Bakery Cafe
Not to be confused with the coconut macaroon mentioned above, this is a play on the French macarons, and a delicious one at that. Out of all of the treats we tried during our visit, the raspberry rose macaron was our favorite. Two raspberry Mickey shaped macarons are sandwiched with fresh raspberries and a raspberry flavored filling.
We got three of these during our visit, and they were just as good every time. I just wish they offered these at Walt Disney World too!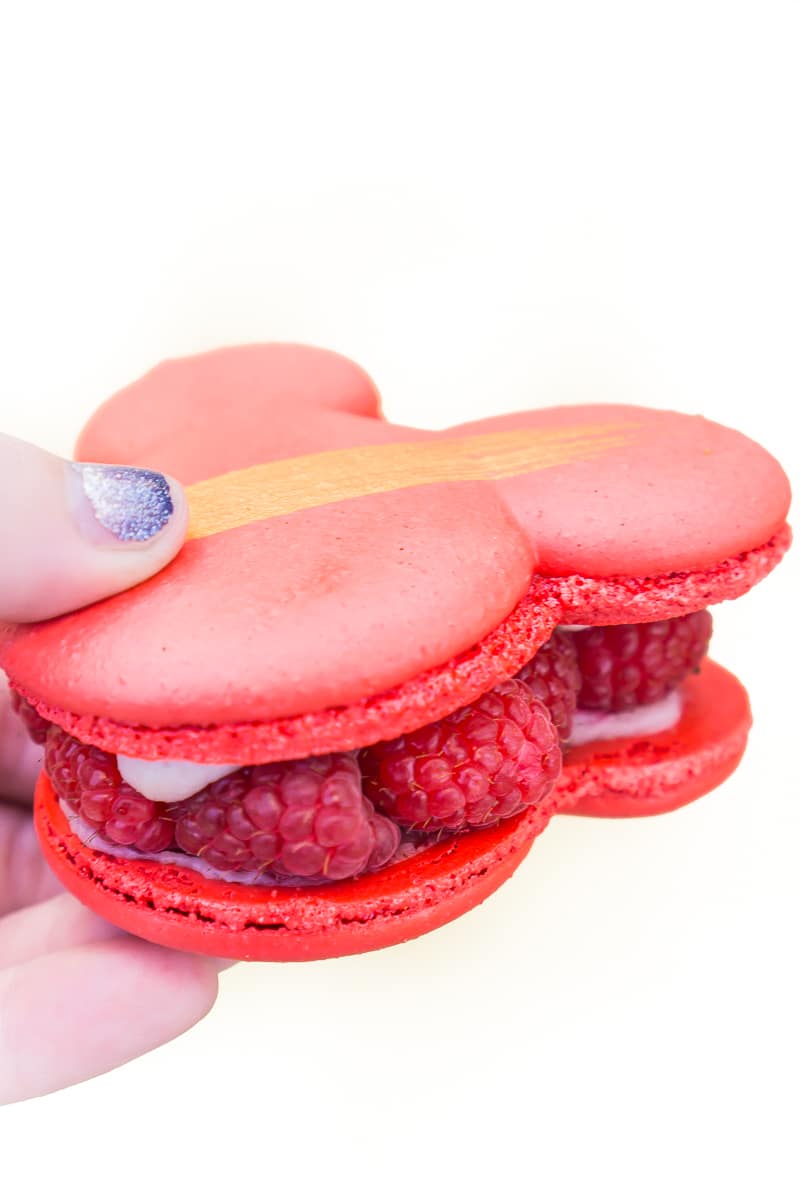 Toasted Cheese from the Jolly Holiday Bakery & Cafe
If you thought we were done with the Jolly Holiday, you were wrong. If you're craving something crunchy and savory, the toasted cheese is a great go-to option. They somehow manage to keep the cheese ooey goeey while keeping the bread nice and crunchy. Pair it with their tomato soup for a quick lunch or just eat the toasted cheese as a filling snack.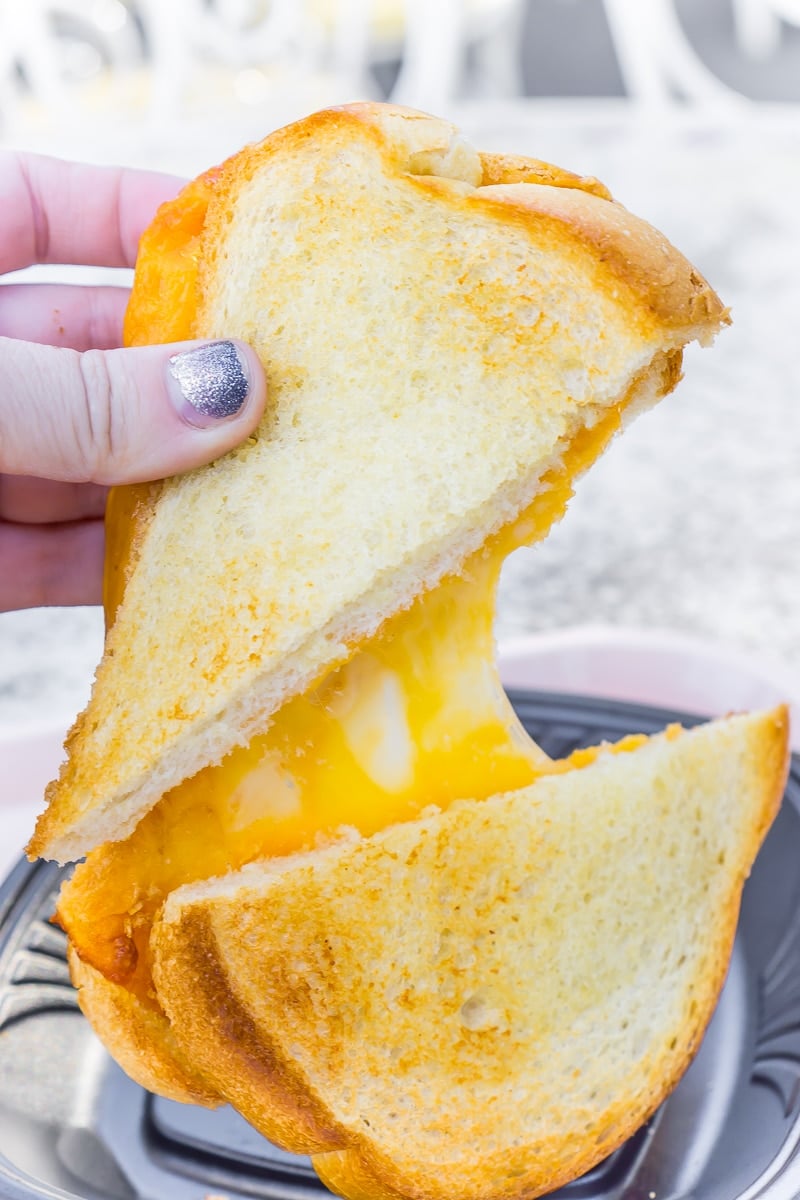 Fried Chicken from The Plaza Inn
On the other side of Main Street U.S.A. is the iconic Plaza Inn. In the mornings they do one of the most fun character breakfasts we've ever been to but for lunch and dinner, they serve up infamous fried chicken and mashed potatoes. I know this doesn't sound like a snack and it's not if you order a full meal. But here's the secret – go in and order a kids meal. You get one piece of chicken, mashed potatoes, and veggies (or a biscuit) for under $7. It's a great way to sample fried chicken worthy of its cult following .
I personally didn't care for the mashed potatoes (I think the gravy had an oniony flavor) but the fried chicken was spot on. How they keep it crispy and delicious while sitting under a buffet style warmer is beyond me.
You can also get fried chicken wings at the brand new Poultry Palace in Pixar Pier but the skin isn't nearly as crispy as at Plaza Inn.
Cream Cheese Filled Pretzel at Corner Cafe
Forget a standard Mickey Pretzel (or just get both!) and try a filled pretzel instead. I really enjoyed the cream cheese filled one, but I've also heard good things about the jalapeno one if you like spice. Order at the counter and grab a table in the cafe. Who knows, you may be lucky enough to see a little Mad Tea Party happening between the Mad Hatter and Alice while you're there!
Gourmet Donuts from the Coffee Cart
If you want to try these, you need to get there early. They serve different gourmet donuts every day and they only sell them until they're gone. The first day I tried to get some during the afternoon, and they were totally gone. I don't remember the other flavors they had the morning we got some but the chocolate topped with caramel dipped potato chips donut I got was fantastic. I wish I'd been smart enough to go every morning to try out their other options.
Disneyland Churros Everywhere
You'll first notice the churro craze when you walk down Main Street toward the castle. And once you've tried your first Disneyland churro, you'll be happy to see them on pretty much every corner in both parks. Like the corn dogs, Disneyland churros are in a different league than other churros. They serve so many of them that they're almost always hot, fresh, so yummy. And easily one of the best Disneyland food items, or at least most iconic.
One of my favorite moments from our trip was when I asked my 4-year-old if he wanted a churro and he said no. I ordered one for myself and had him hold it to take a picture. He took one bite and never gave it back.
Right now there are a ton of different churro options for Pixar Fest. I'm not sure how long they're going to stay but if you're there during Pixar Fest, the Pixar Fest churros are Disneyland snacks you have to try!
Disneyland Food in Adventureland
Just around to the right of Main Street is Adventureland where you'll find Jungle Cruise, Indiana Jones, Tarzan's Treehouse, and a couple of our family's favorite snack options!
Skewers at Bengal Barbecue
This is one of the very few healthy options on this list and luckily it's a great one. Bengal Barbecue serves up all sorts of skewer options from a standard chicken one to a more exotic pork belly option. The sauce on the pork belly was delicious but ours was actually a bit dry, so I preferred the chicken. But if pork belly is your thing, then by all means go for it!
The real star of the skewers for me was the bacon wrapped asparagus option. The bacon was crispy, the asparagus perfectly cooked, and the flavor was delicious. After stuffing my face with carbs and sweets all day, I could've eaten a couple of the asparagus ones. Another standout from Bengal Barbecue were the egg rolls, just know the seafood inside is raw.
If you're in the mood for another healthy snack, you can pick up a Mini Babybel Cheese from a refreshment stand throughout the two parks as well as part of their new partnership with Disney this year!
Tiger Tail at Bengal Barbecue
Okay, this isn't necessarily a must-try but they're good. It's basically like a cheddar garlic breadstick that's been curved to mimic a tiger's tail, not to be confused with the Tigger Tails at Pooh's Corner. They're soft, flavorful, and a good companion to the previously mentioned skewers.
Dole Whip or Dole Whip Float at the Tiki Juice Bar
If you haven't heard about Dole Whips by now, you probably haven't looked at anything Disney in the past ten years. Dole Whips are basically pineapple soft serve that can be serve with pineapple juice or without. They are absolutely delicious and deserving of the crazy following they have from people across the world.
The only problem is that because everyone loves them, there was a huge line at the Tiki Juice Bar on two of the three days we were there. I finally sent my family on a ride while I stood in line because I had to have my Dole Whip. They are also available inside the Tiki Room, but I couldn't figure out when or how to get them there without actually going to the show. If you figure it out, let me know. If you want a Dole Whip, try to get one early or late at night when the line isn't quite so long.
Oh and don't miss out on the "Dole Whip donut," one of the gourmet donut options at the donut cart I mentioned in the Main Street USA section!
Disneyland Food in New Orleans Square
New Orleans Square was one of my favorite parts of Disneyland because of the fun theming and great food. I wish we'd had the chance to spend more time there but with only two real rides (Haunted Mansion and Pirates of the Caribbean), we were in an out with our food way too fast. The food is if you couldn't guess, New Orleans themed, and delicious.
Mickey Beignets at the Mint Julep Bar (or Cafe Orleans)
Out of all of the foods on my need to try while I'm at Disneyland list, I was the most excited about the beignets. They were yummy but kind of a let down because I was expecting something more like the ones you get on the Disney Wonder in Tiana's Place or at Port Orleans at Walt Disney World Resort.
Those ones just seemed a bit airier and crisp than the ones from Mint Julep Bar. The Disneyland ones were flatter and seemed a bit more like just eating sweet bread, not fried sweet bread.
That being said, they're still good and a must-try when you're at Disneyland. I highly recommend getting a mixed bag with at least one regular powdered sugar variety and whatever the seasonal option is.
They were serving Mardi Gras ones during our visit that were covered in a mixture of blackberry and lemon sugars, and we all three preferred those to the traditional. They come in bags of 3 or 6 and can be all one flavor or traditional. And rumor has it they come with a dipping sauce at Cafe Orleans if you want to sit down and eat.
Want to make your own at home? Check out this awesome copycat recipe here.
Fritters at the Royal Street Veranda
First things first, these are banana fritters. I had no idea until they ordered them and the Disney cast member told me they were banana before I paid. I love bananas so that's not a problem but if you don't, skip these.
They're basically bananas coated in deliciousness and deep fried to perfection. They're there drizzled with a raspberry sauce that compliments the sweet coating.
Each order comes with three fritters and while you could share, you probably won't want to. This was one of the dishes that I had a hard time handing over to my family to finish.
The Best Disneyland Food in Critter Country
I'm not sure if it's because it's way out of the way of the rest of the park or what but Critter Country was pretty much dead when we visited. We could've walked on and off the Winnie the Pooh ride ten times in a row if we wanted to. While the rides in Critter Country aren't amazing, Pooh's Corner is worth the walk to this far side of the park.
Tigger Tail at Pooh's Corner
I've seen and and eaten a lot of dipped marshmallows in my days. None of them compare to the Tigger Tail for one reason – the Tigger Tail adds a sweet honey type layer between the marshmallow and the coating. That alone made the Tigger Tail the best covered marshmallow I've ever tried. Not to mention it's cute too!
Hunny Pot at Pooh's Corner
Okay, I'll be honest – this one is mostly just because this rice krispy treat decorated like a honey pot is cute. But it is delicious as well like any rice krispy treat dipped in chocolate should be. I'm actually going to be doing an at-home version of this one soon so make sure to check back!
Other Bakery Items at Pooh's Corner 
While you're there, you might as well grab a couple of other treats for the road. Three other standouts we tried during our visit were the s'mores bar (so good!), peanut butter bar, and the snickerdoodle cookies. If you're not a snickerdoodle fan, I've heard great things about all of the homemade cookies at Disneyland so choose your favorite.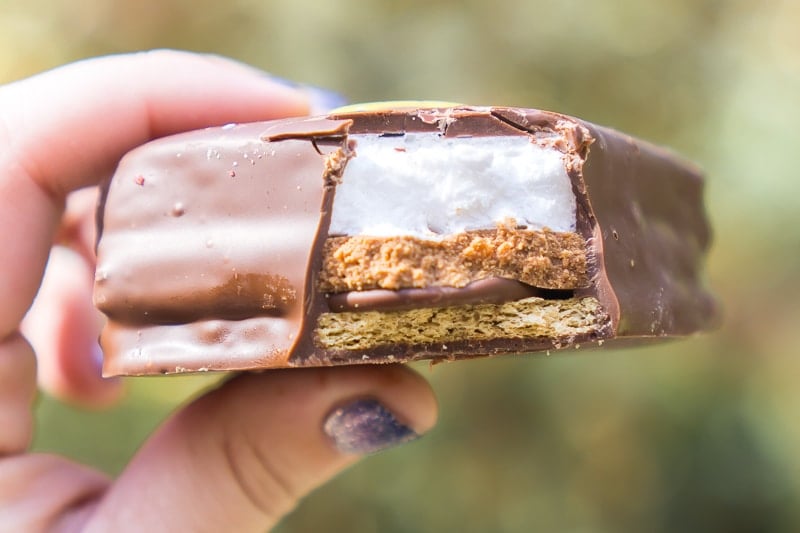 Best Disneyland Food in Fantasyland
Next up, we're heading to Fantasyland! There are a couple of main eating options as well as plenty of snack carts to grab the standard popcorn, turkey legs, Mickey pretzels, and of course – churros!
Twists at Maurice's Treats
Maurice's Treats is hidden in a little section right by the Royal Hall and easy to miss if you don't have princesses interested in the Royal Hall. And you don't want to miss it. Maurice's offers sweet and savory twists that are both filling and delicious. I went with the cheddar garlic twist because I'd been sugared out by this point, but you can also get a strawberry or a grey stuff option as well.
They also offer dipping sauces for the twists in similar flavors – strawberry, grey stuff, and marinara. A cast member told me that the grey stuff options are basically like an Oreo flavored option. That's what I'll be going for next time around although the cheddar garlic bagel twist was one of my favorite bites of our trip!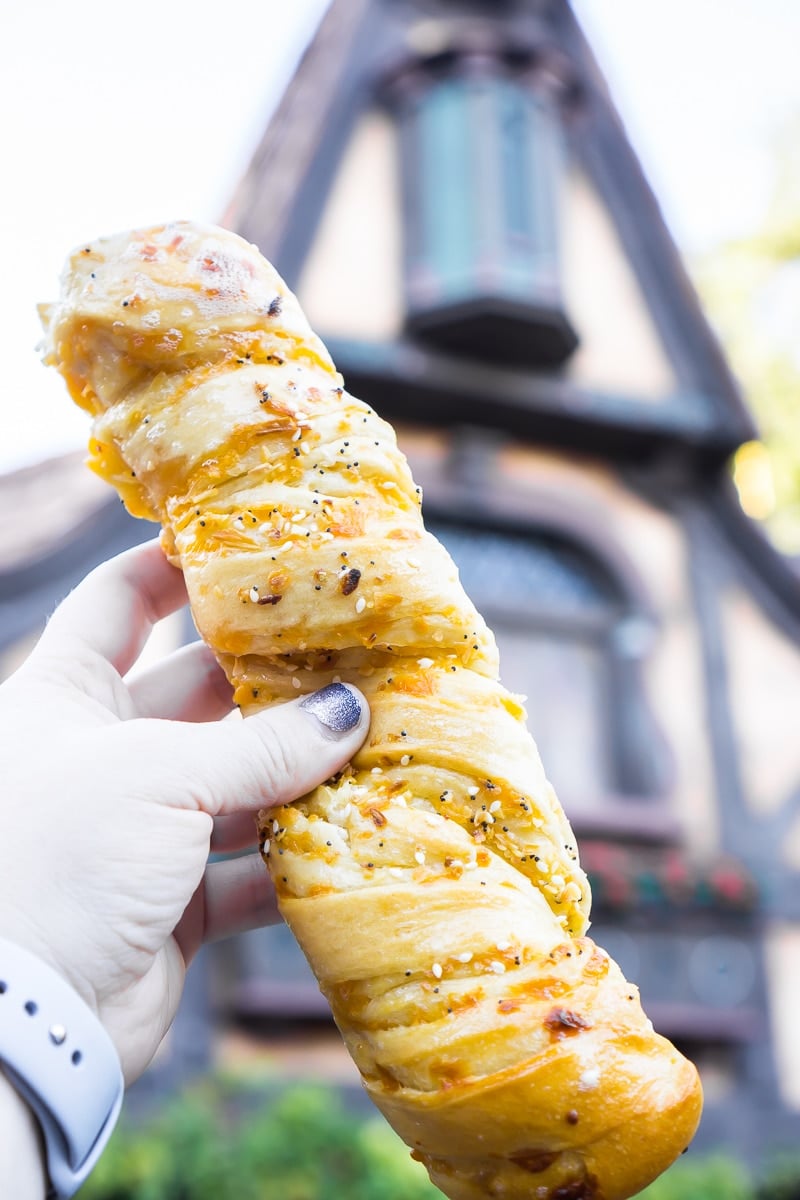 Stuffed Potatoes from Troubadour Tavern
This is one of those snacks that is really a full meal. Troubadour Tavern is right by the theater that shows Mickey's Magical Map and perfect for grabbing a snack and enjoying the show. I'll be honest, I was expecting something different based on these being called stuffed potatoes. In reality, they're just baked potatoes loaded up with toppings on top. Still a good option that I thoroughly enjoyed but not as unique as I was hoping.
I opted for the broccoli cheese potato but they also offer one loaded up with sour cream, bacon, and chives if that sounds better to you. My broccoli cheese version was yummy, although a bit skimpy on the broccoli.
Grey Stuff Gateau from Red Rose Tavern
The Red Rose Tavern offers two different desserts – a lemon rose cake and the grey stuff gateau. If you read the description on the menu, the lemon rose cake sounds much better. It's not. It was actually really weird with a kind of gooey layer inside that I didn't care for.
Opt for the grey stuff gateau instead, which is basically like an Oreo mousse (frosting) on top of a sugar cookie of sorts. That's a really simple explanation, just know that if you like Oreo flavoring and the texture of frosting, you'll probably like this as well!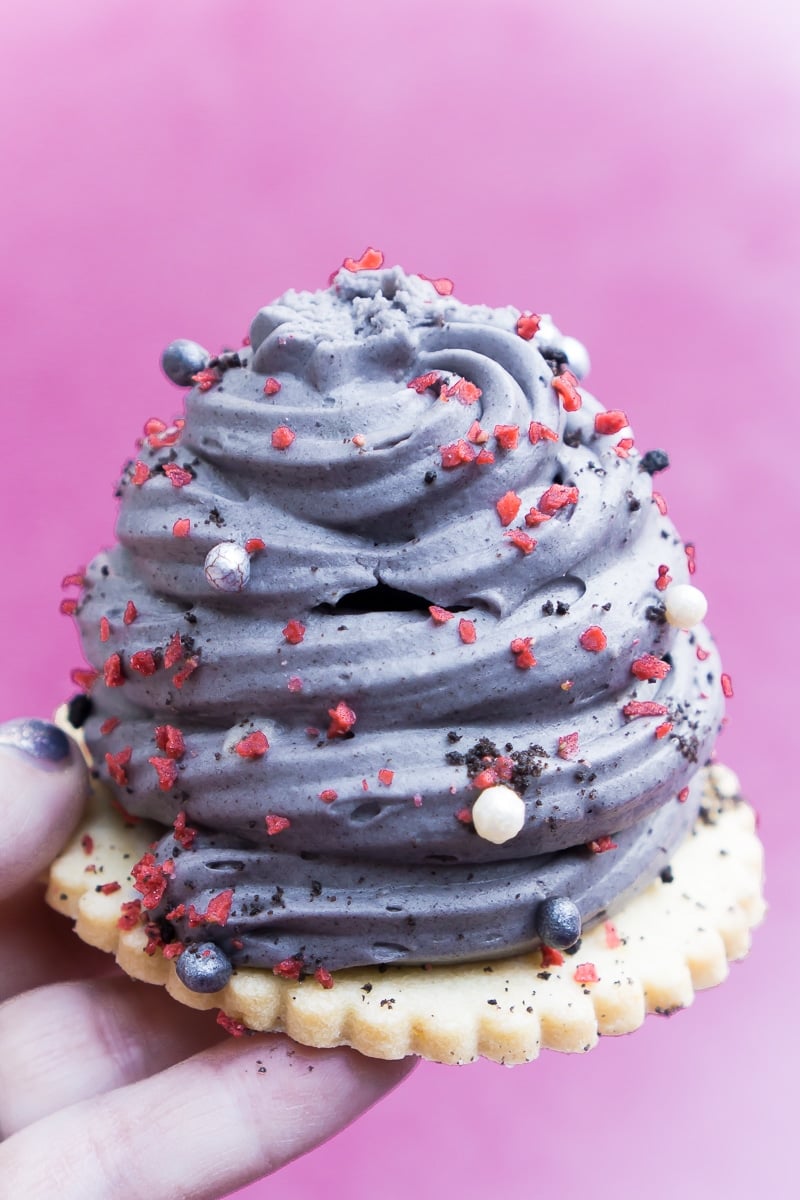 Disneyland Food to Try in Tomorrowland
We're ending our Disneyland food guide in Tomorrowland and to be honest, you could probably skip this one. But I wanted to add something on here in Tomorrowland in case you find yourself in Tomorrowland and in need of a sweet treat or snack!
Mickey Seasonal Parfait at Galactic Grill
The Galactic Grill offers different flavored parfaits throughout the year. I had the chocolate, which was just okay but a little rich for me. If it's the chocolate and you're a huge chocolate fan, go for it. If you're not, skip the parfait and walk the 100 yards to get something to eat on Main Street instead.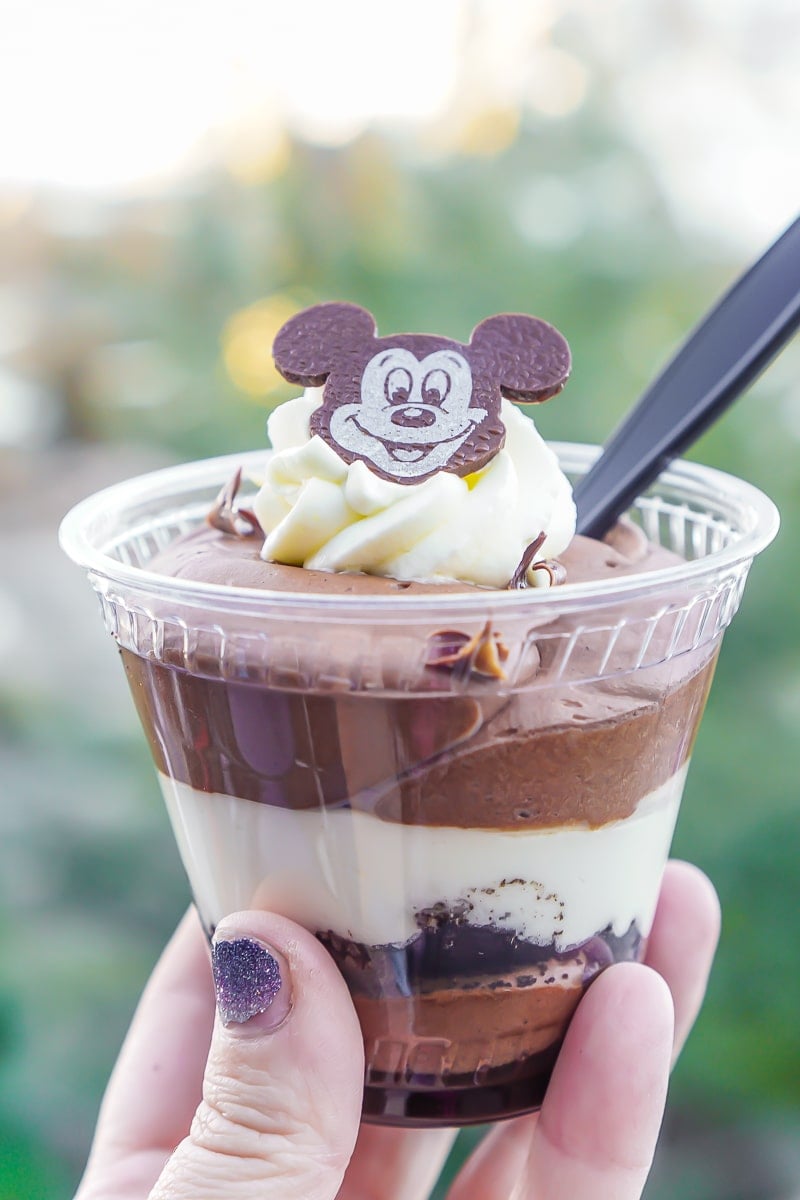 A Guide to Disney California Adventure Food
If I was writing about Walt Disney World food, I would likely put this section into another post. But here's the thing, the two Disneyland parks are so close that most people do both parks in one day, especially if they're using the new MaxPass options! So I want to include them both in one post, the ultimate guide to Disneyland food! That way you don't have to hop back and forth between posts as you're planning out what to eat at Disneyland.
Because Disney California Adventure is so much smaller than Disneyland, this section is also smaller. And when we were there, Paradise Pier was under construction on its way to becoming Pixar Pier so there may be things missing from this list. As soon as I get back once Pixar Pier is open, I'll make sure to add updates to my post!
Disneyland Food to Try on Buena Vista Street
When you first walk into Disney California Adventure, you walk onto Buena Vista Street. It's filled with cute shops and of course good food. That's where we'll start this walk through since that's where most of you (unless you're coming from the Grand Californian) will start this eating extravaganza anyway!
Hand-Dipped Ice Cream Bars from Clarabelle's
You can get a standard ice cream cone in the Cozy Cone Motel or other places throughout the parks but it's only at Clarabelle's that you can create your very own hand-dipped ice cream cone. Pick your flavor, pick your coating, and pick your toppings!
I went with a vanilla ice cream bar dipped in milk chocolate and covered in the works – all the toppings they offer. I had no idea chocolate sprinkles, regular sprinkles, pop rocks, and chocolate chips could be so good together. I'd opt for this kind of ice cream bar over typical Mickey ones every single time.
Just be forewarned that they put the ice cream bar in a bowl for a reason. The toppings don't necessarily stick to the bar when you pick it up so you'll want to eat it over the bowl or else a lot of your toppings will end up on the ground. Not that I know from experience or anything.
Disneyland Food in Hollywood Land
Hollywood Land is just to the left of Buena Vista street and really just a place to wander, see characters, and enjoy good food. In addition to these things, there's a hot dog place that looked decent. I'm not a huge hot dog fan unless they're suffocating in corn bread, so I passed on the hot dogs but it's worth a try!
Raspberry Whoopie Pie at Schmoozies
Funny enough Schmoozies is actually mainly a smoothie place, and I didn't get a smoothie there. They actually added the raspberry whoopie pie to the menu the day I was there, so I had to try it of course! It's not your typical whoopie pie, it's two whoopie pie cookies sandwiching a big scoop of vanilla ice cream. It's not as good as the raspberry rose macaron in Disneyland, but it's a good attempt. And I love the raspberry flavor! I can't even tell you how many people stopped me while I was eating my whoopie pie to find out where I got it.
Chili Lime Corn on the Cob from Everywhere
You can really get chili lime corn on the cob all over both parks, but I had it first at the snack vendor across from Schoomizes, so I'm including it here. And the first time I had it was the best! They offer two types of fresh corn on the cob – plain and one that's chili lime flavored. Go for the chili lime flavor and thank me later. It's not spicy, just flavorful, and way better than just a normal corn on the cob. It's the chili lime version you'll want to post on Facebook about. That's the equivalent to writing home these days right?
Disney Food in Grizzly Peak
Most of Grizzly Peak was closed for renovations during our visit, but we stayed at the Grand Californian so we walked through it daily regardless. And on our one late night in the park, we grabbed a quick dinner from Smoke Jumpers after our maxPass ride on Soarin'.
The S'more from Smoke Jumpers
I'm a s'more addict so when I saw a s'more dessert option on the Smoke Jumpers menu, I was pumped. I was expecting something more s'more flavored rather than an actual s'more, just better. This dessert is basically two chocolate covered graham crackers sandwiching a toasted marshmallow and a brownie. I didn't think s'mores could get any better until I had one with a brownie in the middle. I think that's going to become a new thing. It was the perfect way to end our night at California Adventure Park.
Disneyland Food at Cars Land
Cars Land, Cars Land, Cars Land. I can't say enough good things about Cars Land. One of our favorite rides in either parks, really fun food, and the best theming out of any of the lands across the parks. I'll save my gushing for another day.
One of the coolest things about Cars Land is the Cozy Cone Motel. It's five cones that all serve food and drinks, and the best part is that they all serve different menus. Totally different menus that are all "cone" themed. Let me break down the cones for you real quick then I'll tell you which things were my favorite! Each cone also has a fun speciality drink that pairs nicely with that cone's
Cozy Cone 1 – Churros wth Dipping Sauces (see churro section above where I talk about my love for churros)
Cone 2 – Ice Cream Cones
Cozy Cone 3 – Meals in cones (chili cone queso, taco cone, and bacon mac and cheese)
Cone 4 – Twists and pretzel bites
Cone 5 – Flavored popcorn served in cones 
Ice Cream Cone with Gravel (Oreo) Topping from Cozy Cone 2
While there's nothing real extraordinary about these ice cream cones, adding a bit of Oreo crumble on top takes it up a notch. A chocolate soft serve with Oreo crumbles sure hits the spot on a hot day!
Bacon Mac and Cheese Cone from Cozy Cone 3
Creamy mac and cheese, crisp bacon, all eaten right out of a bread cone. It's hot, it's delicious, and it's one of the few things (other than a corn dog) that I went back for seconds. You can get other things in bread cones from Cozy Cone 3 including chili con queso and a taco cone but those have onions so I didn't try them. People rave about them though so if you'd rather have chili, go that route instead. Pair the mac and cheese cone with a pomegranate limeade, one of my favorite non-alcoholic drinks at Disneyland, or one delicious meal.
Twists and Pretzel Bites from Cozy Cone 4
Cozy Cone 4 serves us a variety of bread twists including a cheddar option and a chocolate option. They're soft, flavorful, and delicious. I tried the chocolate option and if the cheddar one is anything like my garlic cheddar bagel twist from Maurice's Treats, I'm sure it's a winner.
And the pretzel bites? I was expecting them to be more like a Mickey pretzel that's a bit harder but these were soft, flavorful, and delicious. My son who wasn't hungry at all, ate them all. Are you seeing a trend here?
Flavored Popcorns from Cozy Cone 5
People raved about the flavored popcorns from the Cozy Cone Motel. I tried the white cheddar option, the most popular one according to the cast member, and I wasn't hugely impressed. It was good but not amazing. I wish I'd had the chance to try some of the other flavors but they only option a one flavor cone option, so I had to go with one choice.
Next time I go back I'll try one of the other more unique flavors like dill pickle, buffalo ranch, sriracha, pizza, or garlic parmesan. And I really wish they could come up with some sort of sampler or at least try two options. That would make buying an entire cone of flavored popcorn more appealing to me.
Flo's Signature Pies from Flo's V8 Cafe
The other main option for food in Cars Land is Flo's V8 Cafe. The menu offers home style cooking like roast beef sandwiches, pork ribs, and rotisserie chicken. But those are meals – me, I go for the pie. Everyone recommended the apple cheddar pie, but they were all sold out when we were there, so I went for the chocolate pie instead. It wasn't what I was expecting out of a pie but closer to a brownie in texture and density instead.
It was again good but not amazing, and I would save those dollars and calories for another churro or ten. Next time I'll try the apple cheddar pie, which is supposed to be fantastic. And a milkshake!
Best Food at Disneyland in Pixar Pier
With the new opening of Pixar Pier, I had to go check out all of the food options! Pixar Pier replaced the old Pleasure Pier and one of the highlights of Pixar Pier other than the reimagined Incredicoaster is the food. So much food! It was almost like the Pier was actually designed specifically as a place for people to come enjoy creative food and drinks.
Mini Donuts and Potato Skins from Lamplight Lounge
Another post I want to write soon is a full writeup of Lamplight Lounge because it's a super fun to eat and the food was delicious. But this post isn't about sit down food – it's about the best Disneyland snacks and sweets – so I'm sticking with that theme.
Luckily Lamplight Lounge offers plenty of snacks and sweets including their infamous dessert – mini donuts that come with a chocolate and raspberry dipping sauce. Not only are they fresh and delicious, they come in a super cute box you can take home if you want!
If you want to go the savory route, the potato skins are amazing. And nothing like the typical potato skins you'd imagine. There's a picture below so you can see – but they're crunchy on the outside, soft on the inside, and come with two amazing sauces that combine together in a fantastic way.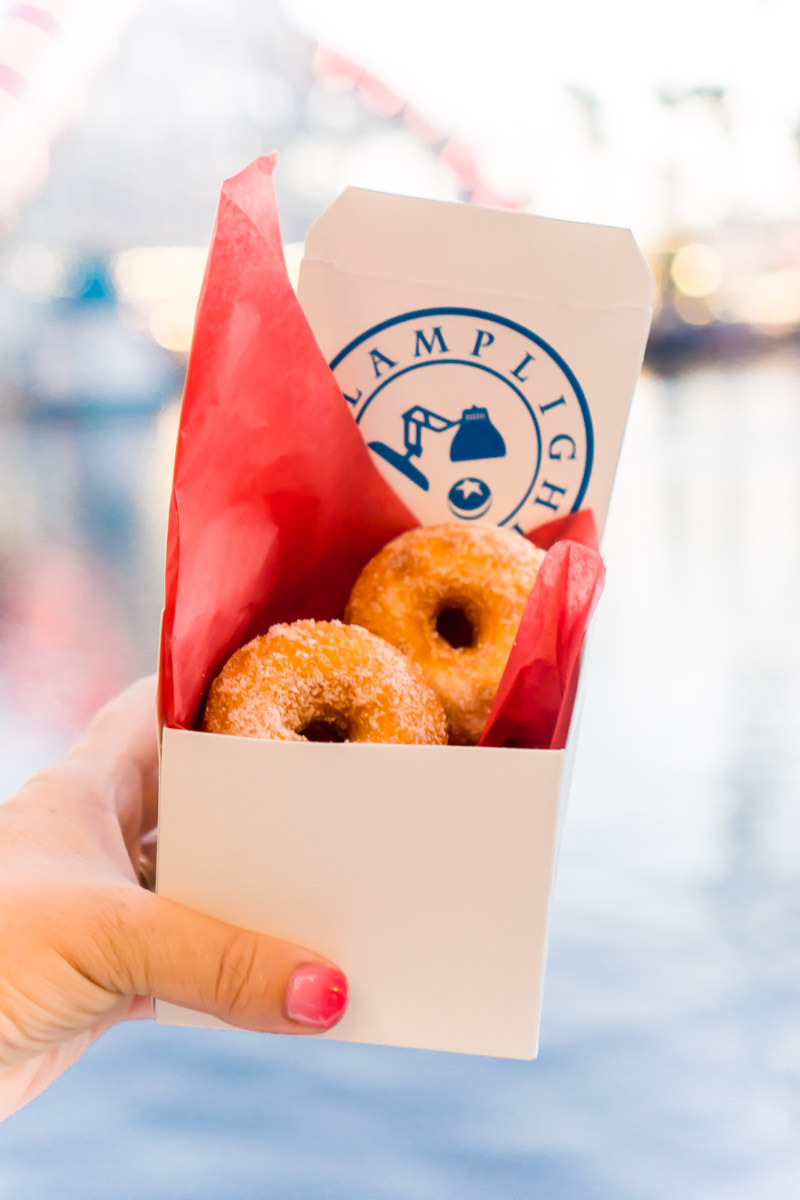 Lemon Soft-Serve from Adorable Snowman's Frozen Treats
I've tried both the lemon soft-serve cone dipped in white chocolate and the Pixar Pier frosty parfait, and  personally prefer the cone. That being said, when I ordered mine, it was a hot, umm cold, mess and was already melting down my hand before I could even snap a picture. So if you want to do the snow capped cone, I recommend getting a cup to go with it so you can take a picture and dump it in the cup before it melts.
Chicken Drumstick Box from Poultry Palace
Alright caveat here – this could technically be a full a meal. The chicken drumstick box comes with three drumsticks and a side of coleslaw, so it could be a meal. But I personally recommend sharing it with a friend so you can enjoy other Pixar Pier goodies as well without getting too full! The chicken is flavorful, and the best part is the box – seriously, how cute is this??
Cookies from Jack Jack's Cookies & Milk Cart (by the Incredicoaster)
The cookies and milk carts has three different options of cookies you can get – a chocolate chip num num cookie, a shortbread cookie, and a gluten-free cookie. The shortbread one was okay and if you don't like chocolate is a good alternative.
But if you do, Jack Jack's cookie num num is a must try. It might be my favorite dessert in the entire park. Ooey gooey chocolate chip cookie that's served warm.
All it needs it a bit of ice cream to go on top, and it'd be at the top of this list for sure.
And if you're as addicted to these cookies as me, here's a great copycat recipe you can make at home!
Memory Refreshers from Bing Bong's Sweet Stuff
Bing Bong's Sweet Stuff literally opened a few days before our second Disneyland trip this year, so I was excited to try all it had to offer sweets wise. I had no idea my favorite thing in the store would actually be a drink. And it's making this list because it's more sweet than a drink. A memory refresher is basically an slushy with extras. So sweet, so pretty, and so delicious. Just beware of sugar rushes and brain freezes.
There are five different options available or you can really ask them to make whatever combination of slushy you want. So if you want one of these but don't want the Mellow Yellow slushy, ask them to replace it with something else.
Rainbow Unicorn Memory – all the flavors (other than pink lemonade) topped with rainbow nerds
Imaginary Pal Memory – Pink lemonade + grape topped with funfetti cotton candy and a marshmallow flower
Sunshine in a Cup Memory – Blue raspberry + Mellow Yellow topped with yogurt popping pearls
Slow Burn Memory – Cherry + Mellow Yellow with a pump of habanero lime syrup and topped with mango popping pearls
I Don't Care Memory – Lime + Grape
Anxiously Delicious Memory – Blue raspberry + grape
Gloomy Blues – Blue raspberry with blueberry popping pearls
Inside Out Cake Pops from Bing Bong's Sweet Stuff
There are so many other treats you can get at Bing Bong's Sweet Stuff. A couple of my favorites were the Inside Out cake pops (tons of unique flavors) and the Incredibles Rice Krispy Treat. I also tried the toffee bar, but it was hard and not my favorite.
Angry Dog from Angry Dogs
It' a bit spicy, especially if you eat it with the "hot fries" that come with the meal, but it's worth a try regardless. Tons of flavor and spice make this one hot dog. If you're not daring enough to try the spicy version, there's also an "annoyed" version as well.
Printable Disneyland Food Checklist
Unlike my Disney World snacks and sweets list, you could actually probably get through all of the things on my Disneyland food list during one trip to Disneyland. I did, and it was just me and sometimes my family. If you split these up and everyone orders something different, you could totally get through it all! This checklist includes sweets, snacks, and non-alcoholic drinks to try but you'll have to wait for my Disneyland drinks post to know which drinks are worth the splurge!
Enter your first name and email address in the box below the image to receive the free printable. You'll be taken to it immediately (use the back button in your browser to get back to this page) and receive a copy via email shortly. Then start hunting – yummy food awaits! If you do not see a form below, click here to get to the form.