These 10 active games for kids are perfect to keep kids entertained in the summer and for tiring out toddlers to get them to take a nice long nap!
Thanks to DICK's Sporting Goods® and Vocalpoint for sponsoring this post. While this post is sponsored, all opinions are 100% honest and my own.
I can't believe I'm talking about summer when it's not even May yet, well not quite. I've got about two hours left in April, but I can already feel the summer creeping around the corner.
This is the first year since becoming a mom that summer really matters to me since my son's preschool ends the middle of June and won't start up again until September. Before every day was just like the last, no school schedule to worry about. Now we have just a little bit of time to complete everything on our summer bucket list!
I can already hear him saying I'm bored. It'll sound more like "me bore" but same concept – he wants me to entertain him. Rather than going to a park or a pool like every other day, I have a stash full of fun games that we can play when he wants to try something different. Otherwise known as my 10 fun ways to tire him out so he'll take a very long nap. We already tried a bunch of these and the four-hour nap he took yesterday is proof they work!
10 Active Games for Kids
For these games, you'll need the following:
Foam bat and ball
Baseball bases
Water bottles
Ping pong balls
Athletic tape
Plastic cones
Bucket
Hula Hoop
(2) 1 pound dumbbell weights
Workout clothes (optional)
1 – Bat Bowling
Instead of playing a regular game of baseball, combine baseball and bowling. When your kid hits the ball, have them run around the bases trying to get home before whoever is fielding the ball (you!) can knock over water bottles setup as bowling pins. Make the bases a little further apart than normal.
2 – Batter's Up (older kids)
Have kids take a foam bat and place it on the palm of their hand. See how long they can keep the bat standing straight up without it falling down. If it's too easy, set up an obstacle course and have kids complete the obstacle course while the bat is up.
3 – Ping Pong Bounce
Put a piece of athletic tape on the floor and have your kids stand behind it. Give them a bucket with ping pong balls in it, better yet if you use different color ping pong balls like orange, yellow, and white. At the other end of the room, place another empty bucket. Kids have to stand behind the line and bounce ping pong balls into the bucket at the end of the room. If they use all of their ping pong balls, they have to run around the area gathering their ping pong balls then start again.
4 – Ping Pong Chase (for younger kids)
If you're kids are anything like mine, they might get frustrated with ping pong bounce. As an alternative for younger kids, have them stand at one side of the room with a ping pong ball in hand. Have them toss the ping pong ball and then race to be the first one to chase and grab their ping pong ball. For younger kids, it's surprisingly challenging and hilarious to see them kick the ball as they try to bend down and grab it.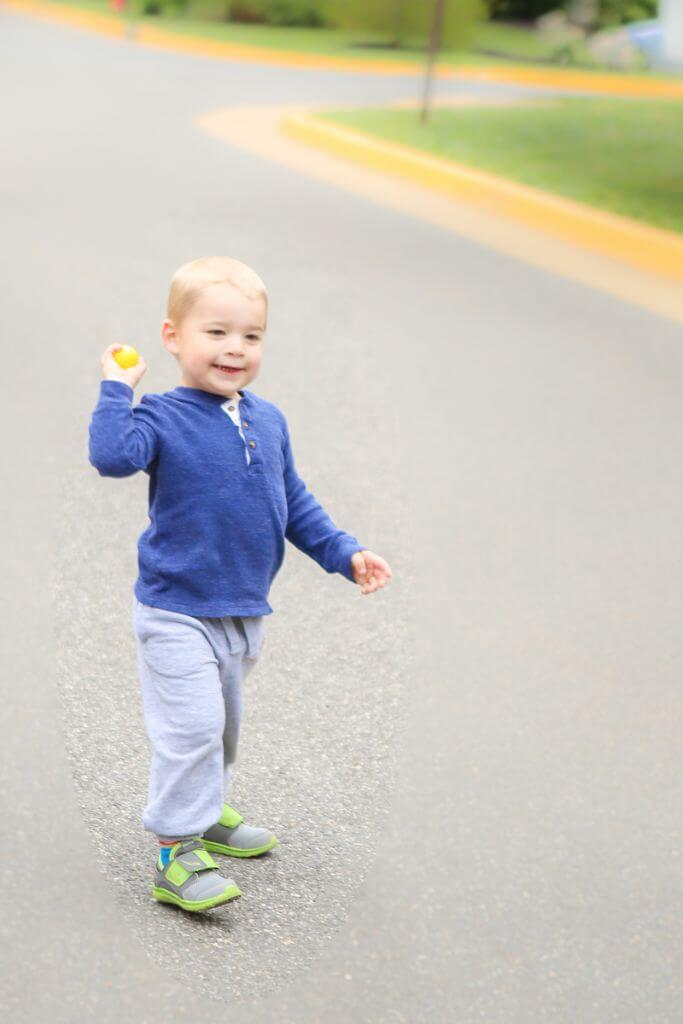 5 – Cone Runs
Not sure this is really a game but my son sure thought it was. Put plastic cones in a line or square or whatever formation you want. Start at one side of the cones and weave in and out of the cones doing different types of running, sliding, hopping, etc. Try different activities and different running patterns with each round.
6 – Corner Cones
Label your cones with numbers or letters and place them in four corners of the room. Or you can get colored cones like these ones. Whoever is it closes theirs eyes in the center of the room and count to 10. While they are counting, everyone else runs from one cone to another around the room, in whatever direction and pattern they want. Once the 10 seconds is up, the person in the middle (with their eyes still closed) calls out a cone number, letter, or color. Whoever is at that cone, or closest to that cone if they're in the middle of two, is out. Play until one person is left and that person becomes the person who's it.
7 – Hula Hop
Roll a hula hoop down the street and when it lands have your kids run to the hula hoop and hop into it on the ground and then bring it back to you. Roll it again and do it again, switching it up so that they're not always hopping into the hula hoop. My son really likes to jump into the hula hoop and clap his hands, twist in circles, dance, and stomp his feet.
8 – Weight for It
Set up (4) one pound dumbbells on either side of the yard along with a piece of paper that has an exercise on it (squats, jumping jacks, shoulder press, etc.). Turn on some music and have kids run around the yard from one station to another. When the music ends, have them do whatever exercise is on the paper.
9 – Do As I'm Doing
This is a perfect way to get your own workout in as well. Give your kids small weights of their own and play the old classic do as I'm doing with exercises. You do jumping jacks, they do jumping jacks. You run in place, they run in place. Take turns being the leader and being the doer.
10 – Over and Under
Setup an obstacle course with things that kids have to run around, climb over, and climb under (safely of course). Even better if you let them help set it up! Race to see who can compete it fastest.