With amusement parks around the country opening with new procedures, these tips can help you prepare for what to expect when you visit an amusement park this year and stay safe when you get there!
As someone who has been going to amusement parks for their entire life (my dad has a spreadsheet of the coasters I've ridden to prove it), amusement parks are high on my favorite things to do list.
There hasn't been a time I can remember that we didn't have season passes to at least one park and often times more than one during a season.
This summer is going to be a little different. With two young kids, we won't be frequenting amusement parks quite as much as normal but luckily I have a dad who is even more of an amusement park fanatic than I am.
He checked out the season pass holder preview at Silver Dollar City in Branson this past weekend and based on his experience and thoughts, I've put together some things that everyone should know about heading to your favorite amusement park this year.
While these photos are Silver Dollar City specific, we tried to make this post as helpful as possible based on what we've been hearing about guidelines for amusement parks around the country.
Make sure to check the exact amusement park you're going to for their policies and rules.
1 – Have Flexible Plans
Many amusement parks are requiring guests to make reservations ahead of time to limit the number of people in the parks each day. Know that this means you may not be able to go the day you were hoping.
My dad originally tried to get reservations at Silver Dollar City for opening day but the earliest he could get in was 1:30 and who wants to show up at a park at 1:30? Instead he had to change his plans slightly and go the next day.
Many parks are also using reservations to control the flow of people going in and out of the park (no huge crowds at rope drop!). Silver Dollar City additionally had dots placed every six feet in the ticket lines to get in to help with social distancing.
I know many parks around the country are doing something similar from Walt Disney World to our local Worlds of Fun. Plans this summer are going to have to be flexible to enjoy the parks.
Expert Tip: If your plans aren't flexible, figure out exactly what day and time reservations open up for the park you want to visit. Plan to be on a computer with high speed internet and be ready to go as soon as the clock strikes time!
2 – Make Sure Everyone is Healthy
Expect to get your temperature taken before you enter the park and most likely answer some health questions. People whose temperatures are too high will not be allowed into the parks.
You'll also likely have to answer a couple of health related questions just to make sure you don't have any virus like symptoms and if you do, please don't go to the parks. Please stay home for your own health and everyone else's!
Expert Tip: Make sure to check everyone's temperature before heading to the parks!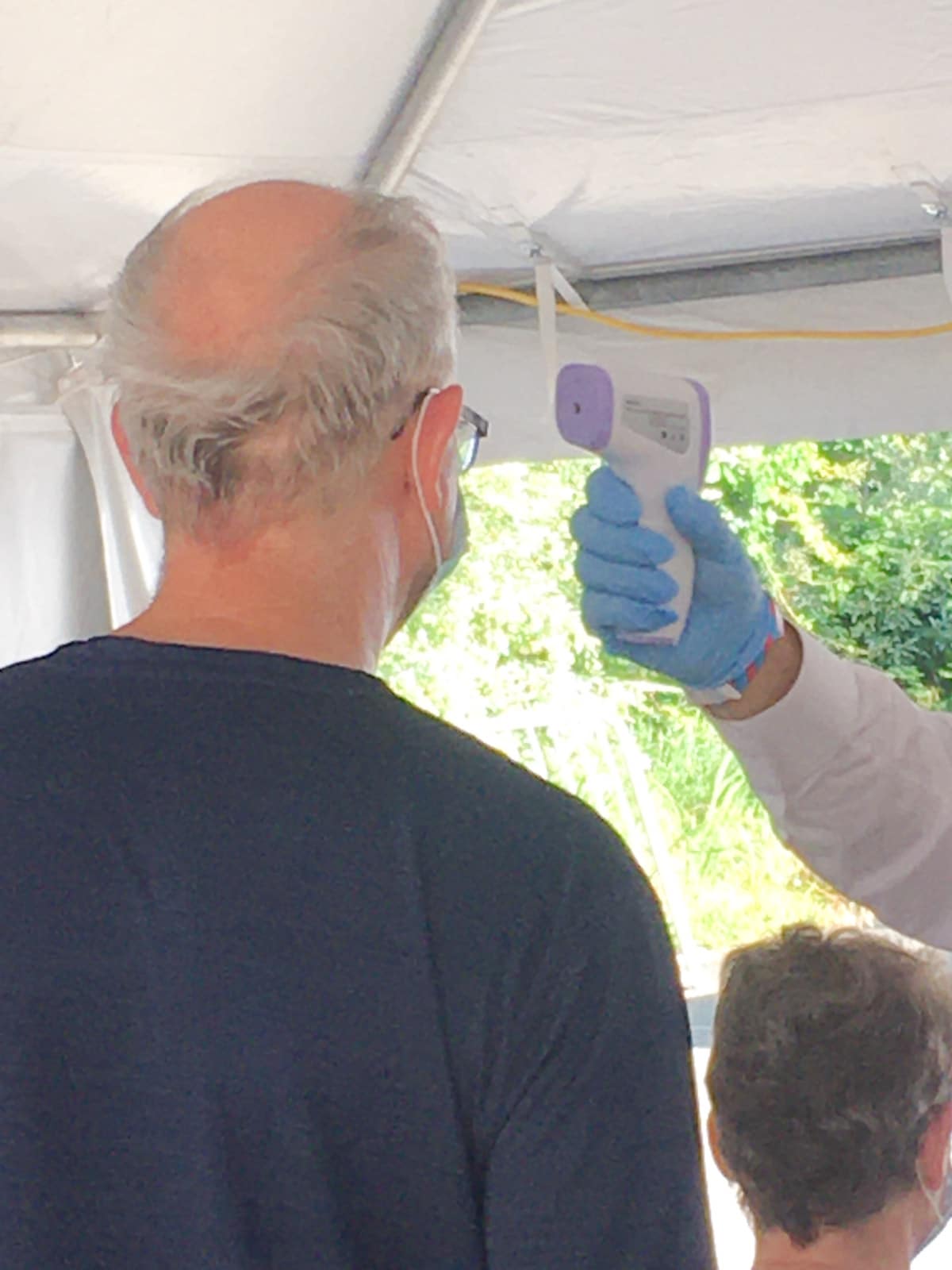 3 – Bring a Comfortable Mask
Amusement parks across the country are requiring masks be worn at the parks. Check your individual park rules to see what the exact requirements are. At Silver Dollar City it was required that anyone over the age of 3 wear a mask, but I know Disney parks (and likely others) are requiring masks for anyone age 2 and older.
At Silver Dollar City most guests seemed to be following this requirement (unless they were eating) and my dad said that all Silver Dollar City employees were wearing masks throughout the park.
Expert Tip: Paper masks are much cooler than cloth masks for hot days. If you do go with cloth masks for hot days, we recommend bringing multiples for each person in the case they get hot and sweaty.
4 – Read the Signs
With all of the new policies and regulations in place, employees are already doing more work than every before. Every amusement park I've seen so far has signs distributed throughout the park that has the rules and policies outlined on them.
At Silver Dollar City there were signs (and blue dots) to help with keeping six feet away in lines. Storefronts had signs with capacity and traffic flow diagrams. The signage has been designed to be straightforward, easy to follow, and understandable. It's up to guests to follow the signs.
Expert Tip: Every amusement park I've seen has some sort of page regarding this summer's procedures on their website. Make sure you really take time to read through it, understand everything, and plan based on the new policies before you go. The signs are bonuses!
5 – Stay Away from Impromptu Queues
Line spacing was well thought out and controlled on nearly every ride. The only time my dad saw any issues at Silver Dollar City was when people took it upon themselves to form their own impromptu lines waiting for something like Time Traveler to open for the ride of the day.
Other lines he noticed getting long (without social distancing) were food lines, show lines, and other popular rides that didn't open when the park did.
Expert Tip: If the park allows, bring in your own snacks and drinks so you don't have to stand in food lines that are often long and can have issues with social distancing.
6 – Ride your favorite rides early
In order to maintain social distancing, rides like roller coasters that typically have guests seated close together are running with seats roped off. That means many of those rides will likely have longer waits since only half the people can ride at once.
Figure out which of your rides are must-rides and try to get on those either first thing when you get in the park (if you arrive at park open) or late in the day when many people have left.
Expert Tip: Many amusement parks have park apps you can download that include live wait times. Download the app before your visit and watch the popular rides to see generally when the lines are the shortest for planning your visit.
7 – Embrace the Hand Sanitizer
Unlike movie theaters or airplanes that have the time to sanitize everything between each group of people, amusement parks can't sanitize everything every time someone gets off the ride.
What Silver Dollar City did, and what I expect many amusement parks will do, was have people sanitize their hands before they got on every ride. Kind of like before dining on a Disney Cruise.
They did sanitize the trams to and from the parking lot but that was the only time my dad saw a "ride" of any kind sanitized.
Wash your hands often, use hand sanitizer as available, and just try to realize that while inconvenient, everyone is doing their best to keep parks open and safe for everyone.
Expert Tip: Be strategic on rides that have more touch points than other. If people are sanitizing their hands but a ride has somewhere for your hands and an arm rest (like Time Traveler at Silver Dollar City), if it's possible try to avoid using the arm rest and stick to just the handholds.
8 – Be Early to Extras
Silver Dollar City is well known for its shows and crafts as it is for its rides. In order to maintain social distancing in theaters, every other row in the theaters was closed, which made for limited seating and longer lines.
If you want to see the shows, arrive earlier to get in line so you can make sure to get into the time you want. Otherwise, you might be sadly disappointed when the theaters fill up quickly.
Expert Tip: Get your group and move to the center of the aisle, leaving a seat on either side of your group if you want to maintain social distancing. Don't just sit in the aisles or on the ends where people will have to climb over you or move around you.
9 – Check Out What's Closed
Every amusement park I've seen so far has some attractions that are going to be closed until further notice. At Disney Parks, their character meet and greets are closed. At Silver Dollar City, half of their interactive play areas, including a huge ball area, are closed.
The things that are closed can really change your day, especially if you have little kids who are used to playing on the playgrounds and interactive elements. Most often from what I've seen, those are the first to close.
Expert Tip: Don't assume that any of these areas are going to open up anytime soon. If something is closed right now, I'm guessing it's going to be closed all season – or at least I recommend you assume that and not make reservations for later hoping it'll open up.
10 – Plan with Your Group in Mind
Before you make the final decision to go to the park, make sure you check out what is closed, what's limited, and what the experience will be like. If you're going to a park with small children and all of the playgrounds are closed (likely), it may not be the best decision to go.
If you know that your group hates standing in lines, check social media (Twitter especially) to see if you can find details about what real time wait lines look like. A lower number of people in the park might balance out the limited ride capacity, but I'd check before you go.
Expert Tip: Keep your wallet in mind as well. If half the magic of a park is closed, it may not make the most sense to go this year unless you're a on passholder and don't care about doing everything. Otherwise, it might make more sense to skip this year and hope for the best next year.
11 – Take Advantage of Sales
Every amusement park I've seen so far other than the Disney theme parks is offering some crazy sale right now to get people back in their parks. Universal is offering a buy 2 day get 2 day free pass. Silver Dollar City is offering tickets at kids prices for everyone. SeaWorld is offering up to 50% off admission tickets (get tips for visiting SeaWorld San Antonio here!)
If you're planning to go, it's a great time to take advantage of amusement parks begging people to visit their parks.
Expert Tip: Buying tickets online ahead of time almost always saves you money, making it always good advice. But right now with parks requiring reservations, it's actually essential!
12 – Get Season Passes
From what I've seen, most regular amusement parks (not including Disney) are offering to extend season passes through next year. Even if you think you'll only go once or maybe twice this year, season passes can be a killer deal when you get next year included as well.
Many times season passholders are the ones who can make reservations first as well, which can help you score the reservations you actually want – not just the ones you can get!
And I for one am hoping that next amusement park season looks a little closer to normal than this one.
Expert Tip: Check out all of the season pass options for parks. Many times they'll have season passes that include other parks throughout the country for just a bit more or they'll include perks with an upgraded season pass that'll make up the difference in cost.
13 – Stay Smart and Stay Safe
It's more than likely that someone at the amusement park will be an asymptomatic carrier. If you intentionally try to stay safe by avoiding impromptu lines, wearing your mask, social distancing, and limiting the amount of things you touch during your visit – you'll have the best chance of avoiding any issues.
Expert Tip: While things felt pretty safe at Silver Dollar City, if there is anyone in your group who is high-risk, I'd skip the parks or anything with large groups of people for now.