This Disney packing list has everything you need for a trip to any of the Disney Parks this year! Whether you need help packing for the plane, the parks, or playing at your resort – this list has it all!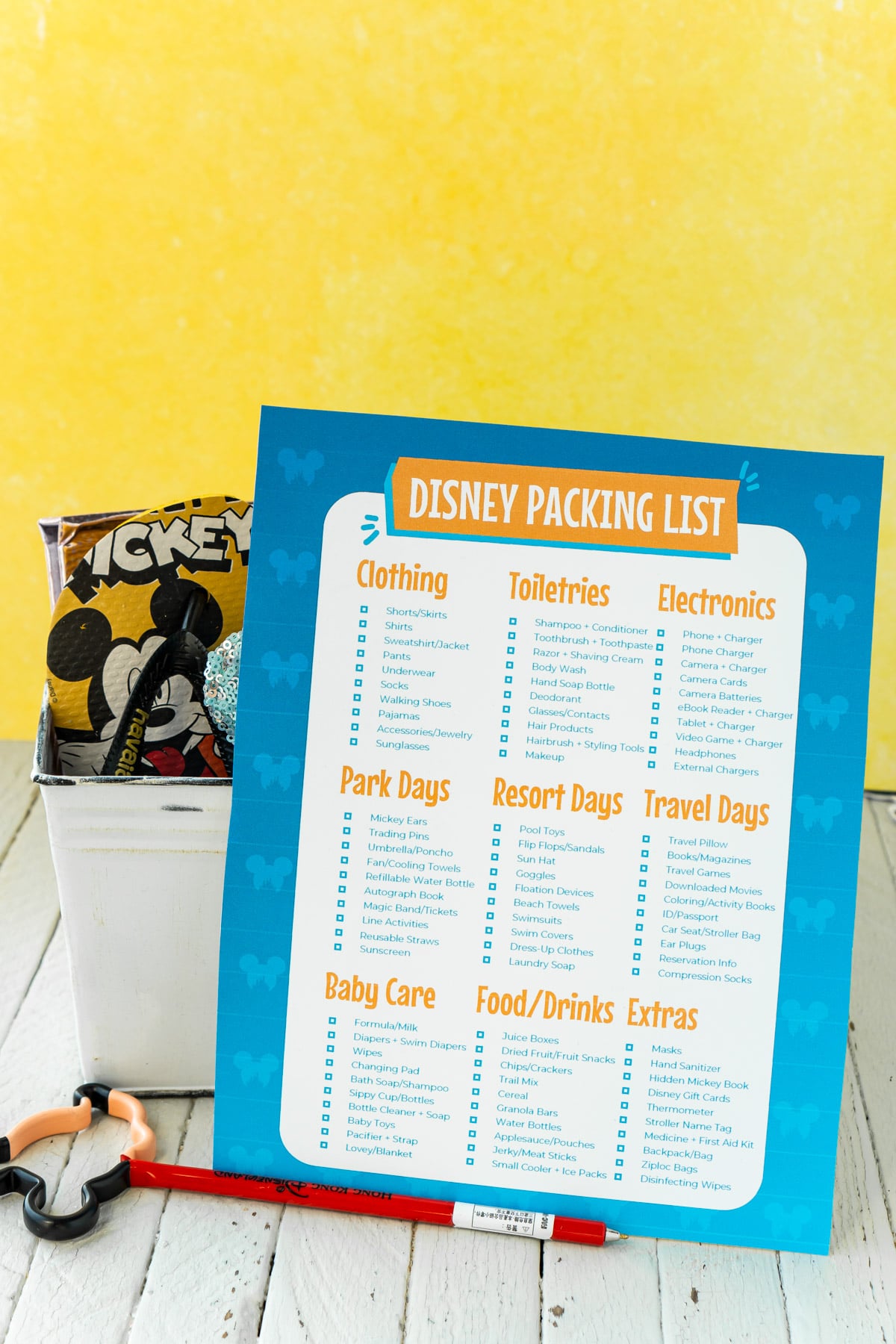 I am a huge fan of Disney. I've had either a Disney World or a Disneyland annual pass (or both) for the past few years even though we don't actually live anywhere near either because we love it so much.
It sounds so cliche to say but being in a Disney theme park is really my happy place. A place I'm missing so much right now.
With Disney World and Disneyland finally open again, I thought it might be helpful to put together the ultimate Disney packing list – for today. Things are a bit different than they have been in the past so this packing list is specifically updated for right now!
Updated for 2021
This list is all updated to include things you'll need for right now in 2021 (whether you're vaccinated or not). I'll continue updating it as we learn more, more things open, etc.
I also highly recommend reading my post on Disney World in 2021 to make sure you're totally prepared for a trip this year!
The Packing List
Okay so I've written out the full packing list here, but there's also two different printable versions of this at the bottom of the post – a pretty blue Disney themed one and a bare bones white one for those of you who like to save ink.
Let's get to it!
2021 Specifics
I wanted to make a point to specifically mention these before you got too bored and just scrolled down to the bottom of the post for the printable because they're vital for your trip right in 2021!
Masks – Masks are still required for all guests ages 2 and older while in Disney busses, monorails, and on the Disney Skyliner as well as in all indoor locations and on all rides. They are optional outdoors and on pool decks. Full mask guidelines here.
I personally recommend at least two masks a day if you're going when it's hot (most of the year) because they just get so stupid sweaty!
Hand Sanitizer – Disney World has hand sanitizer throughout the parks and bathrooms are available for hand washing. But if you're anything like me and want to try all the best Disney World food, bring all the hand sanitizer with you so you have it when you want it.
Clorox Wipes – Lysol, Clorox, whatever will disinfect a table before you sit down and eat at it. Disney is stepping up the game with cleaning things but if you bring wipes with you, you don't have to wonder. Also good for if you fly and want to wipe down the plane seat!
Thermometer – They are no longer take temperatures before you enter the park, but it's still a good thing to have with you just to double-check before you head out! If anyone has a fever, think twice about sending anyone to the parks!
Do yourself a favor and take everyone's temps before you head to the gate so there are no surprises. We like using a quick forehead one that's kid-friendly.
Clothing
Quick disclaimer – clothing is a big one but also a very subjective one so I'm just giving basics of clothes and letting you choose what that means.
Oh and of course it'll be dependent on the weather when you're visiting, but I tried to cover most regular things you'll need!
Tip: If you're planning a trip from like March to October, it's going to be hot and you'll sweat. I recommend over packing a bit in case you want to change!
Shorts/skirts – I actually find wearing stretchy skirts super comfortable so I added that here but do whatever you're most comfortable in.
Pants – I typically bring a couple of bottoms that I can mix and match throughout the trip rather than one per day because they tend to get less gross than shirts.
Shirts – at least one per day but more often I recommend a few extras. And it's super fun to buy or make your own matching Disney shirts like these ones!
Sweatshirt/jacket – you never know when you'll need one.
Underwear – plus bras!
Socks – I actually don't often wear socks since I wear my favorite sandals to walk in but you'll likely want socks
Walking shoes – you can read more about my favorite shoes for Disney here but you are going to walk miles and miles and miles. Bring shoes that you've worn to walk in a lot then thank me later.
Accessories/Jewelry – I recommend keeping it minimal but if this is your thing, go for it. I like to wear this Mickey ring just for fun!
Sunglasses – if you forget, they do sell super cute Disney sunglasses at the parks, but they're pretty pricey.
Toiletries
I'm never going to be able to get a full list of everyone's toiletries so like the clothes, this list will hopefully get you started with what you need!
Shampoo and Conditioner – most hotels, including Disney resorts if you're staying on-site, offer their own but if you're particular, bring some. I like to take my stuff from home and fill up these little bottles to bring.
Toothbrush and Toothpaste – you can also add some floss and mouthwash here too if that's your thing. Bring these for your own benefit and those people around you!
Razor and Shaving Cream – not a necessity but if you plan on shaving or swimming, you might want these!
Body Wash – A lot of the Disney resorts now offer actual body soap in their bathrooms but if you're picky about having body wash compared to bars of soap, bring your own.
Liquid Hand Soap – This is a must for my family. Most hotels, including Disney ones, offer a bar of soap for washing hands. I don't love washing my hands with a bar of soap, and it's just so much more difficult for the kids. So I always bring my own liquid hand soap for the bathroom.
Deodorant – Florida and California are both hot. You're going to sweat. Just bring it.
Glasses/Contacts and Supplies – This covers glasses, glasses case, contacts, contacts case, contact lens solution, and anything else related to your eyes.
Hair Products – Whatever you need to make your hair look presentable (because good is a joke in the Florida humidity). Hair spray, dry shampoo, gel, styling spray, heat protector. Whatever it is, this should cover it.
Hairbrush and Styling Tools – Most hotels have blow dryers but often times they're smaller or not as high powdered. I always bring my own plus a flat iron and curling wand.
Makeup – I recommend foundation or some sort of coverage with SPF so you don't have to add sunscreen + makeup on your face. Otherwise, whatever you normally wear probably works fine.
Electronics
I'm an electronics addict, so this section may not matter that much to you but I needed it! This covers things you might need for travel, parks, resort days, and pretty much your entire trip.
I'm not even going to explain these ones, they seem pretty self-explanatory! But notice I specifically mentioned chargers because I may have forgotten them myself a few times!
Phone and charger
Camera and charger
Extra camera SD cards
Extra camera batteries
eBook reader and charger – loaded with books (my favorite Kindle Unlimited books)
Tablet and charger – great for travel or back at the resort when you need a break from the heat. Pre-load with downloaded movies, games, and apps so you don't have issues connecting to Wi-Fi.
Video game and charger – this more means if you have a handheld device like a Nintendo Switch and want to bring it for travel or downtime
Headphones – you'll definitely need these if you're flying and probably want them in the car.
External chargers – This may be the only thing you didn't think of on this list but that doesn't mean it's not important. Bring at least one (more is better) external chargers you keep charged. So when your phone inevitably dies or you forget to charge your camera, you can just plug it into the charger and go. I personally have and love this one!
Park Days
Okay now let's talk about what you'll need for your actual time in the park!
Mickey Ears – They may have taken out a bit of the magic from Disney Parks for now but it's still fun to take pictures with all the Mickey ears!
Trading Pins – There are new rules for trading pins at Disney currently but it's still happening, which is great because it's my favorite! Bring your pins to trade then look for the new guidelines when you get there!
Umbrella and/or Poncho – Inevitability it'll rain during your trip and you'll end up spending $10 for a Disney poncho instead of $1 at home.
Fan and Cooling Towels – we have this handheld fan that clips to the stroller, but I know people also swear by these cooling towels to keep cool in the heat.
I also absolutely love these personal W-Fans – just make sure you have a bag or a stroller to put them in when you take them off for a ride! They're hand-held and sit comfortably around your neck AND they adjust so the air gets blown right where you want it. Perfect for Florida heat!
Refillable Water Bottles – Cups of ice water are available for free from restaurants all throughout the parks but no lids. We typically get water then transfer it to our favorite water bottle to keep it ice cold for hours without worrying about spills.
Autograph Book – My son loves getting character autographs, definitely a fun one!
Magic Band/Tickets – Disney World uses Magic Bands, Disneyland normally uses tickets. They're literally your key to the magic!
Line Activities – With no Fast Passes through the end of the year, you're going to be standing in line no matter how limited they're keeping numbers.
Download the Disney Play app for in-line games and grab some other things to keep people entertained. Some of our favorites are these Brain Quest Questions because they're small but contain a lot of fun activities!
Reusable Straws – Disney discontinued used of disposable plastic straws and has gone to paper ones. If you don't like drinking out of paper straws, bring your own reusable ones. We like these silicone ones.
Sunscreen – Bring it. Wear it. Put it on again.
Resort Days
Most people like to spend a day or two just hanging out at the resort. Here's a few things you might need for that time!
Pool Toys – don't bring anything too big but balls, rings, etc. are fine
Flip flops/sandals
Sun Hat
Googles
Floatation Devices – these are like personal floatation devices, not pool floats like those giant unicorns or cactuses you see everywhere
Beach Towels – Many of the moderate and deluxe resorts offer towels by the pool but a lot of regular hotels and Disney value resorts do not.
Swimsuits
Swim Covers
Dress-Up Clothes – If you have a nice resort meal planned, you may want to dress up a bit fancier than your in the park wear.
Laundry Soap – All the resorts offer laundry and the DVC properties actually offer laundry in-suite. This is likely an essential if you want to wash your masks specifically.
Travel Days
I could write a lot more about traveling and what to bring traveling but I'll just give a quick list. This doesn't even begin to touch my tips for traveling with kids or flying with babies!
Travel pillow – I love a typical U shaped one like this
Books/Magazines – either in the form of an actual book or an electronic one
Travel Games – if you're driving, any of these road trip games would be a great choice! Or we also love this travel bingo!
Downloaded Movies – even if you don't download the movies ahead of time, make sure you have the app you need to watch movies for your chosen airline (if you're flying)
Coloring/Activity Books
ID/Passport
Car Seat and Stroller Bag
Ear Plugs
Reservation Info – I always have a printed out copy just in case technology fails us or my phone dies
Compression Socks – If you're flying and flying a long ways, my husband swears by compression socks
Baby Care
I have a baby so adding this section on the packing list for now because babies need their own whole set of stuff. It's fun, really.
Formula/Milk
Diapers and swim diapers
Wipes
Changing Pad (because bathrooms are gross)
Baby soap and shampoo
Sippy cup and bottles
Bottle cleaner and bottle soap
Baby Toys
Pacifier and Pacifier Strap
Lovey/Blanket
Note – I didn't put a stroller or car seat on the list because if you have a baby, I can only imagine you're bringing both. But know that even if you have older kids, a stroller is often a good bet when you're walking 10+ miles a day in the parks!
Food and Drinks
I personally love to find the best Disneyland food and try all the Disney World snacks but bringing in your own food and drinks is a great way to save money!
Here are best bets for things you can bring into the park without worrying about coolers and things going bad.
Juice boxes
Dried fruit and fruit snacks (these homemade fruit snacks are delish!)
Chips and crackers
Trail mix
Dry cereal
Granola bars
Water bottles
Applesauce and pouches
Jerky/meat sticks
If you are planning to bring a small cooler with fresh things, make sure to bring ice packs. Disney doesn't allow loose ice and recommends bringing ice packs instead.
Extras
Last but not least, the other things you might not have thought of but will want to pack!
Hidden Mickey book – this book is one of the best purchases I've ever made for our Disney trips. My son LOVES looking for these all throughout the parks!
Disney Gift Cards – if you have them, don't forget to bring them!
Stroller Name Tag – if you have a stroller, bring some sort of name tag or something to make it easier to find in a sea of strollers
Medicine and First Aid Kit – Any of your prescription meds, over the counter meds you use regularly (like allergy meds, Tylenol, etc.) plus a basic first aid kit. Disney has a great first aid station but right now if you can avoid the possibly sick people in it for simple things like a band-aid, I've avoid it if I were you.
Backpack/Bag – A small bag that you can put essentials in to carry in the parks. You want it lightweight and easy to get into to access things.
Ziploc Bags – These are a travel must for me wherever. Put leftovers in them, special things your kids find that need sanitized, and pretty much anything else.
And that's it, that's the end of this incredibly long Disney packing list! I tried to be as thorough as possible so you have a good Disney World packing list or Disneyland packing list (when it opens!).
More Disney Tips
Download The Free Disney Packing List
If you're ready to download the free printable to use, simply click the button below or click here.