This cranberry orange bread recipe combines the popular flavor of cranberry bread with the tart pop of citrus. Combined you have one of the absolute best and most moist cranberry orange bread recipes ever. It'll be one of your go-to cranberry bread recipes every year.
The Best Cranberry Orange Bread
It all started when my mom convinced me to try mixing cranberry juice into my orange juice. The tart flavor of the cranberry perfectly balances the sweetness of the orange. Cranberry orange juice is still my favorite drink, but it's gone far beyond just juice now.
I absolutely love the tartness of cranberries and how they can complement a sweet salad, baked good, or even soup so well. They're amazing in these cranberry orange bites and in this strawberry spinach salad.
This cranberry orange bread recipe is actually one from one of my good friends Kristin. She made it for a baby shower we hosted together a few years ago, and I knew I had to have it. She so graciously shared it with me, and I've made this cranberry bread every year for the past eight years!
How to Make Cranberry Bread
The cranberry bread is fairly simple to make but does take a little bit of time because you start out by chopping all of the cranberries in half. But I'm getting ahead of myself, let's start at the beginning.
Ingredients:
4 cups flour
2 tsp baking soda
1 1/2 tsp salt
2 1/4 cups sugar
4 cups fresh or frozen cranberries
2 Tbs grated orange rind
2 eggs
1 cup orange juice
1 cup water
2/3 cup vegetable oil
2 cups chopped pecans or walnuts (can omit)
Directions:
Chop your cranberries in half and mix with sugar.
Measure out your dry ingredients and set aside.
Measure out the wet ingredients.
Combine the ingredients together.
Pour into loaf pans that have been sprayed with non-stick spray and bake.
Watch the cranberry orange bread video below to see how quickly you can put this cranberry orange bread together!

Once the bread is done, serve sliced or just bite off chunks of the mini loaves like I do. No matter the way you slice it, it's going to be delicious.
Tips for Making this Cranberry Orange Bread Recipe
Here are a few tips and tricks for getting the best cranberry orange bread every time!
Don't substitute the oil for something healthier. The oil is what makes this one of the most moist cranberry orange bread recipes ever. It's moist and absolutely delicious. If you do feel the need to make a substitution, substitute it with another oil – not applesauce.
Check the bread's doneness with a knife. Every oven cooks differently, so when you think the bread might be done – stick a butter knife straight into the bread and pull it out. If it comes out clean, the bread is done. If it comes out covered in gooey batter, let it cook for a few more minutes.
Let the cranberry bread cool before cutting. If you try to cut it while it's still hot, it'll likely crumble when you're cutting the bread. It still tastes good crumbly but won't hold together as well. If you just let it cool a little longer, the slices will stay together well.
FAQs About this Cranberry Orange Bread
Since I shared this recipe over four years ago, I've had a ton of questions from people on making it. I've included answers to the most frequently asked questions below. If you have more questions, leave me a comment, and I'll do my best to answer it as soon as I can!
Where can you find cranberries all year long?
You can find frozen cranberries in grocery stores like Whole Foods on a daily basis. But if you think about it, purchase some fresh cranberries during cranberry season and freeze them to use all year long. Otherwise, I haven't had a lot of luck finding them the rest of the year.
Can I use dried cranberries or Craisins in this cranberry orange bread?
Yes, you can use dried cranberries or Craisins in this bread recipe, but it is not going to taste the same. Dried cranberries are just not the same. They don't carry the same amount of flavor, moisture, or tartness. If you're totally out of luck and can't find actual cranberries, they'll work in a pinch but the bread will likely be a bit drier than normal.
If you use Craisins or already sweetened dried cranberries, I'd skip the step where you sugar the cranberries or they'll be way too sweet. I'd also recommend rehydrating them in either water or orange juice before putting them in the recipe.
Will this cranberry orange bread recipe work without the orange zest?
Yes, this bread recipe will work without the zest – however, the orange flavor may not be as strong. If you don't have dried orange rind, you can definitely use fresh orange zest as well. And if you don't have either and really want to make this bread, you can omit it – it just won't have as strong of an orange flavor.
Can I use frozen cranberries in cranberry bread?
Yes, you can use frozen cranberries. Simply let them thaw before using them in this recipe. Frozen cranberries are a great way to make this bread when fresh cranberries aren't readily available.
Can I just pulse the cranberries instead of cutting them in half?
Technically you could just pulse the cranberries then add the sugar to them, but you may end up with tiny bits of cranberry and really big pieces of cranberry, which could change the consistency and taste of the bread.
Does this make regular loaves or mini loaves? Or muffins?
All of the above! This recipe typically makes 6-8 mini loaves depending on how full you fill the pan. It typically makes two full size loaves. And it typically makes 24 muffins. Just adjust the amount of time you cook the batter depending on what you're making.
How long does this cranberry orange bread keep? And can you freeze it?
This cranberry orange bread keeps for up to a week or if frozen up to 3 months. Simply wrap and freeze wrapped in plastic and when you want to eat it – take it out and let it thaw before eating. The bread may not be quite as moist when thawed after being frozen, but it still tastes delicious!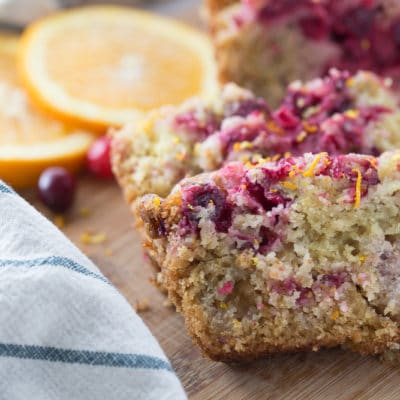 Cranberry Orange Bread Recipe
This cranberry orange bread recipe combines the popular flavor of cranberry bread with the tart pop of citrus. Combined you have one of the absolute best and most moist cranberry orange bread recipes ever. It'll be one of your go-to cranberry bread recipes every year.
Print
Pin
Rate
Ingredients
4

cups

flour

2

tsp

baking soda

1 1/2

tsp

salt

2

cups

sugar + 1/4 cup to put on top of the cranberries

4

cups

fresh or frozen cranberries cut in half

2

Tbs

grated orange rind

2

eggs

1

cup

orange juice

1

cup

water

2/3

cup

vegetable oil

2

cups

chopped pecans or walnuts
Instructions
Preheat your oven to 350 degrees and spray mini loaf pans with non-stick spray.

Slice cranberries in half. Top with 1/4 cup sugar then set aside.

Mix together flour, baking soda, and salt. Set aside.

In a separate bowl, combine 2 cups sugar, orange rind, and vegetable oil.

Add eggs and combine.

Slowly add flour mixture, orange juice, and water to sugar mixture.

Once all mixed together, add chopped nuts and cranberries.

Divide batter into small greased mini loaf pans and bake at 350 degrees for 35-45 minutes.
Notes
If you would like to make a large loaf rather than mini loaves, this mixture will make two large loaves. Bake a large loaf for 60-70 minutes.
Nutrition
Calories:
3280
kcal
|
Carbohydrates:
444
g
|
Protein:
43
g
|
Fat:
158
g
|
Saturated Fat:
67
g
|
Cholesterol:
163
mg
|
Sodium:
3083
mg
|
Potassium:
1193
mg
|
Fiber:
27
g
|
Sugar:
223
g
|
Vitamin A:
690
IU
|
Vitamin C:
97.9
mg
|
Calcium:
178
mg
|
Iron:
16
mg
Free Printable Cranberry Orange Bread Gift Tags
If you make this into mini cranberry orange bread loaves, these would make perfect holiday gifts for neighbors, friends, teachers, or really anyone. Just make sure if they don't eat nuts to omit the nuts in the recipe!
I'm all about corny gift tags so these all have a play on the word "cranberry" in the gift tags. Simply wrap up the bread in some sort of holiday food safe wrapping material, add one of these gift tags, and you've got a gift that anyone would love to receive!
Get the Printable Cranberry Orange Bread Gift Tags
Enter your first name and email address in the form below to get the free printable gift tags. You will be immediately taken to a PDF form of the printables as well as receive an email with a link to the gift tags. If you cannot see the form below, click here to get to it.