This strawberry spinach salad recipe is one of the best salads ever! With just a few ingredients you probably already have in your kitchen and a simply delicious vinaigrette, this salad is perfect for serving a crowd or just serving yourself for lunch!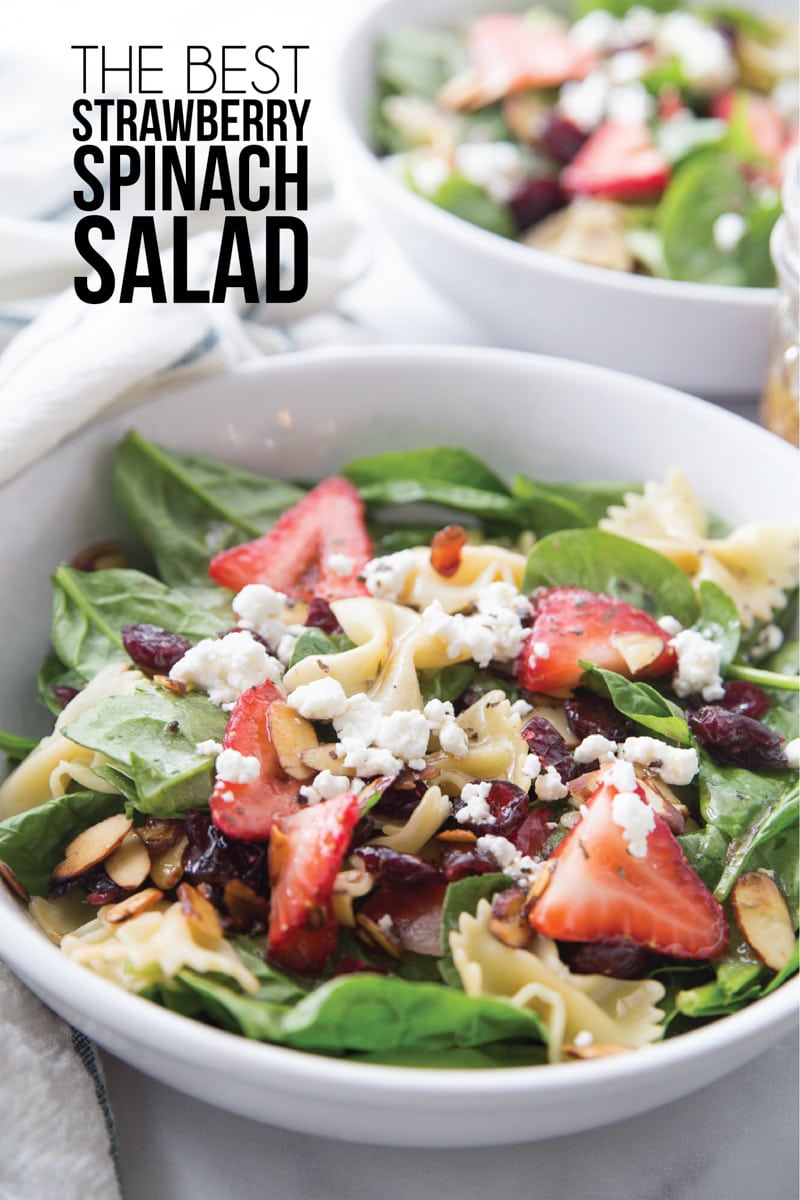 The Best Strawberry Spinach Salad
I'll be honest, I can't take all or really any of the credit for today's recipe because it's one my good friend Sara shared with me before she moved to Hawaii. And ever since she shared it, I've been making it pretty much monthly. Maybe weekly. It's seriously the best spinach and strawberry salad I've ever tried.
I'm a huge fan of fruit and nut salads and this one still takes the cake. It's that dressing, I tell ya.
You can make it without the pasta if you want to make it a bit more clean, but the pasta really does make a difference in soaking up the dressing! So just keep that in mind if you change up the recipe to fit your eating lifestyle!
Spinach Strawberry Salad Ingredients
There really are just a few ingredients in the actual salad but the dressing is a different story. It's a homemade dressing, so it obviously needs a bit more flavor! The key ingredients in the salad itself are the strawberries and spinach (obviously), candied almonds (you could use other nuts if you want), dried cranberries, pasta, and other course goat cheese.
If you want to buy extra strawberries, those extra sliced strawberries would be great on top of this strawberry poke cake!
Or use them to make this summer strawberry mocktail – a total show stopper drink for a summer party!
Same thing – if you prefer bleu cheese to goat cheese, feel free to switch it up. I tend to think bleu cheese is gross so goat cheese it is for me!
And last but not least, the dressing. I highly recommend using this recipe and not some store bought version but hey it's your life, do what you want.
How to Make This Strawberry Spinach Salad
The beauty of this salad is how ridiculously easy it is. Other than having to cook the pasta and making the dressing, it's really a cinch. And I like to make the dressing and just keep some in the fridge for all week when I'm craving a salad. And the pasta, if you can't make pasta, I can't help you there. Boil water, pour in pasta, take out pasta, and serve. Done and done.
The key to making this salad is to mix in all of the ingredients other than the cheese, which will go on last. Mix all the ingredients up, toss it in dressing (or let people put on their own), and then add the cheese. If you add the cheese in earlier, it gets all mushed around and no longer tastes like delicious goat cheese crumbles you're going for.
Making Spinach and Strawberry Salad Ahead of Time
You can totally make this salad ahead of time unlike these fruit banana boats. The only kicker is that if you're going to make it ahead of time, don't add the cheese or dressing yet. Everything else should be fine. Or better yet, prep all of your ingredients (e.g., slice the strawberries, cook the pasta, make the dressing) then literally just toss it minutes before you're ready to serve it.
If you have leftovers, wrap them up with plastic wrap and eat within 24 hours. Any longer and it's likely going to get mushy like old salads do. Check out the video below to see how easy it is to make (even with the dressing!).
What to Serve with This Strawberry Spinach Salad
This salad would honestly be good as a meal itself if you paired it with some grilled chicken but if you want it to stand as a side dish, any of these things would be great with it! We've taken it to potlucks and to barbecues before and everyone loves it!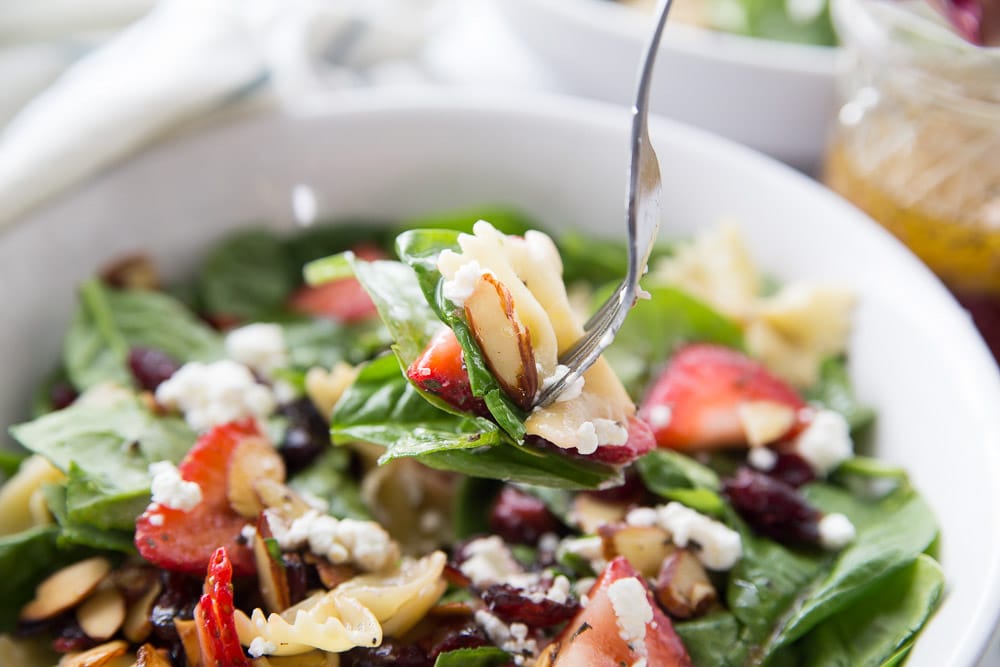 The Best Strawberry Spinach Salad
The best strawberry spinach salad recipe with a red wine viniagrette! This salad combines fresh strawberries, caramelized nuts, and crumbled cheese for one delicious spinach strawberry salad recipe!
Ingredients
1-2 bags of baby spinach
1 cup almonds caramelized
1 cup Craisins
2 cups sliced strawberries
½ cup crumbled goat cheese
8 oz of cooked bow tie pasta (optional)
Dressing Ingredients
¼ cup red wine vinegar
½ Cup olive oil
1 Tablespoon brown sugar
2 tsp dried basil
2 garlic cloves minced
½ tsp salt
½ tsp pepper
Instructions
Combine all of your salad dressing ingredients together in a bowl and place in refrigerator to blend.

Right before your are ready to serve the salad, combine all of the salad ingredients together other than the goat cheese.

Toss salad with dressing.

Top with goat cheese just before serving.

Serve chilled.
Nutrition Info
Calories: 432kcal, Carbohydrates: 42g, Protein: 10g, Fat: 26g, Saturated Fat: 5g, Cholesterol: 7mg, Sodium: 202mg, Potassium: 257mg, Fiber: 5g, Sugar: 15g, Vitamin A: 158IU, Vitamin C: 21mg, Calcium: 87mg, Iron: 2mg
.
Don't forget to pin this strawberry spinach salad recipe for later!