A dig your own graveyard dessert bar is the perfect Halloween party idea with chocolate covered tombstones, pudding plots, and candy coffins!
One of my favorite ways to set up a party table is with a story or adventure in mind. And can we talk about how much of an adventure 2020 has been? Wow.
I just posted 25 different Halloween activities that are safe for 2020 and while they're super fun – they're also a bit heartbreaking because we're still so far for normal. But regardless, it doesn't mean you can't plan fun Halloween party ideas like this one!
For my Wizard of Oz welcome home party a few years ago, I styled each section of the table to represent one of the main scenes from the movie starting with the tornado and ending with the hot air balloon ride home.
For this Halloween party, I took the same approach and created a "Dig Your Own Graveyard Dessert" bar. The idea behind this dessert bar is that each section of the party table builds on the last one and creates more of an "experience" for my guests rather than just something pretty to look at.
Download the Free Printables
If you're ready to download the free printables to use this idea, simply click the button below or click here.
First, you have pick a pudding plot. I found these Super Size Snack Pack pudding cups at Walmart and knew they would be the perfect base for my dessert graves because they're the perfect individual containers to hold fun and creative mix-ins! They sell them in a variety of flavors but I'm partial to chocolate, so the two options I provided were the chocolate and the chocolate vanilla mix.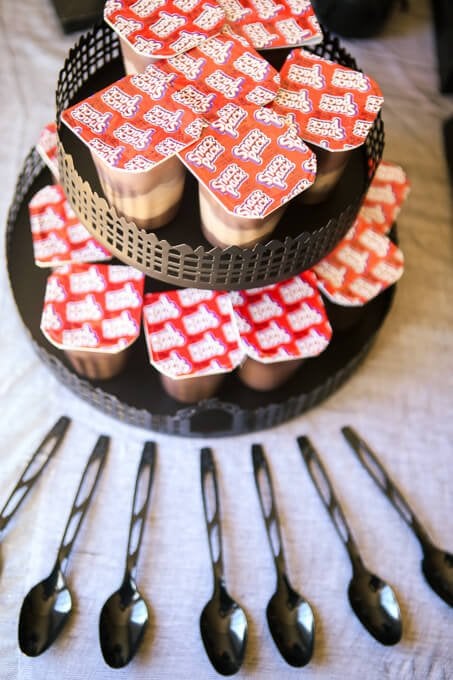 Next up is picking your potion to mix into your pudding. You get to choose the potion that makes the dessert grave necessary. I set up this section like a witches lair with tons of great options like for mixing into the pudding like gummy worms, chocolate chips, and my personal favorite sweetened coconut. There are so many things you could use as mix-ins; these are just some of my favorites.
After you've mixed up your potion, it's time to choose your coffin. I found the cutest coffin containers that were perfect for filling with tons of sweet and spooky treat options. And on the inside lid of the coffin I just used a permanent marker to give each treat a Halloween inspired name because you know Sour Patch Kids isn't nearly as exciting as mini monsters.
Just walk down your Halloween candy aisle and I'm sure you'll be able to find some great candy decorations perfect for topping your dessert graves. Oh and don't forget the dirt! You can't have a dessert grave without dirt, on in this case your choice of dirt (OREOS), sand (graham crackers), or pebbles (Vanilla Wafers). I mean if you're setting up a dessert bar, there have to be choices for everything right?
Last but not least, pick out your tombstone. These tombstones were so simple to make and made a huge impact in the dessert graves!
Place a piece of parchment paper on a baking sheet.
Melt 1 cup chocolate chips and 1 tsp vegetable oil in the microwave on low heat until chocolate is melted.
Dip graham crackers and Vanilla Wafers in chocolate and immediately place on prepared baking sheet.
Place in freezer for a few minutes to allow chocolate to fully harden.
Pour leftover melted chocolate into a plastic baggie. Cut a tiny piece off the corner and pipe your words in chocolate onto the chocolate covered tombstones. Put back in freezer to allow writing to harden.
And that's it! This party is one you can easily put together in a short amount of time that your guests will love. My dad and I had a great time putting together different dessert graves to see who could come up with the best combination. One of the best things about creating a dessert bar is seeing what everyone will create.
These are just a few of my favorites!