The dining options on a Disney Cruise are almost endless even if you are with your kids! There's something that even the pickiest eater and the gourmet foodie will enjoy. This is your ultimate guide to dining on a Disney Cruise.

Right before we moved this summer, we went on our very first Disney Cruise – a 4 day, 3 night itinerary out of Port Canaveral on the Disney Dream. I've been on a lot of cruises on other cruise lines and was honestly pretty nervous at first about taking our 3-year-old.
I wasn't sure how he'd do sitting at dinner each night, if anyone would sleep with us all in one room, if he'd be safe, if he'd like the kids club, etc.
I had no idea what to expect, but it definitely wasn't what we actually experienced. From the well thought out room layouts to amenities in the kids club, our cruise on the Disney Dream blew every expectation I had of cruising with my 3-year-old out of the water.
And hopefully my ultimate guide to going on a Disney cruise with preschoolers will give you everything you need to be less nervous and more prepared than I was. My tips are specific to the Disney Dream ship, but I'm confident that most of these tips and pieces of advice carry across all of the Disney ships and itineraries.
Dining on the Disney Dream with Preschoolers
Disney Dream Dining Rooms
Honestly, dining on the cruise was one of the things I was most nervous about. I knew we'd be fine for quick food like the buffet and grabbing all you can eat pizza and ice cream throughout the weekend, it was dinners I was picturing as a disaster.
Unlike other cruise ships where the dining rooms are a bit stuffy and formal, the three dining rooms on the Disney Dream were fun, interactive, and kid-friendly. They reminded me a lot more of Disney character meals at Walt Disney World than cruise ship meals!
When you board the ship, you're assigned to eat dinner on the first night in one of the dining rooms and then throughout the three nights, you rotate (with your serving staff) to have a chance to eat at all three of the dining rooms. We started in my favorite, the Animator's Palate, which incorporated Disney animation elements throughout both the decor and food.
Throughout the dinner, characters from Finding Nemo swam around on large interactive display screens on the walls of the restaurant and kept the kids entertained with games like guess what the school of fish is creating.
Our second night we ate dinner in the Enchanted Garden where we explored fountains, plants, and fun lights between ordering and receiving our first course.
And last but not least, the Royal Palace dining room was decorated with pictures of queens and princesses from your favorite Disney movies. It was the fancier of the three options in terms of the menu, and we chose to skip our night there and eat at the adults only Palo instead. If we had a girl who loved princesses though, we would've been all over it.
One of the best parts of the dinner experience was our serving staff. Your team rotates with you to each of the different restaurants, and they go above and beyond with making things fun for the kids. From Mickey Mouse shaped ketchup to my son's name on his juice cup (that was there when we sat down) to the paper animals they made for us, they really made sure to pay special attention to the little guys.
Other Dining Options on Disney Dream
Outside of dinner, there are a variety of other places you can get food throughout the day. The daily itinerary will list all of the different options, what meals they serve, and what times they're open but here's a quick rundown.
Soft serve ice cream – open pretty much all the time. And if you're craving something bigger than just a small ice cream cone, there are smoothies and milkshakes available at Frozone Treats and Eye Scream for a small cost. We just stuck with soft serve and enjoyed the variety of flavors they offered throughout the weekend.
Flo's Cafe – Pizza, burgers, and French fries available the majority of the time. The pizza selections change daily with a variety of normal (cheese, pepperoni) and more interesting flavors available.
Cabana's Buffet – open for every meal with a great kid size buffet where they can select kid-friendly foods like chicken nuggets, mac and cheese, and mini corn dogs. There are also plenty of healthy options as well including fresh fruit, salad bar, and more. The selections change daily, so if you don't find something you love the first day, try again for the next meal.
Kids Club – The Oceaneer's Club offers food to kids who are in the club during mealtime, so if you want to grab an adults only dinner at Palo, no need to make sure your kids are fed before you drop them off. The thing I love most about this is that they are encouraged to eat but not forced.
Castaway Cay – On the day you port in Castaway Cay, they provide a full Caribbean inspired BBQ that includes everything from hot dogs to the yummiest coconut bread.
They also have fresh fruit, drinks, and more soft serve ice cream available on their private island so no need to go back on board for anything. Oh and get a drink in a plastic pineapple, tropic drinks just taste better that way.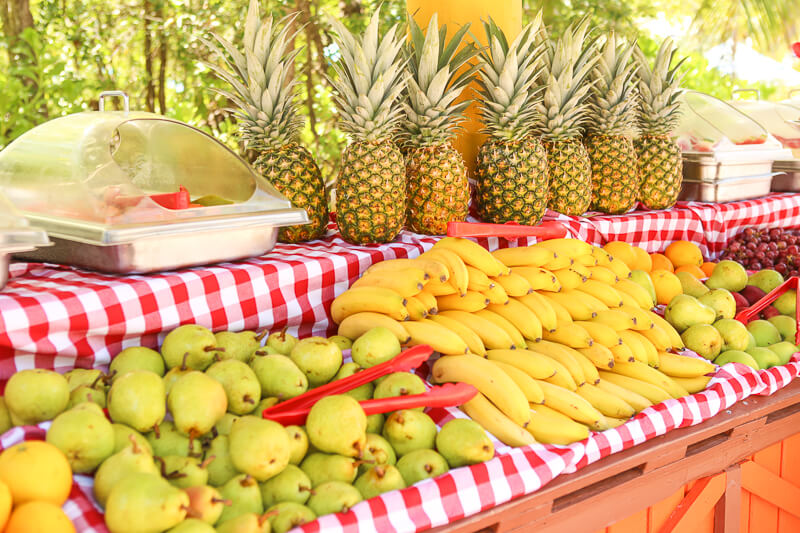 Vanellope's Sweets & Treats – The Wreck it Ralph inspired candy store was my son's favorite spot on the entire ship. With fun displays, yummy desserts, and bulk candy options, we were there pretty much every night. The sweets and treats aren't included in the price of your cruise, but it's definitely worth a visit or two.
Room Service – We only took advantage of the room service once or twice but when we did the food was decent enough. It's included with the cost of your cruise, but there may be a service or gratuity charge, so make sure to check before you order.
Drinks on Disney Dream
Disney provides all you can drink soda, juice, and water throughout the cruise. Anything other than that is an additional cost, and the prices of frozen drinks can really add up when all you do is slip them your room card to pay. We stuck with mostly soda and juice with an occasional virgin frozen drink if one of the specialities called our name.
Adults Only Dining on Disney Dream
Disney Dream has two adults only dining options – the Italian inspired Palo and the French inspired Remy. Both have a small cover charge per person that's completely worst the cost of the meal you're served in one of these upscale restaurants.
Both restaurants are on one of the higher floors and look out right onto the ocean, so if you can, book your reservation around sunset. The view is phenomenal.
We spent one night eating our way through a delightful Northern Italy menu that started with crispy bread and a selection of antipasti and ended with the best dessert I had on the entire ship. I wish we'd had an extra day to enjoy the French food at Remy as well, next time.
Dining on a Disney Cruise Ship with Allergies
Disney is a leader in allergy-friendly eating and the Disney Dream was no exception. I don't have a life-threatening allergy by any means, but onions make me sick to my stomach. The staff was incredibly knowledgeable and helped me navigate through the dinner menus to choose something without onions.
And if you declare your allergy before the cruise (I didn't), they can actually work with you to make sure to provide menu options that work for your allergy, lifestyle, or preference. You can read more about their allergy friendly options here.
Make sure if you're participating in a Disney Cruise fish extender group to let them know about your allergies as well!