Don't skip the Disney character dining during your next trip to Walt Disney World! You never know, a Disney character breakfast may just be the most magical moment of your entire trip!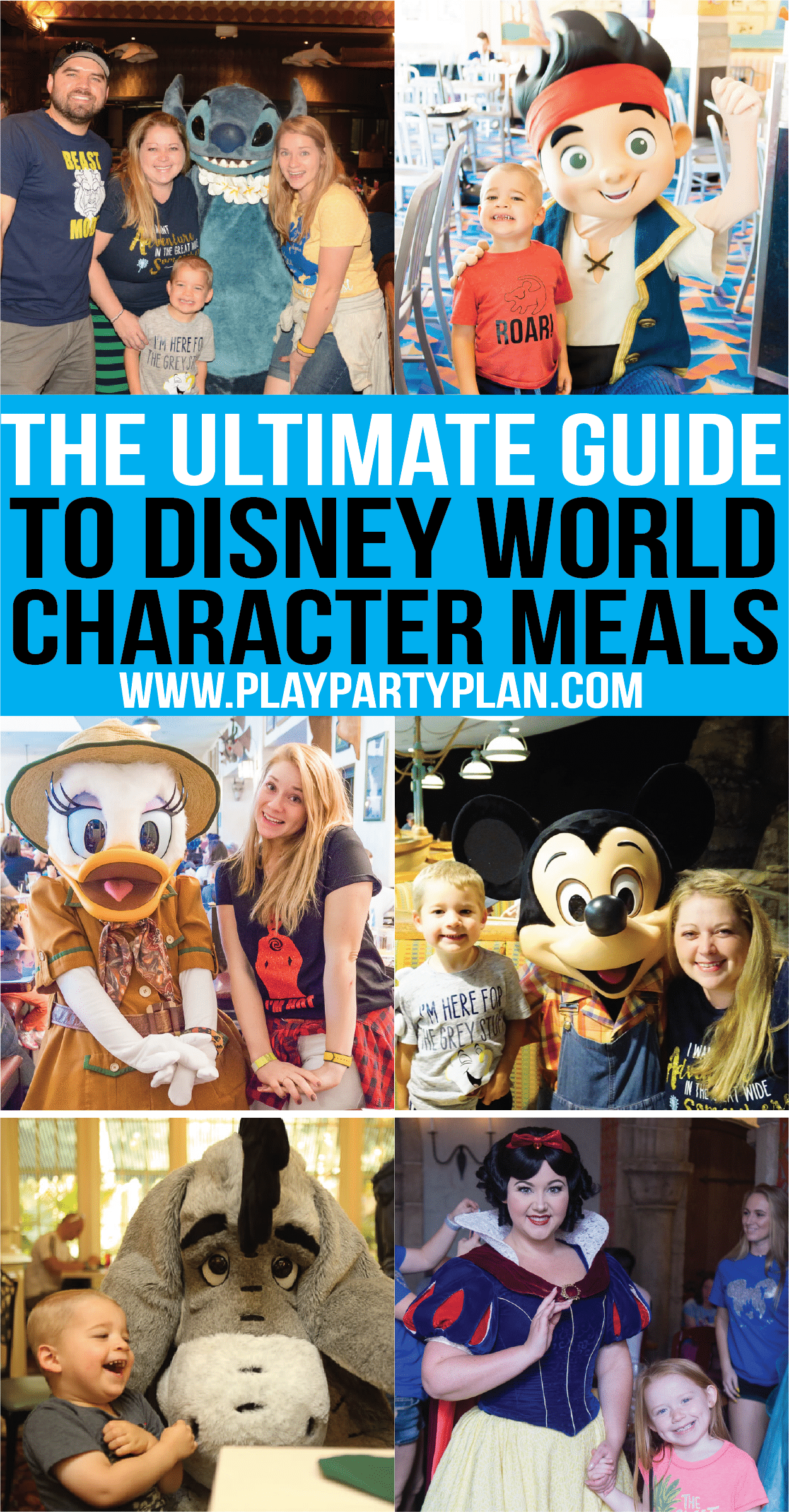 2021 Character Dining Update
Update: Make sure to read this guide to Disney dining prior to planning your trip in 2021 as various character dining, regular dining, and signature dining experiences have been modified, closed, and cancelled throughout the Disney World resort.
Currently Open Character Dining Restaurants
As of July 2021, many of the restaurants on this list are finally open again but some are not doing their typical character dining. Make sure to check details for the actual restaurants before assuming the 2021 version will be the same as pre-pandemic version!
These restaurants (from this post) are all currently open, although character dining may be unavailable or modified.
Chef Mickey's (Contemporary) – open with a modified character dining experience
Cape May Cafe (Beach Club Resort) – open, character dining unavailable
Ohana (Polynesian Resort) – open, character dining unavailable
Garden Grill (Epcot) – open with a modified character dining experience
Trattoria al Forno (Boardwalk) – open, character dining unavailable
Topolino's Terrace (Riviera) – open with a modified character dining experience
Tusker House (Animal Kingdom) – open with a modified character dining experience
Cinderella Royal Table (Magic Kingdom) – open, character dining unavailable
Crystal Palace (Magic Kingdom) – open, character dining unavailable
Hollywood & Vine (Hollywood Studios) – open with a modified character dining experience
What does modified character dining mean?
I haven't actually done a modified character dining experience but from what I have seen, it means characters are around and will interact, but from a distance. There is no hugging, true interaction, and I don't believe they're doing autographs (but I'll confirm when I go next).
I've heard they're still fun but for the cost of the experience, I would personally wait until there are true character interactions again. Those are my favorite.
Why Read This Guide
Over the past year my family has been to Walt Disney World eight times. We're annual passholders even though we live nowhere near Florida!
And on each trip, we've done at least one fun Disney character dining experience. Those Disney character meals have been some of my favorite Disney vacation moments ever, so I highly recommend them to anyone and everyone!
Before I get started, let me caveat this post by saying that I'm writing this post focused solely on the Disney character dining, not on you wanting to get on Frozen Ever After first thing in the morning or you wanting to see fireworks.
This is solely my opinion about the best Disney character dining experiences, regardless of your other park or viewing plans.
And these aren't necessarily the best places to eat in Disney World, just Disney character dining.
We go to Disney often enough that we tend to base our plans on Disney character meals we've scheduled rather than planning our meals around our activities.
Review Criteria
My reviews are honest and based on:
Characters available and how good the characters were
Food
Atmosphere (what kind of decor, what kind of restaurant, anything else noteworthy)
Value for the experience
Character Dining Meals
We've done all but two of the current Disney character dining options over the past few years and we have reservations for the last two when we hit the parks this summer!
And if you're planning on doing character dining with young kids, I've got an entire post on Disney character dining with young kids – it's a beast of its own. Still magical but something to be prepared for!
Here's the full list of Disney character dining options. If you want to skip directly to a particular character dining experience, simply click on the link in the list below.
Table of Contents
Crystal Palace Winnie the Pooh + Friends (Magic Kingdom)
Cinderella's Royal Table (Magic Kingdom)
Akershus Royal Banquet Hall (Epcot)
Garden Grill Restaurant (Epcot)
Hollywood & Vine (Hollywood Studios)
Tusker House Restaurant (Animal Kingdom)
1900 Park Fare (Grand Floridian)
Cape May Cafe (Beach Club Resort)
Chef Mickey's (Contemporary Resort)
'Ohana (Polynesian)
Storybook Dining at Artist Point with Snow White (Disney's Wilderness Lodge)
Trattoria al Forno (Disney's Boardwalk)
Topolino's Terrace (The Riviera)
Disney Character Dining FAQs
Disney Character Dining Tips
Magic Kingdom
Let's start with character dining in the most magical of the parks – Magic Kingdom. There are two real character meals available in Magic Kingdom – Crystal Palace and Cinderella's Royal Table.
You can also technically meet the Beast at the Be Our Guest restaurant at dinner time, but it's not really "character dining" so I haven't included it in this post. I did however write up a detailed post about eating at Be Our Guest here that gives details on our experience!

Crystal Palace Winnie the Pooh + Friends Meal
Characters: Winnie the Pooh, Tigger, Piglet, Eyeore
Character dining available for breakfast, lunch, and dinner.
If your kids like Winnie the Pooh, this is my all-time favorite character dining experience because the characters are just magical. Unlike some of the other places where the characters seem rushed and too scheduled, the Winnie the Pooh characters played with my son, jumped with him, and really spent time interacting with him. It wasn't just a character meet, it was a character experience.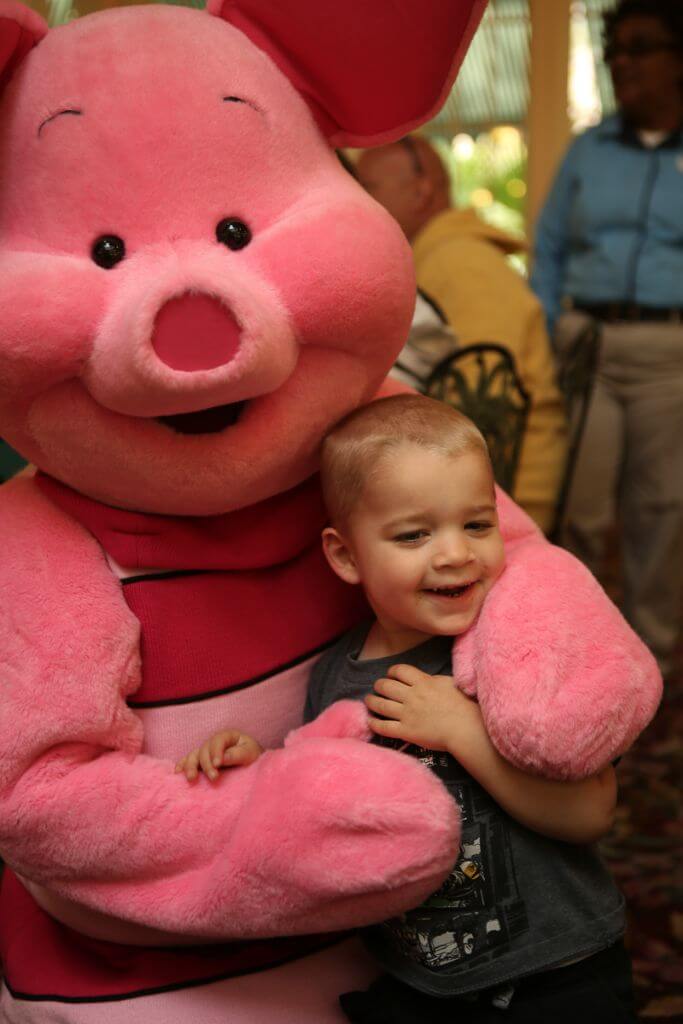 The food is served buffet style and pretty decent, not the same caliber as say Tusker House, but good enough. You're not coming for the food. There are also good kid options like the infamous mini corn dog nuggets, mac & cheese, and more. It's one of my most highly recommend character dining experiences, especially for nervous kids.
Fairytale Dining at Cinderella's Royal Table
Characters: Princesses, princesses, and more princesses. Always Cinderella and we also met Ariel, Rapunzel, Aurora, Jasmine, and Snow White.
Character dining available for breakfast, lunch, and dinner.
Cinderella's Royal Table was the most recent of our Disney World character dining experiences. I only have boys so I'd been hesitant to pay the hefty price for this character experience thinking it was mostly for girls.
Reservations are really hard to get at Cinderella's Royal Table, so I just haven't bothered in the past but this time I was able to score a great lunch time reservation and decided to go for it. All of the reviews I'd read said that not only did girls love the place, boys did too.
My overall impression was that if you don't have girls who love princesses or boys who like princesses, I'd skip Cinderella's Royal Table for now. You're paying to eat in a castle and meet a bunch of princesses – if those things aren't high on your priority list than this very expensive character meal is one you can skip in my opinion.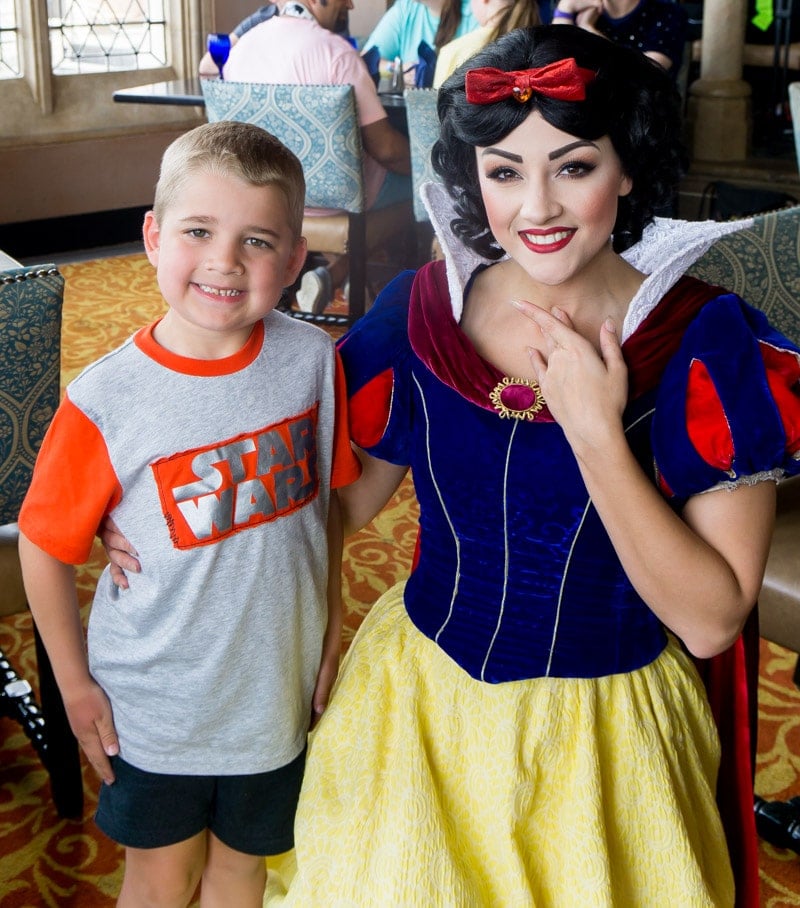 I'll be the first to admit the Cinderella's Royal Table dining experience is a cool one. You check in at your reservation time, wait in a cool waiting room inside the castle (complete with armored knights), take a photo pass photo with Cinderella, and then they call your family's name when it's your turn to be seated.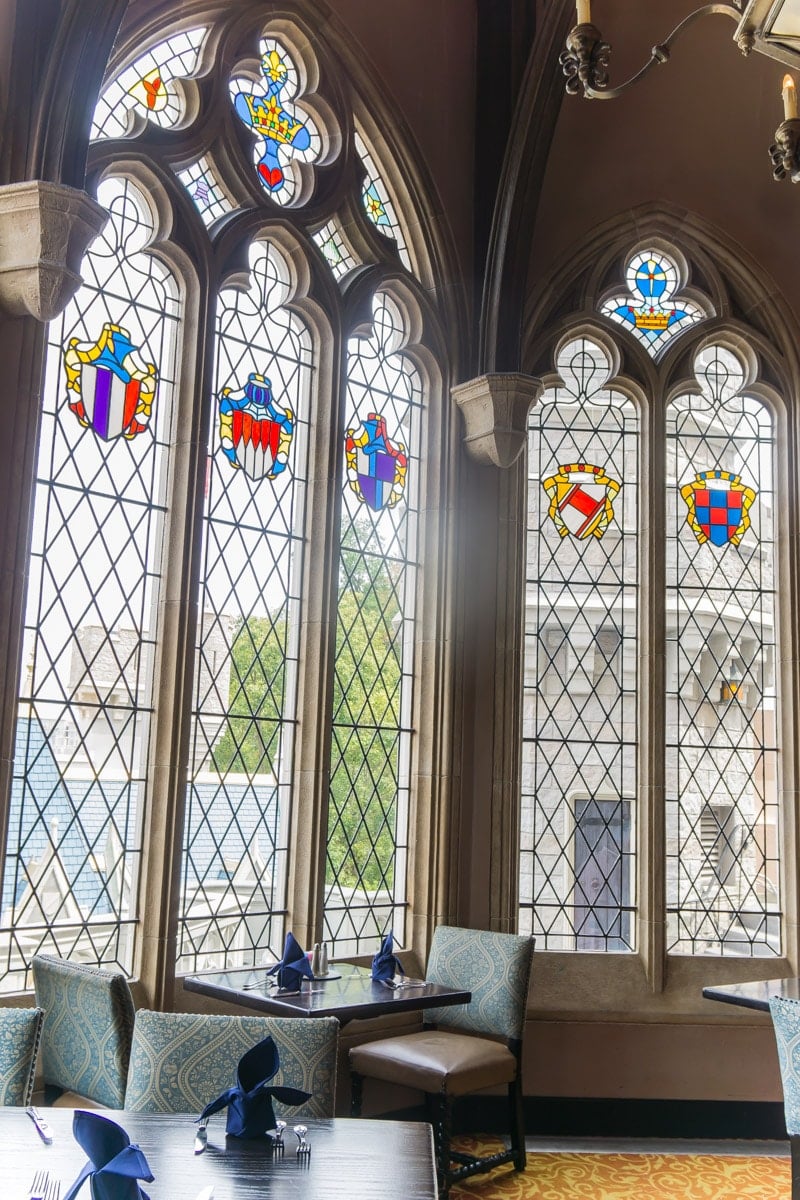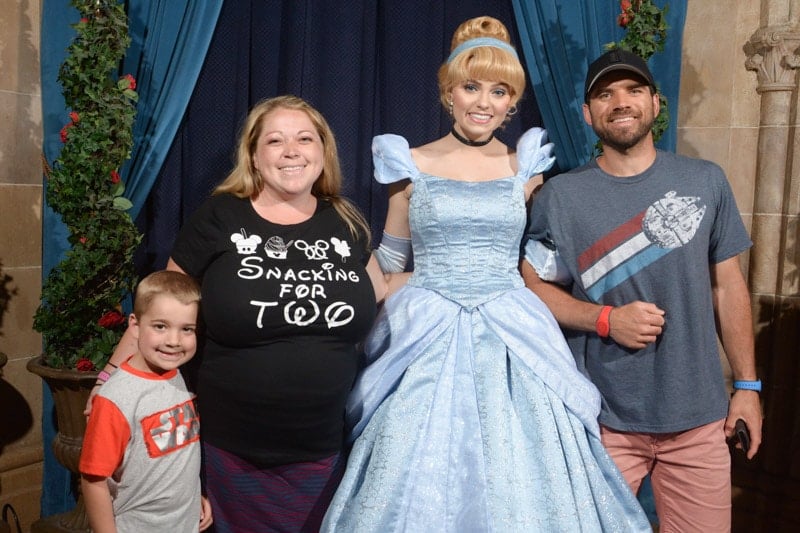 For the set price, you get to choose one appetizer, one entree, one dessert, and one regular drink (no alcohol or speciality drinks) each. The food was actually really good, especially in comparison to the food you'd get on a buffet. But the portions were not huge and it's not all you can eat like Garden Grill or Ohana. Like I mentioned before, you're paying a hefty price for a small meal + getting to meet tons of princesses at once.
And getting a cool plastic sword or star wand for every paid person on your reservation.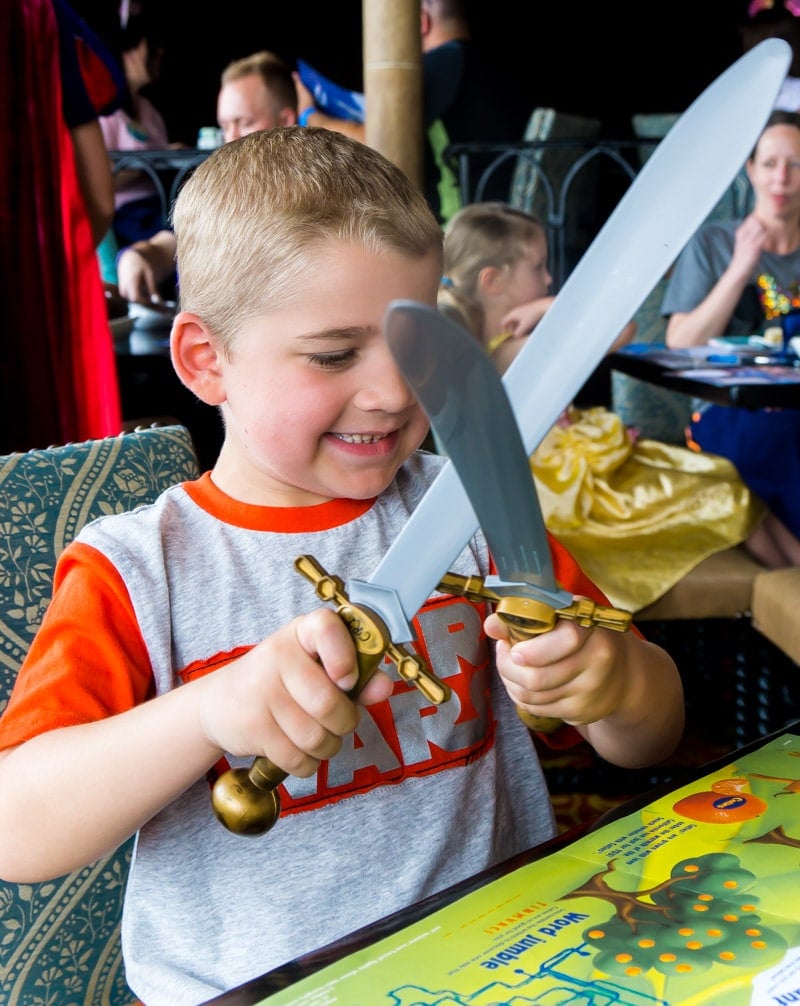 The highlight of the entire meal was the kid's decorate your own cupcake dessert option. Two small cupcakes, frosting, and toppings to decorate was the big winner of the meal!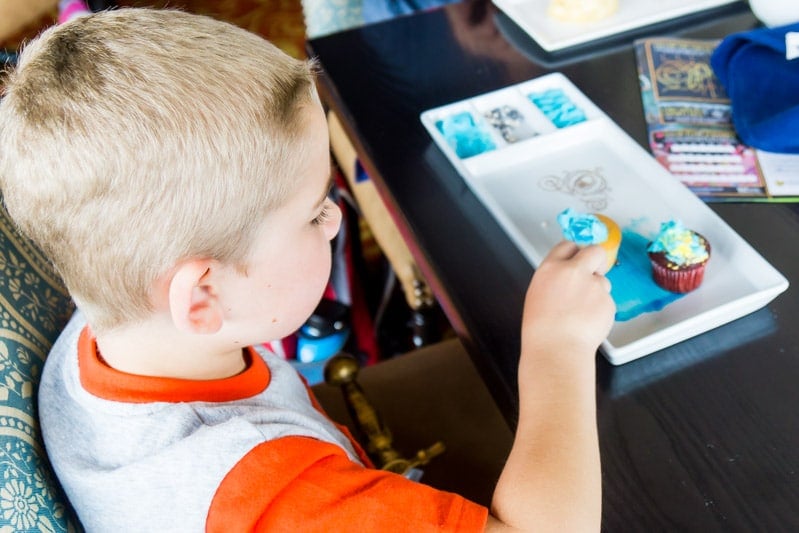 Our experience may have been different than others but the meal felt extremely rushed and overwhelming. We were seated in a back table and within a few minutes they took our order and then started announcing the princesses who would be coming out. Because we were in the back, we could barely hear them making announcements and couldn't see the princess entrances. Then the princesses started making their rounds around the tables and unlike in other character experiences, it felt like we had princesses at our table one right after another without giving us a chance to breathe at all in between. It also meant my 6-year-old son was sick of getting up and taking pictures by about the time the third princess rolled around.
Seeing all of the princesses was cool, but I really wish they'd been spaced out a bit more.
The princess visits felt rushed and so did the food service. Because we were trying to greet all of the princesses, we didn't get a chance to eat our appetizers before they brought out our entrees. And it's one of the few times that I felt physically rushed by our server who kept coming by and making comments about how slow my son was eating (in a positive, encouraging him to eat more way) and how it was time for dessert already. And he wasn't eating that slow.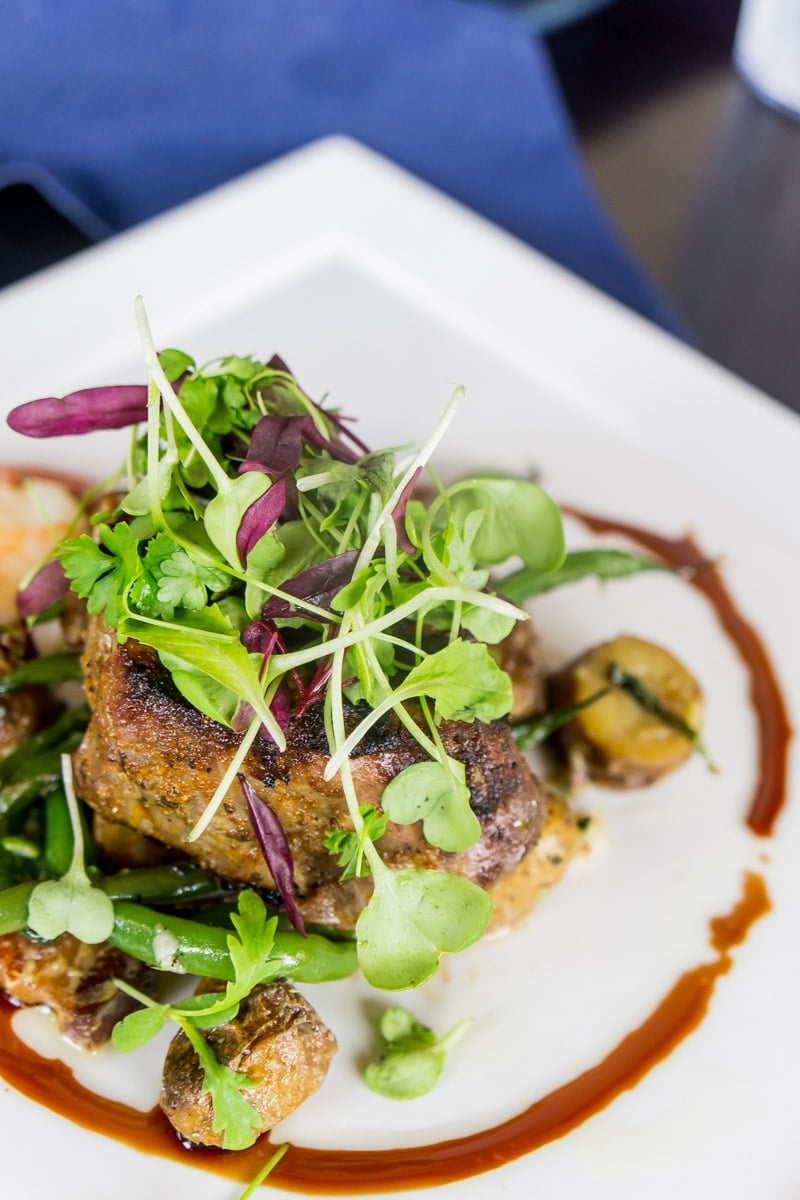 It felt like they were trying to turn over the room so quickly, we really didn't get a chance to enjoy the experience.
Unless I have a girl sometime in the future, I'm guessing we won't be returning to Cinderella's Royal Table.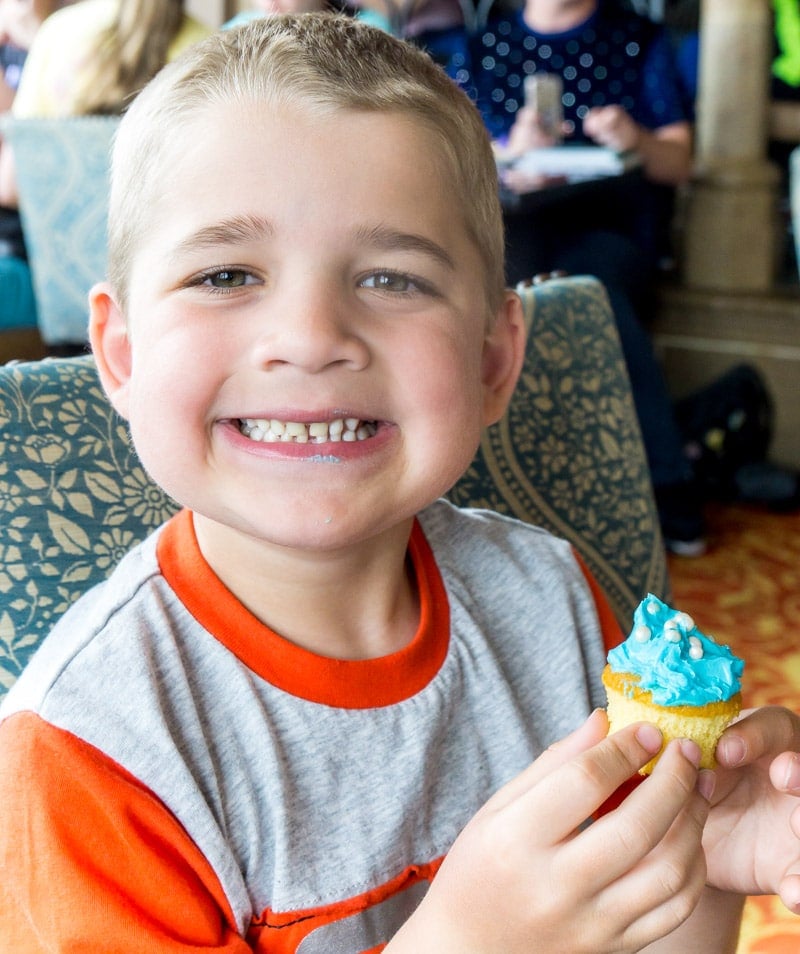 Get the Cinderella's Royal Table menu here.
Epcot Character Dining
There are two different Epcot character dining options that are totally different – princesses at Akershus Royal Banquet Hall and Chip, Dale, and Friends at Garden Grill!
Akershus Royal Banquet Hall Princess Breakfast
Characters: Princesses – typically the main ones like Cinderella, Snow White, Belle, Ariel, and Sleeping Beauty but sometimes others
Character dining available for breakfast, lunch, and dinner.
Up until my most recent visit to Walt Disney World, I had no reason to try out the princess breakfast. My son wanted nothing to do with princesses! But this time, we had my niece with me, so we decided to give it a shot. I would probably skip the lunch or dinner with young kids because the menu is a little strange, but I absolutely loved the princess breakfast! You can see the full lunch/dinner menu here.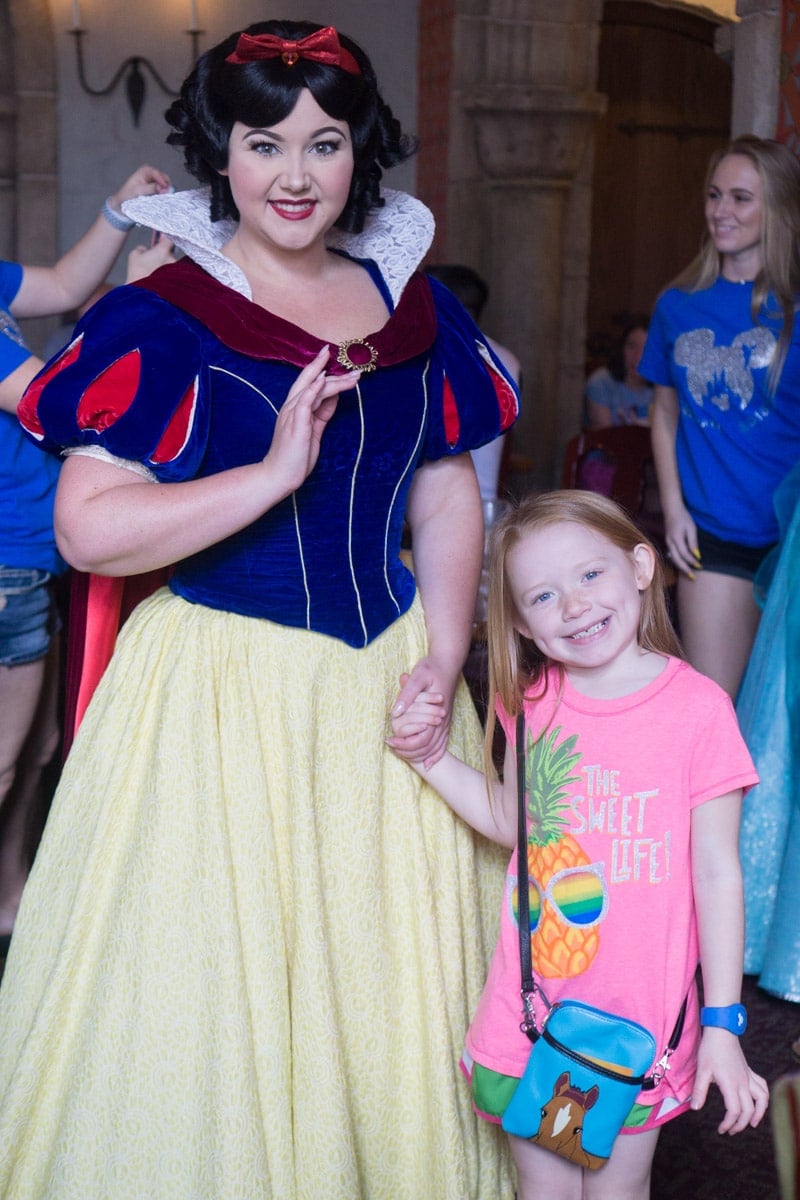 The breakfast comes with both a buffet option that includes fresh fruit, pastries, yogurt, etc. as well as hot food that is brought to your table family-style. While the food wasn't amazing, there was enough variety that everyone found something to eat.
The hot food brought to your table includes eggs, hash brown cakes, sausage, and bacon. And rumor has it that if you ask, you can get Mickey waffles though it's not advertised.
The best thing about this breakfast is that you get to see at least five princesses. We met Belle and took photos with her at the front of the restaurant and then the other princesses stopped by our table throughout our breakfast. All the princesses acted just like princesses should, and my niece was enamored.
If you have a princess loving girl, get a breakfast reservation here and skip waiting in all of the other lines in the parks!

Garden Grill Harvest Feast (The Land)
Characters: Mickey, Chip, Dale, and Pluto
Character dining available during breakfast, lunch, and dinner.
One of the best things about this character meal is that unlike many of the others, it's pretty easy to get a table. There are actually a lot of good things about this meal, but that's a huge one. It also means that the character interactions are a bit less rushed since the restaurant isn't as busy!
When you can't get a character meal anywhere else, you can typically get a table here. The other cool thing is that the restaurant actually rotates, like the tables rotate around so the restaurant itself almost feels interactive.
During the meal, you'll get to meet Mickey, Chip, Dale, and Pluto all dressed up in farmer gear. The one complaint I had about the meetings were that the space is a bit squished, especially if people need to get by at ant point. But other wise, this is a really fun one!
The food is also pretty good. During breakfast, you get family style breakfast food including scrambled eggs, a sticky bun bake (so good), fresh fruit, sausages, bacon, and of course Mickey waffles. It also comes with your choice of juice, and the passion fruit guava blend juice (can't remember what it is) was delicious! Another fun bonus is that the scenery changes as you rotate by, so there's never a dull moment in Garden Grill!
Lunch and dinner menus are also served family style with more of a homestyle Thanksgiving dinner feel including salad, turkey, mashed potatoes, etc. Here's the full menu.
Hollywood Studios Character Dining
There's currently only one character dining meal available at Hollywood Studios. Goes right along with the lack of good Walt Disney World food at that park but luckily the Hollywood & Vine character dining is actually one of our favorites for kids!
Hollywood & Vine Disney Junior Play N' Dine Breakfast
Characters at Breakfast – Disney Junior Characters such as Sofia the First, Doc McStuffins, Vampirina, and Roadster Racer Goofy
Character dining available during breakfast only.
The reason we loved this one was because it's the only character dining that includes Disney Junior characters. When we went a few years back it was actually Sofia the First, Doc McStuffins, Jake, and Handy Manny but it's been recently updated to include some of the new Disney Junior favorites like Vampirina and Roadster Racer Goofy!
My son watches Disney Junior all the time and loved seeing some of his favorite characters come to life. And we were able to get a reservation at 10:30 when they were just toward the end of the mealtime, so the restaurant was fairly empty. It gave us more time to enjoy with the characters (a couple came to our table two times!) as well as try out the breakfast and lunch menu items!
The food here was similar to Crystal Palace, pretty standard buffet fare with some healthy and unique options like an arugula salad mixed in.
At lunch and dinnertime, Hollywood & Vine offers different seasonal Minnie + Pals character dining options. You can find more info for those here.
Animal Kingdom Character Dining
There's surprisingly also only one Animal Kingdom character dining meal. Luckily the food at Tusker House is great so this one is a winner as well!
Tusker House Donald's Dining Safari Breakfast
Characters: Safari Mickey, Goofy, Donald, and Daisy
Character dining available during breakfast, lunch, and dinner.
The characters were good but because there were so many tables in a small space, this was one of the places that felt a bit rushed and squished.
The characters include Donald, Daisy, Mickey, and Goofy all dressed up in safari gear, which is a fun change from their normal outfits. You'll get time with each of the characters, just long enough for a quick hug and photo.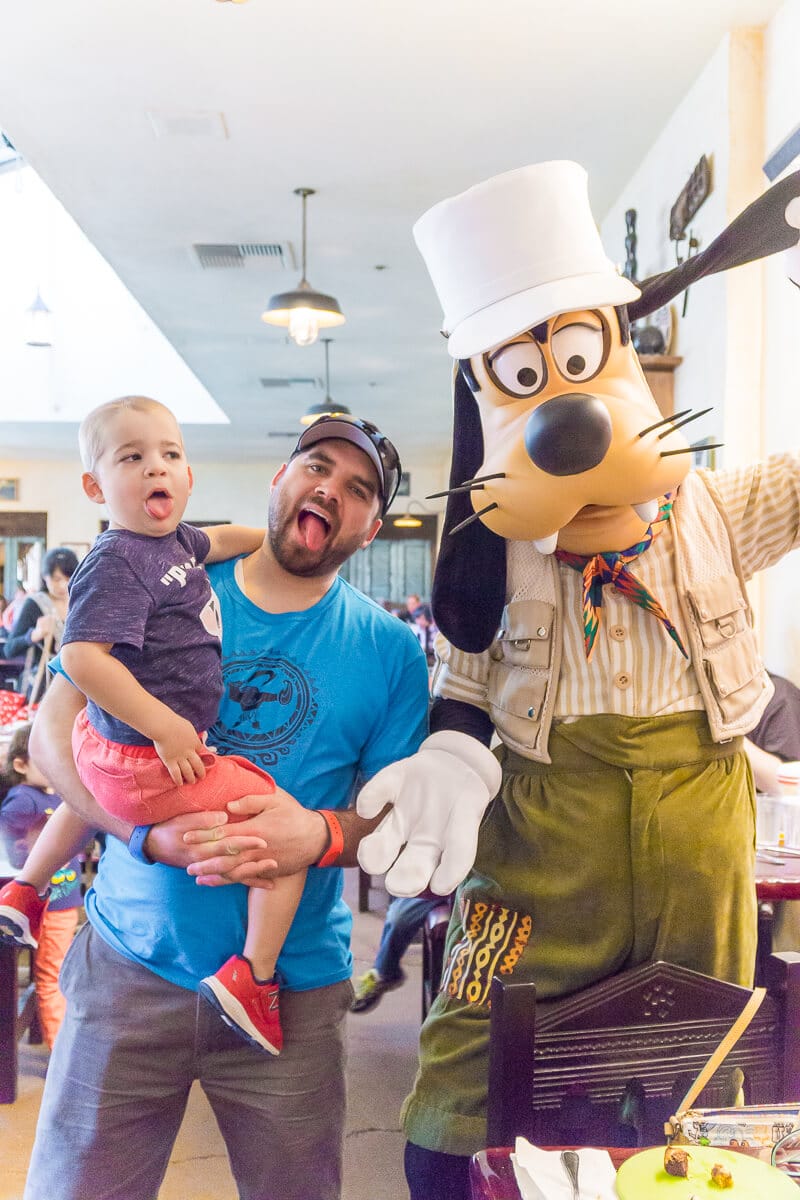 The big winner here was the food and the location in the middle of Animal Kingdom. We went at 10:45 in that magical breakfast becomes lunch hour and enjoyed everything from donuts and smoked salmon for breakfast (that's all my sister ate) to meats and a ton of African inspired dishes for lunch.
Oh and don't forget to try both the breakfast speciality juice (kind of a tropical guava mix) and the pomegranate lemonade at lunch!
Walt Disney Resorts Character Dining
The rest of the Disney World character dining options happen in resorts, rather than parks. This is great news for anyone who wants to do a Disney character breakfast on a day you aren't planning on going to the parks – or a local who just wants to stop by to say hi to Mickey without having to brave the park crowds!
Supercalifragilistic Breakfast at 1900 Park Fare (Grand Floridian)
Characters: Alice in Wonderland, Mad Hatter, Mary Poppins, Winnie the Pooh, and Tigger
This character dining experience available during breakfast only. They also offer a Cinderella + Prince Charming Happily Ever After Dinner and Wonderland Tea Party in 1900 Park Fare if those are more your cup of tea. Literally.
We loved our experience at the Supercalifragilistic Breakfast. It reminded me a bit of the Disneyland Plaza Inn character meal where it's kind of a random conglomerate of characters, but they were all totally awesome and different than the standard Mickey + Friends.
And while the atmosphere is a bit understated with an old-fashioned carnival theme, I actually loved it. Especially the beautiful music playing thing (can't remember what it's called, but here's a picture) that ushered us out after we were done with a lovely melody at the end of breakfast.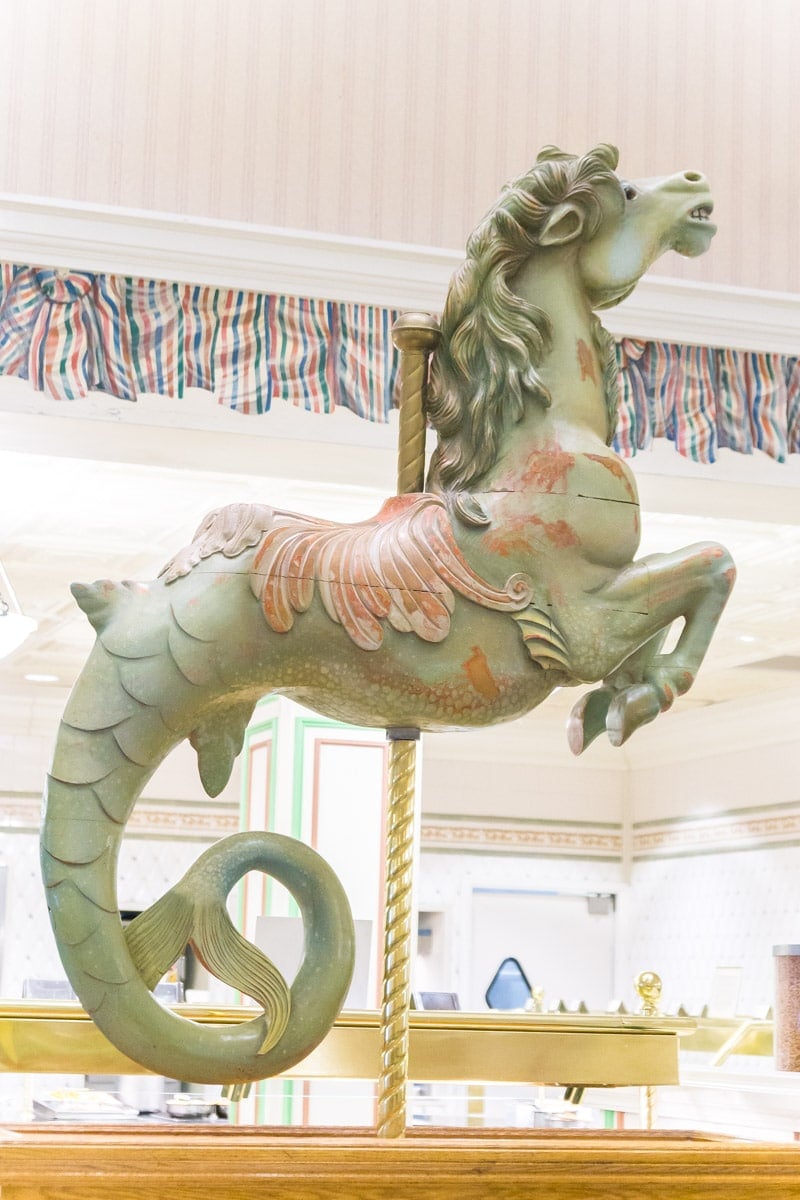 This character dining experience is very similar to any of the other buffet restaurants – Hollywood & Vine, Crystal Palace, Chef Mickey's, etc. but the food was better and a little more unique. The characters rotated around the room so you could plan to be at your table when they got there and still had plenty of time to hit the buffet and enjoy your food.
My son was a bit hesitant about meeting the Mad Hatter who came to our table first, but I loved his quirky talk and getting to meet someone you don't see that often. And my son totally warmed up after taking photos with Tigger (or Tiggy as he calls him) and Winnie the Pooh. It's a really good mix of face and non-face characters – a little something for everyone!
My favorite though was Mary Poppins, especially after going to the Mary Poppins Returns red carpet event and meeting Emily Blunt herself!
The other thing I loved was the food. You have your typical standard buffet fare but there are also some great standouts like the blintzes and the strawberry soup.
Not quite the same as this strawberry soup recipe we make at home but oh so delicious! And my son really liked that they had gummy bears for putting on top of ice cream (or just eating by the cup full).
Minnie's Beach Bash Breakfast at Cape May Cafe (Beach Club Resort)
Characters: Mickey, Minnie, Donald Duck, and Goofy
Character dining available during breakfast only.
Cape May's character breakfast reminded me a lot of Chef Mickey's in that it's a buffet with most of the Fab Five – minus Mickey.
The thing I loved most about the characters was their outfits. They were beachy, bright, and fun!
The food was decent but nothing that stood out other tan that you could get Minnie waffles (not just Mickey ones). The characters were fun as always but the room was a little tight so felt like it limited the interactions a bit.
And be forewarned – the lighting in the room we were in was SO yellow. It was hard to get a decent photo because of spacing and lighting issues.
It was definitely on the lower half of my character dining list but if you're staying at Beach Club, Yacht Club, or Boardwalk where it's a walkable breakfast, still a fun stop.
Chef Mickey's (Contemporary Resort)
Characters: Mickey, Minnie, Goofy, Pluto, and Donald
Character dining available during breakfast, lunch, and dinner.
This is one of my favorite character dining experiences because it's one of the only places where you can see all five of the Fab 5! They all come around dressed in their chef's best, and it's just a really fun restaurant.
Since it's in the Contemporary resort and not in a park, it's one of my favorite places to do dinner the night before our Walt Disney World vacation begins!
The food is setup buffet style and just okay but there are normally plenty of options, both for kids and adults. And the dessert buffet options are amazing! We had macarons, mini cheesecakes, cupcakes, ice cream, and more. It's also a fun location because the monorail actually goes through the hotel, and you can watch as it goes by!

Stitch's Ohana Disney Character Breakfast (The Polynesian)
Characters: Lilo, Stitch, and Mickey
Character dining available during breakfast only.
This character breakfast is outside of the parks in The Polynesian Resort. We enjoyed a leisurely Ohana breakfast with Mickey, Pluto, Lilo, and Stitch then hopped on the monorail over to Magic Kingdom.
If you're not in a hurry to get into the parks, it's a great way to skip the craziness at the Transportation & Ticketing Center all together.
The character experience here is similar to Tusker House where it feels a bit rushed but the interactions were still great, albeit short. And my son's interaction with Stitch was one of the highlights of the trip.
Unlike most character dining experiences, Stitch travels with a professional photographer so if you have the Memory Maker pass, you can get those professional photos uploaded to your account for free.
Ohana means family and that's what this character meal is all about. Instead of ordering individual meals or picking things off a buffet, the food here is served family style. Cousins (cast members who work at The Polynesian) bring out fruit, an incredible Hawaiian sweet bread, drinks, and a huge platter of standard breakfast fare like scrambled eggs, bacon, biscuits, sausage, potatoes, and the all important Mickey waffles for the family to share.
Want more of something, just ask. It's an all-you-can-eat affair. Want more of just one thing? Just ask. The cousins were wonderful and brought us everything we needed, including some extra crispy bacon for my super picky son.
Storybook Dining at Artist Point with Snow White (Disney's Wilderness Lodge)
Characters: Snow White, Dopey, Grumpy, and the Evil Queen
Character dining available during dinner only.
While we didn't get the full experience of eating at Storybook Dining during our recent Walt Disney World dining press trip, my husband and I did get the chance to meet the Evil Queen, see some of the food options, and try a plethora of desserts. I've added it to my list to return to but for now here are some of my thoughts on the newest Walt Disney World character dining experience!
First off, the room transformation is beautiful. You feel like you're walking into an Enchanted Forest, complete with trees and plenty of sunlight.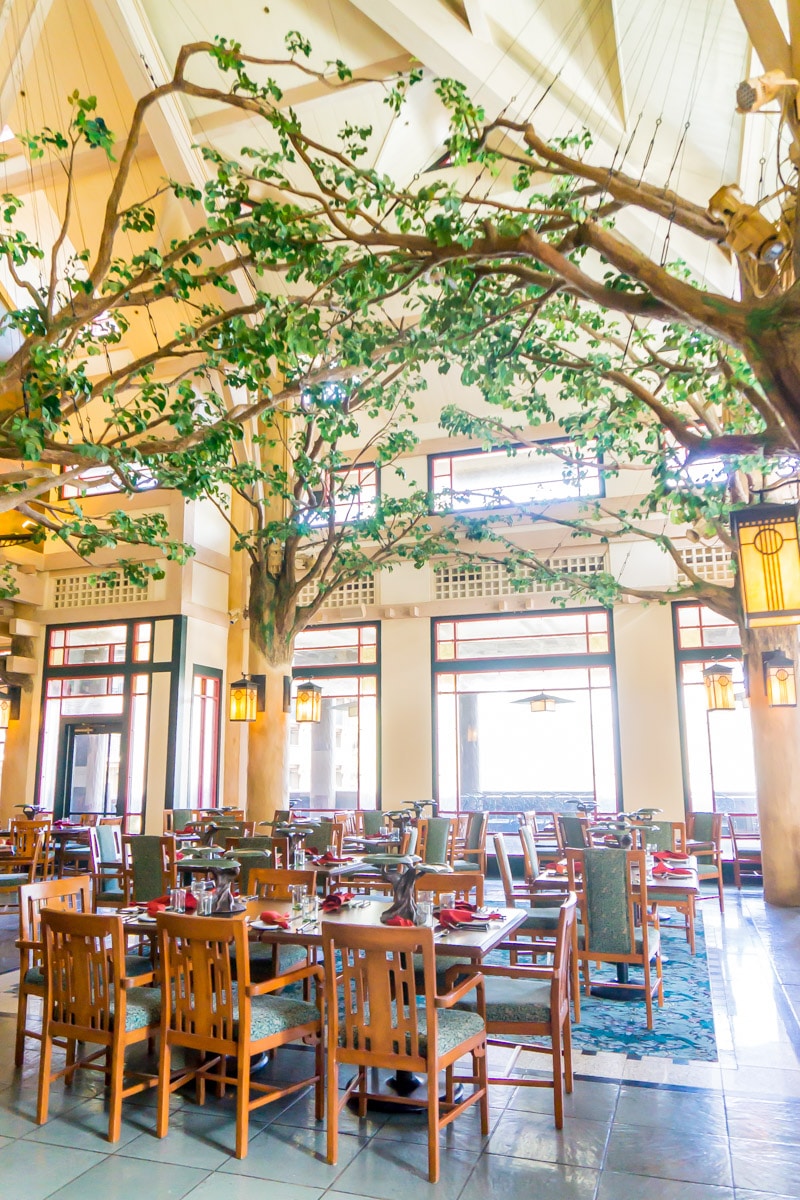 And unlike typical character dining buffet food, the food here is upscale, creative, and delicious. Or at least the things I tried anyway!
They really allowed the chefs to have fun with the menu and turned a typical veggie plate into a garden complete with a roll baked in a planter's cup. Everything on the menu is cooked and presented in a creative way, which might be a little challenging if you have picky eaters but they'll likely still be able to find something they like on this diverse menu.
The star of the menu for me however was the desserts. A sponge cake parfait called Miner's Treasures and topped with candy gems and a picture of Dopey, cracked maple popcorn with a ganache heart (presented as a hunter's gift to the queen) and even a fun color changing drink for kids!
Another big winner was our interaction with the Evil Queen. Snow White and the Dwarves walk around to the different tables during your meal but the Queen has her own setup, and it's just plain awesome. And the Queen totally nailed her interactions with us from her facial expressions to her sound effects and more. It's one of the few interactions that I think is probably just as fun (if not more fun) for adults than the
Trattoria al Forno (Disney's Boardwalk)
Characters: Rapunzel, Flynn Rider, Ariel, and Prince Eric
Character dining available during breakfast only.
This meal is just plain fun. From the delicious food to the musical adventure, your kids will love this one. It's also one of the only places you actually get to see couples together.
The characters get announced as part of the adventure and will sing and dance their way around the room, adding to the experience! Then they'll circle the room interacting with guests just like any other character meal.
Both Ariel + Eric and Rapunzel + Flynn were awesome, but I want to give a special shoutout to Rapunzel and Flynn. As an adult, character dining can sometimes get old but those two just seemed to be having so much fun that it was hard for me to not.
The food is also a huge hit here. You get to choose from a pre-fixed menu for one flat fee (as opposed to a buffet) and the choices are imaginative and delicious.
I opted for the buttermilk pancakes that came in a stacked pancake tower topped with the cutest Tangled emblem. My husband went with a more traditional route and was pleased as well.
The kids can get an Ariel waffle, flapjacks, or an omelet along with their choice of sides and a drink.
And everyone gets to enjoy a frying pan full of yummy pastries. The Tangled sun one was my favorite!
Toppolino's Terrace (The Riviera)
Characters: Mickey, Minnie, Donald, and Daisy in artist outfits
Character dining available during breakfast only.
This is one of our new favorite character dining experiences. Topolino's Terrace is located on the top floor of the brand new Riviera Resort and everything about it screamed quality and top-notch service.
You get to see four of the fab five coming around in the cutest artist inspired costumes. Daisy is a ballerina, Minnie has on a dress with the words of poems she wrote. Mickey is a painter, and Donald is a sculptor.
The room is bright, wide, and beautifully decorated so the photos opps are fantastic. Plus their cute outfits are ones you won't see anywhere else!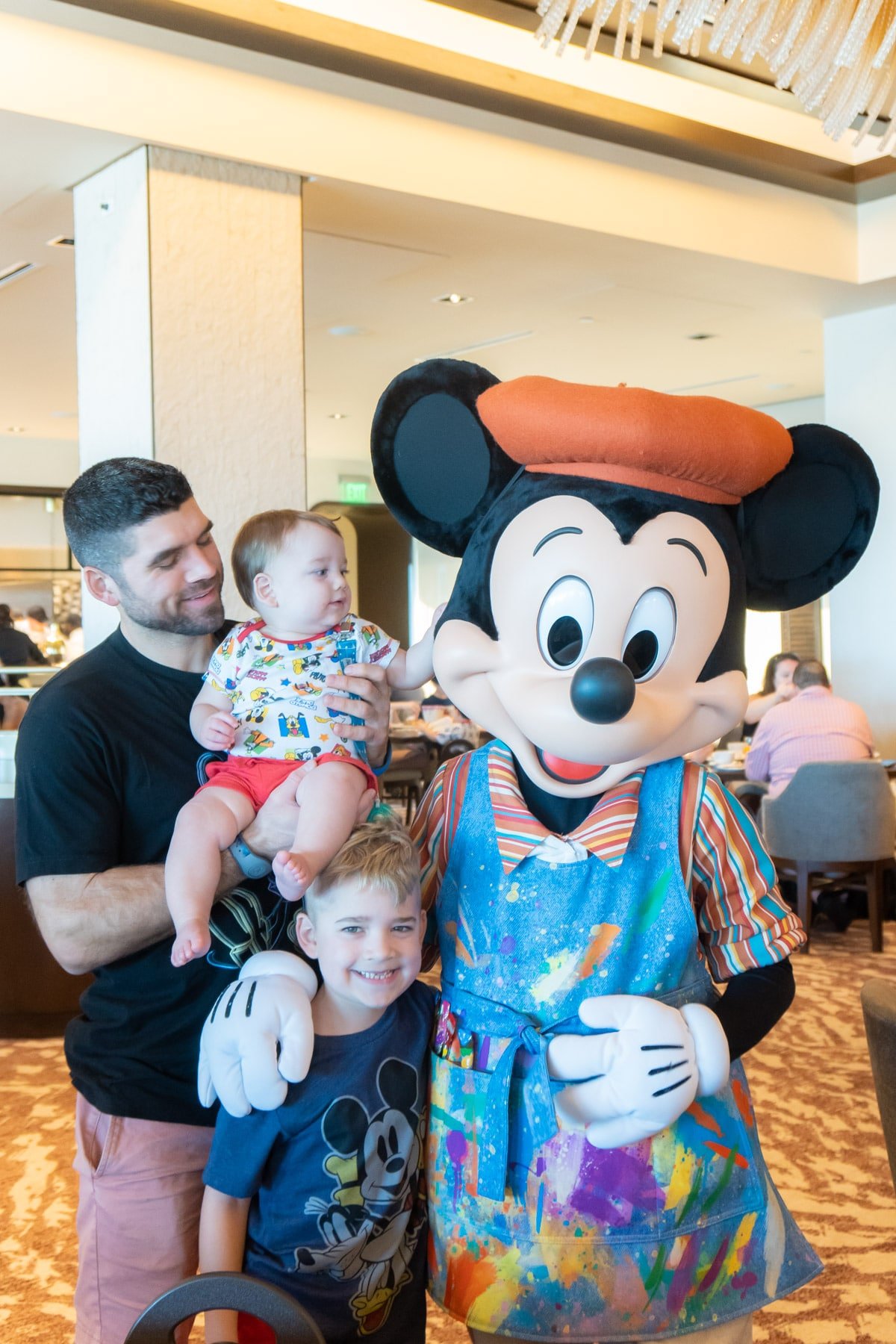 Another plus was the food. Unlike the various character dining buffets, Topolino's Terrace breakfast is a one flat fee that gets you an entree, a shared pastry basket, and juice. And it was all delicious!
Adults can choose from options such as the sour cream and waffle that I ordered or something more traditional like the quiche gruyere. Kids can get Mickey waffle dippers (so cute), scrambled eggs, or fruit and yogurt.
Character Dining FAQs
What is Disney Character Dining?
For the purposes of this post, character dining is any Disney dining experience that allows you to interact with Disney characters.

This does not include character meet and greets or nighttime parties or dining events (e.g., princess tea) or anything else along those lines – it only includes meals that are regularly available and regularly include interactions with characters!
When can you make reservations?
You can make reservations for character dining 60 days in advance or if you're staying in a Disney Resort, you can make your reservations up to 60 days in advance PLUS up to 10 days of your stay. That means you can make reservations for your entire trip (as long it's 10 days or under) 60 days out from the first day of your trip.
Do you need park tickets to make Disney character dining reservations?
You do not need to have purchased or linked your park tickets prior to making your Disney character dining reservations but know that any of the in park restaurants will require tickets and park reservations to eat there. If you end up changing your mind or going to a different park, you'll need to cancel your reservation.

If it's a reservation in a resort, you don't need park tickets!
What's the Best Disney Character Dining?
This is such a subjective topic because honestly the best Disney character dining is really based on your preferences and your family.

If you have a little girl who loves princesses, then a character dining meal with princesses (Cinderella's Royal Table or Akershus Royal Banquet Hall) will likely be your best bet. Have younger kids who are more comfortable with Winnie the Pooh than face characters, try Crystal Palace or 1900 Park Fare.

Or you could also make a decision based on the food. If you want non-buffet food, Cinderella's Royal Table, Storybook Dining, or Topolino's Terrace will likely be your top choice! But don't discount the buffets because each of them definitely have things worth trying!

My personal favorites after trying out all of these include:
Topolino's Terrace
Trattoria al Forno
1900 Park Fare Supercalifragilistic Breakast
Crystal Palace
Ohana
Chef Mickey's
Can I reschedule or cancel my character dining meal?
You can reschedule and cancel your character dining meals up to 24 hours in advance without any sort of penalty.
Can I use a Disney dining plan?
Currently Disney dining plans are unavailable. When Disney dining plans come back, you'll likely be able to use them for character dining.
When will regular character dining be available again?
I don't have an answer to this unfortunately. Stay up to date on what's available when by checking this website.
More Character Experiences
Here are a few more reviews from friends on non-official Disney character dining as well as some of the fun Disney dining events offered throughout the resorts!
More Disney World Tips