Both the Disney Dream and Disney Wonder are great Disney cruise ships. They have a lot of similarities but also a lot of differences. If you're planning a short 3 or 4 night Disney cruise, read this guide to figure out whether the Disney Wonder or Disney Dream is the right ship for your family!

Which Disney Cruise Line Ship to Choose – Disney Dream or Disney Wonder?
So you know you want to go on a Disney Cruise? Great, not what? Now you have to decide how long of a cruise you want to go on and which ship. If you want to do a shorter cruise, like a 3 or 4 day cruise, it's likely you'll be on either the Disney Dream or Disney Wonder.
In the past year, we've been fortunate to go on two different Disney cruises – one on the Disney Dream and one on the Disney Wonder and while both great, they're both totally different! And hopefully this guide comparing the two ships will help you choose which one is best for your family! If you have more questions about the differences between the two, ask away. I'll do my best to answer!
Main Dining Restaurants
Both ships have three different main dining restaurants that are included with your cruise. If you've never been on a Disney cruise before, read this post about dining on a Disney Cruise with kids first to help make sense of the dining rooms and how Disney Cruise dining works.
Disney Cruise Line does dining way different than other cruise lines. The main difference is that rather than being assigned to one dining room and table for your entire cruise, you actually rotate around to all of the different restaurants (DCL gives you a schedule for your rotation) so you get to experience all of them. Your service team and tablemates rotate with you, but you switch restaurants each night.
Disney Dream Main Dining Restaurants
Animator's Palate – A restaurant decorated with art supplies and an interactive guessing show featuring Crush the Turtle and friends
Royal Palace – Dining fit for a king or queen and decorated to match
Enchanted Garden – A restaurant decorated in flowers and fountains that's just pretty to look at
Disney Wonder Main Dining Restaurants
Animator's Palate – A restaurant decorated with art supplies and interactive shows on the walls including one where they turn black and white sketches into colored/animated sketches and on longer cruises, guests actually get to draw their own characters and see them animated on the walls
Tiana's Place – A Cajun style restaurant filled with music, dancing, and surprises appearances from alligators, a New Orleans band, and Tiana herself
Triton's – American and French seafood fill this Little Mermaid themed restaurant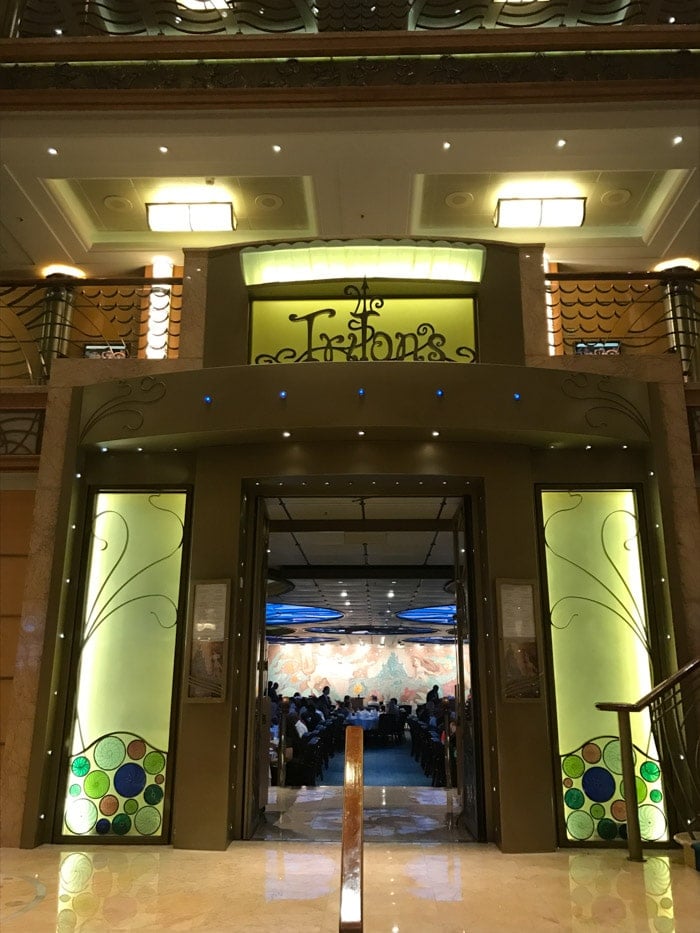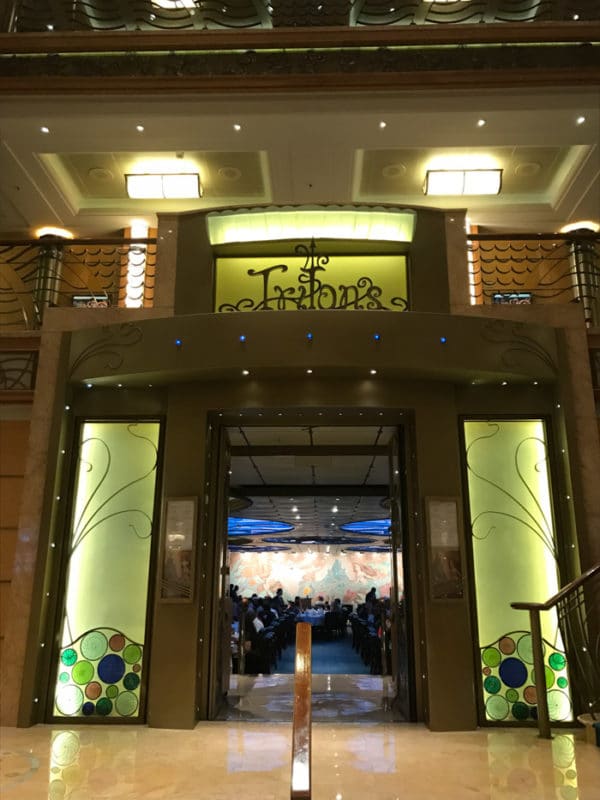 Adults Only Restaurants on Disney Cruise Line
Remy (on Disney Dream only) – A French restaurant inspired by Ratatouille's Remy the rat
Palo (on both Disney Dream and Wonder) – An upscale Italian restaurant that starts with delicious anti pasti and ends with fabulous desserts
Our Winner: This depends on what you're looking for but if you're looking for more themed experiences, we preferred the Disney Wonder dining rooms over the ones on the Disney Dream. The Animator's Palate show was more entertaining, and Tiana's Place is just lively and fun. The dining rooms on the Disney Dream are more pretty than fun.
Casual Dining Restaurants
Both ships have very similar casual dining options with a few key differences. I've included a list of the casual dining restaurants available on both ships as well as a breakdown of the casual restaurants unique to each ship.
Restaurants on Both Ships
Cabanas – A buffet serving breakfast, lunch, and dinner
Flo's Cafe – A quick stop restaurant inspired by Disney Pixar's Cars that includes kid favorites like pizza, burgers, chicken, and more.
Eye Scream Treats – Ice cream, milkshakes, and other frozen treats
Preludes – A snack bar by the main theater where you can pick up drinks, candy, popcorn, etc. (additional fees apply)
Casual Restaurants only on Disney Dream
Frozone Treats – A poolside spot that mixes frozen-fruit smoothies all day long
Vanellope's Sweets & Treats – A family favorite sweets & treats shop inspired by the Sugar Rush video game in Wreck-It-Ralph (additional fees apply)
Senses Juice Bar – A juice bar serving beverages blended with fruits and veggies (additional fees apply)
Casual Restaurants only on Disney Wonder
Pinocchio's Pizzeria – A pizza place serving up your favorite pies
Pete's Boiler Bites – A Pete inspired quick eatery that serves up burgers, hot dogs, tacos, and more
Daisy's De-Lites – An eatery that's focused on more health conscious options like salads and sandwiches
Our Winner: If you're looking for additional food options, Disney Wonder is the clear winner with three additional restaurants that serve actual food, but you can get similar food elsewhere on the ship. If you're looking for more variety and especially sweet or frozen treats, Disney Dream is the clear winner, but you do pay for some of those additional sweets. We really missed Vanellope's and Frozone Treats on our Disney Wonder cruise, but we didn't feel like we were missing anything by not having Pinocchio's, Pete's or Daisy's on the Disney Dream.
Main Theater Shows
This is another place where the two cruises totally differ. Each cruise has three main stage shows in the Walt Disney Theater and while one of the shows (The Golden Mickeys) is the same across the two ships, the other two shows are totally different and might be the reason you choose one ship or the other.
Disney Dream Main Theater Shows
The Golden Mickey's – This is a show that's on both ships and is like the Academy Awards for Disney
Beauty and the Beast – A brand new (Nov 2017) musical inspired by the Beauty and the Beast films
Disney's Believe – Hosted by Aladdin's Genie, this show is all about Disney Magic and features characters that are associated with magic
Disney Wonder Main Theater Shows
The Golden Mickey's – This is a show that's on both ships and is like the Academy Awards for Disney movies
Frozen – A musical show that's a re-telling of the movie Frozen and features all the main characters
Disney Dreams – A story of a little girl named Anne Marie who no longer believes and the magic that happens to her when she starts to open her heart
Winner: There isn't a winner here luckily because they're both fantastic. If you prefer Frozen over Beauty and the Beast or vice versa, then follow your heart. I also personally preferred Believe over Dreams, but that's probably because the person who played the Genie was fantastic.
Pirate Day/Night
Both the Disney Wonder and the Disney Dream have a big pirate night celebration but the Disney Dream takes it one step further by making it an entire day full of pirate adventures. The Disney Wonder's pirate fun paled in comparison so if that's a big thing for you, definitely consider the Disney Dream.
Whichever one you choose, make sure to read these tips for getting ready for pirate night before you go! Also, these things change regularly so make sure to check your itinerary when you get on your cruise!
Pirate Day on Disney Dream
Princess + Pirate show and party featuring Jake the Neverland Pirate and Princess Sophia (this was so fun!)
Pirate's Life for Me family trivia game
Pirate themed activities throughout the day in the Oceaneer's Club
Pirate Games on the main deck
A Pirate's of the Caribbean show featuring Mickey and his pirate crew (that incorporates the audience in an interactive way)
Fireworks at Sea
Pirate league packages at the Bibbidi Bobbidi Boutique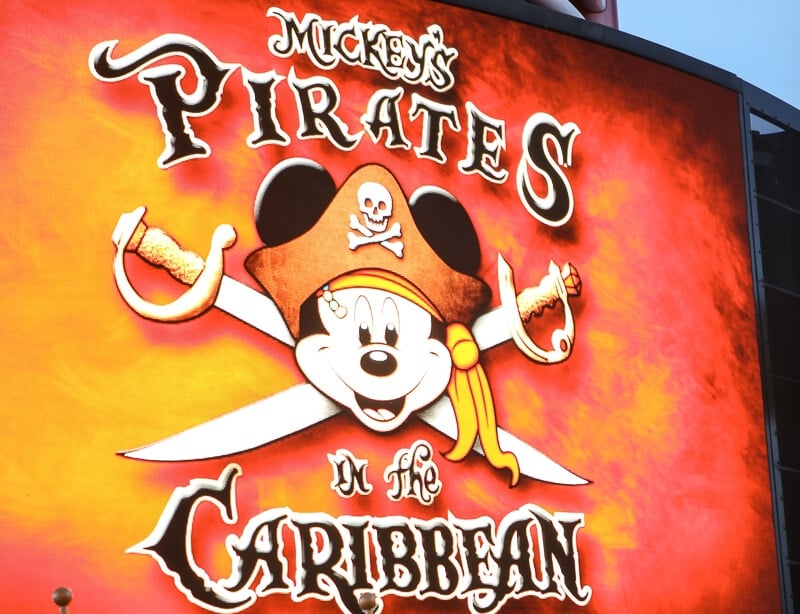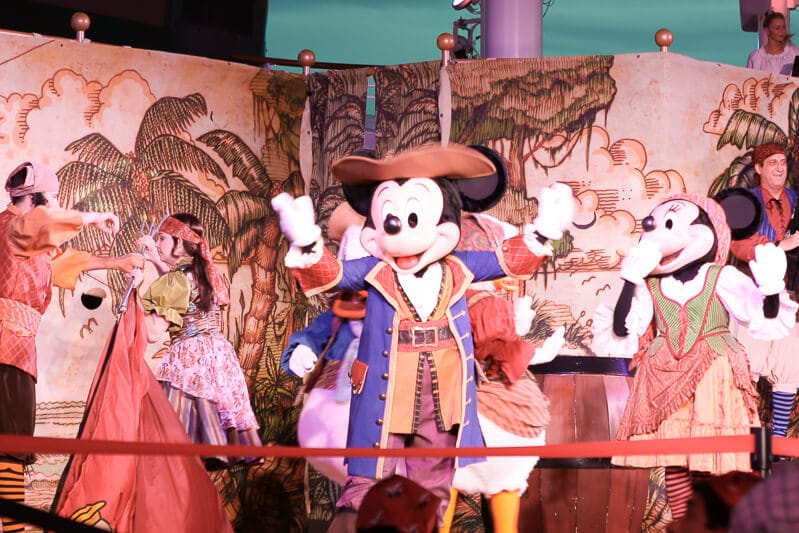 Pirate Night on Disney Wonder
Princess + Pirate show and party featuring Jake the Neverland Pirate and Princess Sophia (this was so fun!)
Pirate's Life for Me family trivia game
Pirate Games in the Oceaneer's Club
A Pirates in the Caribbean Dance Party (not nearly as cool as the one starring Mickey and friends on the Dream)
Fireworks at Sea
Pirate league packages at the Bibbidi Bobbidi Boutique
Winner: It's possible I'm remembering this incorrectly, but my experience was that the pirate night was more of just a quick nighttime dance party on the Disney Wonder. The dance party was fun but nowhere near as fun as the games, Mickey show, and fireworks that happened on the Disney Dream. We spent the entire day having pirate fun on the Dream vs on the Wonder it really was just kind of a dance party where everyone was dressed like pirates. For our family, the Disney Dream pirate day was the hands down winner!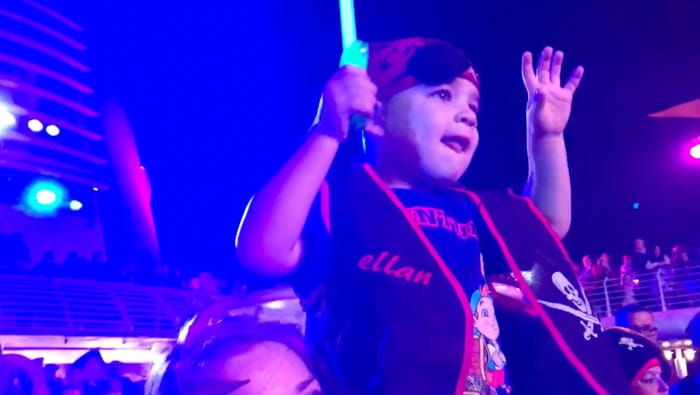 Disney Cruise Line Kid's Club Comparison
I wrote an entire post about the Disney Oceaneer Club + Lab that you should read first. Once you've read that, know that the clubs on both ships are run the exact same way. The procedures, policies, and processes are all the exact same. What differs is the actual club space, the activities, and the characters you can possibly meet. The kids club is a huge part of a Disney Cruise so you want to get this right.
Disney Dream Kid's Club Highlights (Not Available on the Wonder)
Millennial Falcon and Star Wars area
Jedi Training
Disney Infinity Play Area
Magic Playfloor
Pixie Hollow (home to Tinker Bell and her friends)
Disney Wonder Kid's Club Highlights (Not Available on the Dream)
Toy Story Playground (with slide) – Disney Dream has a Toy Story room that's a bit less adventurous
Marvel Superheroes Area
Frozen Play Area
Marvel Superhero Academy Activities
Disney Junior Play Area
Winner: This is another one where you have to choose which one your kids are more excited about. For us, the Disney Wonder Kid's Club area was a lot more fun because my son loves Avengers and Disney Junior, and the Marvel Superhero Academy let him meet Spider-Man. But if you have Star Wars fans on your hand, Disney Dream will likely be a better bet for your kids because there's nothing cooler than flying a replica of the Millennial Falcon!
Recreation on Disney Cruise Line
The activities and other shows are always changing on cruise ships, so I'm not going to compare those details. What I am going to compare is the permanent entertainment and recreation available on either of the ships because it might make or break your decision. Likely not, but it's worth mentioning just in case. I'm also just going to mention the highlights that make the two ships different.
Disney Dream Recreation
Goofy's Sports Deck – Mini golf course (so fun), basketball court, virtual sports simulators, ping pong, basketball court, shuffleboard, and running track
AquaDuck – A "water coaster" that takes riders in a water funnel around the deck of the ship
Midship Detective Agency – A scavenger hunt of sorts that gives you hints and clues to figure out who did it
Nemo's Reef – 1500 square foot play area for kids with fountains, water shooters, and more – main differences are the size and that this one isn't limited to 3 and under
Four Pools – An adults only, two regular ones, and a large family wading pool

Disney Wonder Recreation
Aqualab Water Playground – water play areas such pouring paint cans, leaky pipes, rotating wheels, and a looping waterslide that will entertain youngsters for hours
Dory's Reef (3 years and under) – a much smaller 400 square foot version compared to on the Disney Dream
Three Pools – Two regular family pools and an adults only pool
Wide World of Sports – Basketball courts, ping-pong, soccer net, running track, and shuffleboard
Disney Cruise Line Spa
Disney Dream Spa versus Disney Wonder Spa
While both spas have the same name and offer similar treatments, there is one main difference between the two – the Disney Dream has a much larger Rainforest Room experience. It's an adults-only experience where you basically go in with scrubs (additional fee) and do a variety of different hot and cold showers, wet and dry saunas, and more. It's seriously awesome and one of our favorite things about the Disney Dream.
While the Disney Wonder does have a Rainforest Room, it's on the smaller side and not nearly as extensive as on Disney ream.
Both cruise ships have an adults only area as well where you can go if you want to get away from the kids for a while to get a drink or to do a little dancing sans the young ones.
Disney Wonder vs Disney Dream: Our Favorite
If I had to choose one of the two (they're both fantastic), I'd have to give the slight edge to the Disney Dream because of just a few places we spent a lot of time:
Nemo's Reef
Vanellope's Sweets & Treats Shop
Spa's Rainforest Room Experience
Brand New Beauty and the Beast Show
Which ship does your family prefer?
Don't forget to pin this Disney cruise guide for later.