This easy Christmas punch takes just minutes to make and will be a hit at any Christmas party! It's a non-alcoholic Christmas punch that's great for kids or adults!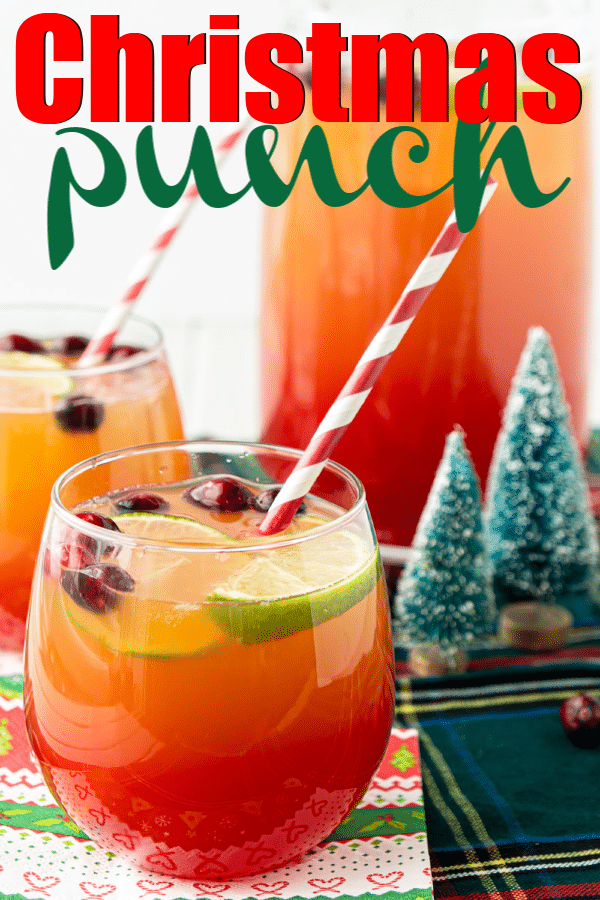 This post contains affiliate links. If you purchase anything via these links, I may receive a small commission at no additional cost to you.
I'm a sucker for a good punch recipe. Whether it's a holiday punch or a sherbet punch, there's just something about punches that I love.
Even more than mocktails since punch you can typically drink a lot of whereas something like this strawberry mocktail normally comes in limited amounts. Or at least you want to drink limited amounts of it.
Maybe it's because I love parties and punches go great at big parties. They're perfect for drinking after some active Christmas games! Or while trying your best to guess the movies in this Christmas emoji game.
Who knows, but I love them.
Non-Alcoholic Christmas Punch
I spent an entire day with my siblings coming up with some of our favorite punch recipes, and this Christmas punch was one of the clear winners.
It combines the holiday flavor of apple cider with a few bubbles and a splash of grenadine for an easy Christmas punch you can keep serving all night long.
And if you're looking for a good sherbet punch for Christmas, keep reading to see how you can make this Christmas punch into a sherbet one in seconds!
Christmas Punch Ingredients
This is just a three ingredient punch unless you're making the sherbet version and then it's four!
Apple cider – This is the base for this punch and gives it a good holiday flavor with the apple cider base.
Sprite – If you can't get Sprite for some reason, 7UP works as well – you just want the sweet, sparkling lemon-lime flavor to balance out the apple
Grenadine – Just any regular grenadine (I used this) or if you're feeling ambitious you could make homemade grenadine with this recipe as well
Raspberry sherbet (optional) – If you're making the sherbet version, you'll want raspberry sherbet.
How to Make Christmas Party Punch
One of the other things I love about punches is that they're so easy to make. Literally all you do for this punch recipe is mix all the liquids together.
Seriously, that's it.
I recommend mixing the apple cider and Sprite first then adding in the grenadine last, but it really doesn't matter.
You can either make this in a punch bowl or a drink dispenser. If you want to do a pitcher, I recommend halving the recipe because the full recipe is most likely not going to fit into one pitcher.
You could make two pitchers, but you'd still want to mix it all together in a larger container first.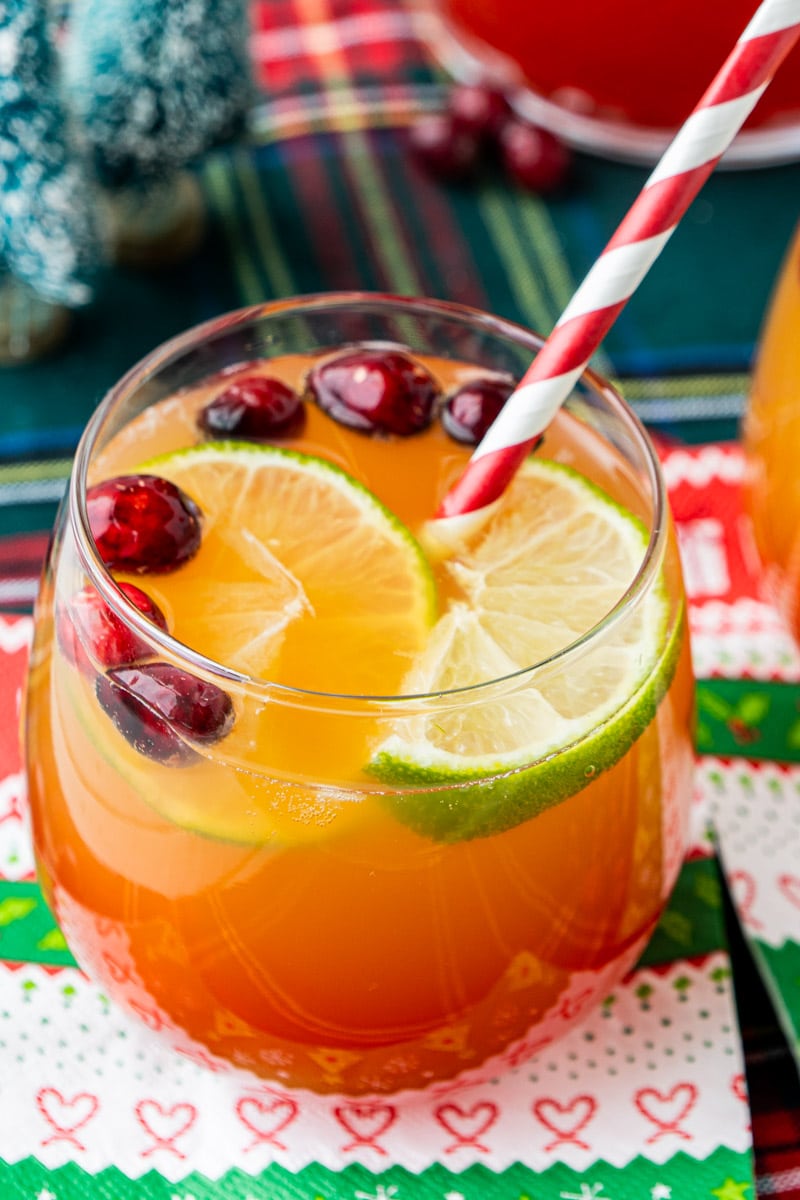 How to Make This Sherbet Punch
Literally turning this into a sherbet punch is as simple as adding raspberry sherbet. I mean really raspberry sherbet makes everything better, but it's the perfect addition to the flavors in this punch.
If you're planning to make the punch ahead of time, I recommend waiting to add the sherbet until right before you serve.
And as my brother, the punch guru, says, make sure to mix in the sherbet well so people don't get full scoops of sherbet in their glass. You want the sherbet to be mixed in well.
If you're making this with sherbet, do NOT use a drink dispenser. You're going to want to serve it in a punch bowl (or large pitchers if you don't have access to a punch bowl).
Easy Christmas Punch
This easy Christmas punch takes just minutes to make and will be a hit at any Christmas party! It's a non-alcoholic Christmas punch that's great for kids or adults!
Ingredients
1 gallon apple cider
10 cups Sprite
1 cup grenadine
1 quart raspberry sherbet optional
Instructions
Combine apple cider and Sprite in large punch bowl or drink dispenser.

Add grenadine and mix thoroughly.

Serve chilled.

If adding sherbet, add raspberry sherbet and mix well.
Tips & Notes:
You can double or triple this recipe – just make sure that you keep the same ratios of apple cider to Sprite and grenadine.
Nutrition Info
Calories: 205kcal, Carbohydrates: 49g, Protein: 1g, Fat: 1g, Saturated Fat: 1g, Cholesterol: 1mg, Sodium: 38mg, Potassium: 201mg, Fiber: 1g, Sugar: 41g, Vitamin A: 18IU, Vitamin C: 2mg, Calcium: 37mg, Iron: 1mg
More Christmas Party Recipes
Serve this punch with some of these other holiday recipes for one delicious Christmas spread!
More Drink Recipes
Need more drinks for your Christmas party? These are sure to be a hit with your guests!