If you're looking for gift ideas for travelers, you've come to the right place! This gift guide for travelers is full of over 20 great gifts ideas for people who love to travel.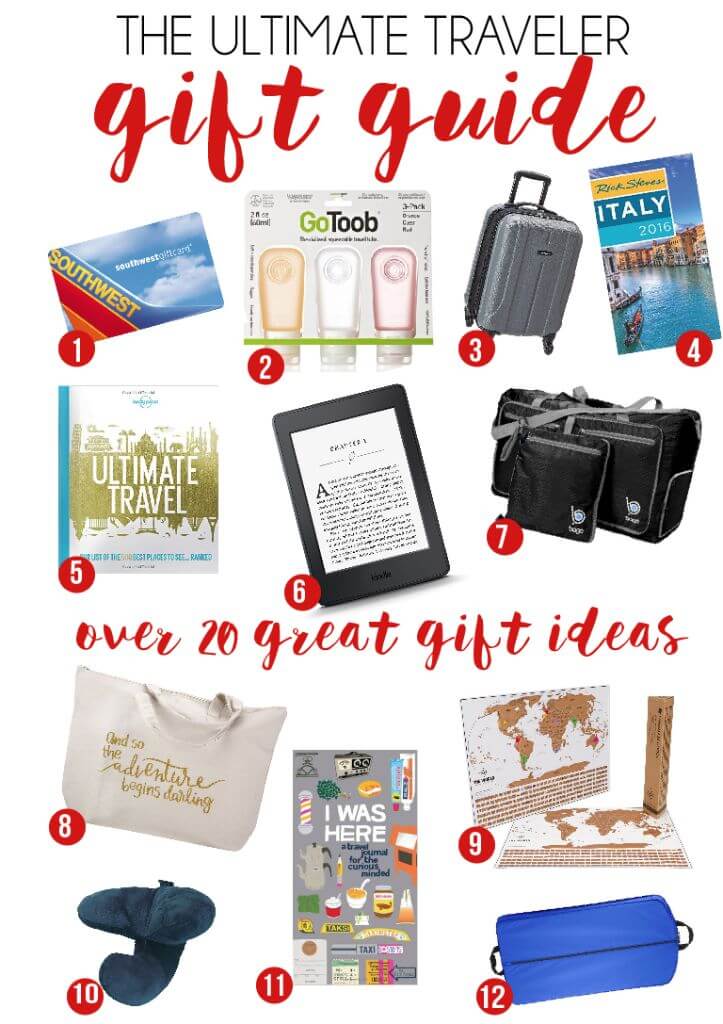 You should know by now that I love to travel. I'm actually in the middle of probably my 20th trip of the year right now as I'm writing this post. Before I had kids, my husband and I used to go on a big trip once a year to everywhere from Hawaii to our last trip while I was pregnant to Greece.
And now that our toddler joins us on most trips, we typically travel to places a little closer to home like Tampa and San Francisco. Buying gifts for people who love to travel can be tough because most people who love to travel have everything they need to travel, so I've put together over 20 great gifts for travelers that they may just not have yet. Or gifts that they may already have but would appreciate anyway like plane tickets!
Great Gifts for Travelers
#1- Travel guide for a place they're planning to go next year. I LOVE the Rick Steves' guides
and if you're going to Maui,
Maui Revealed
is a must-buy!
#2, #3 – A good carry-on size suitcase. Because of all of the airline fees (other than on Southwest!!), most people try to fly with just carry-on suitcases as often as possible these days. Get them a good quality one that expands to fit quite a bit AND that has the four wheels so you can roll it, not just drag it around.
Those extra wheels are seriously life-changing if you like to travel. And if they fly Southwest often, regular size suitcases are a must as well! I just bought these Samsonite Soar 2.0 suitcases
and they're AMAZING!
#4 – A good travel pillow like this one that won the British Invention of the year in 2013. It may be the coolest and most comfortable travel pillow I've ever seen.
#5, #6 – Humangear GoToob Travel Bottles – we've all been that person banging the bottle of travel conditioner on our palm trying to get the conditioner to come out of the plastic bottle. These bottles are different. They're silicone AND they're squeezeable. T
he set comes with bottles in three different colors so you can take everything you need and not have to do the sniff test to determine whether it's shampoo or body wash. Might as well get them a great travel cosmetic case to go along with the bottles while you're at it. I have this Vera Bradley fold up
one and love it!
#7 – Don't let your friend be the person at the airport who has to completely repack their bags because the five pairs of shoes put their bag overweight. Get them this luggage scale instead and save them time and embarrassment!
#8 – Inspiration for their next trip in the form of Lonely Planet's Ultimate Guide to 500 Places to See. Who knows, maybe you'll be the reason they journey to the Taj Mahal next!
#9, #10, #11 – Make reading on their next trip so much better with a new Kindle Paperwhite
. I have this exact one and seriously I read way more now than I ever have before, especially when I'm traveling. It's great everywhere from the beach (in direct sunlight) to laying in a dark hotel room somewhere in Europe.
I can bring 100 books with me with for the weight of like 1/4 of one. Seriously one of my best purchases ever. And if they already have a Kindle, get them an Amazon gift card
or an annual Kindle unlimited subscription
to give them access to over 800,000 books to rent for free each month. Most of the books on my favorite young adult lit list are all available via Kindle unlimited.
#12 – Make traveling easier for someone by buying them a Bago foldable duffel bag that they can fold up to fit in their suitcase on the way there and fill up with souvenirs and dirty clothes on the way home.
#13 – Something to travel with their larger items. It could be a suit carrier, snowboard travel case, or travel carseat case depending on if they travel for business, travel with family, or just travel alone.
#14 – This scratch off world map or something else that will allow them to track where they've been; the scratch-off part just looks like such a fun way to track their travels.
#15 – And last but not least, everyone always enjoys plane tickets. Pick up some Southwest Airline gift cards or gift cards to another airline of their choice and let them choose their favorite destination.
And if you're looking for something a little more fun or unique, you can try some of these items too. These ideas are courtesy of my siblings.
#16 – Travel-sized siracha or a travel-sized version of their favorite condiment like mini ketchup bottles.
#17 – Travel Blanket that's kind of like a Snuggie for travelers. This really does look comfortable, as ridiculous as it looks!
#18 – Travel journal for the curious minded or another travel journal that they can take with them to remember the things they did, ate, and saw. Or one of these awesome travelers notebooks
, so cute!
#19 – Go Sports Team shirt because apparently everyone travels with their team's shirt on. This shirt fits anyone regardless of their favorite team!
#20 – Travel tote bag like this one with the "so the adventure begins" quote or another bag that is durable enough for the beach, rain, or other crazy environment.