These lists of things to do in Tampa with kids, places to eat in Tampa, and where to stay in Tampa will be the perfect guide to planning your family vacation to Tampa, Florida.
I know the feeling. You are dying to go on a vacation but a vacation with a toddler is not quite the same vacation you went on pre-kids. I've had that feeling way too many times since having my son in 2013 and have finally found a place that I feel like is the perfect vacation spot for families, families with toddlers, and even just adults looking for something new to try out. That place is Tampa, Florida. And yes, I said Tampa, not Orlando.
We love it so much that we've actually been there for two years in a row for our big family vacation of the year. So get excited, here's my guide to vacationing in Tampa, Florida with kids.
Things to Do in Tampa with Kids
Lowry Park Zoo – This is the coolest zoo I've ever been to with the chance to feed animals like giraffes and rhinos and an awesome jungle safari ride that actually takes you right into the middle of the animal exhibits. With so many exhibits, a petting zoo, and even a couple of splash pads, you could easily spend an entire day at the zoo.
The Florida Aquarium – While this may not be the biggest aquarium I've ever been to, it had some awesome exhibits like the wetlands trail where the birds and animals are just in open exhibits close enough to touch. They also have an awesome splash pad and park area in the back that's part of your entrance fee, so spend a couple of hours in the aquarium then cool off in the water.
Ballast Point Park – A free park with a fun splash area, a couple of large playgrounds, and a pier you can walk out on to see the boats and fishing. If nothing else, the view of the Tampa coastline is absolutely gorgeous.
Anna Maria Island – If you want to make this a day trip you can but I highly recommend taking 2-3 days and exploring the island. The beach is not only gorgeous, it's quiet and the waves are small enough that they're perfect for toddlers. And in March, we saw dolphins every single time we were at the beach swimming fairly close to the shore. I'll be writing an entire post about why I love Anna Maria Island but it's definitely worth at least spending a day there. There are other beautiful beaches as well but Anna Maria is easily our favorite with St. Pete's coming in a close second. And as a bonus, Anna Maria has some great restaurants that are not only kid-friendly, they're designed with kids in mind!
Take a day trip to Orlando! Use this awesome guide to visiting Universal Studios with kids or these great tips for visiting Disney!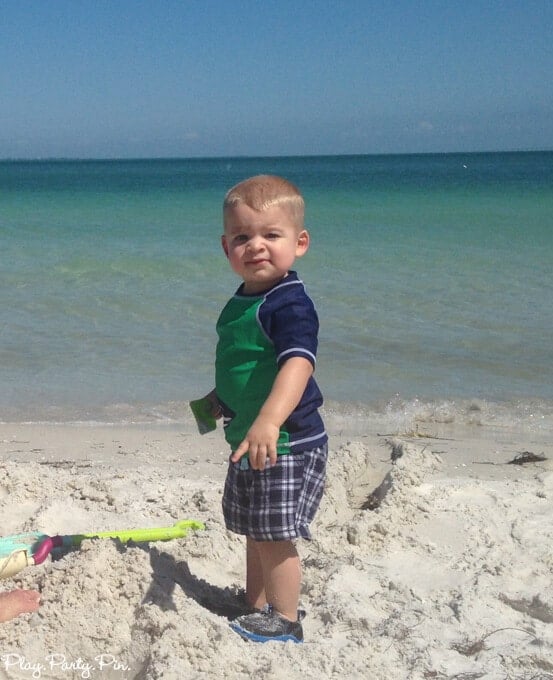 Places to Eat in Tampa, Florida
There are also a million places to eat in the Tampa area, so I'll just highlight five of our favorites that show the variety of cuisine and options available in the city:
First Watch – this chain is one of the best places I've ever eaten for breakfast or brunch. The banana pancakes and the chicken quinoa bowls are my favorite, but my husband swears by the omelets. There's one right across from Glazer Children's Museum and one right near Busch Gardens.
Pane Rustica – This is right on your way to Ballast Point Park and the perfect place to pick up stuff for a picnic or lunch in the park. The thin crust pizza and the salmon were both fantastic.
Al's Finger Licking Good BBQ – A hole in the wall BBQ place that was really finger licking good. Go on Friday if you want to try their TGIF mac and cheese. It's not too far from the Florida Aquarium, and a great place for lunch.
Bangkok Jazz – A great Thai restaurant close not far from Busch Gardens the Holiday Inn Express on Telecom. Go for an early dinner to have the place pretty much to yourselves or later to enjoy some live jazz music.
California Tacos to Go – A little hole in the wall, order at the window, and eat outside taco shop that's perfect for a grab and go dinner after a big day. It's a little off the beaten path but the tacos and sides are worth it.
Where to Stay in Tampa with Kids
I know there are tons of hotels, B&Bs, and even vacation rentals you can stay in when you go to Tampa, but I highly recommend finding one of the Holiday Inn Express locations that's closest to the attractions you want to see. We've actually stayed at four different Holiday Inn Express locations in the area and while the Telecom Drive location is our absolute favorite, they were all perfect for a family vacation. You can find the full list of Holiday Inn Express locations on the IHG website. And in case you've never stayed at a Holiday Inn Express before, here are three reasons why you should at least give it a try.
Two-room suites – yes, I said two-room suites. When you're on vacation with a toddler or even elementary aged kids, it's likely they're going to go to bed before you do. And sharing a room with your toddler who needs to go to bed at 8PM just isn't feasible. The Holiday Inn Express locations we stayed at in Tampa have a private bedroom + a separate living area so my son can sleep in his pack and play in the living room while we stay up and watch TV or play games in the bedroom. It's seriously the only way to go if you're planning to stay in a hotel.
Cinnamon rolls – Every Holiday Inn Express provides a free continental breakfast with everything from protein options that change up daily to hot and fresh cinnamon rolls. It's an easy way to please everyone for breakfast while saving some money for things like feeding the rhinos at the zoo.
IHG Rewards Program – IHG® includes 9 hotel brands including Holiday Inn Express. Their goal is to build lifetime relationships with their customers, or in other words, keep us happy! By signing up for the IHG® Rewards Club, you can earn points on hotels stay, which can then be used for free and discounted stays all around the world.