Looking for gifts for foodies in your life? You know the ones – the ones who love to cook at home, try all sorts of different foods when they travel, and the ones who probably spend way too much money on food. But they love it, it's their passion, and they get to choose to spend their money on food!
Feed their love for food with these fun foodie gift ideas including everything from tools every foodie needs in the kitchen to delivery services that can aid with their passion for food!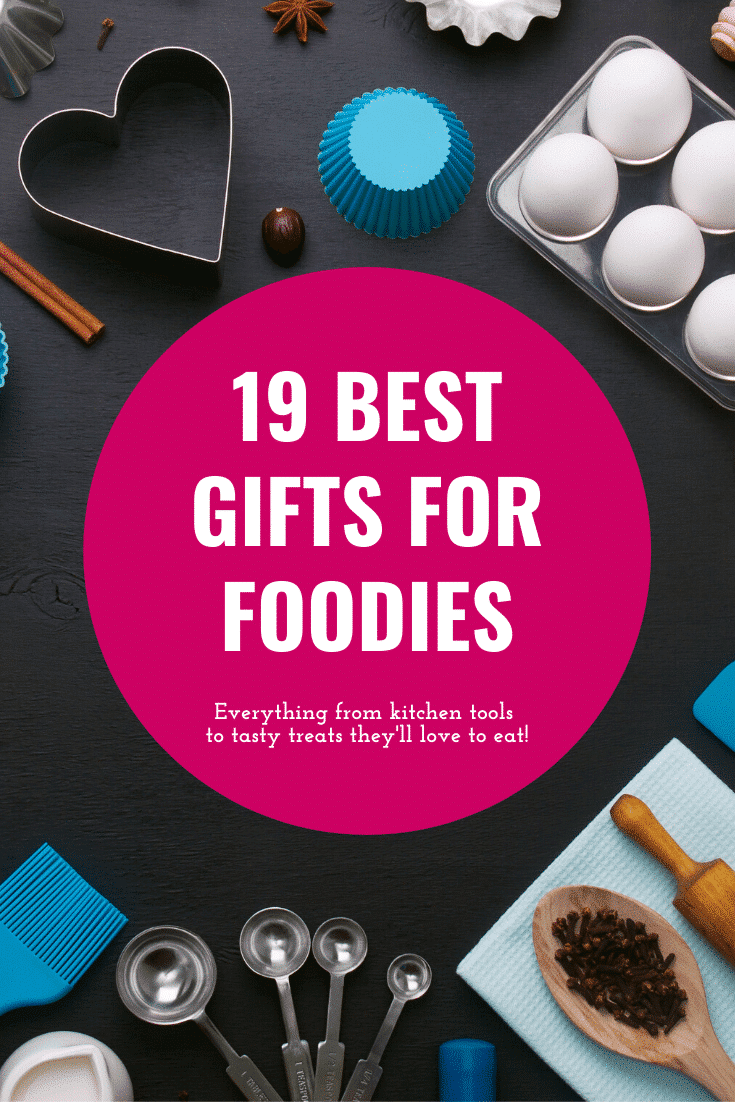 I was compensated by brands in this post, but this has no impact on my opinions or recommendations. This post also contains affiliate links. If you purchase via these links, I may receive a small commission at no additional cost to you.
Gifts for Foodies from a Foodie
I like to say that I'm a foodie but mostly I just love to eat foodie. Whether it's the best food at Disneyland, the best restaurants in Gulf Shores, or even just the best food at home – I love trying it all.
But my husband, he's the real foodie in our family because not only does he actually love to try all sorts of food, he actually cooks all sorts of food at home too. And he cooks well! I mean if you've tried his white chicken enchiladas or almond chicken, you know I'm serious about his cooking skills.
I asked him to help me put together this list of gifts for foodies because while I love food and would be able to come up with some items, he's the expert and the list he came up with was SO much better than anything I could've come up with.
So here you go – 19 gifts for foodies, from a bonafide foodie himself.
Best Gifts for Foodies
I tried to include a variety of foodie gift ideas for every budget, every skill, and every type of foodie. This list includes kitchen tools, kits, subscription boxes, and even games to make cooking more fun!
Looking for more gift ideas? Many of the gifts on this gifts for entertainers list or this gifts for bakers list would work for foodies too!
1 - Cosori Toaster Oven
When we moved into our new house we decided not to get a microwave for our own personal reasons. We got this Cosori CO130-AO toaster oven and it's amazing. Not only does it toast things, it bakes, broils, air fries, and dehydrates!

And best of all - it's so easy to use. It's literally as easy as spinning the dial to the cooking mode you want, setting the timer, and hitting a button to start. It's so much easier than warming up our big ovens and does a fantastic job cooking the food! It was a life-saver over Thanksgiving when both our big ovens were in use and we needed to warm up some spinach artichoke dip.

This is the most pricey option on this foodie gift guide, but it's been worth every penny, especially when you consider all of the different cooking modes it comes with. This is the ultimate gift for the foodie in your life even if they already have a toaster oven - this one is better.
Check it out!
2 - Cosori Air Fryer
Can't afford the full Cosori toaster oven? A Cosori Air Fryer is a great alternative since air frying is currently all the rage - and for good reason. Air frying is one of our favorite ways to crisp up leftover food, cook potatoes, and fry vegetables with way less fat.

This particular air fryer is on the smaller side so it's great for couples, small families, or someone who lives in a smaller home. We've loved how well it fits right into the space in our pantry and how easy the basket is to clean! And plus, the one-touch LED screen on the front makes it super easy to use even if you've never used one before.
Check it out!
3 - Instant Pot
If a foodie you know doesn't already have an Instant Pot and this is in your budget, please buy them one. They're a game-changer when it comes to cooking and we use ours daily. I'm actually going to be posting the best rice recipe ever and guess how we cook it - Instant Pot!

Everyone loves slow cookers but Instant Pots can do the job of a slow cooker plus about a million more things. Rice, pasta, steam veggies, cook frozen meat in minutes, and Instant Pot hard boiled eggs are the only way I cook them now.
Check it out!
4 - Cookie and Milk Shot Glass Mold
Okay now that we've gotten the big kitchen tools out of the way, let's get into the fun stuff! These cookie and milk shot glass molds take milk and cookies to a whole new level.

I'm hoping that since my husband put these on the list that means he bought them for me. Cookies and milk combined in one cute glass - does it get any better?
Check it out!
5 - 12-in-1 Kitchen Multi-Tool
This will for sure be going in my husband's stocking this year. It's like a Swiss Army Knife for the kitchen. You can click the link to read everything that comes on it but I was sold as soon as I saw the little mini grater.
Check it out!
6 - Make Your Own Hot Sauce Kit
Really any make your own food item makes one of the best gifts for foodies because I can guarantee they've played around with making their own XYZ before. I put this one on my list with my dad in mind because he's constantly mixing things and trying out different spices to come up with the best sauces. It's a winner for sure.
Check it out!
7 - Molecular Gastronomy Set
I bought this for my husband a few years back, and it's just so cool! It gives you everything you need to try your hand at molecular gastronomy at home. We've made chocolate noodles, foam sauces, and more. It definitely took cooking up a notch and made it both more fun to cook and eat!
Check it out!
8 - Kitchen Competition Game
This game is kind of like playing the Food Network shop chopped or Iron Chef in your very own home. Pick ingredient cards, tools, and more to figure out what you're going to make then judges vote on the best meals. You can either just pretend and plan out your meal or actually make it if you have time!
Check it out!
9 - Extra Large Cheese Board
Everyone has a regular size cheese board but what about an extra large one? Coming from someone who made a cheese board for Christmas that I had to keep refilling over and over again - foodies will love this extra long one! It's perfect for filling once, putting on the table, and entertaining friends and family for hours - no refilling necessary. And you can put duplicates of items throughout the board (because there's space) so people can just sit and not have to walk all the way around the table to get their favorite cheese!
Check it out!
10 - Sunny Side Up Egg Mold
This one is totally just for fun! I personally love my eggs sunny side up and love this play on that egg order. It's just a fun little gift and a great way to show that you know something about them and are thinking of them even if you don't have a huge budget for something like an Air Fryer!
Check it out!
11 - Veggie Brush
This veggie brush is one of my husband's favorite kitchen tools, and it's super affordable! Instead of washing the dirt off all those carrots and potatoes, use this to help instead! It's soft on the veggies, easy to hold, and even looks pretty next to the kitchen sink.
Check it out!
12 - Cheese Shredder Jar
While totally unnecessary, this cheese shredder jar is just another fun gift idea if you know someone who loves cheese. Instead of wasting any leftover shredded cheese or having to bag it up, this shredded top fits right onto the lid of the included jar so you can shred right into the jar. Use what cheese you need and store the rest!
Check it out!
13 - Fruit & Veggie Box Delivery
When we lived back in Virginia we had a box of fresh fruits and veggies delivered to us once a week, or maybe every other week. It was a surprise each week and the items in the box were always different, always seasonal. It was not only fun to create new recipes using that week's items but also a great way to get fresh fruits and veggies without paying the premium grocery store price. Click on the link to see how you can gift this fun type of box to your favorite foodie!
Check it out!
14 - Hello Fresh Meal Service
There are so many different meal delivery services out there but Hello Fresh is one of our favorites because they offer so many customized plan options. Each week get a box of everything you need to make delicious meals at home without having to grocery shop, chop, and prep all the things. It's a fun way to still get to cook without having to do all the work. Great for busy foodies! Click on the link to see how to gift Hello Fresh to your favorite foodie!
Check it out!
Don't love the menu items on Hello Fresh? Home Chef is another great meal delivery service that's similar and has even more meal options even week!
Stocking Stuffer Ideas for Foodies
These are just some additional items that would make fun small gifts or stocking stuffers. The foodie dice made their way onto my bakers gift guide as well and pretty sure they'll be making their way into a stocking in our house this year too!
More Gift Ideas
Don't forget to pin these gifts for foodies for later!