I was asked to participate in the Pudding Snack Packs #SnackPackSummer program. Although I have been compensated, all views and opinions are 100% honest and my own.
One of my favorite party trends right now is the "make your own" food bar trend. I've seen everything from lemonade bars to popcorn bars to my own make your own mini pizza bar. I love them because they give people a chance to choose what they really want to eat. Since I'm a picky eater myself, I'm all about giving people choices. And today I'm here to bring you another fun make your own idea, a make your own mini pie bar using Snack Pack pudding cups.
I was inspired to put this together by a recipe on the Snack Pack website for Mix 'N Match Pudding Pies. I thought, why not take that idea and turn it into a mini pie bar, perfect for any party. And the best part is that it's so easy. All you have to do is buy various flavors of Snack Pack Pudding and toppings, put them in bowls, and let your guests make their own delicious creations. I just picked a handful of my favorite toppings to include, but you could easily add other things like chopped fruit, hot fudge, or even gummy bears.
I setup my mini pie bar with individual graham cracker pie crusts, various kinds of Snack Pack pudding cups, Reddi-Whip, and all sorts of toppings. I love using the Snack Pack pudding cups for this because everyone can just have one each and not have to deal with getting pudding out of a gigantic bowl.
If you think people will need more than one regular size pudding cup, you can also pick up Super Snack Pack pudding cups at Walmart, which are bigger than the regular size and would be perfect for someone who wants a little extra pudding in their pie. And best of all, right now you can use this coupon to save $1.00 on two packs of Super Snack Packs at Walmart while supplies last. For my mini pie bar, I just went with the three most basic – chocolate, vanilla, and butterscotch – but there are a ton of different options out there that could make some delicious pies.
Put everything together in one area and just let your guests create their own. It's always fun to see what people come up with. These are some of my favorites.
Don't these just look delicious? I may or may not have eaten one of each combination, but they're mini so it's okay right? These are seriously the perfect dessert for kids, adults, and pretty much anyone who likes anything really since they get to choose their perfect combination of ingredients.
Stay tuned because in a few weeks I'll be sharing more fun ways to use Snack Pack pudding cups for a Memorial Day celebration. Can't wait until then? Evite has tons of great Memorial Day ideas that you can go look at right now. And if you are just looking for Snack Pack ideas, the Snack Pack and Walmart websites are full of delicious ways to transform a Snack Pack pudding cup into a great summer recipe.
You can join myself, Evite, and a couple of other entertaining experts in a #SnackPackSummer Twitter party next Thursday, May 15th at 9PM EST for great recipes and your chance to win awesome prizes. No RSVP necessary but if you do RSVP at this link, you'll be entered to win an exclusive RSVP only prize!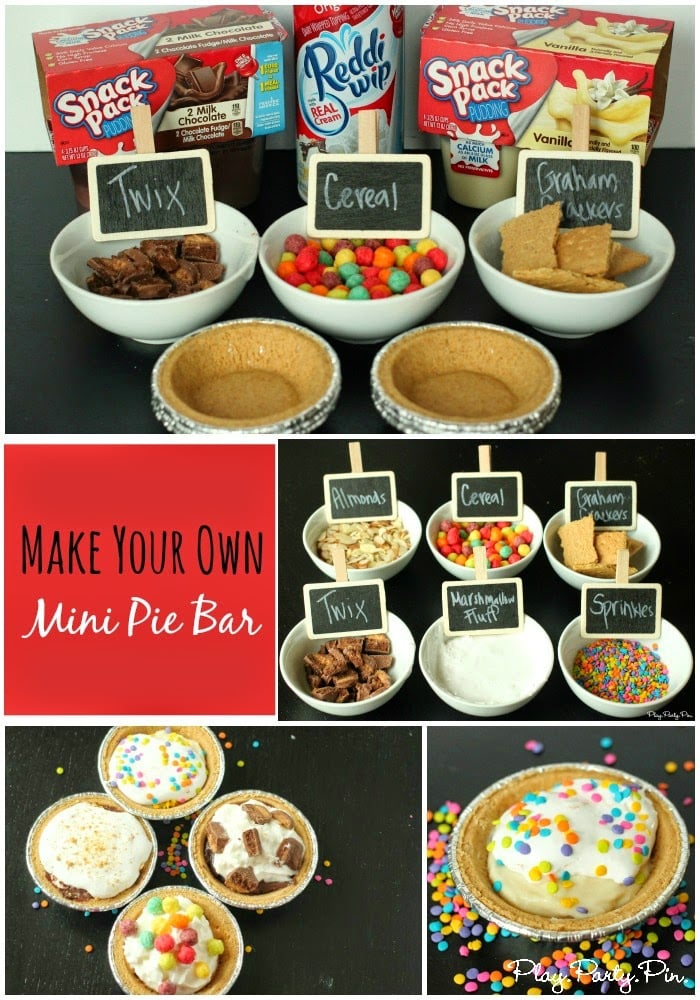 You might also like these fun party ideas.
Mini Pizza Party Ideas
Liked this post? Subscribe to receive one weekly email update from Play. Party. Pin. and never miss a giveaway or post. You can also follow along via social media.