Everything you need to know about all the fun things to do at Margaritaville Lake Conroe! Whether you're looking for a waterpark or golf course, spa or lake to boat on, Margaritavilla has it all! It's a destination that's truly for the entire family!
Hosted by: Margaritaville Lake Conroe. We were provided with free lodgings, meals, and activities in exchange for this post. Regardless, all opinions are 100% honest and my own.
My sister and I hopped on an airplane and headed to Margaritaville in Lake Conroe, Texas for a much needed girls trip. Honestly, I had no idea how much we needed this trip until we actually got there.
Margaritaville is a stand alone resort about an hour north of Houston that opened summer 2020 and is a great family-friendly addition to the fast growing Conroe area. It has 303 luxury suites, 32 waterfront cottages, and tons of amenities!
Plus, it's bright, colorful, and honestly just made me happy to walk around!
Before we got there, my sister and I commented on how we were going to use the weekend to relax, recharge, and just enjoy a little time without the kids. We'd check out the spa, chill in the hot tub, maybe walk around the lake, and sleep in.
Little did we know that Margaritaville that our relaxing weekend would turn into a flurry of trying out everything we could so we didn't miss any of the fun activities the resort had to offer. As two women with terrible FOMO, we just couldn't handle not playing racquetball, golfing, and of course enjoying our sweet time at the beautiful spa.
We didn't even have time to take fun pictures with all of the fun photo walls!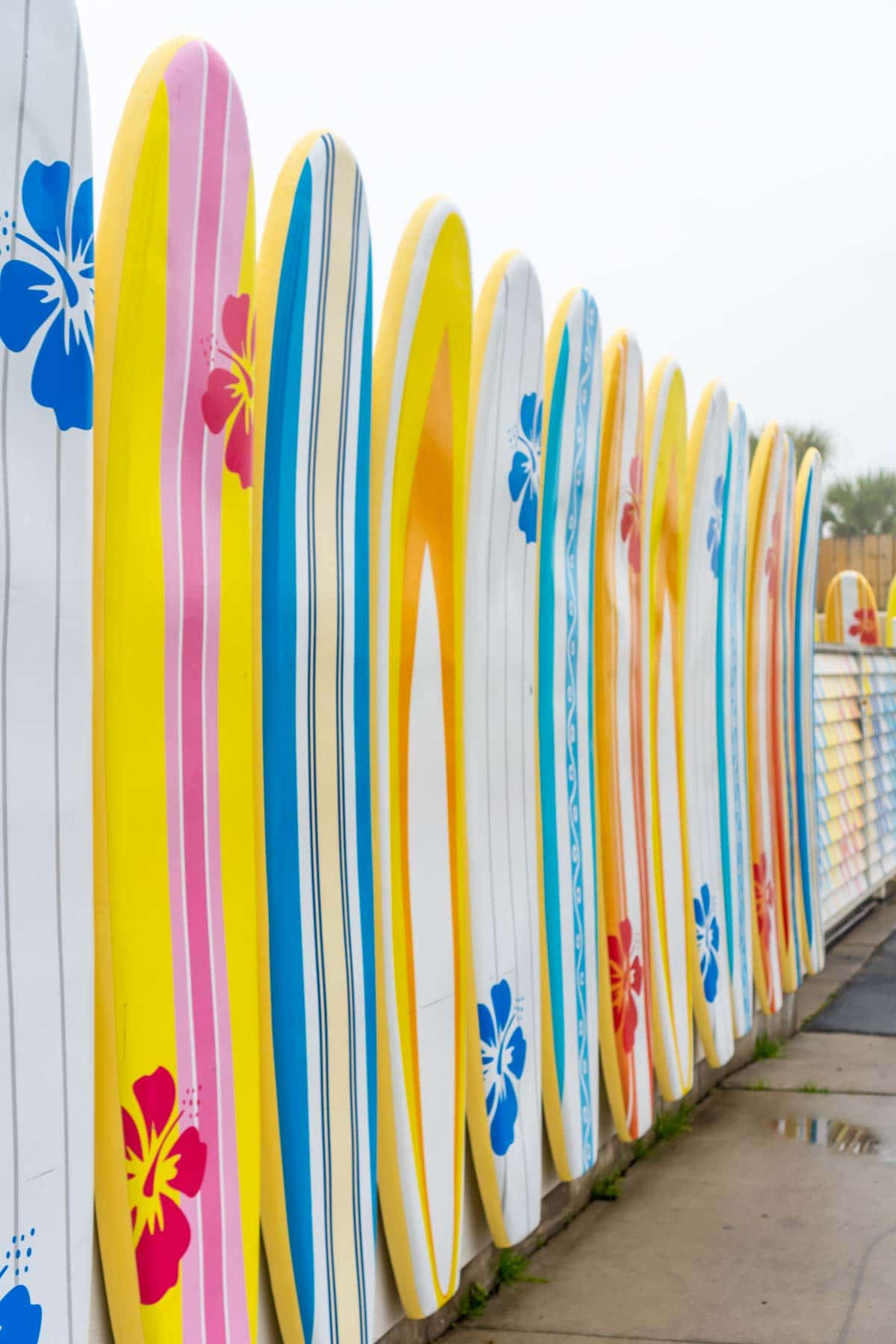 You could easily spend a week at Margaritaville and never run out of things to do!
So let's jump right in – all the best things to do! And make sure to read all the way to the bottom because I have an awesome Margaritaville Lake Conroe 30% discount code just for my readers for when you book!
1 – Pools
One of the reasons I was so excited for our trip was to get in the water. It's not often I get to swim without my kids, and I was all for it.
The weekend we visited was a bit cold but luckily Margaritaville has a heated infinity pool plus two hot tubs (the other pools are unheated), so we enjoyed some time each day just relaxing.
There are a ton of five pools (two heated) including a kiddie pool, infinity pool, and two hot tubs!
Next time we visit when it's warmer, I'm going to park myself in one these chairs and just relax with a book for hours! It was a bit too cold to try them out this time, but don't they just look made for relaxing??
2 – Waterpark
In addition to the various pools and hot tubs, Margaritaville also has a Jolly Mon Water Park with a large splash zone and play area for kids, water slides, and even a lazy river!
If we'd had more time or the weather was just a tad warmer, I would've lived in that lazy river.
I could definitely sit by the pool and watch my older son go down the slides for hours!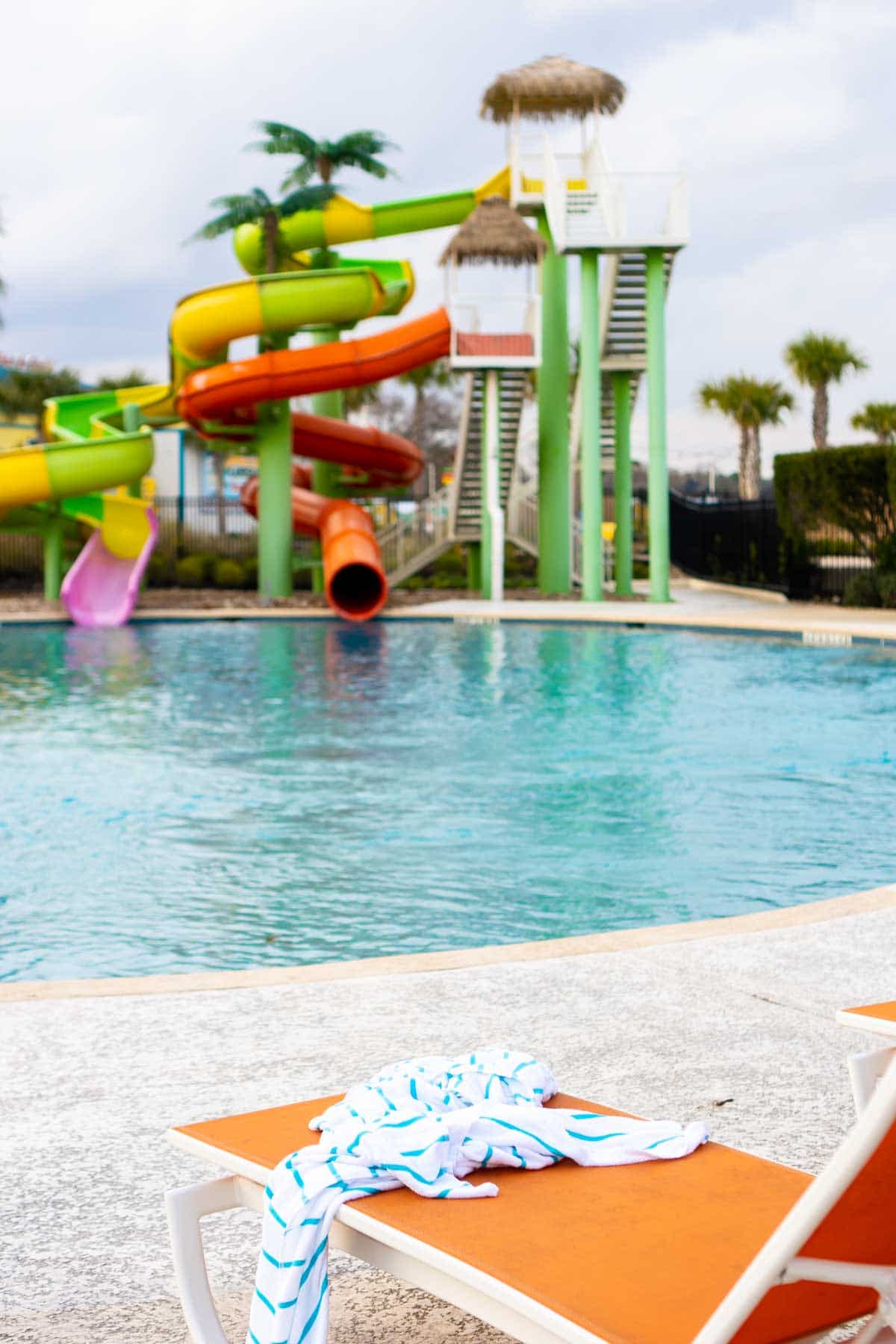 My toddler on the other hand would've gotten a kick out of the huge zero entry splash area. He loves the water, especially water he can play in!
3 – Lake
If that's enough water for you, Margaritaville is located on the shore of Lake Conroe, making for an ideal location for relaxing by the lake, playing on the private beach, or taking a water by the water.
Plus, if you want to actually get out on the lake, the resort has plenty of options for that too!
You can rent all sorts of water craft – boats, paddleboards, kayaks, pedal boats, and more from Einstein's Surf and Boat Shop, located right in the resort.
Reserve your rental online here or wait to see what the weather's like and do it when you get there!
The weather was too gross for us to actually get on on the water during our trip, but we sure enjoyed the view from our lakeside cottage! And just sitting by and walking around the water during the day.
4 – Spa
We spent the bulk of our time on Saturday at the beautiful St. Somewhere Spa and our treatments were one of the highlights of the trip!
St. Somewhere offers all sorts of treatments from massages to body wraps, facials, and even hair care. And I wish we could've tried them all after having a nice little sampling of what they offered.
We did a couple of treatments including the Salt Stone Massage (highly recommend!), Glow Facial, and the Sol Gemstone Wrap. It was the first time I've ever done an actual body wrap, and I can't begin to describe how soft and smooth my skin felt after!
You can find all of the treatments available at the spa here.
5 – Golf
Another fun highlight of the trip was checking out the Golf Club at Margaritaville Lake Resort. The course includes 18 holes that wraps through trees, along the lake beach, and other beautiful scenery.
My sister played while I drove the golf cart (I prefer mini golf) and pretended I was back in my high school days driving the golf cart around as the athletic trainer for the soccer team.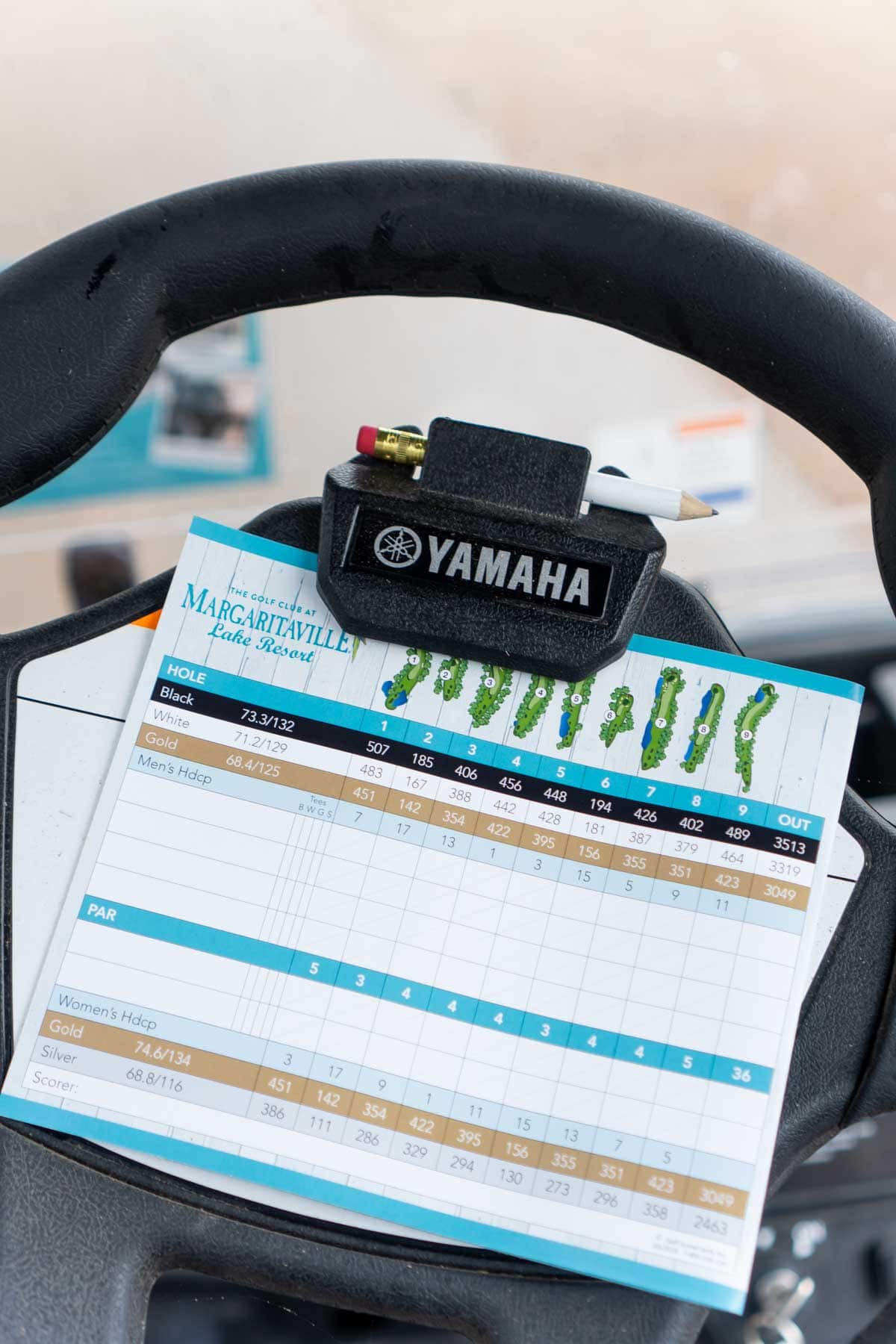 If actual golf isn't your thing, the resort also offers a fun miniature golf course that's perfect for the kids! None of the holes were too difficult but the scenery and design of the mini golf course made it fun!
Plus, it's free, included in your resort stay, unlike actual golf.
6 – Sports
Golf isn't the only way to stay active during your trip. Margaritaville also offers tennis courts, pickleball courts, and the large Fins up! Fitness Center!
The fitness center includes three workout studios (with group workout classes you can book), cardio equipment, weights, AND TWO RACQUETBALL COURTS (including racquets and balls for playing)!
You probably don't know this, but I'm a racquetball champion, intramural champion that is. I won three intramural championships during college and absolutely love playing. But it's tough to find somewhere to play without a full gym membership back in Kansas. I wish I could tell you how excited I was to see those courts.
After the pools closed, my sister and I played for hours. She almost beat me once, almost.
7 – Games
Racquetball is just one of the fun things you can play at Margaritaville Conroe. Every weekend there's a whole plethora of options available to you – bingo, giveaways, trivia, scavenger hunts, and more!
Plus, large yard games like jumbo connect four, corn hole, and more. Oh and don't forget the small arcade right above Joe Merchant's, if you need more games to play, there are few fun ones in there!
I'm a game person, and I was thoroughly impressed by the games that the resort offered both for kids and adults! Plus, prizes! Normally prizes are things like a piece of candy or cheap plastic trinkets, but I won a free drink! I'll take it.
You can check out our experiences playing all the games (including me winning!) in my Margaritaville highlight on Instagram!
8 – Food and Drinks
Speaking of drinks, a good majority of our time was spent checking out the various food and drink options at Margaritaville. You all know I love my food, so I had to try out everything I could to give you my best recommendations!
During our visit there were really only three food options open, so I'm going to talk about each of those in detail below. There are a couple of smaller options that should be open now or opening up soon to check out as well – if you do, come back and tell me how they are!
Tip!
The other thing to keep in mind is that the restaurants are open to the public, not just the resort. It was pretty slow when we there because of the weather but if you're there on a busy weekend, just something to keep in mind.
Landshark Bar & Grill
By far the most hopping of all restaurant options is Landshark Bar & Grill! It's open for both lunch and dinner and serves yummy grill food like wings, burgers, and chicken tenders plus signature drinks.
Our favorites were the signature beach chips, fish tacos, and pup's punch from the kids menu. So good!
Plus, it's right on the lakeshore. Get an outside table if you can for an amazing view! Or sit inside and enjoy the live music playing on the weekends – both are great options!
Or take your drink to go and sit around the fire by the lake instead – one of our favorite places to hang out throughout the weekend!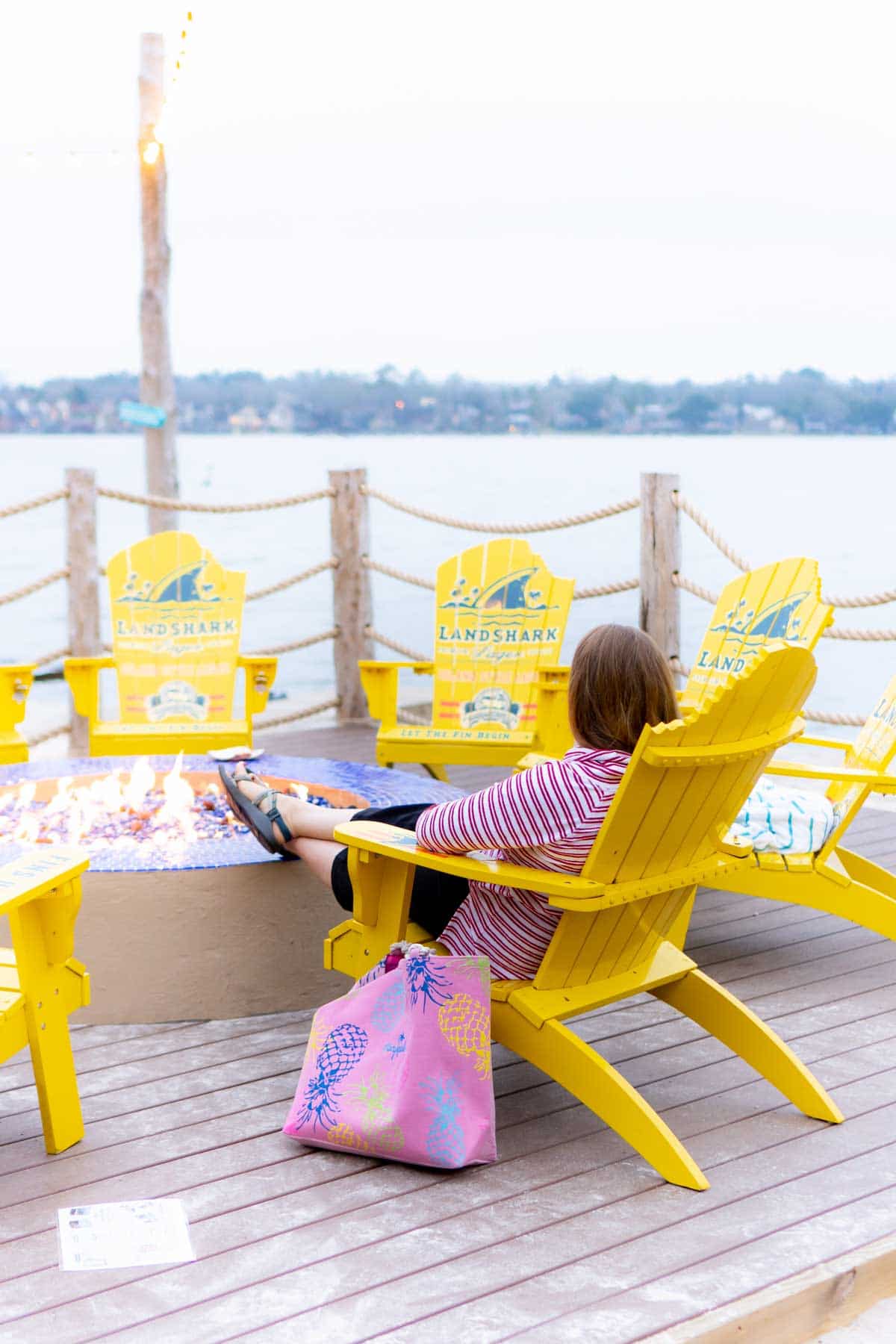 The other awesome thing about Landshark is that they are now offering cottage delivery service. If you're staying in one of the lake cottages (my recommended room choice), they'll deliver your order right to the cottage!
We were there during the AFC Championship game when the Chiefs were playing. We ordered from Landshark and had wings, spinach artichoke dip, and drinks delivered right to our door so we could watch (and scream) in our room.
License to Chill
Our favorite of all of the food options was License to Chill. The food was a little more upscale, had a little more flavor and finesse, and the menu offered more variety than typical grill grub. It's open for breakfast, lunch, and dinner and we tried all three!
Some of our favorites from License to Chill were the carnitas nachos (totally making these at home) and coconut shrimp.
They also have a yummy Sunday brunch option (just started last month!) and the Caribbean french toast with a roasted hazelnut crust, plantain foster sauce, and Nutella drizzle was a total win!
License to Chill was also our favorite place to get drinks. We tried both non-alcoholic pina coladas and strawberry daquiris and they were much better here than anywhere else we tried!

Joe Merchant's Coffee and Provisions
The other food option we tried out was the one we ate at probably the most was Joe Merchant's (I'm calling it Joe's) mostly because we like our snacks and Joe's had plenty of those!
Joe's offers both packaged and prepared snacks, fresh made pizzas, sandwiches, and more. Plus, ice cream. Ben & Jerry's ice cream right there for you to pick up and enjoy!
Oh and Starbucks – there's an entire menu of Starbucks drinks available. So if you need your daily caffeine fix or no caffeine like my strawberries and creme frappuccino, you can get it there!
They also offer fun DIY s'more kits complete with s'more sticks and all the fixings for your own s'mores! Roast them over the fires just outside the lobby for a yummy treat!

Other Food Options
Depending on when you're reading this, there may be additional food options available as well! Make sure to check out the website and/or call to see what food options are open before you go!
Here are links to the other possible places to get food at the resort! The two bars are private to the resort and sound like yummy options if they're open!
9 – Other Things to Do
If you have time after all of that fun, Margaritaville is also just a great place to relax. Sit on the beach, read a book by the pool, make s'mores in a private fire pit, hang out by the lake.
That's not everything there is to do at Margaritaville, but those were all of the things that we personally tried! They're always adding new activities, special deals, and fun events so make sure to check out the website for all the latest!
Margaritaville FAQs
How much does Margaritaville Lake Conroe cost?
The cost is totally dependent on which room you choose, when you visit, and what activities you choose to do. BUT regardless of your choice, I can make it even cheaper for you! If you book with this link and use the promo code PPP30, you can get 30% off your entire booking! (Promo cannot be doubled up with other specials).
Is Margaritaville Resort all inclusive?
No. Many of the activities like the water park, pools, and miniature golf are included resort amenities but food and other activities (boating, golf, spa, etc.) require an additional fee.
Which airport is closed to Margaritaville Lake Conroe?
You can fly into either of the airports in the Houston area, Houston Hobby (HOU), or George Bush (IAH) but IAH is much closer to the resort. The drive from IAH took us just under a hour whereas from Hobby it would likely be double that.
What health and safety precautions are they taking?
Things are always changing based on guidelines so I recommend checking out their official policies here.
What's the best room at Margaritaville Lake Conroe?
I personally loved staying in the lake cottages. They're cute individual cottages (images below) that had a separate living area, a private bedroom, and a full size fridge plus microwave. We enjoyed eating our leftovers all weekend long!

And the view can't be beat since the cottages are right on the water. They offer both standard lake cottages (private bedroom + sofa bed) and lake cottages with lofts (private bed, loft with two beds upstairs, and a sofa bed). They're great for families, groups, and really just anyone who wants to get away from it all! You can check out a full room tour in my stories on my Instagram account under my Margaritaville highlight!

Margaritaville also offers regular rooms and suites as well in the main building. You can see all of the options available here.