Spinach artichoke dip is one of the most popular appetizers and for good reason! This easy spinach artichoke chip is the best spinach artichoke dip recipe you'll ever try and so easy to make! Ready to put on your party table in less than 10 minutes!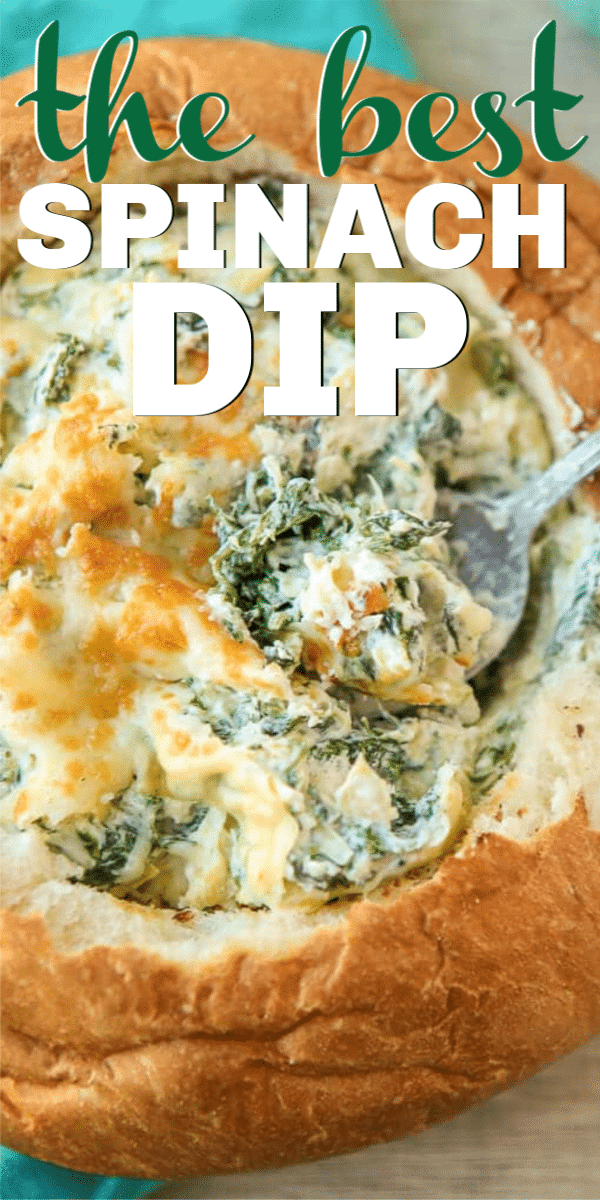 This post was originally sponsored by King's Hawaiian. All opinions are 100% honest and my own.
Easy Spinach Artichoke Dip
I can't pinpoint the first time I ever had spinach artichoke dip. I know it was with my family, and I know it was in high school. Like pizza loaf, it just became one of those things that we ate on a regular basis whether it was ordering it at a restaurant or making it at home.
It took me a while but I've put together the perfect spinach and artichoke recipe! It has the perfect ratio of veggies to creaminess and all the amazing flavor you're looking for in a dip!
Best of all – it's SO easy to make and takes no time at all.
And if you have extra dip (ha!), toss it into wonton cups and make these spinach artichoke cups! Or use leftover ingredients to make spinach artichoke pasta for dinner!
Or honestly just keep it in the fridge and enjoy it in one of these bread bowls the next day!
Spinach Artichoke Ingredients
There aren't too many ingredients for this spinach artichoke dip. Make sure to check out the recipe card at the bottom of this post for specific measurements. All you'll need is:
Frozen spinach – I get chopped so you don't have to chop it again yourself
Canned artichokes – I prefer quartered so they're easy to chop, just make sure not to do the marinated ones as that'll impact the flavor a ton.
Plain greek yogurt – doesn't matter what fat % there is, just make sure it's plain
Mayo – if you don't have mayo, you could always just use more Greek yogurt but it won't taste the same
Grated parmesan cheese – the grated cheese mixes into this much better but if you can't find it, shredded works as well.
Cream cheese – get the block, not the spreadable kind
Garlic powder – don't use fresh, that would just ruin this all together
Salt – everything needs a little pinch of salt right?
Dippers – bread, bagel chips, crostini, tortilla chips, even veggies would be good in this dip
Bread bowl (optional) – I love serving this in a King's Hawaiian bread bowl, but you can totally just serve it in a regular bowl or dish with dippers on the side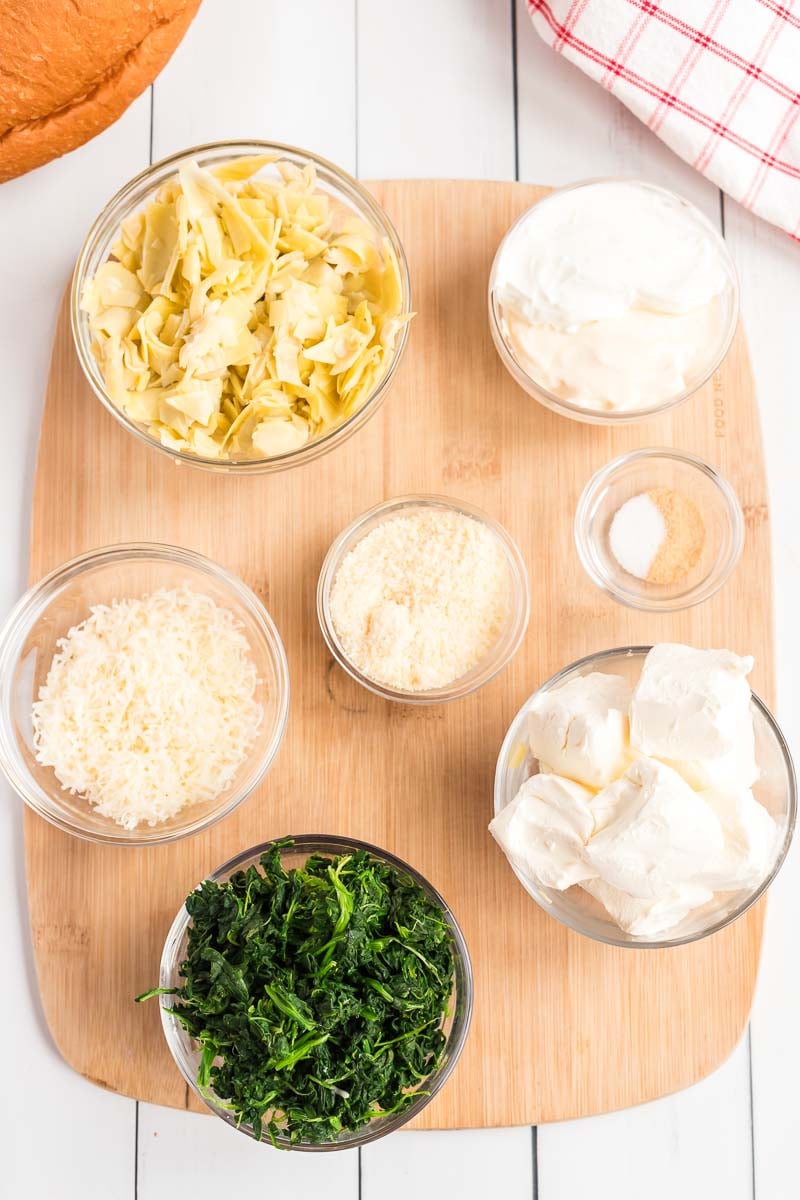 How to Make Spinach Artichoke Dip
While some spinach artichoke dip recipes are complicated, this one is as easy as just combining all the ingredients together.
Seriously!
Here's step by step instructions but make sure to read the recipe card at the bottom of the post for more details!
Or if you're more a visual person, you can watch the video below!
1 – Thaw your spinach.
Cook your spinach in the microwave (or on the stove) then squeeze out the liquid by wrapping it up in a clean dish towel and ringing it out.
Set the spinach aside while you're prepping your other ingredients.
2 – Prep your other ingredients.
While the spinach is cooking, chop up your artichokes and measure out the rest of your ingredients.
Heat up your cream cheese in the microwave for just about a minute until it's soft but not completely melted. Or in the oven for a few minutes – just don't melt completely.
3 – Mix all the spinach artichoke dip ingredients.
Put everything into one big bowl and mix until the spinach and artichoke are well combined into the creamy ingredients.
4 – Transfer to a baking dish or bread bowl.
If you mixed the ingredients all together in an oven safe container, you can skip this step. If not, keep reading.
Once your dip is all mixed up, transfer to an oven safe baking dish or a bread bowl. Top with 1/4 cup shredded parmesan cheese (the cheese will get gooey and melty in the oven).
If you're using a bread bowl, wrap the sides of the bread bowl in aluminum foil before placing in the oven.
5 – Bake or broil in the oven.
If your dip is already warm (from the cooked spinach and cream cheese), you can just broil the top of the cheese.
Place the baking dish or foil wrapped bread bowl in the oven and broil until the cheese on the top of browned and melty.
If your dip is not warm (because you used cold yogurt or let the cream cheese sit for a while), bake in the oven for 350 degrees until warmed to your liking and the parmesan cheese is browned on the top.
Serve immediately with dippers like bread, bagel chips, tortilla chips, and fresh veggies.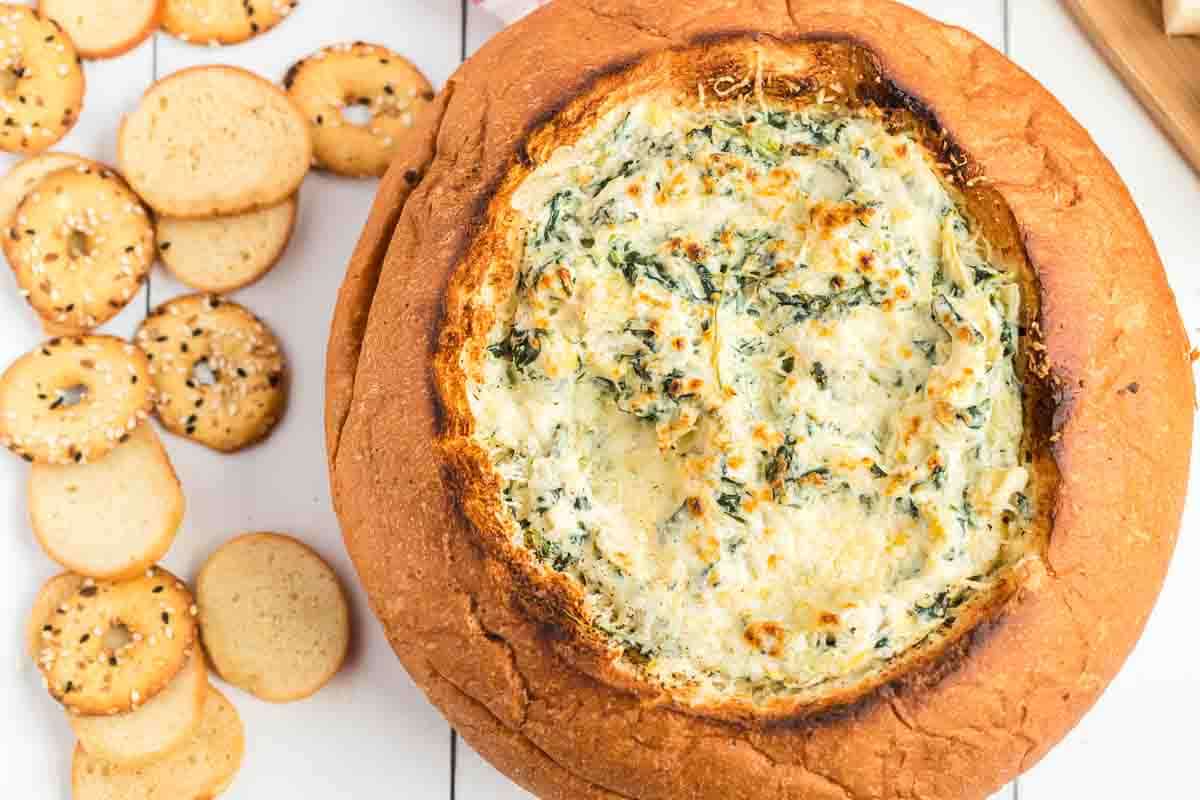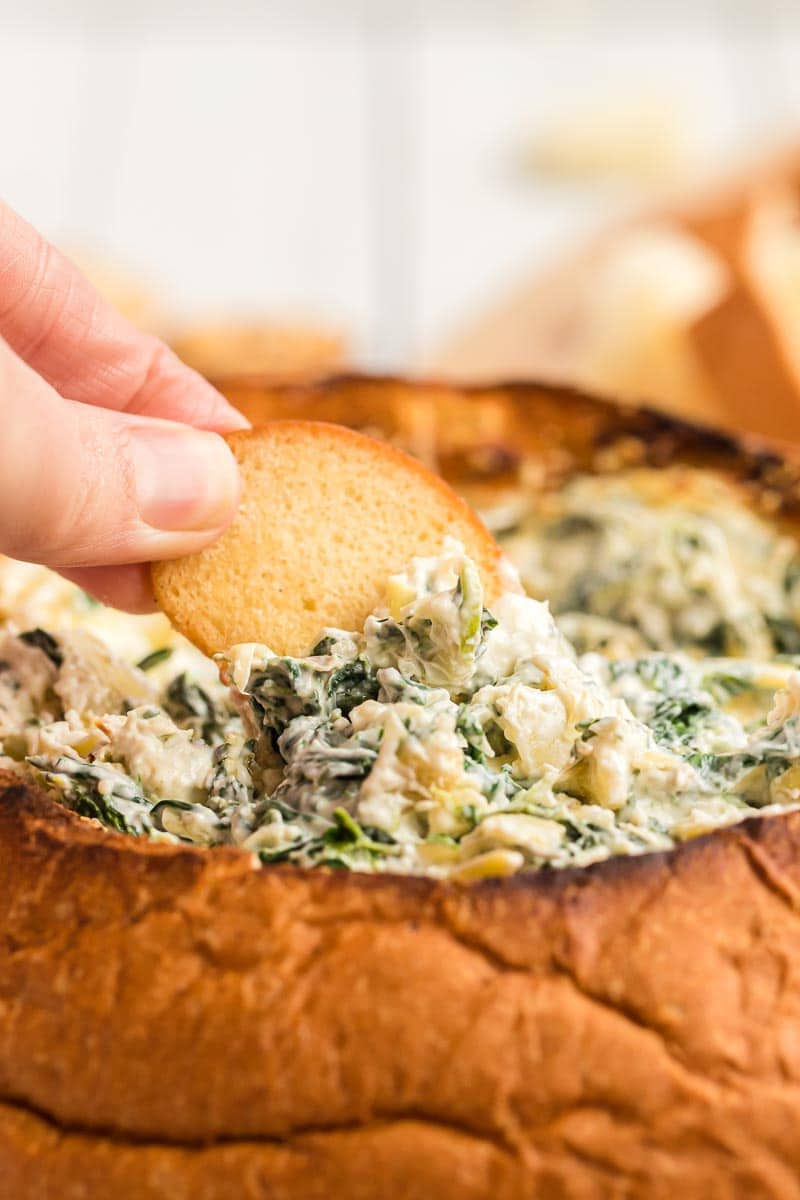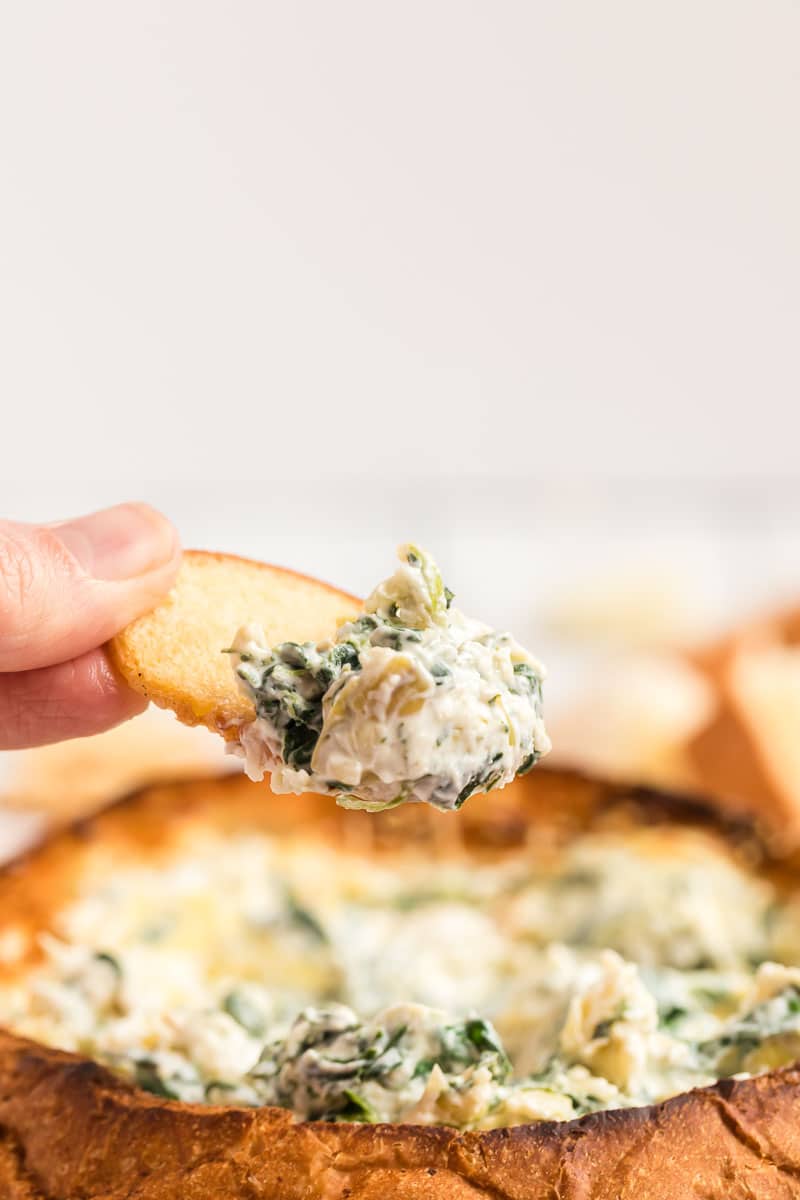 More Delicious Appetizers
Need more great appetizer ideas? Here are some of our favorite recipes!
Easy Spinach Artichoke Dip
The best spinach artichoke dip ever! It's easy to make and seriously the most delicious dip ever!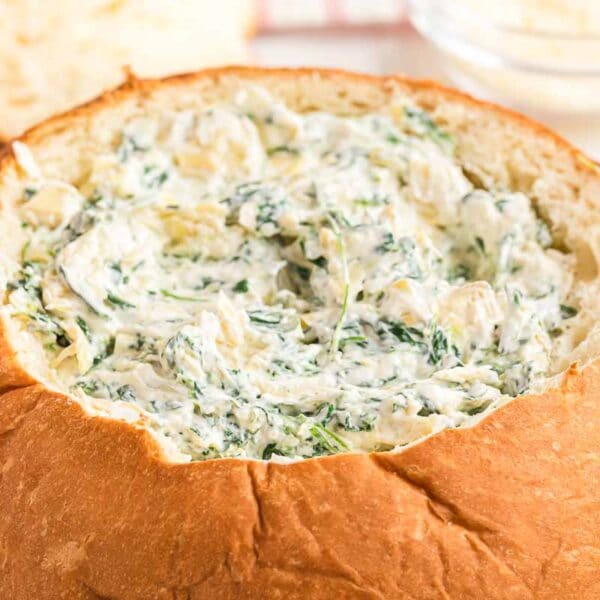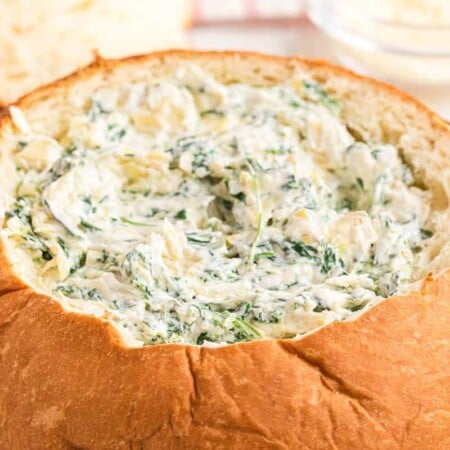 Ingredients
¼ cup mayo
⅓ cup grated parmesan cheese
¼ cup greek yogurt
1 ½ cup frozen chopped spinach thawed and drained
1 15 oz can quartered artichokes chopped and drained
8 oz cream cheese
¼ tsp garlic powder
¼ tsp kosher salt
¼ cup shredded parmesan cheese
1 KING'S HAWAIIAN® sweet round bread optional
Instructions
Chop artichokes into small pieces and place into large bowl. Add spinach to bowl and mix together.

Microwave cream cheese in microwave safe bowl for 1 minute.

Mix cream cheese, yogurt, mayo, garlic, grated parmesan cheese, and salt together.

Add cheese mixture to bowl with veggies and mix together until well combined.

Cut middle section out of bread bowl, making sure to leave a small layer of bread on the bottom of the bowl so the mixture doesn't leak through.

Add mixture to center of bread bowl. Top with shredded parmesan cheese.

Wrap bread bowl sides with aluminum foil (leaving the dip portion uncovered).

Broil in the oven on high for 1 minute or until cheese is browned and gooey.

Remove from oven and serve with bread, chips, bagel chips, or veggies to dip.
Tips & Notes:
The middle of the KING'S HAWAIIAN® sweet round bread likely won't be enough bread for all of the dip, so I recommend picking up some KING'S HAWAIIAN® sweet rolls or another loaf of KING'S HAWAIIAN® sweet round bread to have on hand for when the center pieces run out.
Adapted from Alton Brown
Nutrition Info
Calories: 215kcal, Carbohydrates: 8g, Protein: 8g, Fat: 17g, Saturated Fat: 7g, Cholesterol: 40mg, Sodium: 396mg, Potassium: 364mg, Fiber: 3g, Sugar: 2g, Vitamin A: 3880IU, Vitamin C: 8.3mg, Calcium: 178mg, Iron: 1.5mg